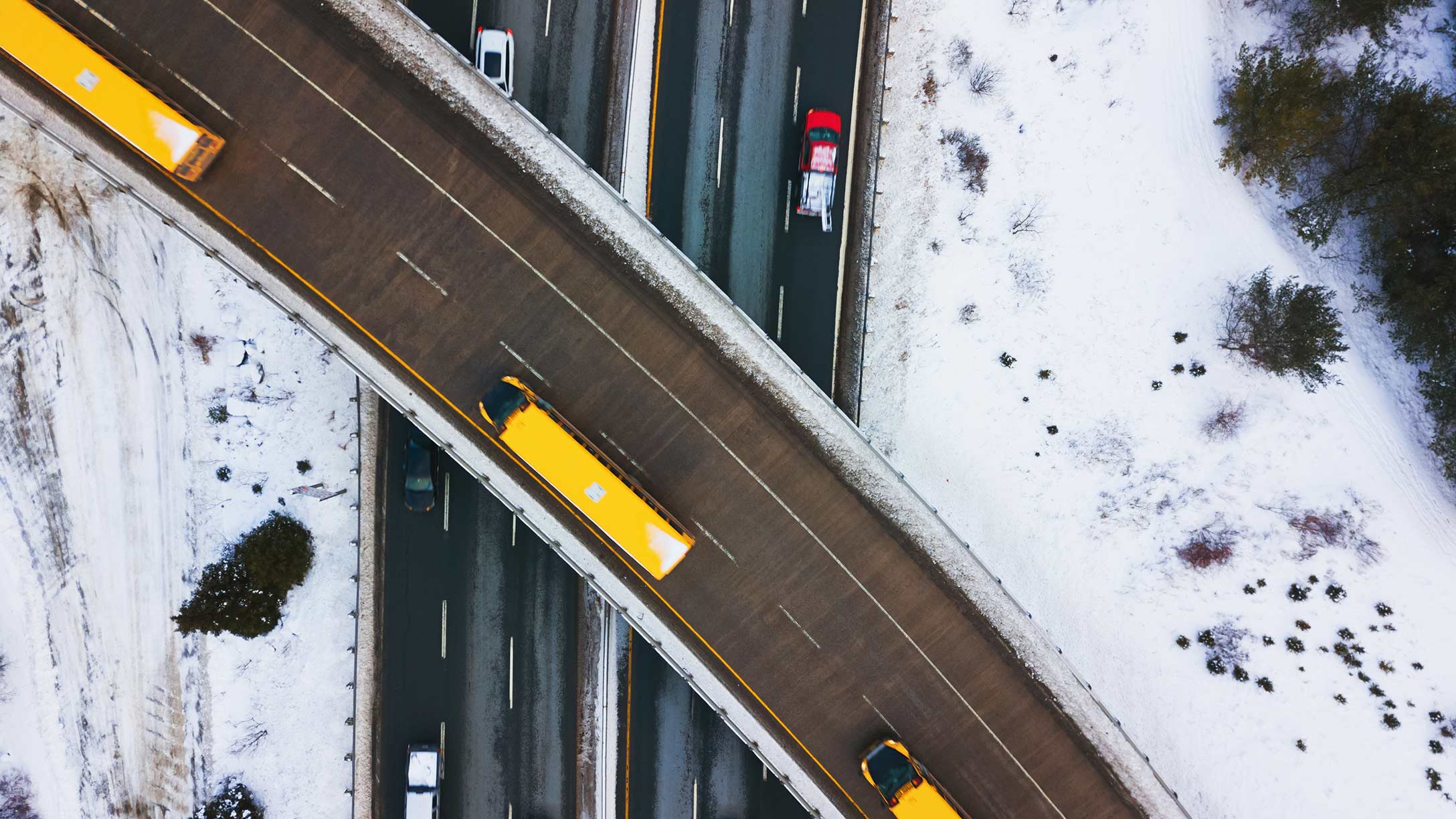 Why you should prepare your fleet for winter operations before the first frost
---
It's never too early to start preparing for winter operations. For data-driven agencies, winter commissioning should include both vehicles and the telematics solution expected to capture operational data.
From road maintenance to groundskeeping, summer brings a plethora of work to your fleet operations. This increased workload combined with one of the hottest summers on record means winter operations are probably the last thing on your mind right now.
But, taking the time to get ready for winter operations before the first chilly bite of winter, will allow you to fully and thoroughly prepare before the arrival of ice and snow.
Prepping for the winter season
For fleets operating in the snowbelts of the U.S. and Canada, successful winter operations are critical in keeping roads open and safe for the public you serve.
With the increasing volatility and unpredictability of winter weather we've seen over the past couple of years, preparing for the first storm months in advance is critical.
The first step in winter commissioning is obvious. Vehicles and equipment should be inspected and any routine or emergent maintenance scheduled and completed to make sure vehicles have maximum uptime, particularly if equipment [hydraulics, spreaders, blades, etc.] needs to be reinstalled.
Routes should be reviewed, making sure that they are as efficient as possible, clearing main roads and not crossing over already cleared areas, wasting time, materials and fuel. In addition, GIS route data should be reviewed and verified as up-to-date in case any changes have occurred since the last winter season.
Drivers, particularly if they are seasonal or contract employees, should be provided a refresher course in plow and spreader controller operations, especially regarding winter driving safety protocols. A safe driver is an effective driver.
For data-driven agencies, there is an equally crucial step that needs to be taken during this summer winter commissioning process: making sure you will have access to all of the metrics and measurements agencies rely on during mission critical events.
See also: The 10-point winter fleet preparation checklist
Winter operations as a data operation
With a comprehensive Public Works telematics solution, you will be able to collect critical data from spreader controllers, plow sensors and temperature sensors, during the winter months, and especially more so when the first winter storm of the season hits. That being said, during the winter commissioning process you will need to take a few steps to guarantee that you are getting the right data from each of your vehicles.
To start, you'll need to inspect all of your rolling assets to make sure that the data you're receiving is accurate. As part of this process, you'll need to:
Calibrate the spreader controllers
Ensure the spreader is working with no errors or feedback sensor failure
Validate spreader controller material settings
Order spare GPS/AVL equipment if on-the-fly swaps are needed, especially if multiple drivers are using the vehicles
As part of your telematics winter commissioning, you should work directly with your telematics providers to verify that all of your hardware and software is working properly, including:
Making sure that firmware is updated and standardized based on material settings, confirming that your fleet will collect the data you need
Perform on-site GPS/AVL equipment inspections, replacing any defective equipment if spares are available
Confirm spreader, telemetry and temperature data communication
Verify winter operations reporting
Having the ongoing support from your telematics provider is critical for a successful winter commissioning process. This should, at the very least, include regular meetings with you, your drivers and maintenance personnel to foster open communication and build a better understanding of the reporting needs of the fleet.
With this comprehensive preparation, you will remove any guesswork from your decision making, and allow you to meet the worst winter storm event head on with the knowledge that you are receiving accurate, actionable real-time data.
While focusing on winter preparation during the heat of the summer may seem excessive at first, the results – accuracy, efficiency, productivity and no loss of critical operational data – can't be beat.
Need help to get started? Download this checklist: Winter preparation inspection sheet template
Geotab's Public Works: A go-to winter fleet solution
Geotab and its network of Authorized Resellers can support you in collecting critical data from spreader controllers, plow sensors and temperature sensors during the worst winter storm events.
Take full advantage of all the power that Geotab's Public Works solution can offer for winter operations, giving insights into everything from routing and the amount of salt you're using to plow up and down times.
Learn more about Geotab's Public Works solution for your fleet before winter is here.
---
If you liked this post, let us know!
---
Disclaimer
Geotab's blog posts are intended to provide information and encourage discussion on topics of interest to the telematics community at large. Geotab is not providing technical, professional or legal advice through these blog posts. While every effort has been made to ensure the information in this blog post is timely and accurate, errors and omissions may occur, and the information presented here may become out-of-date with the passage of time.
Get industry tips and insights
Sign up for monthly news and tips from our award-winning fleet management blog. You can unsubscribe at any time.
Republish this article for free
Other posts you might like