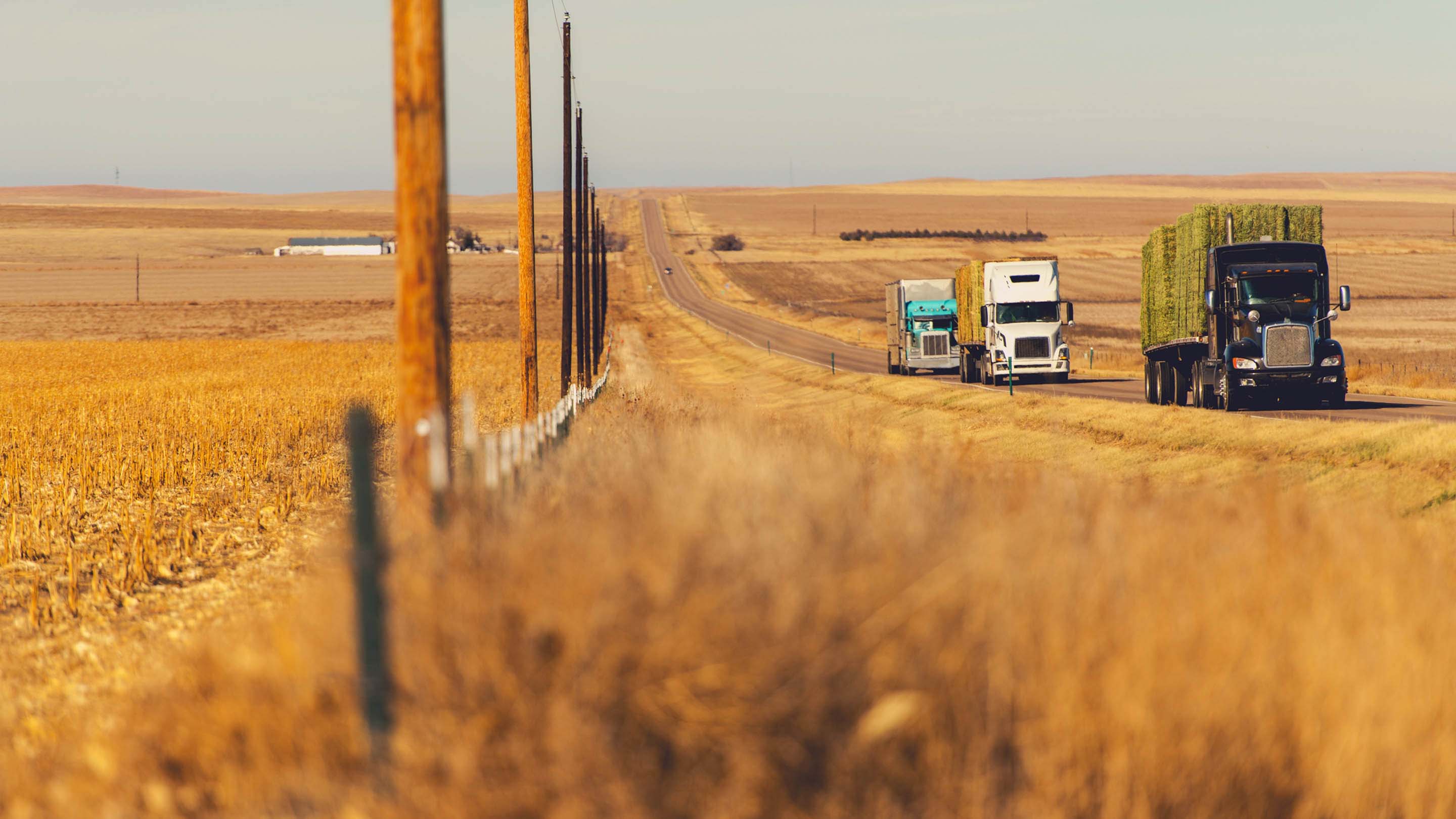 Access to vehicle data is essential to business and governments, now more than ever
---
Why data access is essential to businesses and governments, and how the COVID-19 outbreak has intensified the need for real-time, open access to vehicle data.
Today's fleet technologies operate in an open and secured transportation ecosystem where a company's competitive advantage can be derived from vehicle generated data to make informed decisions. As there's a resurgent push toward digitalization, the data generated from assets (engine and position) is the lifeblood of smart supply chain management.
However, efforts to remove vehicle owner data access rights exist for a multitude of reasons, whether by closing the OBD-II port, disputes over standard essential patents, or an OEM's lack of visibility into the accessible data in their own vehicles. Almost without notice, there is a coercing of vehicle consumers into restrictive and/or expensive data licensing agreements with no ability to integrate across multiple makes and models at often less and lower quality. The coronavirus pandemic response capabilities highlight why data access is essential to businesses and governments, and has intensified the need for real-time, open access to vehicle data.
As the global economy has halted many economic sectors, some now are more important than ever. Transportation companies continue operating in COVID-19 outbreak areas for the pick up and/or delivery of essential goods and services, like transporting groceries and pharmaceuticals. The transportation industry is widely diverse, from giant corporations to small and medium businesses, all of whom are sensitive to market volatility. The recent outpouring of support for the transportation industry on frontlines in the response to the outbreak highlights their critical role.
For example, on March 23, 2020, JB Hunt announced it would be providing a one-time bonus of $500 for employee drivers as well as field employees and managers. In other displays of solidarity, technology companies are offering free tools for assisting fleets and drivers. Here at the Geotab Marketplace, there are hundreds of solutions which enable businesses to respond swiftly to urgent requests, adjust smoothly to unexpected changes, and achieve accurate arrival windows.
In response to COVID-19, governments around the globe are recognizing the essential role of the transportation industry to the economy. On March 13, 2020, the U.S. Department of Transportation's Federal Motor Carrier Safety Administration (FMCSA) issued its first ever national emergency declaration to provide regulatory relief to commercial vehicle drivers transporting essentials, which has since been extended to May 15. The following week, the U.S.-Canada border was temporarily closed for all non-essential travel, but trucking stayed open as the supply chains are fully integrated.
Similarly, on March 26, Germany Federal Transport Minister Andreas Scheuer agreed to a temporary freight transport pact to relax driver regulations and prioritize the industry. In light of the situation, Scheuer expressed his expectation of a digitalization movement in fleet management.
On April 14, President Trump, joined by Transportation Secretary Elaine Chao, recognized the vital role of the nation's truck drivers at an event on the White House lawn. In addition, President of the American Trucking Association, Chris Spear, was named to the administration's Great American Economic Revival initiative, a new task force composed of prominent business executives. Also selected for the transportation group were the CEOs of four of the top six trucking companies: UPS Inc., FedEx Corp., J.B. Hunt Transport Services Inc. and YRC Worldwide.
With companies and communities alike running campaigns recognizing drivers for their contributions, efforts like #ThankATrucker is giving us renewed appreciation. These acknowledgements of the transportation and logistics professionals, who face long wait times at warehouses, hauling jobs at their lowest prices, and unknown roadside facilities status, highlight our reliance on these services. The continued safety of drivers and efficient management of vehicles enabled by real-time data keeps the economy moving and is essential to public health response by assisting in critical supply chains operations.
Commercial fleets running on data
Based on these developments it can be said that there is a Renaissance happening in trucking right now. But trucking remains highly competitive and any data leveraged by telematics is critical to keep operations well organized and efficient and ultimately keep the economy moving. The industry's economic reality is one in which every point of efficiency counts. Trucking has always been a tough business to make a living in, and it's vital trucking companies have a firm handle on costs and process efficiencies, as operational constraints are causing friction with the increased urgency in demand.
Driving large tractor-trailers or delivery trucks is one of the largest occupations in the United States, so one way commercial fleet managers are staying competitive and seeking to add more value is by applying telematic data services to a wider range of responsibilities beyond tracking with new types of applications proving to be indispensable. These new data-based applications allow for the re-evaluation of strategies to address new challenges, while not incurring new costs.
In addition, the market reality of chains demand a mixed fleet of vehicles to transport and deliver mission critical services across the country. Especially now interoperability and seamless communication is necessary for successful repurposing or rerouting deployed fleets. Fleet managers of any size who are alerted before a malfunction disrupts delivery can make evidence-based, proactive decisions in reorganizing their field operators. Digitalization can only happen if we maintain open, realtime data access.
As providers of mission critical data services to badly needed transportation, logistics, service and other operations in the private and public sector, telematics providers are actively collaborating with business partners to ensure the continuation and scale up in the delivery of essential goods and services.
Data access during COVID-19
The digital element within the transportation and logistic industry can not be understated. Data and transportation are so integrated, the level of coordinated supply chain response to the crisis could not be possible without access to data. By equipping the vast network of responders, trucking and delivery vehicles with the right technology today's drivers are safely navigating the unknown, and the patchwork of commerce and regulatory enforcement.
The power of data access as leveraged through telematics is also enabling drivers and companies to adopt and adjust to dynamic physical distancing postures. When fleet data is integrated with business processes, companies are positioned to automate processes and procedures for contactless delivery. Companies are mitigating their risk of exposure by using telematics applications for automated customer notifications for when a delivery or service is complete, or to notify the driver when they are entering a predetermined area.
Recognizing the need for readily accessible transparent business information and an attempt to ease the balance of supply and demand, Uber Freight, has made available on its load application a bidding system to automate the bidding process on freight hauls. On April 13, FMCSA expanded its COVID-19 emergency declaration to allow commercial driver license skills tests to be conducted without the examiner being physically in the truck, utilizing such technologies as in-cab cameras, online testing and cellphones.
These data-driven solutions help companies be resilient and save jobs by providing optimized territories and routes, improve delivery times for essential businesses, and are assisting in shifting non-essential business units to essential business units.
See also: Commercial Transportation Recovery Dashboard, a new tool that helps monitor the commercial transportation industry's road to COVID-19 recovery. The dashboard provides regular, relevant updates on the current state of commercial vehicle activity including by industry, trade and fuel usage and can be utilized by our customers and the community at large to make informed, data-driven decisions.
Data required for fleet management digitalization
All of the data a fleet manager needs to be successful resides in their current assets. Open data access and integration of vehicle and asset data into overall business processes enables information sharing for real-time decision-making. Any interruption of accessing the data could turn the seamless functioning of telematics into a multiple silo environment of inconsistent, and inoperable data, making the data generated by the vehicle nearly meaningless.
Fleet owners are one of the many transportation stakeholders who rely on the data generated from the vehicles they own. The integration and leveraging of asset data becomes difficult due to data licensing claims – a manufacturer asserting ownership of vehicle generated data over vehicle owners. A further hindrance to fleet consumers' workability is through vertically integrating vehicle data into their own servers, whereby the data would have to licenced under yet unknown conditions. The re-accelerated push for industry-wide digitalization will facilitate more contact-less and paperless transactions, online certifications and automated procedures.
These services can only be provided to the fleet manager if their vehicles continue to allow direct and secure access to real-time data across a multi-brand (mixed) fleet. Mixed fleets in particular will need specialized telematics. Fleet managers operating a single platform to both vehicles and assets have moved from data obscurity toward predictive learning. The competitive advantage goes to the companies who know how to apply the insights they derive from data. Of course, this is possible if open, secure, real-time vehicle access exists from various providers.
Reimagining the transportation ecosystem
The pandemic is accelerating the digitization of many sectors including commercial fleets. Managers are recognizing that telematics is much more than a tracking and cost-saving tool. Tomorrow's data-driven fleet assets will foster the transportation data ecosystem, reshape their business, and require data enabled infrastructure. As more fleets evolve into electric and more autonomous vehicles, it is best achieved collaboratively amongst the entire transportation sector and government. Digitalization will play roles in ways we don't know yet. This is time to begin reimagining the transportation economy together.
A long serving educator on how essential real-time, open vehicle data access is to business and government is the Global Alliance for Vehicle Data Access (GAVDA). GAVDA is a diverse group of global stakeholders and thought leaders united by a common goal of preserving and enhancing the current vehicle data environment of open, secure, technology-neutral and direct access by vehicle owners to real-time data.
Visit the GAVDA website to learn more on why now is the time to act on vehicle data access, and obtain information on how your organization can help in maintaining control by vehicle owners over personal and vehicle-generated data.
---
If you liked this post, let us know!
---
Disclaimer
Geotab's blog posts are intended to provide information and encourage discussion on topics of interest to the telematics community at large. Geotab is not providing technical, professional or legal advice through these blog posts. While every effort has been made to ensure the information in this blog post is timely and accurate, errors and omissions may occur, and the information presented here may become out-of-date with the passage of time.
Get industry tips and insights
Sign up for monthly news and tips from our award-winning fleet management blog. You can unsubscribe at any time.
Republish this article for free
Other posts you might like