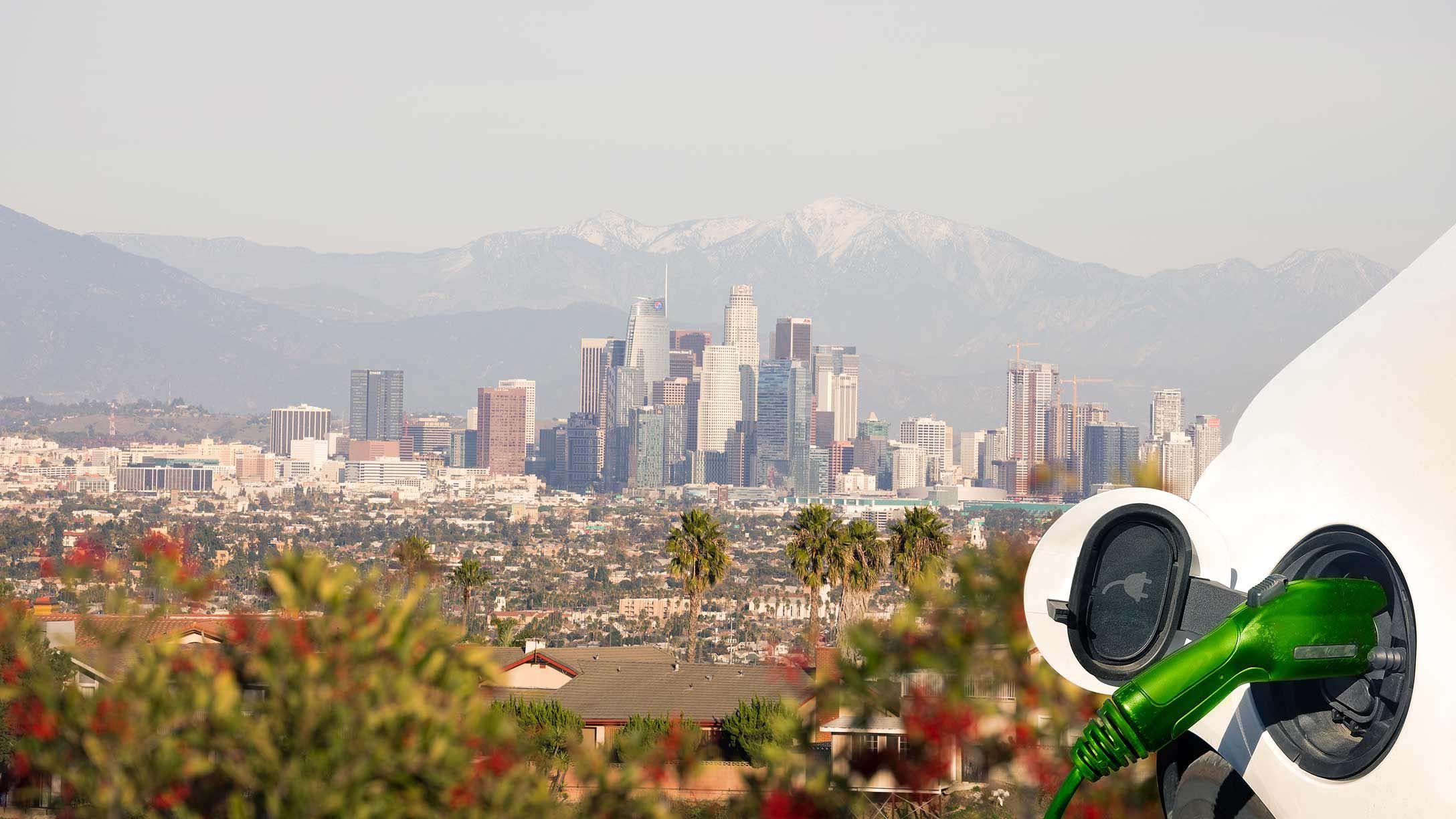 Committed to disruption: California's trajectory for EVs and energy
---
A look at how California utilities are making waves in the industry by addressing both electric vehicles and energy.
California has a reputation for leading the way with disruptive technology. Today, that paradigm is playing out in the State for two massive industries that are increasingly intertwined – transportation and energy. This time the disruption is not driven by consumerism, but rather by a sense of necessity.
Climate and air quality have always been a focus for California, but now more than ever these issues are a top priority. In response, the State is taking a leadership role in rethinking how transportation and energy interact. Specifically, the predominant role that electric vehicles will play in both sectors.
See also: The Geography of EV Charging: How regional climate impacts EV charging and driving.
The challenges of electrifying California
Electrifying transportation in a huge state, that loves its 15 million cars, is not just a matter of disrupting the automotive industry. Utility companies also need to ensure that the grid is not overwhelmed. The last few years have shown that the grid is vulnerable, particularly during heat waves, wind storms and wildfires. These devastating events, which can be attributed to both climate change and aging electrical distribution infrastructure, have caused billions of dollars worth of damage and need to be mitigated as much as possible.
Layered on top of that is California's mandate to aggressively transition the entire grid to renewable generation by 2045 and to have five million EVs on the road by 2030. Are these opposing forces, or is there a way that they can actually be mutually beneficial?
The Golden State grid
Serving nearly 40 million residents, the California grid delivers a daily peak of around 45 Gigawatts of power and 300,000 Gigawatt-hours of energy every year. While the state has consistently ranked very high for renewables generation, there is much to be done to reach the Zero-Emissions goal.
Increasing solar and wind generation is a large part of this equation. It's already happening at a very rapid pace thanks in part to residential solar incentives and a mandate that all new home construction, as of January 1, 2021, must include rooftop solar. On top of that, there are plans to deploy more than 10 megawatts of grid-scale renewable generation to accommodate demand growth and to offset the decommissioning of the last nuclear plant in California.
California is home to some of the largest solar farms in the world, with more on the way. However, unlike steady-state nuclear or gas turbine generation, solar and wind introduce a new hurdle. These renewable energy sources generate electricity intermittently, which requires complex supply and demand variables that must be creatively managed.
No conversation about the California grid would be complete without mentioning the 'Duck Curve'. This pattern, while given a tongue-in-cheek name, is becoming a growing concern. It is the result of peak generation occurring during periods of lower demand and vice versa. During a typical sunny California day, grid demand plunges as behind-the-meter generation from residential and commercial solar kicks in. At the same time, generation from the massive utility solar installations peak, resulting in surplus. Later in the afternoon, the curve rapidly spikes as solar generation declines at the same time as evening demand sharply increases.
Clearly there is a need to shift the load and flatten the curve, which is where EVs can come into play. In March of this year alone, more than 340,000 Megawatt-hours of surplus wind and solar generation was curtailed or negatively priced. That energy alone would be enough to replenish the energy consumption of more than 800,000 EVs for a month.
See also: Cities driving to 100% renewable energy
The impact of electric vehicles
The mandate for five million EVs in the state by 2030 represents a formidable aggregate resource of up to 44,000 MW of load and a daily capacity of 65,000 MWh. In 2019, a bill was passed requiring the California Public Utilities Commission (CPUC) to establish strategies and metrics to increase the integration of EVs into the grid by 2030.
While the goal of having EVs participate bi-directionally – known as vehicle-to-grid or V2G – is seen as the ideal solution, there are currently complications for making this a reality at scale. Most notably the vast majority of EVs don't currently support it because of cost and increased degradation due to increased cycles. However, by simply optimizing when customers charge, this load shift can make a huge impact on the grid curve and overall resiliency.
Utilities can incentivize EV charging during specific time periods in order to achieve the desired load shape. This could mean shifting load off peak hours to times with surplus solar generation, which would simultaneously decrease peak load while utilizing energy that would have otherwise been curtailed.
See also: Ongoing load profiling is the first step of viewing EVs as a Distributed Energy Resource
Managed EV charging as a solution
Given the daily dynamics of renewables, it is not simply adjusting to a fixed time-of-use (TOU) rate, or responding to demand response (DR) events that happen a few times per year. Real-time dynamic pricing is a core element of the CPUC strategy and could be incorporated with a managed EV charging solution.
Connected vehicles could participate as active load resources that can frequently be dispatched via grid signals to proactively charge at price-optimal times. This could also be used to stop charging at suboptimal times, such as the previously mentioned extreme weather events, while still ensuring that the EV has their required charge.
California utility companies have aggressive targets and mandates to meet. By properly integrating EVs with the grid they can not only help their EV customers, but also provide lower rates and a more stable service for all their customers.
See also: Geotab's electric vehicle solution
Stepping up to the challenge
State agencies themselves have been mandated to be a part of the solution. In addition to transitioning the entire fleet of more than 40,000 state vehicles to zero-emission, they are also actively participating in solar generation and Demand Response programs.
A disruptive transformation like this takes a tremendous amount of vision, innovation, resources, leadership and public-private cooperation. Once again, California sees technology as the solution. It seems only fitting that a state with such aggressive EV goals would be a global incubator for EVs and related technology. There is a lot of work that needs to be done in a relatively short amount of time. Utility companies will need a source of real-world data and programs that encourage EV driver participation.
It's a huge challenge, but California may be poised for success. The world is watching.
For more information on how Geotab Energy can help you understand and manage EV charging load visit www.geotab.com/energy/.
---
If you liked this post, let us know!
---
Disclaimer
Geotab's blog posts are intended to provide information and encourage discussion on topics of interest to the telematics community at large. Geotab is not providing technical, professional or legal advice through these blog posts. While every effort has been made to ensure the information in this blog post is timely and accurate, errors and omissions may occur, and the information presented here may become out-of-date with the passage of time.
Get industry tips and insights
Sign up for monthly news and tips from our award-winning fleet management blog. You can unsubscribe at any time.
Republish this article for free
Other posts you might like