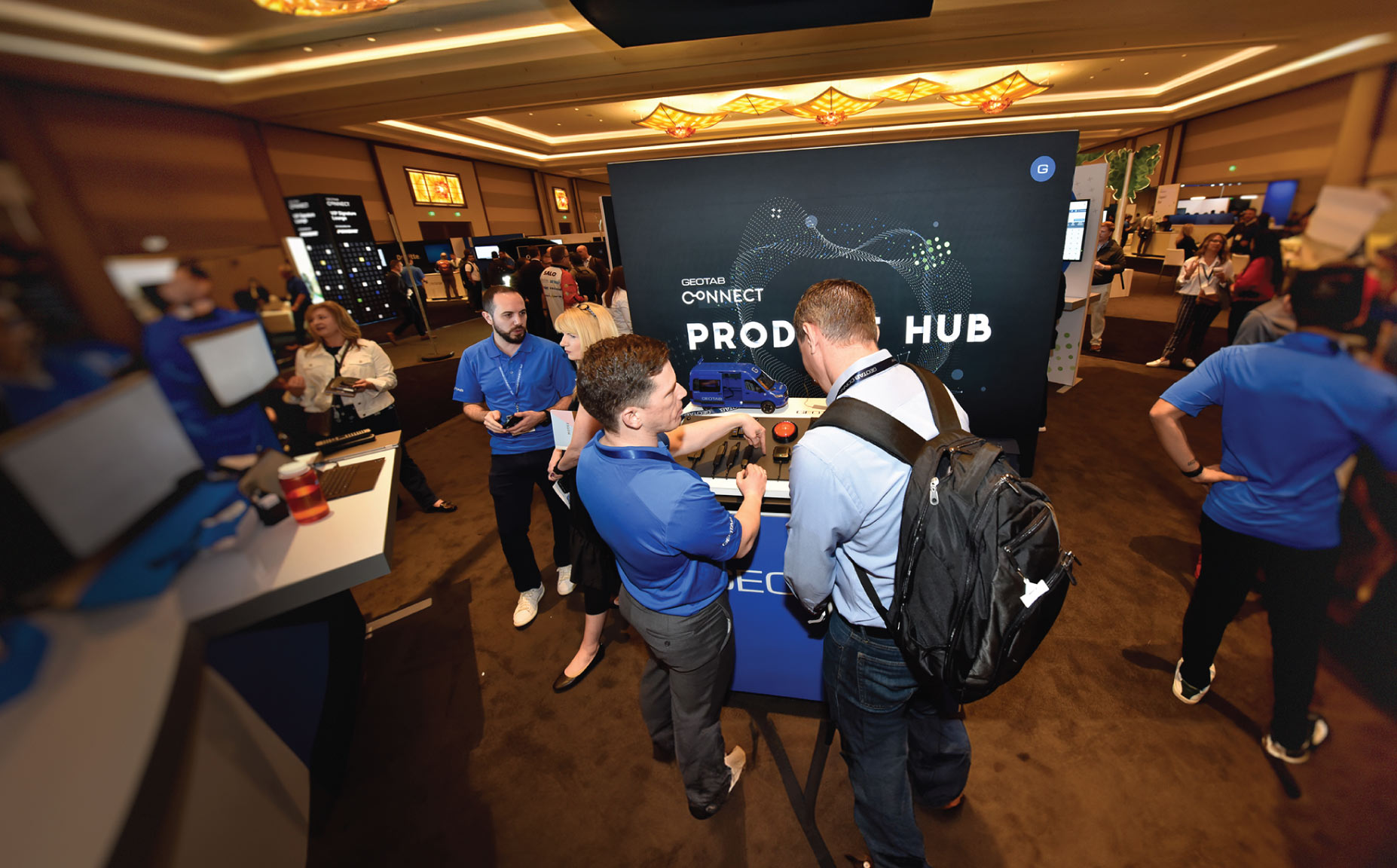 Geotab Connect 2024: The ultimate learning experience for fleet professionals
---
Geotab Connect 2024: Join us for the ultimate learning experience for fleet professionals. Explore rich educational insights, expert discussions, hands-on experiences, and more.
Geotab Connect 2024 is more than just another industry event; it's a commitment to offering a comprehensive and resonant learning experience for every fleet professional. With a meticulously curated agenda and a vast array of educational opportunities, we aim to provide attendees with the most relevant and timely information. Our vision is to redefine how fleet professionals view continuous learning, bringing together a range of expert-led sessions, hands-on activities, and insightful discussions into one cohesive experience.
Rich educational insights
From hands-on sessions and in-depth presentations to panel discussions and fireside chats, this year's agenda is curated by industry leaders, designed so attendees leave equipped with actionable insights. A glimpse into our over 40 sessions includes:
Reflecting on the year and looking ahead: What's new in product
How Geotab's maintenance solutions help prevent vehicle downtime
Fleet Electrification Fireside Panel; Learnings from NACFE's Run on Less - Electric DEPOT
Public sector state of the nation
Building powerful dashboards in Power BI via Geotab's Data Connector that leverage Generative AI
A deep dive into Geotab's new safety models
Building scalable data integrations with MyGeotab: The right tools for the right purpose
How to seamlessly integrate new devices with GO
Beyond the sessions – Hands-on experiences
Expert Bar
Geotab's commitment to direct engagement shines with the return of the Geotab Expert Bar. Our attendees value personalized, face-to-face discussions, and that's precisely what the Expert Bar offers. Book your time and get a unique opportunity to discuss and optimize the Geotab solution tailored to your organization's specific needs. Details on how to book through our Mobile App will be available shortly.
Product Hub
Year after year, the Geotab Product Hub stands out as a focal point for innovation and collaboration. This year, it's not just back—it's expanded. Engage directly with Geotab product managers, explore the latest as well as tried-and-true features, and participate in interactive product demos. What's more, the Product Hub now offers a designated space where you can share your insights on early prototypes and upcoming product concepts.
The Marketplace Show Floor
At Geotab Connect 2024, visit the Marketplace Partner Exhibit Hall to meet over 60 of Geotab's Marketplace Partners -- bringing the fleet industry's best under one roof.
Use this opportunity to enhance your Geotab setup or discover new industry tools and techniques. Engage in discussions, share stories, and acquire knowledge from seasoned fleet and telematics experts. Find the growing list of expert exhibitors here.
IOX Games – Geotab installer showdown
New to Geotab Connect this year is the IOX Games, a unique opportunity to showcase your skills in the world of Geotab technology. Participants can demonstrate their prowess in Geotab and IOX installations, vying for the title at Geotab Connect 2024. And for those wondering about the significance of IOX – it's the key that unlocks comprehensive vehicle data, transforming ordinary vehicles into smart, data-driven machines.
Connected Claims Services – Bridging insurance and technology
Who said insurance can't be engaging? Join us in the expansive Event Center for a unique hands-on experience, another first at this year's Connect. Witness real-time first notice of loss with bumper cars and analyze the aftermath of an actual collision. Understand how Geotab's advanced data collection aids the insurance sector in automating processes, to positively impact your financials.
Skillset challenge – The Geotab Hackathon
In line with our commitment to continuous learning, Geotab Connect 2024 introduces an educational hackathon tailored for those versed with the Geotab platform. This event promises:
Insightful engagements with the Geotab Solutions Engineering team.
Growth avenues to elevate one's technical proficiency within the Geotab ecosystem.
A collaborative space to nurture and present innovative projects.
Knowledge exchange with peers, offering a multitude of learning perspectives.
An exclusive opportunity to contribute to a new addition in the Marketplace.
And more…
Embracing the future of fleet management education
The evolution of fleet management requires an equally dynamic platform for learning and collaboration. Geotab Connect 2024 is designed to be that platform. More than sessions and demos, it's a confluence of knowledge, innovation, and community. It's where theory meets application, and ideas become reality. As we gear up for this monumental event, we're reminded of the strength of our collective intellect and the power of collaboration.
Don't miss out on this unparalleled opportunity to expand your knowledge, network with like-minded professionals, and gain hands-on experience.
Register Now for Geotab Connect 2024 and be part of the future!
---
If you liked this post, let us know!
---
Disclaimer
Geotab's blog posts are intended to provide information and encourage discussion on topics of interest to the telematics community at large. Geotab is not providing technical, professional or legal advice through these blog posts. While every effort has been made to ensure the information in this blog post is timely and accurate, errors and omissions may occur, and the information presented here may become out-of-date with the passage of time.
Get industry tips and insights
Sign up for monthly news and tips from our award-winning fleet management blog. You can unsubscribe at any time.
Other posts you might like