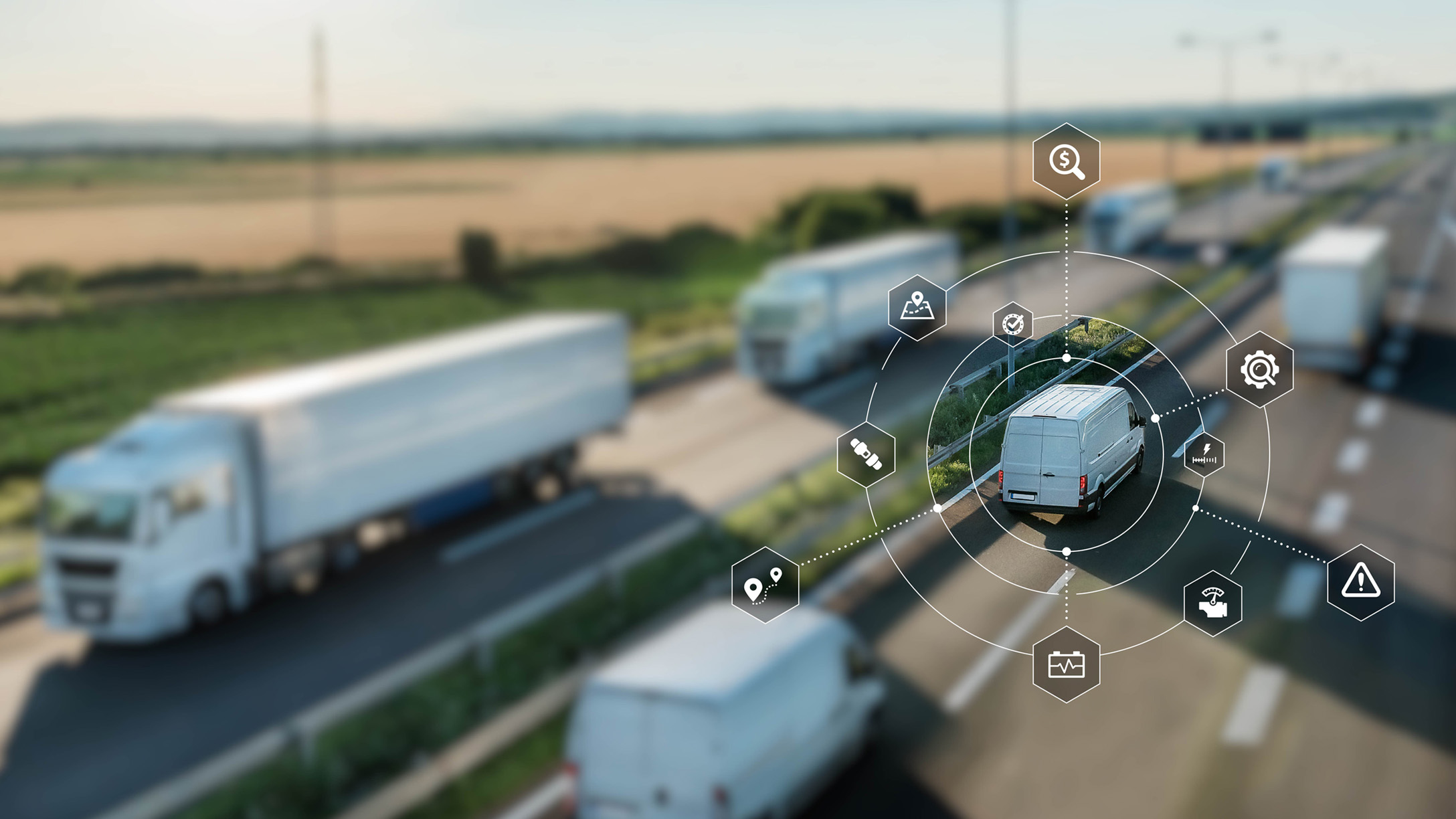 Learn how to cut fleet costs with telematics
---
Safety, fuel, maintenance and labor inefficiencies are some of the guiltiest offenders when it comes to rising fleet costs. Learn how telematics can help you control costs while optimizing your operation.
Cutting costs while improving efficiency? Does it sound too good to be true? What if we told you it was entirely achievable through telematics?
We've broken down the four biggest cost centers for fleets – safety, fuel, maintenance and labor – and come up with actionable, optimized ways to help reduce the costs they incur with a simple telematics solution. Read on for more insights – or take a look at the Cost control strategies using telematics educational video series – to learn how telematics can help you cut costs.
Improve safety, improve your bottom line
Aggressive driving, distracted driving, not wearing a safety belt — we can all agree that these behaviors are recipes for disaster. The results of unsafe driving can include collisions, increased vehicle wear and tear, higher insurance premiums, fuel waste and liability costs that could reach hundreds of thousands of dollars.
Here's where telematics can come to the rescue. Driver safety scorecards can help identify the riskiest drivers, giving you the opportunity to correct their behavior before an incident occurs.
But let's face it, with millions of miles driven every year by your drivers, collisions can still happen. In many cases, the fleet driver is falsely accused of being at fault — usually the result of the perceived deep pockets of the driver's company. With collision reconstruction reporting, you can provide the facts you need from a data-driven system to protect the driver, fleet and company from false claims.
The benefits of having a safety-conscious fleet — backed by a robust telematics solution — are many. You'll keep and retain the best drivers, minimize non-productive downtime and foster a good public image.
Fuel costs
When it comes to cost, fuel is always a focal point — historically second only to depreciation.
But fleets run on fuel, so it's a cost you have to bear, right? Well, the answer is both yes and no. You certainly need to keep your fleet rolling, but with telematics you can do so in a more cost effective way.
Built on a foundation of GPS, fleet telematics can make inefficient routing a thing of the past. And while you're monitoring and addressing unsafe driving behaviors – such as aggressive driving – you'll also make a dent in fuel-wasting behaviors. For example, driving just five miles an hour over the speed limit can waste up to 28 cents per gallon — pennies that will add up fast.
Telematics can also give you important information on other fuel insights – including potential fuel theft – by monitoring when and where a driver is filling up.
Need the big picture of your fleet's fuel spend or how you stack up against your competitors? Telematics can provide insights including monthly fuel trends and apples-to-apples industry benchmarking reports. You'll have even more insights into potential areas of fuel waste that can help save more across the entire fleet.
Re-tuning maintenance costs
Keeping your fleet's vehicles on the road is fundamental to fulfilling your delivery, service or sales mission. But it can be tough to optimize fleet maintenance without the right tools.
Telematics can optimize your fleet maintenance program in three ways:
By establishing a comprehensive preventative maintenance program, you can schedule routine repairs – such as oil changes or tire rotations – when it will impact day-to-day operations least.
By monitoring vehicle health through your telematics solution, you'll be alerted to fault codes or other signs of an emergent maintenance and safety issue before it becomes a budget-draining headache, avoiding significant costs and downtime.
Running vehicles until the proverbial wheels fall off is a wasteful approach to vehicle maintenance and fleet efficiency. With the aid of telematics you can accurately time when a vehicle needs to be replaced — saving the costs related to maintaining a vehicle when it exceeds the replacement cost.
A comprehensive maintenance program will save you in repair costs, resulting in a safer and more productive fleet.
Productivity
Need to improve driver and vehicle productivity? Telematics can help with that, too.
Is your driver taking too long at the job? Using optimized routing and time on the job reports, you may find that you can add another job onto a driver's daily schedule — directly increasing revenue. This also helps show your customers that you are committed to improving and optimizing appointment times, helping increase brand loyalty.
You'll also be able to monitor vehicle utilization, determining how often a vehicle is being used and by whom, which will help determine replacement or even rightsizing strategies.
By improving overall productivity, you can cut labor costs and increase the number of appointments per driver – with an added benefit of increasing your customer satisfaction.
Putting it all together
Savings from telematics don't happen in a vacuum. Savings in each of the four areas build on each other, creating a cascading effect of both optimized operational efficiency and cost savings. For example, eliminating aggressive driving improves a driver's risk score, saves fuel and limits wear and tear on the vehicle.
What is the biggest benefit of telematics for your fleet and your company? All the savings go directly to the plus side of your company's ledger book.
To learn how telematics can supercharge your fleet operation, watch our video series Cost control strategies using telematics.
---
If you liked this post, let us know!
---
Disclaimer
Geotab's blog posts are intended to provide information and encourage discussion on topics of interest to the telematics community at large. Geotab is not providing technical, professional or legal advice through these blog posts. While every effort has been made to ensure the information in this blog post is timely and accurate, errors and omissions may occur, and the information presented here may become out-of-date with the passage of time.
Get industry tips and insights
Sign up for monthly news and tips from our award-winning fleet management blog. You can unsubscribe at any time.
Republish this article for free
Other posts you might like