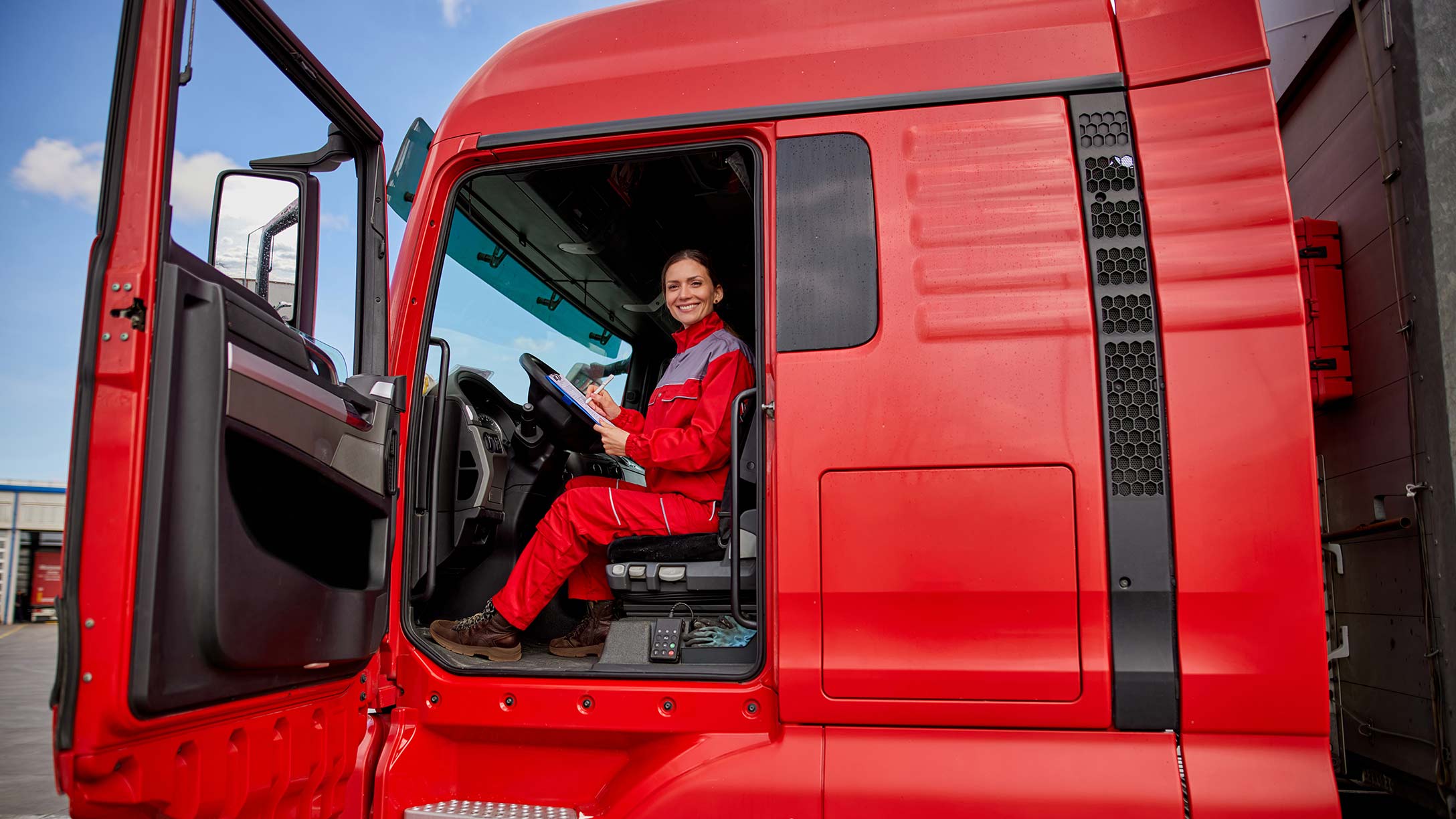 3 ways to improve driver recruitment and retention
---
Carriers that align their telematics technology investment with a driver-first culture can significantly improve driver recruitment and retention.
During the COVID-19 pandemic, heightened pressure on the supply chain has increased the demand for drivers. To get ahead in a new freight landscape, truckload carriers need to consider recruitment and retention as foundational elements of their growth strategy. Attracting the right talent and boosting driver loyalty enable carriers to save on hiring and training costs and allow them to seize opportunities to expand their revenue.
Rethink company culture to grow your team
One of the key areas carriers need to focus on if they want to improve driver recruitment and retention is company culture. With a turnover rate of 92% for carriers with over $30 million in revenue and 72% for small truckload carriers, it is important to place an emphasis on drivers' wants and needs when going through the recruitment process. Shifting to a driver-first culture across your organization means investing in the driver experience by providing the resources drivers need to do their jobs with confidence.
Job satisfaction directly affects drivers' desire to sign on and stay with a carrier. In a survey of drivers by the Commercial Carrier Journal (CCJ), 53% of respondents said they feel companies are struggling to find team members because they aren't doing enough to put their drivers' experience first. Carriers who want to attract and keep today's talent must prioritize driver-first initiatives and technology investments that enable their drivers to feel safe and cared for while out on the road. When drivers have the support and tools to help them succeed, their job satisfaction increases.
Here are three major areas of focus that can help you implement a driver-first culture at your company.
1. Empower professional growth
In a recent survey from Gallup, 59% of millennial respondents reported that opportunities to learn and grow are extremely important to them when looking for new job opportunities. Of the Generation X respondents who were polled, 44% listed this factor as a top priority, along with 41% of baby boomers.
One of the ways trucking carriers can demonstrate their commitment to a driver-first culture is to provide opportunities to gain skill sets on the job.
To accomplish this, carriers can offer resources like:
Paid training programs
Clear advancement opportunities
Improvements in driver experience
Technology that supports skill enhancement
Telematics solutions that combine electronic logging device (ELD) hardware with a variety of software integrations enable you to enhance compliance and empower your team members to become better drivers. For example, ELD software features like in-cab coaching and driver data logging allow you to provide opportunities for constructive feedback and support. This makes your drivers feel safer on the road. These software solutions also help leadership take an active role in recognizing improvements in driver performance.
2. Strengthen your company values
Integrating driver-first values into your company culture and backing it with action makes drivers feel cared for. These values should act as a north star that guides your decisions and strategic initiatives. Building business objectives around your values helps you find the solutions that will support your team and, in turn, push your business forward.
ELD systems are a part of every driver's life on the road. Aligning your ELD technology investment decisions with your driver-first values shows your team that the company is taking action to improve their experiences.
Leveraging telematics technology reinforces a driver-first culture by offering benefits such as weigh station bypass and safety features like alerts about high-risk areas and parking space availability. The right telematics solution should also deliver valuable tools to the driver, like collision avoidance technology and predictive fleet maintenance data. Features like these help drivers feel that you have their back on the road.
3. Prioritize driver-friendly technology
Telematics technology plays a major role in helping companies attract today's growth-minded workforce and develop a driver-first culture. Drivers face the most difficult parts of their job alone on the road. Optimizing the telematics technology in your fleet can help you support your drivers, wherever they are.
With the right telematics solution, you can empower your drivers to get home faster, reduce their stress on the road, and enhance safety both while driving and parked. These outcomes significantly enhance driver satisfaction and leave them feeling that their needs are being met.
When drivers feel that their employer is invested in them, they're less likely to move on to another carrier. Providing professional support, taking action on company values and offering enhanced technology tools are steps carriers can take to improve driver satisfaction, enabling them to recruit and retain the team members who will help the company succeed.
Learn more about how telematics solutions and software can help you cultivate a driver-first culture to improve driver recruitment and driver retention in our latest white paper.
About Drivewyze Inc.
Drivewyze Inc. is a leader in connected truck services and is on a mission to revolutionize transportation safety and efficiency. Drivewyze serves commercial drivers and fleets with innovative trucking services such as the Drivewyze PreClear weigh station bypass service, Drivewyze Safety+, Drivewyze Safety Notifications, Drivewyze Insights, and e-Inspections. Drivewyze was recognized by Frost & Sullivan with the North American Weigh Station Bypass Company of the Year Award for 2017 for its best practices and industry leadership.
Visit the Geotab Marketplace for more details about Drivewyze PreClear.
---
If you liked this post, let us know!
---
Disclaimer
Geotab's blog posts are intended to provide information and encourage discussion on topics of interest to the telematics community at large. Geotab is not providing technical, professional or legal advice through these blog posts. While every effort has been made to ensure the information in this blog post is timely and accurate, errors and omissions may occur, and the information presented here may become out-of-date with the passage of time.
Get industry tips and insights
Sign up for monthly news and tips from our award-winning fleet management blog. You can unsubscribe at any time.
Republish this article for free
Other posts you might like