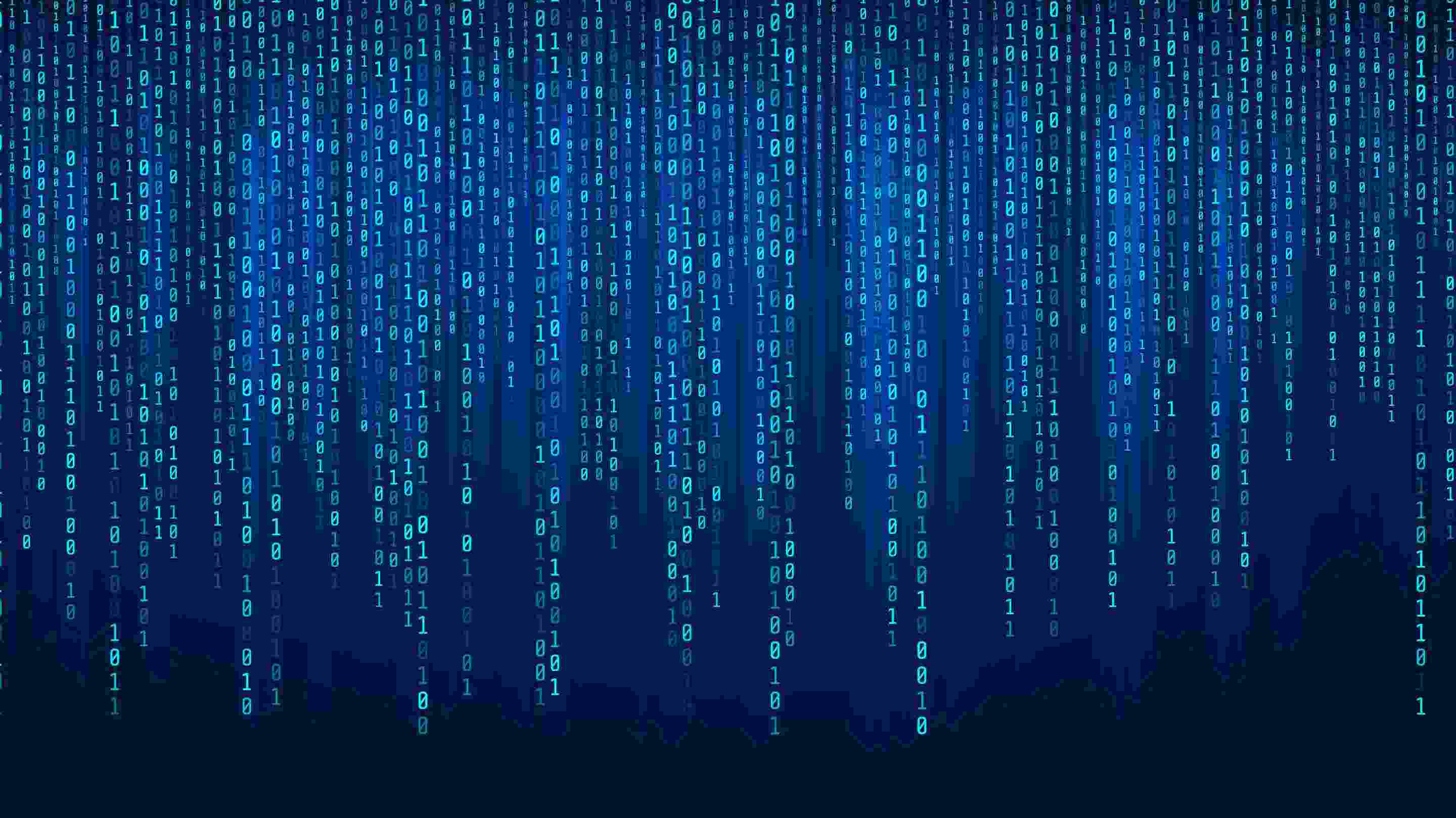 Geotab updates November 2017
A summary of November Geotab Drive and MyGeotab updates for Authorized Resellers and Geotab Users including ELD and report changes.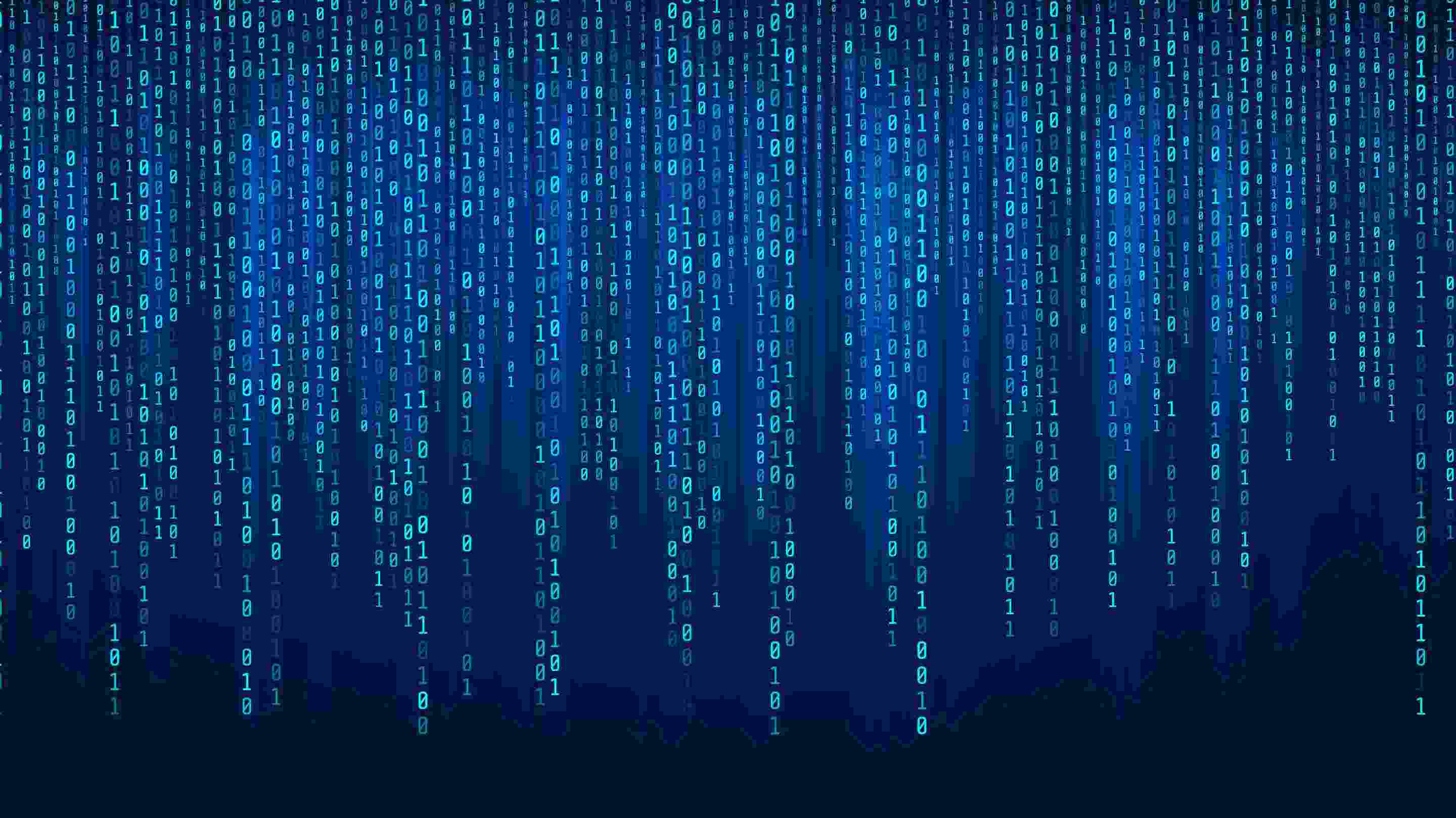 In this month's edition — Must-read summary of November Geotab Drive and MyGeotab updates for Authorized Resellers and Geotab Users.
Resellers: Review this post for important changes affecting your customers and note any recommendation actions. If you have suggestions for improvement, please leave a comment below.
Geotab Users: To verify your version: go to MyGeotab > Administration > About and check the build number, (e.g. 5.7.1707.xxx release/2017-11 indicates "version 2017 November"). Subscribe now to stay informed of new updates.
Geotab Drive / ELD Updates
Improved Visibility of Unverified Logs — To help drivers find and resolve their unverified logs faster, these logs are now highlighted in Geotab Drive for improved visibility. A notification at the top of the screen will also alert drivers to action required.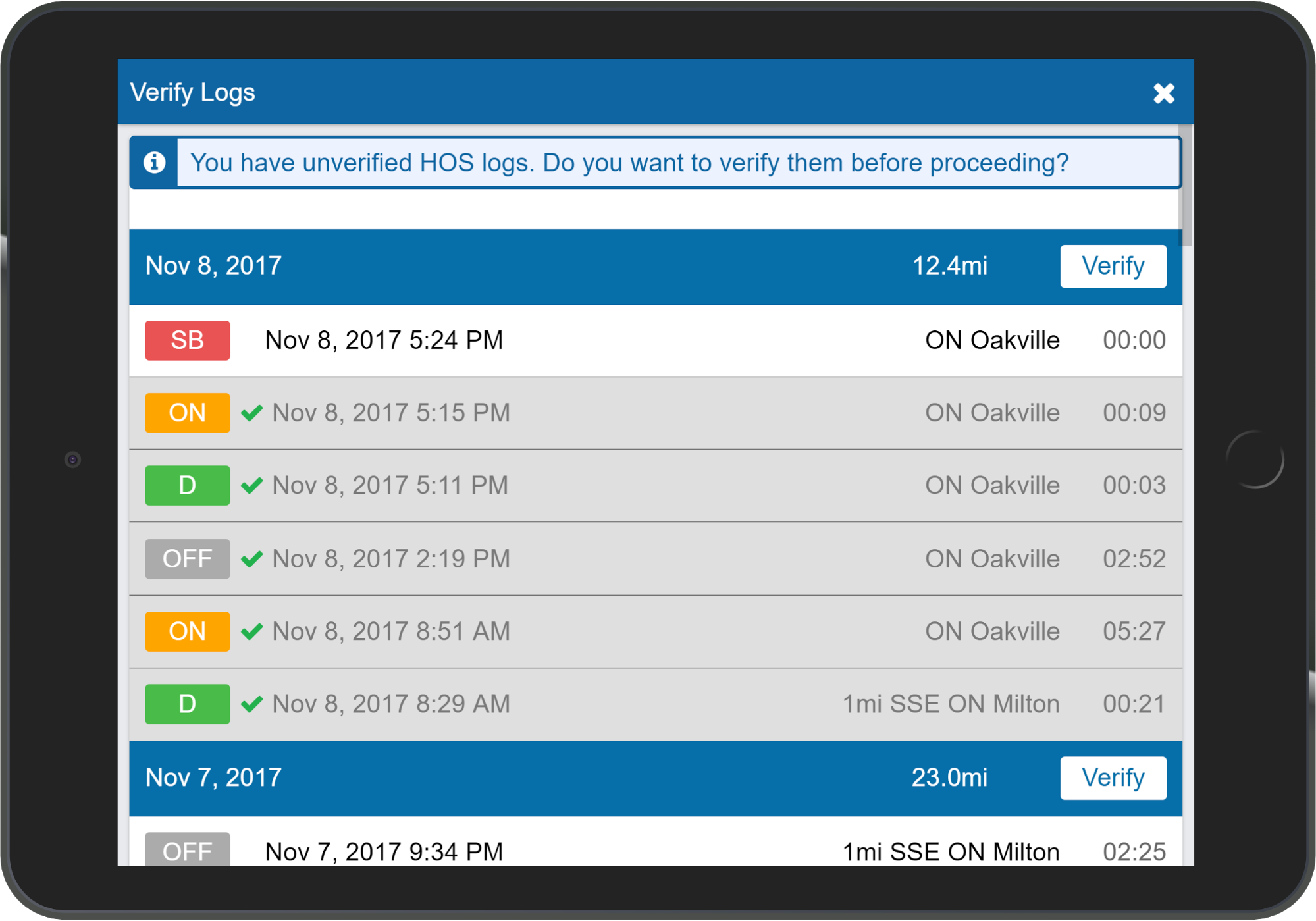 ELD Exemptions by Motor Carriers — Motor carriers can now configure ELD exemptions in driver accounts via MyGeotab. To set an exemption for a particular driver, the administrator must go to Administration > Users, and select the user. On the User Edit page, HOS Settings tab, go to the Ruleset field and select Carrier Exemption from the dropdown menu. Carriers will be prompted to enter an annotation to document the reason for the exemption.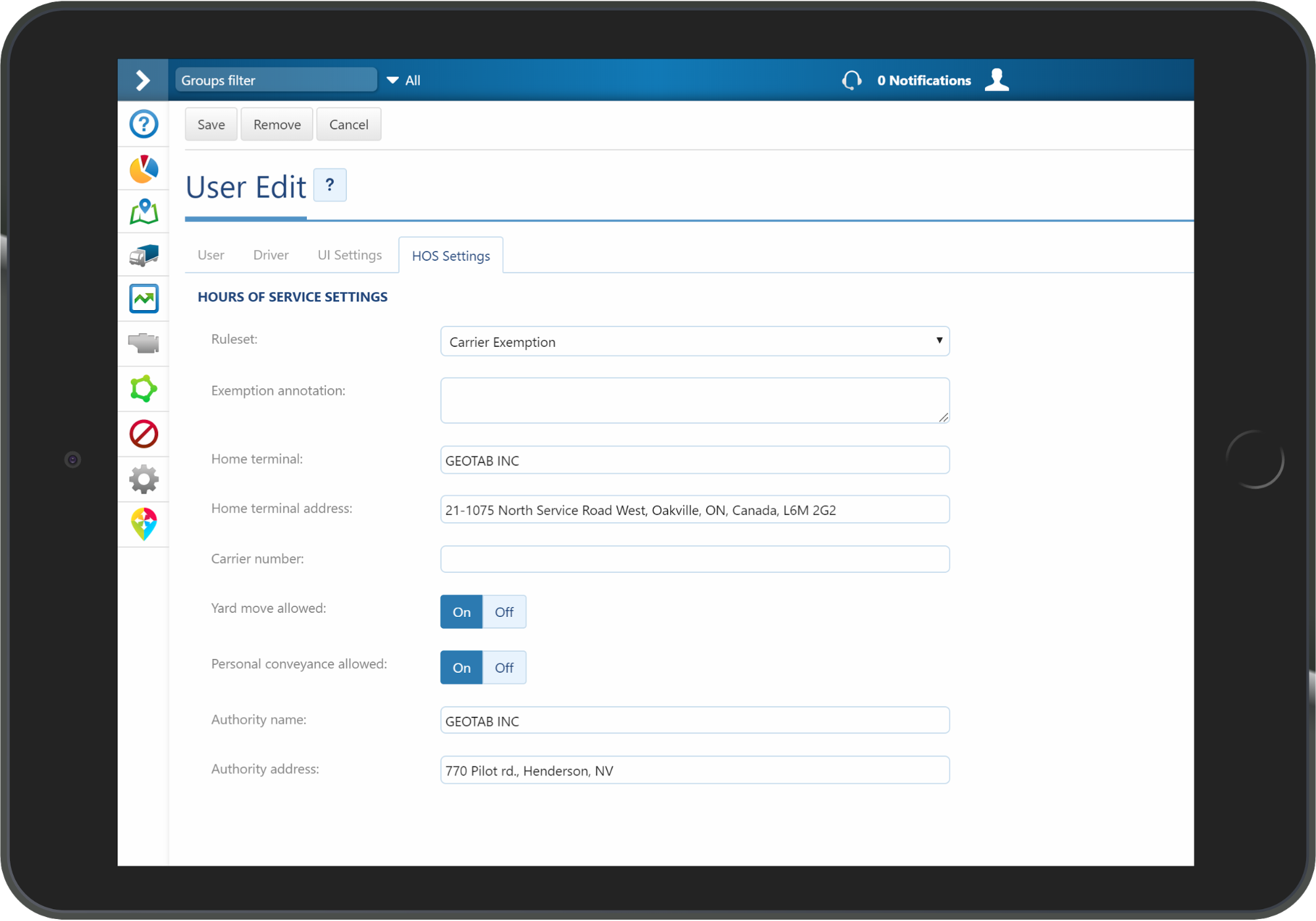 Driver's Acceptance/Rejection of Carrier Edits — Duty Status Log entries made by users who are not the driver are added as pending requests. The driver must either accept or reject logs that have been changed by an administrator or authorized user. The driver must then verify the logs. Driver certification is intended, in part, to protect drivers from unilateral changes.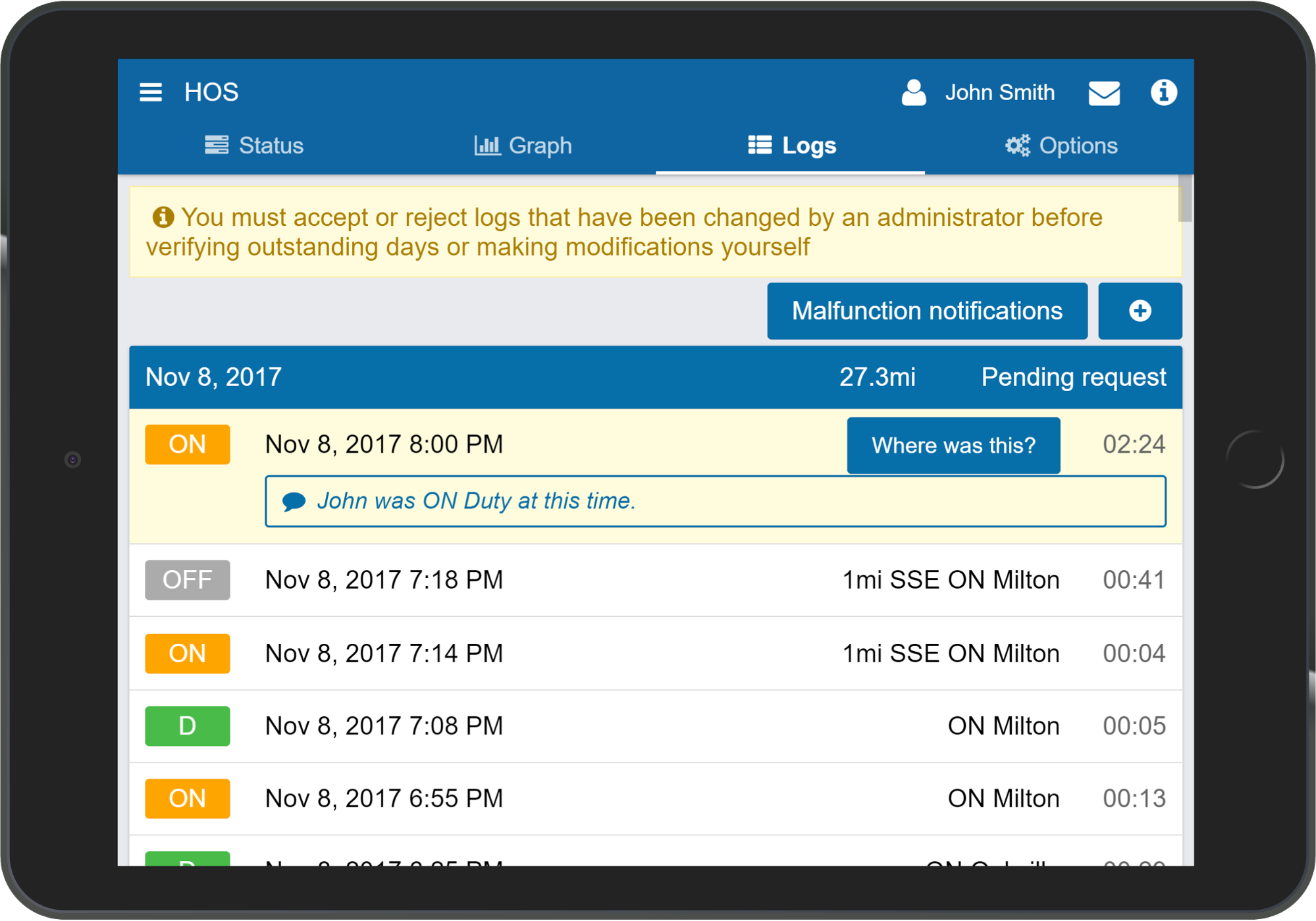 One Driver Account Per Driver's License — Per ELD requirements, a restriction has been set so that only one driver account can be associated with a driver's license number at a given motor carrier. License information on ELD reports complies with ELD requirements. Also be aware that the driver's license number and state/province must be set at the same time.
Geotab Drive & Roadside Inspections
ELD Data Transfer— Following ELD requirements, drivers can send ELD records wirelessly to authorized safety officials. As well, ELD records can be compiled and sent to authorized safety officials in one step if requested during a roadside inspection. To learn more, read this blog post about ELD data transfer methods for Geotab Drive.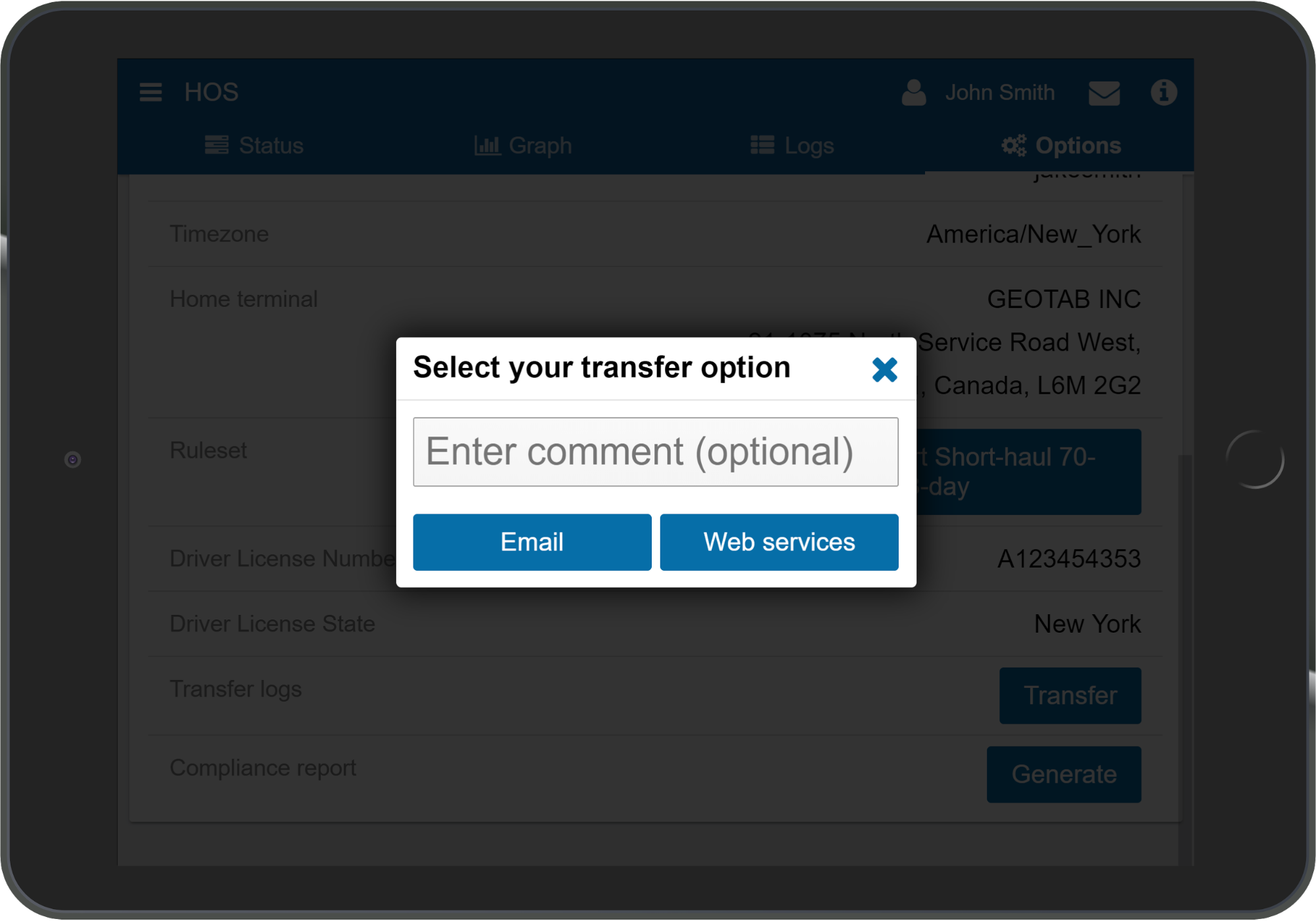 ELD Data File
The ELD data output file can be saved in a standardized format to comply with ELD requirements. This raw data file is specifically generated for the FMCSA eRODS system.
In the ELD records, a manual location entry will display "M" as the latitude and longitude coordinates.
For improved compliance, duty status logs (HOS logs) cannot be deleted within MyGeotab nor Geotab Drive. Logs can be annotated or assigned to the appropriate driver.
Compliance Report Updates
For a more streamlined user experience for drivers, intermediate logs are now only displayed in the Compliance report in Geotab Drive. To view the Compliance report, go to HOS > Options tab > scroll down to Compliance report and click Generate.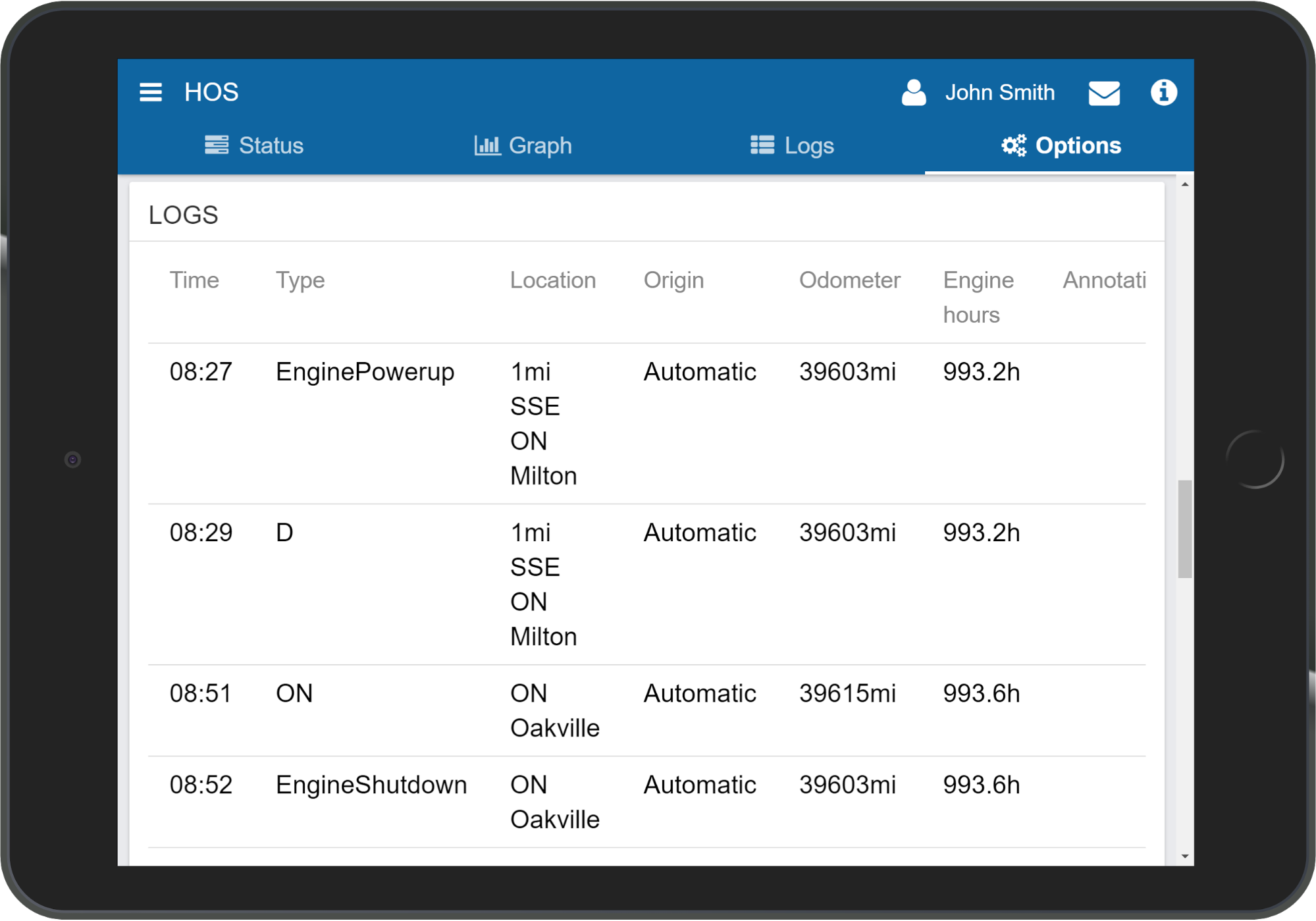 Compliance reports now include Diagnostic and Malfunction events, as well as engine startup and shutdown events. In addition, a compliance statement has been added to Compliance report to comply with Ontario DVIR regulations.
Additional Changes:
The Remark field is displayed separately from the DVIR Defects list for improved viewing on small screens.
Improved handling in cases where two drivers log into the same vehicle. When a vehicle has been reassigned to a new driver, the Duty Status Log displays a message indicating the previous driver has been disassociated with the device.
A new Help tool has been added for Diagnostic and Malfunction events.
Learn More: Please consult the Geotab Drive Compliance and Implementation Guide for information on Hours of Service and DVIR, ELD reports, MyGeotab Add-Ins, and access the Driver and Administrator Guides.
Download Geotab Drive from the Google Play Store or Apple App Store.
Database Updates
Unit of measure kilowatt-hours (kWh) has been added to the diagnostics.
New diagnostic codes have been added. See list of new codes here.
Report Enhancements
A new maintenance reminder option has been added. Fleets can now set up their reminder rules so that the notification is triggered by Engine hours and Mileage (whichever comes first). Previously, you had to choose one or the other.

The Excel report row limit has been increased to 100 000 rows.
SDK Updates
The "GetProximityAddresses" method is no longer available. Recommended replacement: Please use the method "getAddresses" in its place.
You can now email the HOS Compliance Report using the API.
"ViewBinaryData" security group is available.
We have updated the FuelTaxDetail documentation in the SDK Reference.
New security groups "ManageAddInData" and "ViewAddInData" allow users to manage and view data from Add-Ins.
For more details on the Geotab Data Feed API, code samples, and third-party hardware integration protocol, go to the MyGeotab SDK.
User Interface (UI) Enhancements
Unassigned logs are organized by vehicle for improved usability.
Language
Improvements in Portuguese, French, German, Spanish and Italian language translations.
New on the Blog
ELD FAQs: Unassigned Driving Time
Did you miss the last What's New post? View the August/September 2017 Updates from Geotab.
Learning Resources
For more information on Geotab Drive, MyGeotab, and the Geotab GO telematics device, please consult these resources:
---
If you liked this post, let us know!
---
Disclaimer
Geotab's blog posts are intended to provide information and encourage discussion on topics of interest to the telematics community at large. Geotab is not providing technical, professional or legal advice through these blog posts. While every effort has been made to ensure the information in this blog post is timely and accurate, errors and omissions may occur, and the information presented here may become out-of-date with the passage of time.
Subscribe to the Geotab Blog
Sign up for monthly news and tips from our award-winning fleet management blog. You can unsubscribe at any time.
Other posts you might like