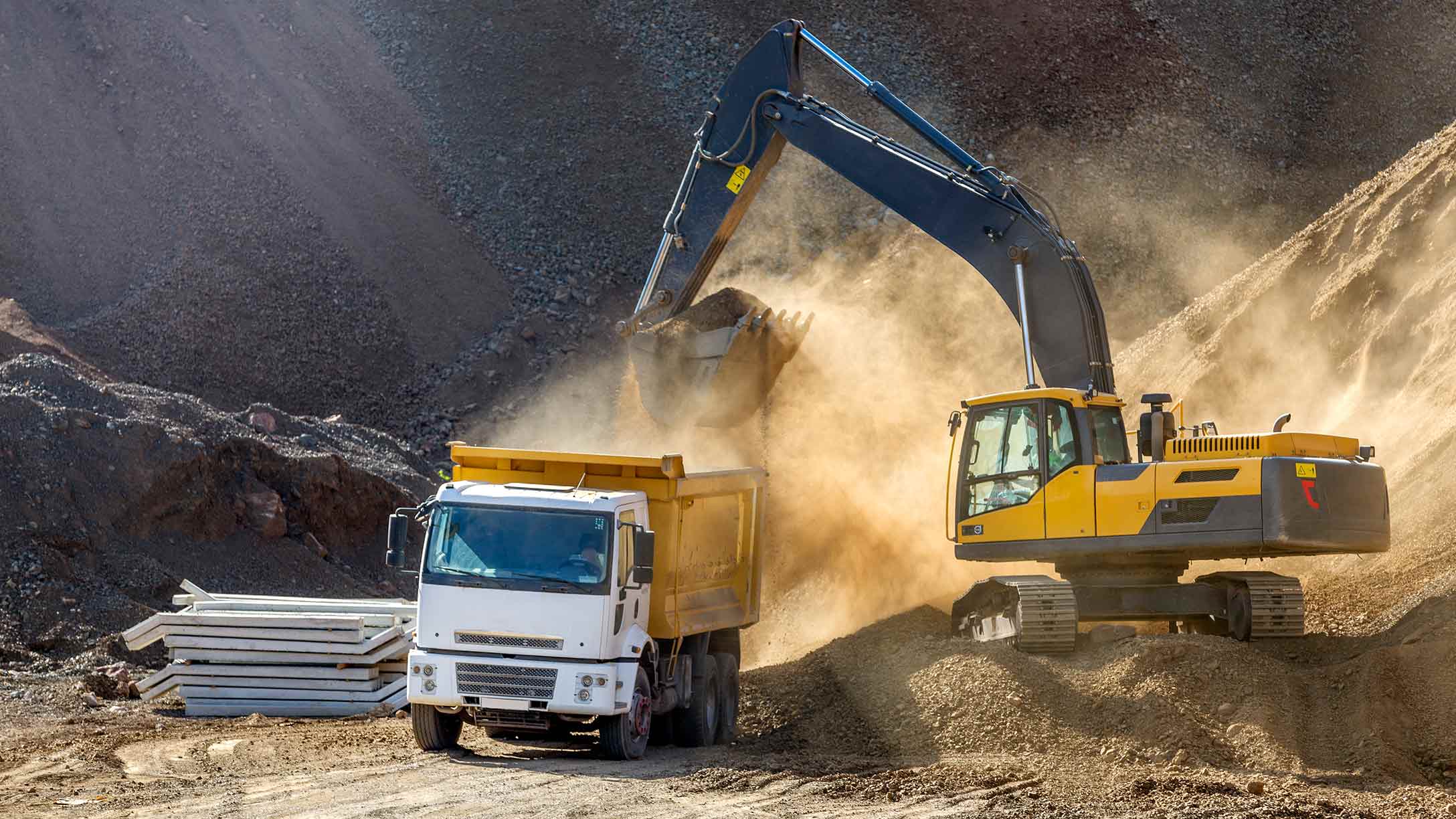 Creating a cocoon of safety at off-road work sites with radar motion detection
---
Technology can improve everyone's safety with greater situational awareness.
Telematics data provides valuable insights into the daily operations of all your work sites, including environmental factors like weather and terrain. This data can enhance the safety of drivers, equipment operators and others at the work site.
But with so much happening on a work site — especially in construction — we need more than just situational awareness. We need alert systems to protect our workers.
While past systems focused on audio alerts for people near and around a piece of equipment, trends have shifted to increase the engagement and awareness of equipment operators, mainly with advancements in radar solutions.
See also: Managing off-road fleets with an effective filtration system
Intelligent radar motion detection sensors are the next step in safety innovation
Older safety support systems rely on back-up alarms and emergency lighting. While this adds a layer of protection, it doesn't engage the operator or driver in a meaningful way. Imagine operating a piece of equipment on a loud construction site with a beeping noise as your only safety net.
While drivers and operators are trained, there's a visibility gap between what they're doing and what they can see.
To further improve safety, there has been a shift from just simple sound alert systems to include more intelligent radar motion detection sensors as an innovative next step.
Radar vision for increased visibility
Enter radar systems. These were introduced in the 1990s and created another layer of safety. Once they were implemented, drivers gained a more holistic view of their surroundings.
These advanced audio and visual warning systems, like the ones from Sensata Technologies | PRECO Electronics — the PreView® Radar Blind Spot Monitoring lineup — provide better situational awareness and create a cocoon of safety for drivers, operators and everyone on the work site.
So, how does it work? A warning is triggered from an external source — such as a person walking by — and an LED display is activated along with a warning sound to alert the operator, giving them an immediate opportunity to make a correction.
The device is installed on the exterior of the equipment at the midpoint of the blind spot and the LED display is mounted inside the cab, in view of the operator.
On the job site, things can happen in an instant, so these split-second notifications can help reduce potentially harmful unplanned incidents.
See also: Quick guide to off-road fleet tracking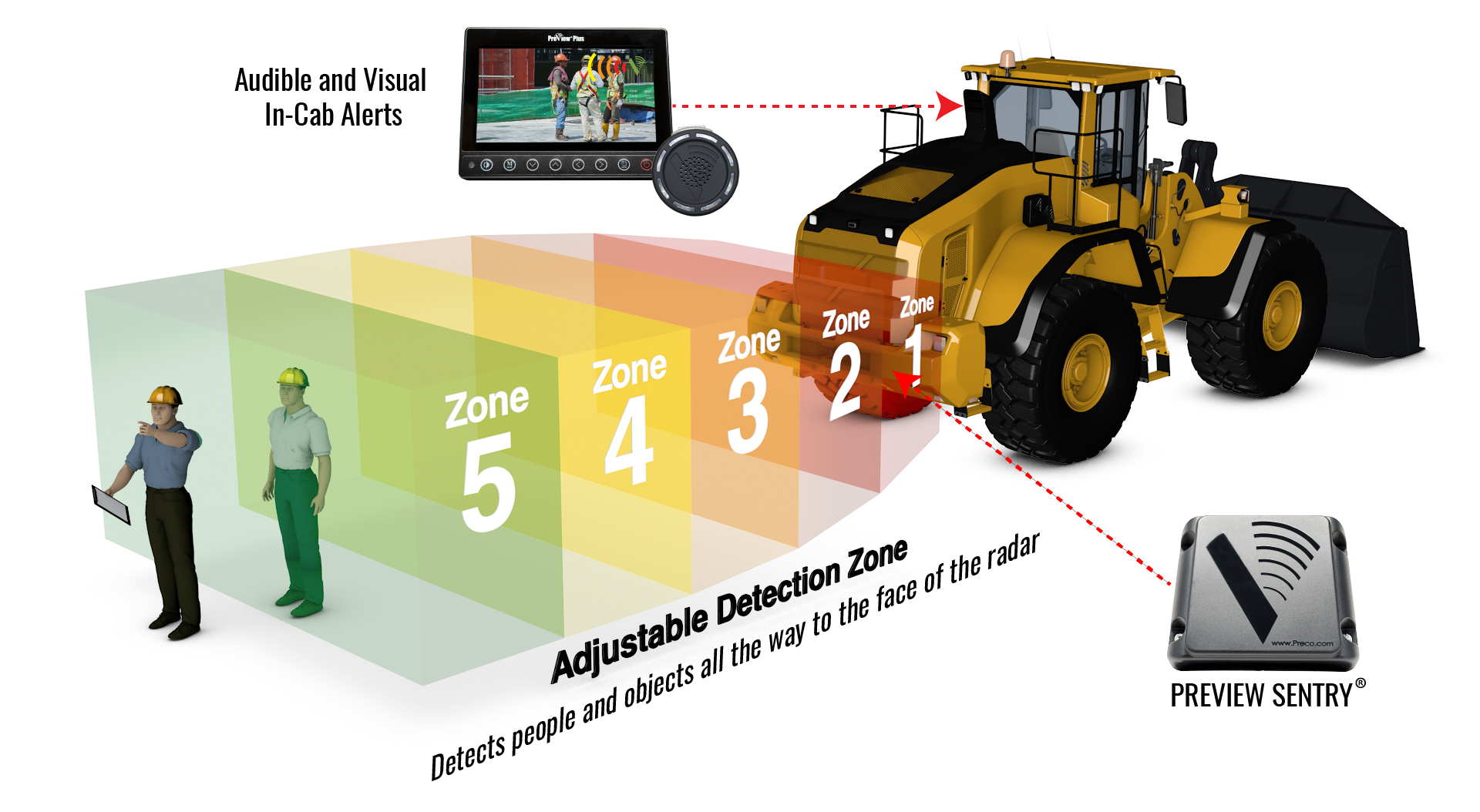 Rugged and flexible for harsh environments
Radar solutions frequently focus on light duty applications. What about operations like construction, oil, gas and mining? For that, you need a rugged solution designed for harsh climates.
Sensata | PRECO builds radar solutions that are reliable, durable and ruggedized. These solutions are capable of detecting objects up to 30 meters away in the most extreme off-road conditions, like arctic expeditions and other harsh environments. Built-in, fail-safe alerts also notify operators of radar blockage or communication issues.
See also: 5 reasons to go with the Geotab GO9 RUGGED
Leverage the combined power of radar, cameras and telematics
When you add the benefits of multiple technologies, safety increases across your work site. For example, according to customer surveys conducted by PRECO, you can reduce incidents by up to 15% just by installing a camera. When you stack a camera with a radar solution, you can see up to an 85% decrease in incidents.
When you tie everything together with a telematics solution from Geotab, not only do you get a safer work environment, but also a more efficient and productive one.
Integrate with Geotab to support informed decision-making
You can customize the parameters of the Sensata | PRECO solution for your entire fleet by choosing the information you want to monitor. On the Geotab side, fleet managers can set parameters for what constitutes a warning.
Fleet managers collect and analyze data from radar systems to make faster, more effective decisions, improving efficiencies and reducing costs.
Sensata | PRECO sensors uncover why things are happening in the context of telematics data, like a sharp swerve to avoid a collision or harsh braking because of an internal warning system. All this data is important to understand what's happening with your entire fleet and, in turn, improve overall safety.
Safety doesn't have to be a challenge
The truth is, safe work sites save lives. When you give everyone on the job more awareness, workers can operate with confidence, experience fewer incidents and increase efficiency.
Visit the Geotab Marketplace to learn more about how you can take advantage of this strong partnership.
---
If you liked this post, let us know!
---
Disclaimer
Geotab's blog posts are intended to provide information and encourage discussion on topics of interest to the telematics community at large. Geotab is not providing technical, professional or legal advice through these blog posts. While every effort has been made to ensure the information in this blog post is timely and accurate, errors and omissions may occur, and the information presented here may become out-of-date with the passage of time.
Get industry tips and insights
Sign up for monthly news and tips from our award-winning fleet management blog. You can unsubscribe at any time.
Republish this article for free
Other posts you might like