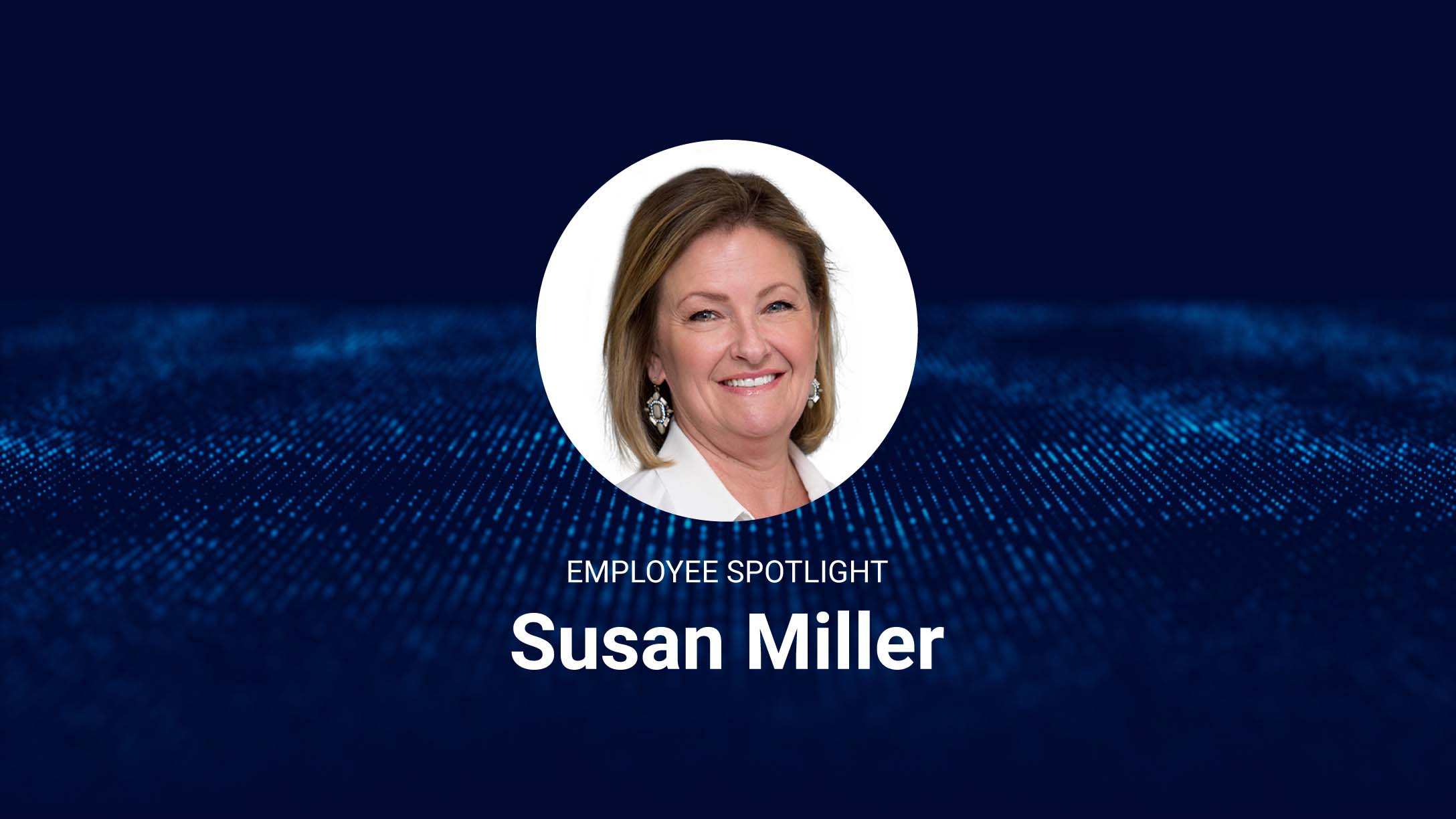 Strategies for fleet management success from Susan Miller
---
"Consistently seek to understand before being understood."
As a Fleet Hall of Fame Inductee, Fleet Manager of the Year recipient, co-founding member of Women in Fleet, past President of AFLA and longtime member of NAFA, Susan Miller has great insight into the fleet business and successfully managing teams.
In this employee spotlight, we talked to Susan about her path to Geotab, and asked for her top advice for fleet managers. Susan is a Senior Fleet Account Manager for the Customer Success team and an experienced fleet industry veteran with a record of achievement and expertise in fleet program management and vendor relationships. Her past experience as a fleet manager helps her to relate to customers challenges and provide coaching or consulting to fleet managers on best practices.
Susan's current role in telematics feeds her curiosity and desire to improve operations and processes that impact the safety of drivers while adding value to the bottom line.
What are some strategies that fleet managers can adopt to succeed in their role?
My best advice is to stay networked and active in and out of your workplace! If networks don't exist near you, create an internal council of stakeholders that impact fleet operations. Keep them engaged and informed on fleet metrics and how it impacts the business. Ask for their input and involve them in decisions as appropriate.
As well, consider joining industry associations and attending the local chapter meetings and annual conferences. Seek to be on an advisory board for your vendors, volunteer for committees and ask questions.
Consistently seek to understand before being understood, and know when it is appropriate to do either. Never stop evolving!
What is the biggest challenge you faced during your time as a fleet manager? How did you overcome it?
There were a few challenges during my career, but the biggest was a large tire recall. My fleet at the time had over 1,000 affected vehicles. Months prior to the official recall, we had identified a trend in our tire replacements and were diligently working with the manufacturer for warranty adjustments.
I formed a council involving all the critical stakeholders to leverage their expertise. Together, we prioritized and managed the replacement of over 5,000 tires in an expeditious and very well documented manner.
It was an extremely stressful time impacting drivers and productivity. Having strong internal and vendor relationships enabled us to quickly construct an actionable plan that had all tires replaced nationwide within 30 days and without injury to any of our drivers.
What are some best practices in fleet management to keep in mind?
Overall, the tips that have served me well are:
Keep an open mind.
Execute for results.
Build and leverage relationships.
Communicate effectively and frequently.
Think strategically.
Do not allow stagnation, complacency or ego to overtake you.
Remain relevant and energized by being curious, engaged and disciplined.
Enjoy the journey!
How does telematics complement a vehicle use policy?
Telematics and a vehicle use policy are a match made in heaven! The data that telematics provides gives concrete substance on which to manage and measure the effectiveness of the vehicle use policy. The purpose of which is to provide a safe working environment for the employee and mitigate risk for the company.
Using driver behavior to upskill drivers, predict and prevent unnecessary breakdowns, manage maintenance, optimize productivity and improve fuel efficiency are just a few of the main areas telematics complements a vehicle use policy.
What are your top three recommended Geotab features or reports?
My top three recommended Geotab reports are the Driver Safety Scorecard, idling exception reports and engine fault code information. Regardless of fleet size, vehicle types or industry, mitigating the risk to the company saves money and better manages carbon reduction. Being able to coach driver safety, keep idling to the absolute minimum and avoid costly breakdowns all contribute to the overall safety and performance of the driver and vehicle.
The shortage of truck drivers is a pressing issue for many. How can organizations attract and retain good drivers?
As a fleet manager, working with your internal teams and drivers to capture what is important and asking them what it would take to attract and retain good drivers is the best start. There are a few white papers and articles available as well as an excellent blog from Geotab titled "Reversing the truck driver shortage" that gives a fresh perspective from four female leaders in the trucking industry.
What is your advice for fleet managers trying to navigate the new normal?
The world we currently live in has so many uncertainties, you could easily become overwhelmed and fatigued. In my experience, the "new normal" will be yesterday's normal before you know it. Until it gets to that point, my advice is to focus on the controllables in both work and home. Prioritize what changes and uncertainties you must address, and focus on those.
Keep in mind the 80/20 principle, that 20% of your activities will account for 80% of your results.
Working from home can make management more challenging. What are some creative ways to communicate with your team about policy?
While not a new concept, gamification and making content sharing fun almost always yields the best result. Keep the policy updates "snackable" in small, impactful messages. Make engagement easy to access, and ideally, include a way to obtain their acknowledgement and measure their understanding.
Geotab's Marketplace has Partners that specialize in these areas and can take much of the guesswork out of how to implement it. If you do not have something in place already, I recommend checking them out!
Susan Miller is also a contributing author for the Geotab Blog, writing about productivity and other fleet topics. View all articles by Susan Miller on her author page.
---
If you liked this post, let us know!
---
Disclaimer
Geotab's blog posts are intended to provide information and encourage discussion on topics of interest to the telematics community at large. Geotab is not providing technical, professional or legal advice through these blog posts. While every effort has been made to ensure the information in this blog post is timely and accurate, errors and omissions may occur, and the information presented here may become out-of-date with the passage of time.
Get industry tips and insights
Sign up for monthly news and tips from our award-winning fleet management blog. You can unsubscribe at any time.
Republish this article for free
Other posts you might like