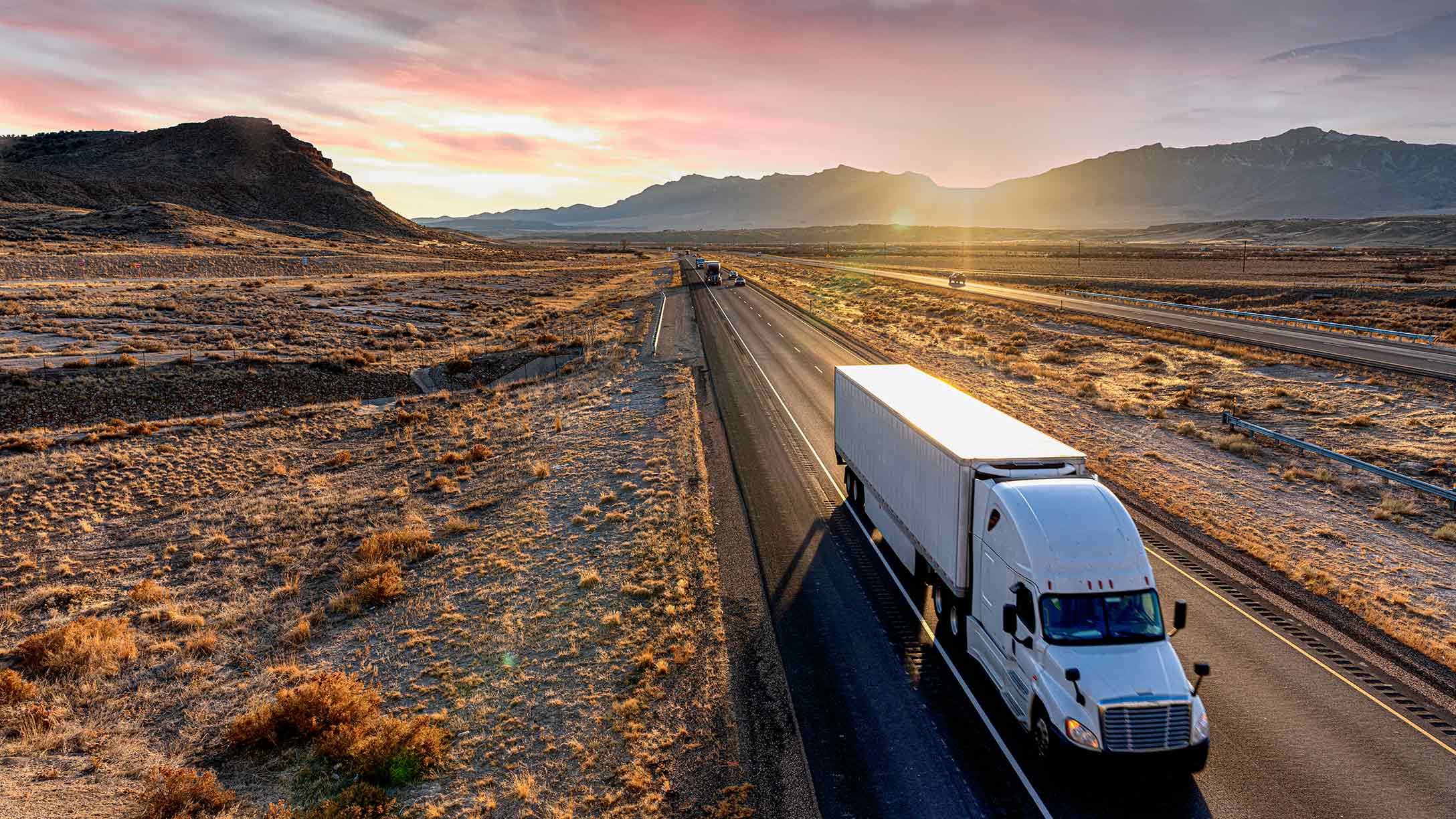 Ready, set, go! What does truck platooning have to do with race cars?
---
Platooning technology has more in common with the science of race car driving than you might think. Let's explore how this developing technology can reduce fuel costs, improve efficiency and support sustainability goals.
Car races are exhilarating, but they're not cheap. In 2020, it cost Mercedes $459 million to win the F1 championship. And with so much money at stake, race teams do what they can to win.
One technique they use is drafting — following each other closely to reduce drag and travel 3 to 5 mph faster. Truck platooning works in a similar fashion, using drafting to help commercial fleets reach their targets.
Fleets face complexity at every turn: supply chain issues, driver shortages — which are estimated at 80,000 in the U.S. — and the need for greater sustainability are making daily headlines. Platooning, while still in the early stages, when paired with a telematics solution like Geotab, promises to reduce fuel consumption, support greater safety and make for more efficient fleet operations.
Let's look more closely at what truck platooning is and how it works.
What is platooning?
The race to platooning is just starting as fleets learn more about the benefits of the technology. But what exactly is platooning and how does it work?
Essentially, platooning tethers multiple trucks together using vehicle-to-vehicle (V2V) communication. Vehicles can talk to each other wirelessly, help identify potential risks and help drivers take evasive actions. Plus, close-proximity driving allows fleets to take advantage of aerodynamic drag reduction.
However, there is still debate over the optimum following distance: too close and technology response latency might be an issue; too far behind and you invite cars or other vehicles to interrupt the platoon.
How does platooning work?
Each vehicle in the platoon has radar, camera and GPS technology to quickly react to situations. A driver controls the lead truck while following vehicles will — in the future — be completely autonomous. Automated vehicles will adapt and react based on the actions of the lead driver.
Today, human drivers still watch the road and respond to traffic, but in a platoon, they'll have their feet off the pedals. Lowering the total cost of ownership and helping fleets achieve their sustainability goals are just some of the benefits of platooning. Let's take a look at some examples.
Winning the race to fleet efficiency
Current first-generation platooning systems are designed for multi-lane, divided, limited-access highways. While these two-vehicle platoons still have drivers at the wheel, fleets can lower fuel consumption, improve road safety, reduce road congestion and even help with driver shortage issues. Let's break each one down a little further.
Lower fuel costs and improve sustainability
In platooning, commercial fleets could reduce fuel consumption by 4 to 5% for the lead truck and up to 10% for the second truck. That could translate into $2,000 of savings per truck per year. With fuel costs potentially taking up to 60% of a fleet's total operating costs, that means more money to address other business goals. Platooning also supports better fuel management programs and reduces transportation costs.
Improved fuel efficiency also leads to a reduction in CO2 emissions of up to 8% from the lead driver and up to 16% from trailing vehicles — a big step to running more sustainable fleets.
Improve road safety and traffic congestion
Currently, human error may be at the root of around 90% of accidents on the road. As automation and V2V technologies develop, we have more tools to promote safer roads for everyone. With trucks moving 10.23 billion tons of freight (which makes up 80.4% of the U.S. freight bill), reducing congestion and improving traffic flow supports safer and more effective roads.
In platooning, because trucks are taking advantage of drafting, they're making better use of the space on our highways. The technique also reduces tailbacks.
Address the driver shortage
As driver shortages continue to affect fleets in the U.S. — and around the world — platooning is one potential solution. Rather than displace drivers, platooning offers opportunities for drivers to learn new skills and become more valuable.
Some companies are working on solutions that will enable fewer drivers to transport more goods. One company in Canada is developing an off-road truck platooning system that will address the driver shortage and transportation issues in more remote regions. But with any new technology, there are challenges to consider.
Challenges in platooning
Some of the challenges in platooning include issues around planned maintenance, unfavorable weather conditions and low overall technology adoption from key players in the industry. Let's look at each one:
Planned maintenance: All vehicles in a platoon should be on similar preventative maintenance schedules. Things like brake wear and fluid levels can affect vehicle reaction time.
Weather conditions: Current studies have shown decreased results with inclement weather conditions. Heavy rain or snow make it hard to predict how brakes will react.
Geotab, telematics and platooning
Platooning with the right telematics solution — like Geotab — can save fuel, improve safety and help fleets coordinate maintenance cycles.
Fleets can track fuel use, determine the efficacy of the operating platoon and make data-based decisions to improve operations.
Telematics can also help improve safety through training, letting fleet managers monitor lead driver behavior for specific actions like harsh braking, accelerating, speeding and idle time. Measuring driver behavior alone has shown upwards of a 35% difference between the most and least efficient drivers.
From a preventative maintenance perspective, telematics can reveal pressing issues for fleet managers and allow them to effectively coordinate vehicle maintenance schedules, improving vehicle health and uptime.
Racing towards the future of platooning
Platooning may be closer than you think. In Alberta, Canada, studies are underway that involve automated platoons on Canadian highways, which is giving them "a better understanding of the safety and reliability of (platooning) and (its) future (use) on our highways".
One key to successful platooning will be a fleet manager's access to high-quality data to make near-real-time decisions. For example, if one of the autonomous trucks in the platoon pings at a high cooling temperature, the fleet manager needs to know exactly when and where that truck can pull over. The more accurate data the fleet manager has, the better.

Geotab is not only the industry leader in telematics but also, with the accuracy and quality of our data, we're the smart choice for your fleet needs today and tomorrow.
For more information on fleet advancement technology, please email Stephen White, Senior Business Development Manager, Heavy Commercial Vehicles at stephenwhite@geotab.com.
Stephen White sits on the Automated Truck Subcommittee through the American Trucking Association with the purpose of better understanding how the safe and effective development of platooning can benefit the industry and create safer roads for everyone.
---
If you liked this post, let us know!
---
Disclaimer
Geotab's blog posts are intended to provide information and encourage discussion on topics of interest to the telematics community at large. Geotab is not providing technical, professional or legal advice through these blog posts. While every effort has been made to ensure the information in this blog post is timely and accurate, errors and omissions may occur, and the information presented here may become out-of-date with the passage of time.
Get industry tips and insights
Sign up for monthly news and tips from our award-winning fleet management blog. You can unsubscribe at any time.
Republish this article for free
Other posts you might like