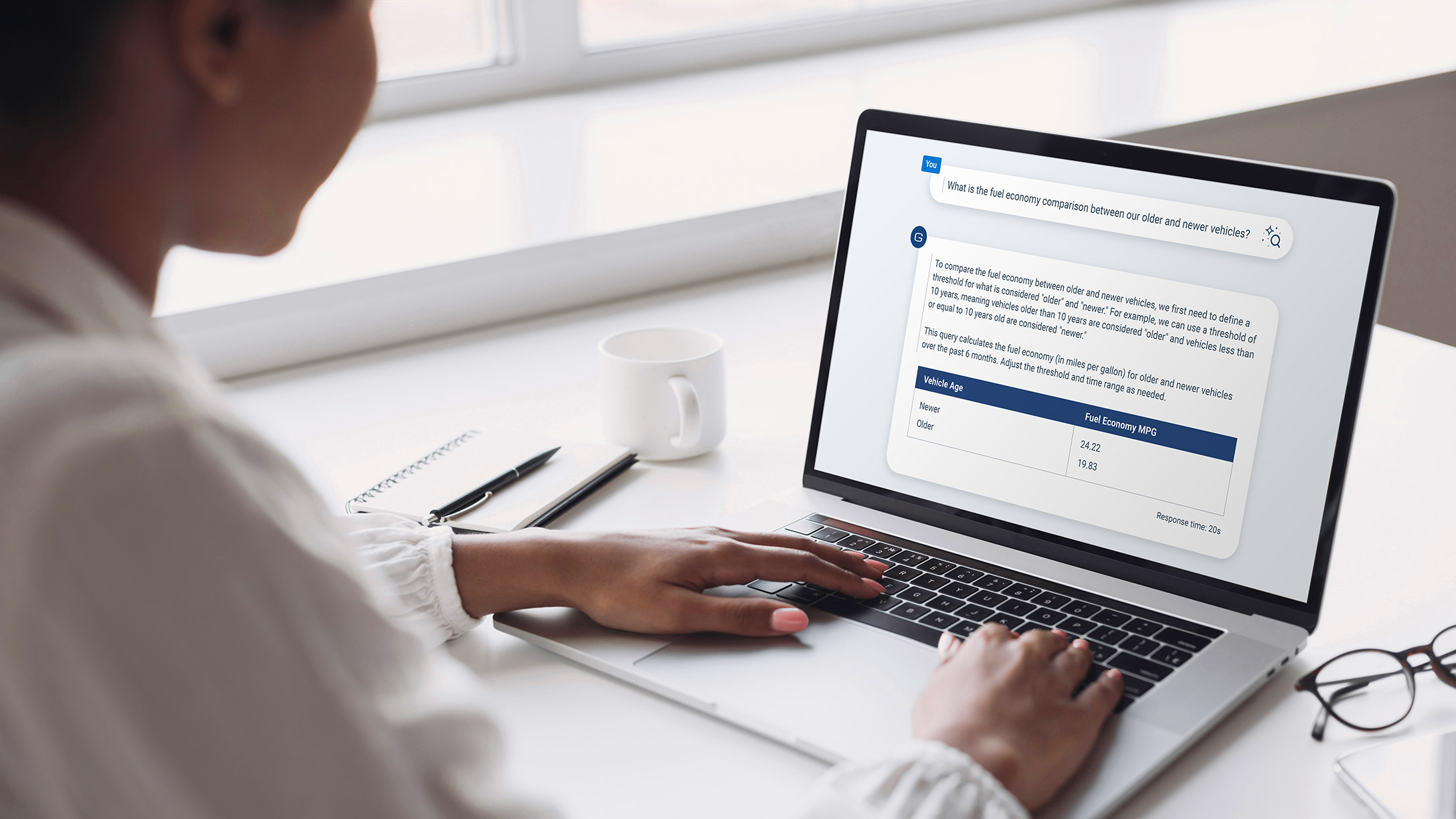 Geotab transforms connected transportation with innovative generative AI, shortening time-to-insight and customer value
Published on June 20, 2023
---
Project G Generative AI, available via Geotab Data Connector, will provide powerful insights related to vehicle performance, efficiency and more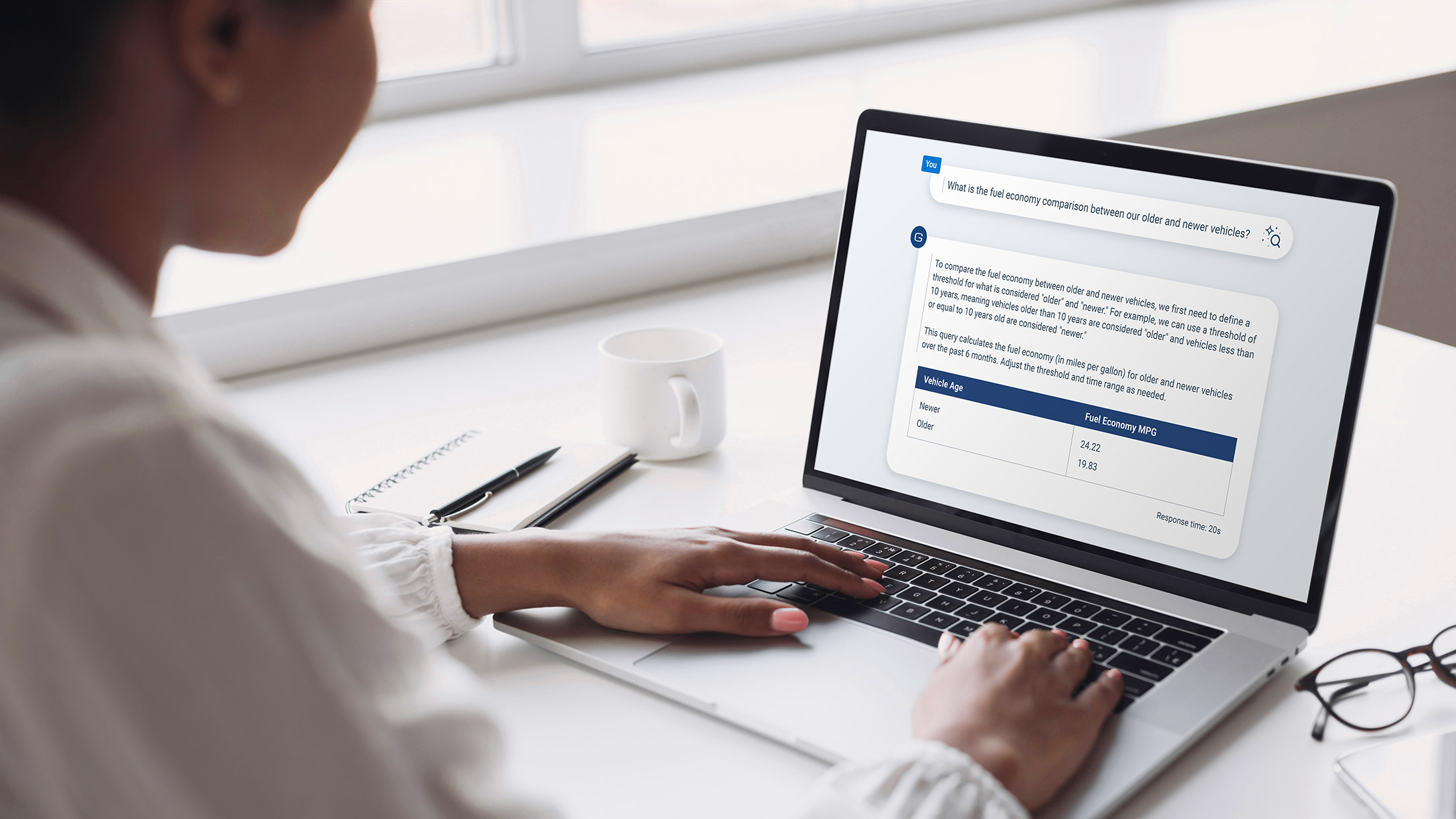 Toronto, Ontario (June 20, 2023) - Geotab, a global leader in connected transportation solutions, is taking the data experience to new heights with its industry-leading generative AI capabilities. Today, the company announced a beta project that introduces generative AI models into its platform, setting a new standard in the connected transportation industry. With the beta launch of Project G, Geotab is empowering participating customers to effortlessly access on-demand insights on vehicle performance, efficiency, and sustainability, setting a new standard in connected transportation.
By harnessing the power of natural language models, Project G reduces time-to-insight for customers and transforms the process of analyzing fleet data into a simple and intuitive experience. Customers now have an analytics digital assistant to pose questions through a chat interface linked to Geotab Data Connector, to receive immediate data-driven insights. From vehicle performance and idling times to fuel economy comparisons, vehicle usage, cost savings, and beyond, Project G delivers comprehensive, digestible information with ease. Project G is built on privacy-by-design principles and keeps all customer telematics data within Geotab's environment, never shared with any Large Language Model (LLM).
"With Project G, we're taking a giant leap forward in demonstrating the impact of generative AI in the connected transportation landscape. We've long been recognized as leaders in data intelligence and AI, leveraging artificial intelligence and machine learning models for years," said Mike Branch, Vice President of Data & Analytics at Geotab. "This breadth of experience presents us with a unique opportunity to analyze vast amounts of fleet data, identify patterns, and generate invaluable recommendations to optimize operational efficiency and performance."
Over the past year, Generative AI has become a significant area of focus and organizations worldwide are exploring its potential to drive customer and performance business efficiencies. Geotab has a strong history of AI innovation and is leveraging this expertise with customers in the beta project. With over 55 billion data points processed daily across more than 3.6 million connected vehicles, Geotab stands at the forefront of this transformative technology. With one of the industry's largest data science teams, dedicated to data and artificial intelligence, and with a global presence spanning 165 countries, Geotab possesses the expertise and scale necessary to train powerful AI models, unlocking unprecedented value and efficiency for its customers.
"The beta project is an exciting collaboration with select customers. We are able to align real-world requirements and challenges with data science expertise to learn, adapt and evolve capabilities. The possibilities are limitless, and we're committed to delivering cutting-edge solutions that make data easily accessible for our customers," added Branch. For more information, visit https://www.geotab.com/project-g.
Post Tags
---
Media Contact
Hanna Corrente
Manager, Strategic Communications & Public Affairs
pr@geotab.com
About Geotab
Geotab is a global leader in connected transportation solutions. We provide telematics — vehicle and asset tracking — solutions to over 47,000 customers in 150 countries. For more than 20 years, we have invested in ground-breaking data research and innovation to enable partners and customers, including Fortune 500 and public sector organizations, to transform their fleets and operations. We connect to over 3.8 million vehicles and process more than 55 billion data points a day so that customers can make better decisions, increase productivity, have safer fleets, and achieve their sustainability goals. Geotab's open platform and Marketplace, offers hundreds of third-party solution options. Backed by a team of industry leading data scientists and AI experts, Geotab is unlocking the power of data to understand real-time and predictive analytics — solving for today's challenges and tomorrow's world. To learn more, visit www.geotab.com, follow @GEOTAB on Twitter and LinkedIn or visit the Geotab Blog.