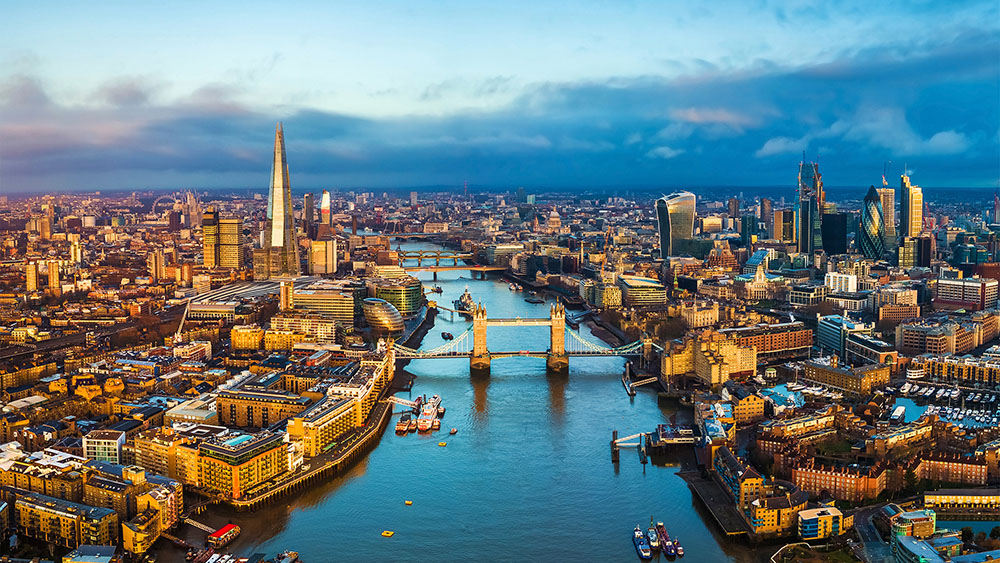 Clean Air Zones are driving electrification in the UK and Europe
---
Learn more about driving electrifications in UK and Europe, the reason behind The Ultra Low Emission Zone scheme, and the benefits.
In October 2019, King's College London reported in a new study that hundreds of heart attacks, strokes and acute asthma attacks every year are being caused in major UK cities by high levels of air pollution. NHS Chief Executive Simon Stevens called the findings evidence as a 'health emergency'.
After a year in which experts and campaigners have successfully managed to bring the reality of the climate crisis, global warming and air pollution to the wider public's attention, Mr Stevens' admonishing tone is all too familiar. But he's absolutely right. The global air pollution epidemic could not be more serious.
The World Health Organization (WHO) stated in October 2018 at its Global Health Conference on Air Pollution and Health and at its follow-up consultation in February 2019, that 4.2 million deaths occur worldwide every year as a result of exposure to ambient (outdoor) air pollution, and that 91% of the world's population lives in places where air quality exceeds WHO guideline limits.
Ambient air pollution, which causes 29% of all deaths and disease from lung cancer, is made up of pollutants including particulate matter (PM), ozone (O3), nitrogen dioxide (NO2) and sulphur dioxide (SO2).
See also: 3 key points to the European Green Deal
Authorities react to air pollution, but quickly enough?
So with the effects of air pollution so apparent, what has been the UK government's response? The Environment Bill 2019-20, which at the time of writing is still making its way through parliament, promises to improve air quality by setting a target to reduce PM2.5, and by increasing local powers to address sources of air pollution.
That sounds like a good start, and it couldn't come at a more opportune time. Because just a day after this bill was announced, the Guardian reported that 'little progress' is being made in tackling European air pollution. It cites research by the European Environment Agency (EEA). Levels of PM2.5 have stopped falling, after years of gradual reductions.
Alberto Gonzalez Ortiz, of the EEA said, "We do not see any big improvement, or worsening, year on year. It is PM2.5 that we should worry most about, and it is coming from domestic heating, industry and transport."
The Guardian adds that NO2 levels have fallen further, but remain a serious problem. In 2017, according to the EEA's report, around 10% of European monitoring stations reported that levels of NO2 were exceeding safety limits. In the UK, the monitoring station at Marylebone Road continued to record the highest level of NO2 pollution in western Europe, despite falls in the overall concentrations of the gas.
The Ultra Low Emission Zone scheme
In April 2019, in an effort to tackle the aforementioned effects of transport on air pollution, the London Low Emission Zone scheme was modified to include the Ultra Low Emission Zone (ULEZ), a fee charged to the most polluting vehicles in central London. Billed by Transport for London as a way to help improve air quality, the ULEZ operates non-stop within the same area as the Congestion Charge. Drivers of most vehicles, including cars and vans, need to meet the ULEZ emissions standards to avoid paying a daily charge to drive within the zone.
Non-compliant vehicles include:
Motorbikes that do not meet Euro 3 standards (vehicles pre-2007)
Petrol cars and vans that do not meet Euro 4 standards (vehicles pre-2006)
Diesel cars and vans that do not meet Euro 6 standards (vehicles pre-2015)
These vehicles will be subject to a daily charge of £12.50 for entering the ULEZ, in addition to the congestion charge. Buses, coaches and lorries that do not meet or exceed Euro 6 standards face a charge of £100 per day.
Although still in its infancy, the Evening Standard reported in July 2019 that the daily number of polluting vehicles entering the ULEZ has already fallen by 9,400 to 26,200, resulting in a 20% reduction in emissions in central London. The zone will be expanded to cover the North and South Circular from October 2021.
What are Clean Air Zones?
With plans to tackle emissions and air pollution in the capital well underway, attention has turned to other major cities across the country. In 2015, after losing a legal challenge in the Supreme Court, the government tasked five cities with establishing Clean Air Zones (CAZs): Birmingham, Leeds, Southampton, Nottingham and Derby.
Following further court action, 28 more councils were asked to draw up plans to tackle nitrogen dioxide levels, and a further 33 to carry out feasibility studies on whether a CAZ was needed.
Once approved and set up, polluting vehicles can be charged or fined for entering a CAZ. Charging is not compulsory, and local authorities can decide what level of restriction to apply. In regard to the original five CAZs mandated by the government, buses, coaches and HGVs which meet Euro 6 emissions standards will be exempt from any charges or restrictions. Cars, vans and taxis that meet Euro 6 (diesel) or Euro 4 (petrol) emissions standards will also be exempt from charges or restrictions, as will any ultra-low emission vehicles with a significant zero-emission range.
How much will it cost to enter a CAZ and where are they?
Birmingham:
From July 2020, Birmingham will charge non-compliant cars, taxis and vans £8 per day to enter its CAZ. HGVs, coaches and buses will have to pay £50. The CAZ will cover all roads within the A4540 Middleway ring road.
Leeds:
No launch date is currently set following delays, but once active, Leeds will charge Euro 5 or earlier diesel buses, coaches and HGVs £50 per day, and Euro 5 or earlier diesel and Euro 3 or earlier taxis and private hire vehicles, £12.50 per day. Private car drivers won't be charged.
Nottingham:
Nottingham has cancelled its plans to introduce a CAZ. The government approved the city's plan to tackle air pollution without a CAZ after showing it could reduce air pollution to below the legal limit within two years.
Southampton:
No launch date or boundary has yet been set, but Southampton's plans include a 'Class B CAZ', which would see buses, coaches and HGVs below the Euro 6 emissions standard charged up to £100 per day to enter. Private hire vehicles and taxis below Euro 6 diesel and Euro 4 petrol will be charged £12.50 per day.
Derby:
Instead of a CAZ, the council is proposing traffic management measures to address air quality issues without any charges for road users.
Plans for additional CAZs and Zero Emission Zones (ZEZs) are currently underway in Bath, Bristol, Cambridge, Coventry, Leicester, Liverpool, Oxford and Sheffield.
The impact of CAZs and the ULEZ on fleet managers
So what does this all mean for fleet managers? Clearly, any business with vehicles that routinely work in London or operate buses or trucks in other CAZ cities will need to take swift action or else face a large bill.
The Freight Transport Association (FTA) has advised small commercial fleet operators that the extended ULEZ in Greater London which comes into effect in October 2021, that they will be at risk if they do not upgrade their vehicles. Any heavy Euro 6 or Euro 5 vehicle will face a £100 fee to enter the ULEZ from October 2020. Vehicles below Euro 4 standards will be charged £300 every time they enter the zone.
The FTA has calculated that, for a small firm with five lorries or five vans, the extra cost of compliance in 2020 or 2021 will amount to more than 40% of their annual turnover.
Fleet electrification on the rise
The response from fleet managers has been significant, to say the least. ACEA reported in September 2019 that registrations of electric vehicles (EVs), including battery-electric, plug-in hybrids totalled 98,553 units in the second quarter of 2019 across Europe, with demand rising by 35.6% compared to last year. Significantly, sales of battery-electric vehicles (BEVs) almost doubled with a 97.7% rise.
In the UK, the results for BEVs get even better. SMMT figures show that July 2019 YTD registrations rose by 158% year-on-year to 2,271. Market share also nearly trebled, to 1.4%. By contrast, diesel vehicle registrations, the fuel type most targeted by CAZs and the ULEZ, fell year-on-year by 22%.
The benefits of an EV economy
The figures clearly show that fleet managers are increasingly trading in their diesel and petrol vehicles for EVs for environmental reasons and to ensure compliance with CAZs and the ULEZ.
EVs also help to reduce fleet operational costs. A paper released by the Department for Transport's Energy Saving Trust, claims that EVs are cheaper than conventional vehicles on a pence per mile basis. It estimates that EVs cost £2-3 to fully charge, for a typical range of 100 miles. An equivalent petrol or diesel vehicle costs £9-13 to drive 100 miles, around four times the cost of an EV.
Maintenance costs for EVs are also estimated to be lower than their traditional fuel counterparts, according to the paper. EVs have fewer service requirements such as oils and filters. Regenerative braking also reduces wear and tear on standard friction brakes, extending their life and reducing replacement costs. The website Go Ultra Low points out that along with significantly cheaper running costs, EVs benefit from government grants and tax incentives, all of which helps to reduce the whole life costs of a fleet. It calculates that switching a fleet of ten vehicles to electric, could save fleet managers £14,000 annually.
Major brands are going electric
One logistics company that's fully on-board with EVs is UPS. The Financial Times reported in 2018 that UPS's entire central London fleet would soon be made up of EVs, as going electric will soon be a cheaper alternative to diesel, according to UPS. More recently, The Truck Expert reported in September 2019 that UPS has added range-extended electric vehicles to its fleets serving Birmingham and Southampton to overcome the range limitations of pure electric vehicles within the logistics industry and allow UPS to comply with ULZ emission standards in those cities in the near future.
Learn more about transitioning to electric vehicles by downloading our ebook "The complete fleet electrification roadmap".
Related:
Fleet Electrification Knowledge Center
Cities driving to 100% renewable energy
Electric vehicle adoption in the UK: Why make the transition?
---
If you liked this post, let us know!
---
Disclaimer
Geotab's blog posts are intended to provide information and encourage discussion on topics of interest to the telematics community at large. Geotab is not providing technical, professional or legal advice through these blog posts. While every effort has been made to ensure the information in this blog post is timely and accurate, errors and omissions may occur, and the information presented here may become out-of-date with the passage of time.
Get industry tips and insights
Sign up for monthly news and tips from our award-winning fleet management blog. You can unsubscribe at any time.
Republish this article for free
Other posts you might like