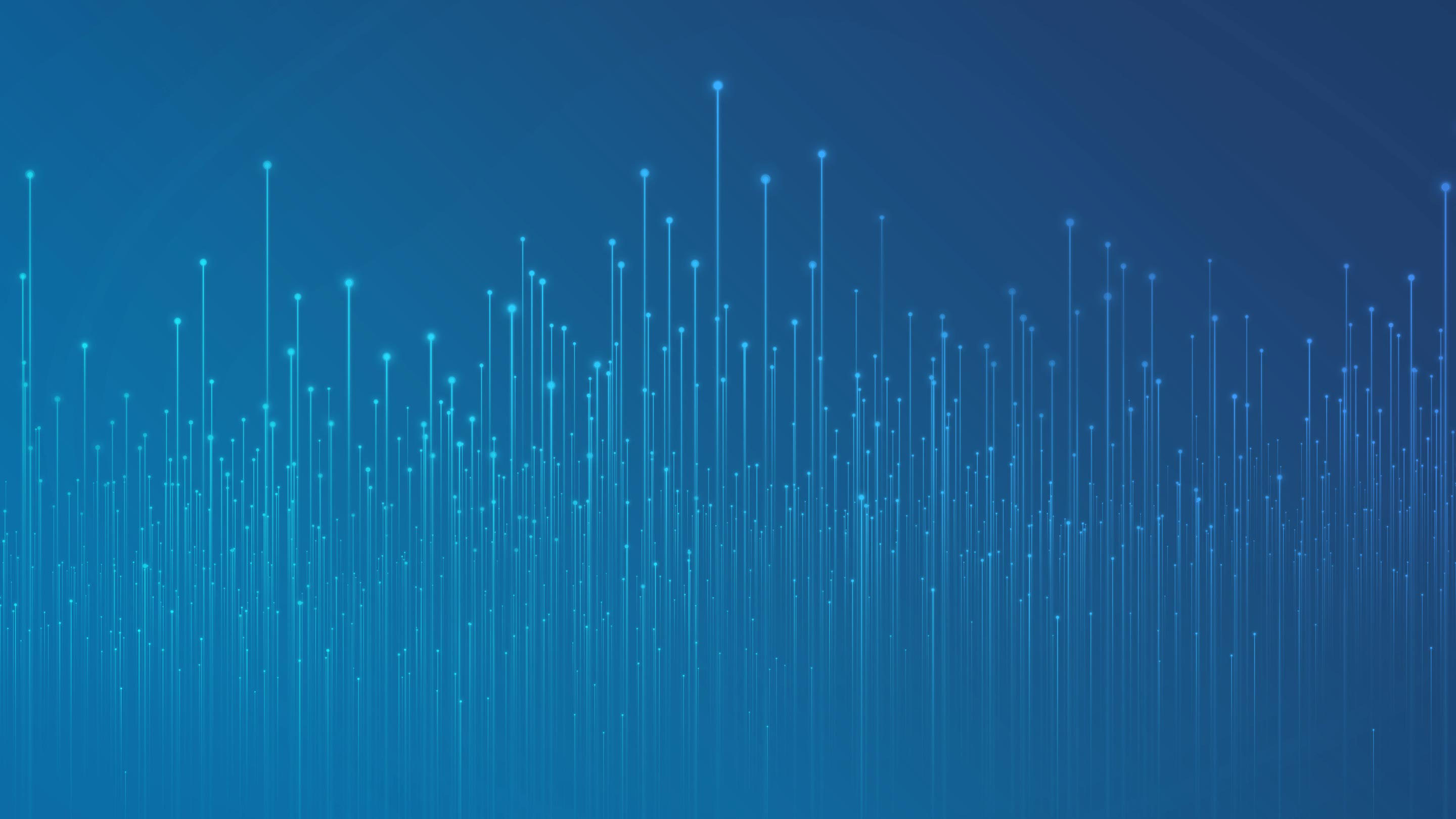 Green fleets help fight the war against air pollution
---
How green fleets in Europe are looking to innovation and clean vehicles to respond to pollution concerns and car-free regulations.
The deadly effects of air pollution have been demonstrated by various studies. As a result, numerous governments have invested in smart mobility and smart city projects with the aim of protecting the health of their citizens. Green and pedestrian zones, bikeways and green mobility alternatives are the most popular government reforms as of now. With green initiatives continuing to arise on a global scale, the message from city officials is clear: pollution and its repercussions need to diminish.
See also:
Creating a sustainable future with telematics
30 tips for a green fleet strategy
3 key points to the European Green Deal
The deadly impact of air pollution
The health risks of air pollution are irrefutable, yet go easily unnoticed. Poor air quality increases respiratory problems like asthma and bronchitis, as well as increases the likelihood of life-threatening conditions such as cancer. Long-term exposure to air pollution led to more 400,000 European deaths per year, these effects are felt demographically and economically with regards to healthcare attention.
European cities embrace car-free zones
In Europe, major cities use a number of approaches to combat the exponential rise of noxious elements, particularly in downtown core areas. For example, a number of cities plan to implement car-free zones, including Oslo, Milan, Dublin, Madrid, and Brussels. The city of Paris prohibits vehicles older than model year 1997 (and motorcycles older than 1999) from entering the capital on weekdays between the hours of 8 a.m to 8 p.m. As well, when air quality is particularly poor, an additional restriction applies to trucks over 3.5 tons and an alternating prohibition is placed on vehicles with odd and even number plates.
See also:
Increase sustainability with the Green Fleet Dashboard
Sustainability in action at Geotab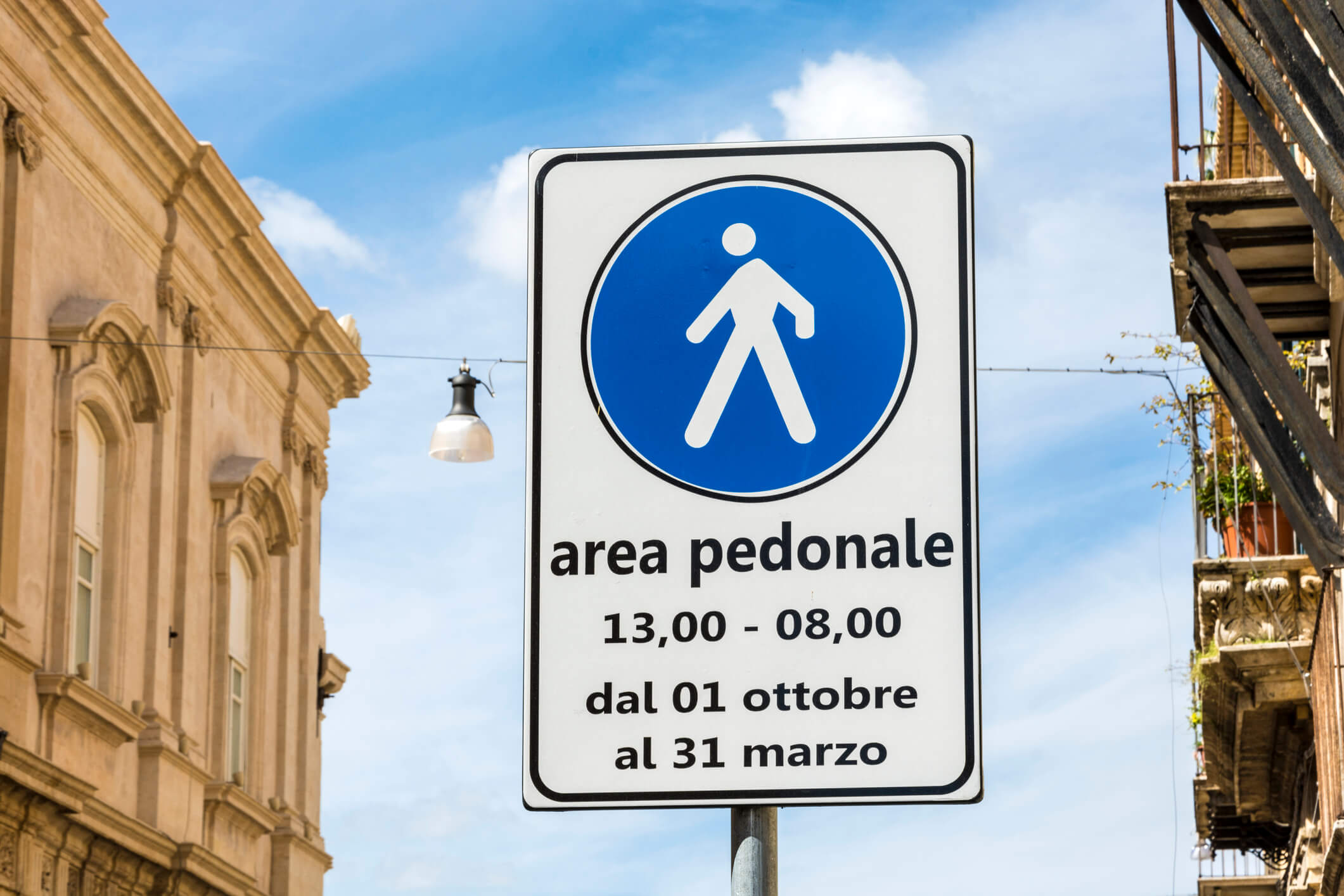 Pedestrian zone street sign in Italy
Instituted in February 2003, the London Congestion Charge applies to all motor vehicles circulating in the city's center between 7 a.m. and 6 p.m. on weekdays. It also comprises a Low Emissions Zone (LEZ) in which commercial diesel vehicles are specially countered, and different taxes are applied depending on each vehicle's age.
Increasingly, governments are cracking down on vehicles with old motor engines due to their detrimental impact on air quality. In fact, France's environment minister proposed a ban on vehicles powered by fossil fuels (gasoline or diesel). New and green electric vehicles are promoted and individuals purchasing them often receive economic help from city halls to do so.
Consequently, fleet companies are struggling to optimize their fleet management in such a way that reduces air pollution until new electric and hybrid vehicles fulfil their environmentally-responsible purpose.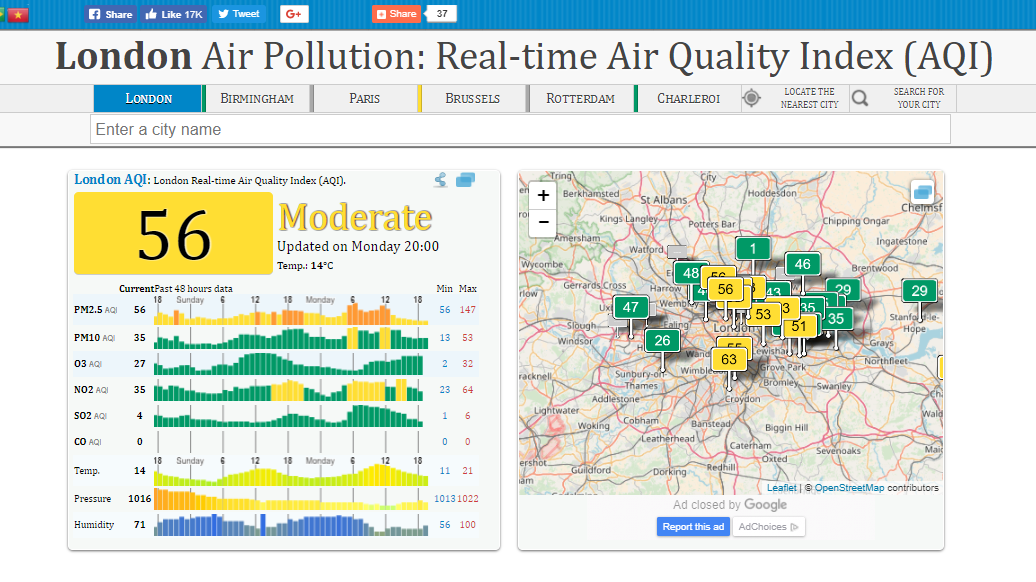 Map of air-pollution in London. Source: World Air Quality Index project
Businesses respond to climate crisis with green fleets
The most visionary companies are transforming and adapting their fleets. The French courier, La Poste is a pioneer in the implementation of electric vehicles. With over 35,000 electric vehicles, La Poste is continuing their greenification by testing hydrogen models vehicles and measuring their environmental impact. La Poste has pivoted to become the largest fleet of electric vehicles in the world according to Fleet Europe Magazine (p. 56).
Aiming for net zero
As the largest electric fleet in Germany, Deutsche Post DHL is leading the green logistics movement, having already met its 2021 goals of cutting emissions by 30% and now setting its sights on achieving 0% emissions by 2050. Part of DHL's strategy is to carry out last mile delivery services with clean vehicles (bike and electric vehicle). DHL actually purchased the company StreetScooter and it will be manufacturing its own electric delivery vans (e-vans) — 10,000 annually.
How Deutsche Post DHL Is Going Green:
Converting fleet of over 90,000 vans from diesel to electric
Producing and selling its own electric vans
Replaced 60% of urban routes in Europe with cargo bicycles (Cubicycles)
Initiated GoGreen environmental protection program to "Burn Less and Burn Clean"
Successfully improved carbon efficiency by 30%
Aiming to reduce logistics-related emissions to net zero by 2050
In the U.S., an all-star team of truck drivers recently drove across the country in a campaign to to raise awareness about fuel efficiency best practices in long-haul trucking. Read more on Run on Less here.
EV100 companies show leadership on electric vehicles
The EV100 coalition is a global initiative to promote the transition of corporate and government fleets to electric vehicles. As the group highlights, transportation and logistics companies have a major role to play in moving the needle on electrification since over half of registered vehicles are owned by businesses (did you know?) and the transportation sector is responsible for 23% of energy-related greenhouse gas (GHG) emissions. EV100 companies have pledged to integrate electric vehicles into their fleet, incorporate electric vehicles into service contracts, and install charging infrastructure.
Members of EV100 include Baidu, Deutsche Post DHL Group, HP Inc., LeasePlan, Pacific Gas and Electric Company, Unilever, Vattenfall, and Ikea. Ikea recently announced that it would be converting its delivery fleet to electric or hybrid vehicles.
Geotab and green telematics
Geotab acknowledges its role to protect the environment and help its clients and partners to build a green economy. We strive to integrate best practices in corporate sustainability into our decision making and business efforts worldwide.
The rich vehicle data provided by Geotab helps green fleets manage travel times, monitor vehicle diagnostics, predict possible breakdowns, optimize asset utilisation and increase productivity, efficiency, safety and compliance.
As an engineering company, we are continually advancing our capabilities. In addition to "conventional" petrol and diesel vehicles, we support hybrid and electric vehicles as well as alternative and advanced fuel technologies such as CNG, LPG, and Hydrogen.
Fleets test their sustainable driving skills at green fleet event
Geotab was honored to support and participate in the GreenFleet Arrive'n'Drive event at the Rockingham Speedway in Corby, UK. Arrive'n'Drive incorporates Beat the Sprig, an eco-driving competition organized by GreenFleet. It challenges fleet professionals to drive a vehicle in real world conditions, in the most environmentally friendly way. The drivers' performance was measured using data generated by Geotab's GO device.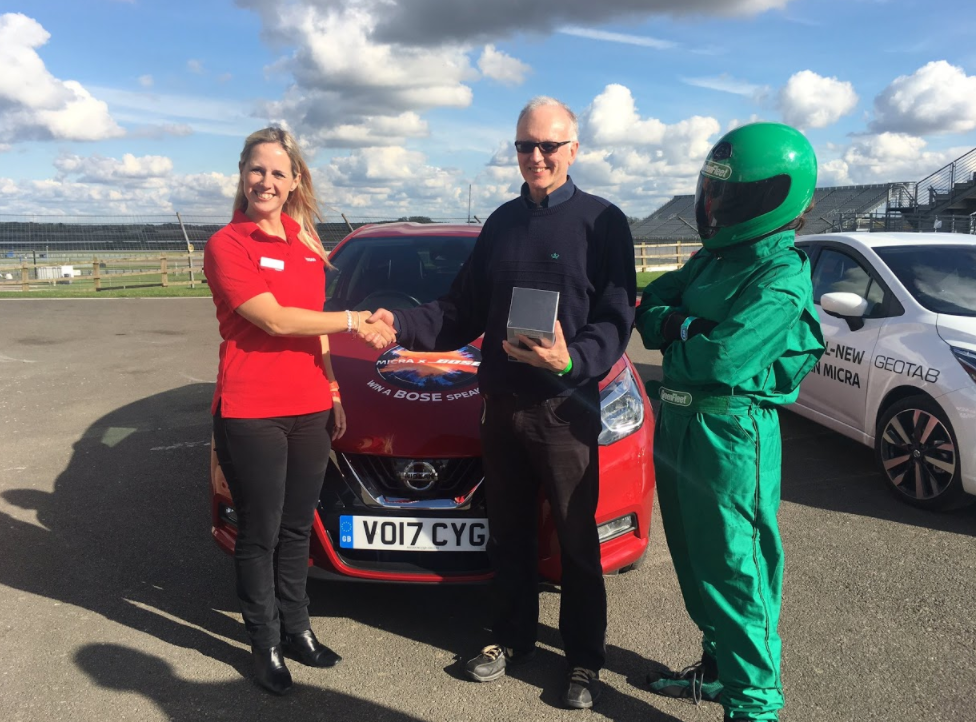 Best driver receives award at GreenFleet Arrive'n'Drive
Nissan provided three vehicles this year as the main sponsor of the event and Geotab was the featured technology partner. The vehicles had Geotab's GO device installed which relayed vehicle and driver data to event participants. A scorecard was created for the event to measure driving skill in a predetermined on-road course. Geotab measured key indicators of driver behavior including harsh acceleration, speeding, harsh cornering and harsh breaking; all elements of efficient and safe driving. Every attendee was invited to drive and visit our booth afterwards to see how they performed. This made an already unique event, not only informative but also turned it into a fun and friendly competition.
This data demonstrated how Geotab can help green fleets manage travel times, monitor vehicle diagnostics, predict possible breakdowns, optimize asset utilisation and increase productivity, efficiency, safety and compliance.
Visit our website to discover how Geotab can help you with fleet optimization.
References:
More news from Europe:
How automotive IoT is disrupting the leasing and car rental industries
EU road safety: Saving lives with smart tech
---
If you liked this post, let us know!
Post Tags

---
Disclaimer
Geotab's blog posts are intended to provide information and encourage discussion on topics of interest to the telematics community at large. Geotab is not providing technical, professional or legal advice through these blog posts. While every effort has been made to ensure the information in this blog post is timely and accurate, errors and omissions may occur, and the information presented here may become out-of-date with the passage of time.
Get industry tips and insights
Sign up for monthly news and tips from our award-winning fleet management blog. You can unsubscribe at any time.
Republish this article for free
Other posts you might like