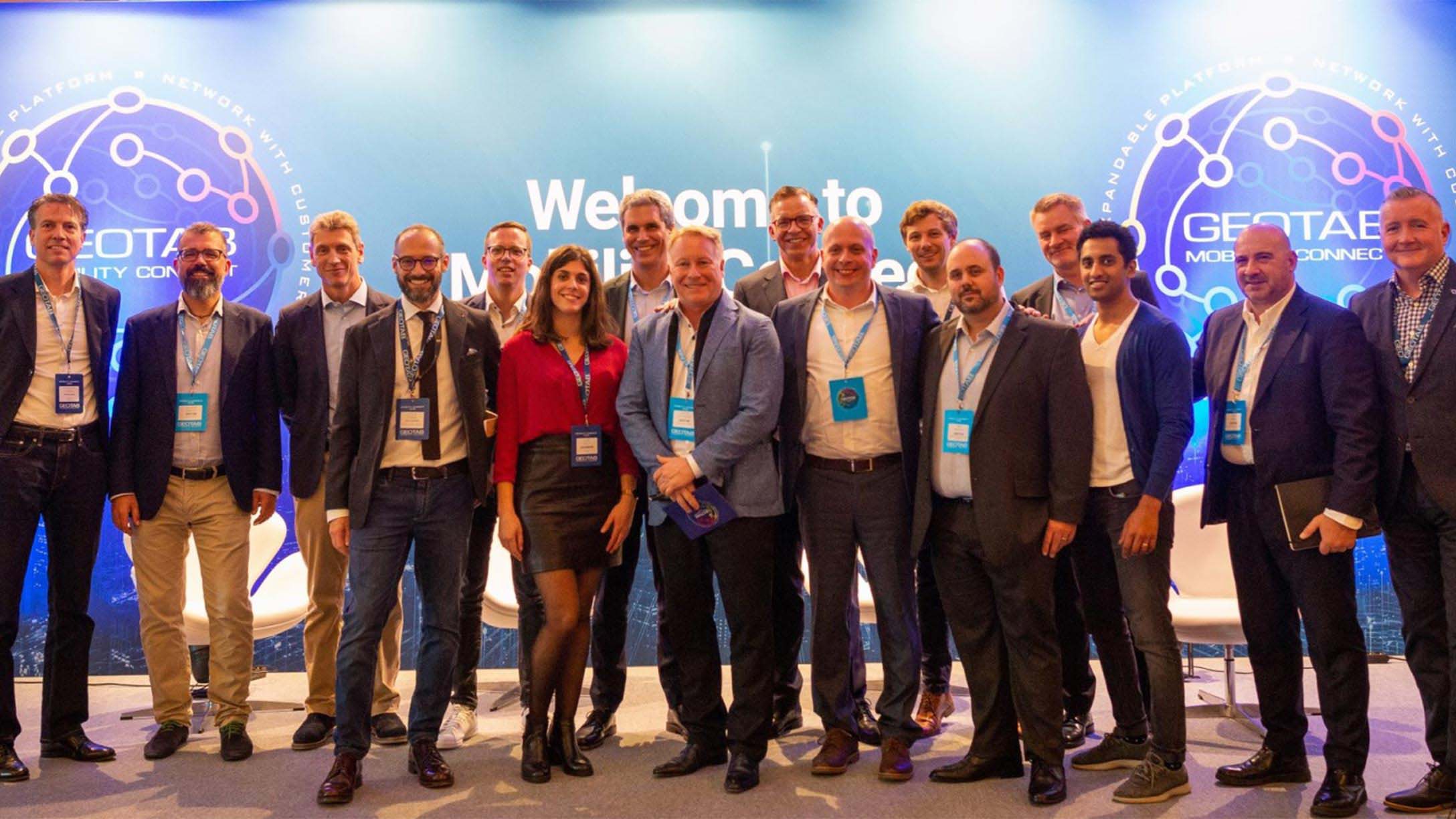 The EV-olution of telematics was on display at Mobility Connect Europe 2019
---
Fleet professionals gathered in Estoril, Portugal to discuss a new era of mobility, the path to fleet electrification, best practices and much more.
Fleet professionals and members of the Geotab community gathered in Estoril, Portugal to discuss the necessity of fleet intelligence to drive electrification, create fleet efficiencies, share best practices with our customers, and openly discuss how it will shape the new mobility platforms of the future.
"Mobility Connect is the marquee event for Geotab in Europe, it's an opportunity for our partners to network and collaborate in key initiatives around big data," says Edward Kulperger, VP Europe at Geotab.
"This year, our line-up embodied the real issues facing the fleet industry today including air quality, fleet electrification & connected services," says Edward. "We believe that data is an essential component in the evolution of a cleaner, more sustainable and connected transport network of tomorrow."
The event was split into two areas of focus. First, how data can be used to drive electrification and benefit our environment and society as a whole and how data is powering shared and connected mobility services, with insights from OEMs and fleet operators.
Keynote speakers at Mobility Connect 2019 included:
Christoph Ludewig, CEO at Mercedes Benz Connectivity Services
Rahul Parmar, Enterprise Technology, Google Cloud
Thomas Stroo, Head of Logistics, HelloFresh
Unai Obieta, CTO, Ferrovial Servicios
Elisa Falliti Leaseurope, Policy Adviser, Automotive Affairs at Leaseurope
Mark Howlett, Fleet Sales Manager at KIA Motors Europe
Joshua Formis, International Sales Director at Fleet Logistics
Alessandro Pigazzi, Director of International Business Office at Arval
Jason Chamberlain, UK Sales Director at ARI Fleet
Matt Stevens, Vice President, Electric Vehicles, Geotab
Dirk Schlimm, Executive Vice President, Geotab
Bob Bradley, AVP Data Solutions at Geotab
Stefano Peduzzi, European Director at Geotab
Key takeaways from Mobility Connect 2019
Rahul Palmer from Google Cloud kicked off proceedings, highlighting the importance of data access and how data is powering the transition to an autonomous driving network.
Bob Bradley at Geotab went on to add how vehicle data is leveraged to gather insights on road conditions, traffic flows and how vehicles can track hyper-local temperatures.
For example, Geotab recently partnered with EDF to analyse how fleets can be used to measure air quality. It is crucial to communicate and understand how leveraging vehicle data will not only benefit fleets but the environment as well.
The path to fleet electrification
In Europe, electric vehicles are the next step for fleet operators driven by the need to decarbonise vehicle transportation.
Thomas Stroo, Head of Logistics at ​HelloFresh spoke about how Geotab's solution is enabling their transition to electric van delivery, now with 51 connected EVs. Thomas explained how data integration with EVs is allowing the company to optimize its electric delivery route planning and create more visibility and flexibility to its customers.
Matt Stevens, VP of Electric Vehicles at Geotab announced the European launch of Geotab's Electric Vehicle Suitability Assessment (EVSA). The assessment leverages current vehicle (gas, diesel, hybrid) data to access which vehicles in your fleet are best suited for EV replacement based on range capability and total cost of ownership evaluations.
See also: What is an Electric Vehicle Suitability Assessment
A new era of mobility
Our afternoon session viewed data from a different lens — how it is fueling electric, connected, and shared mobility platforms. Across Europe, new initiatives are entering the market and changing the way people view mobility. To encourage these initiatives, open-data is a critical ingredient.
OEMs have acknowledged the need for electrification, pulling together to bring a range of EVs to market in the coming years. Kia and Mercedes support this notion and also understand that connectivity will bring a new array of mobility solutions. Data will drive multimodal platforms, car-sharing initiatives, and more importantly, greater access to data will ensure these platforms operate effectively to the benefit of the end-customer.
Mobility Connect is an opportunity for Geotab, its partners, and fleet operators to tackle issues that face the fleet industry today. Projects around air quality, road congestion, the launch of Geotab's EVSA in Europe to support fleet electrification, and discussions on shared and connected mobility platforms progress the conversation in enabling the fleet solutions of the future.
Looking forward to 2020
In case you missed out on Mobility Connect 2019. Don't forget to register for Connect 2020 in San Diego. We hope to see you all there!
Related:
Get excited for Geotab Connect 2020!
GEOTAB MOBILITY CONNECT 2018 Recap
---
If you liked this post, let us know!
---
Disclaimer
Geotab's blog posts are intended to provide information and encourage discussion on topics of interest to the telematics community at large. Geotab is not providing technical, professional or legal advice through these blog posts. While every effort has been made to ensure the information in this blog post is timely and accurate, errors and omissions may occur, and the information presented here may become out-of-date with the passage of time.
Get industry tips and insights
Sign up for monthly news and tips from our award-winning fleet management blog. You can unsubscribe at any time.
Republish this article for free
Other posts you might like