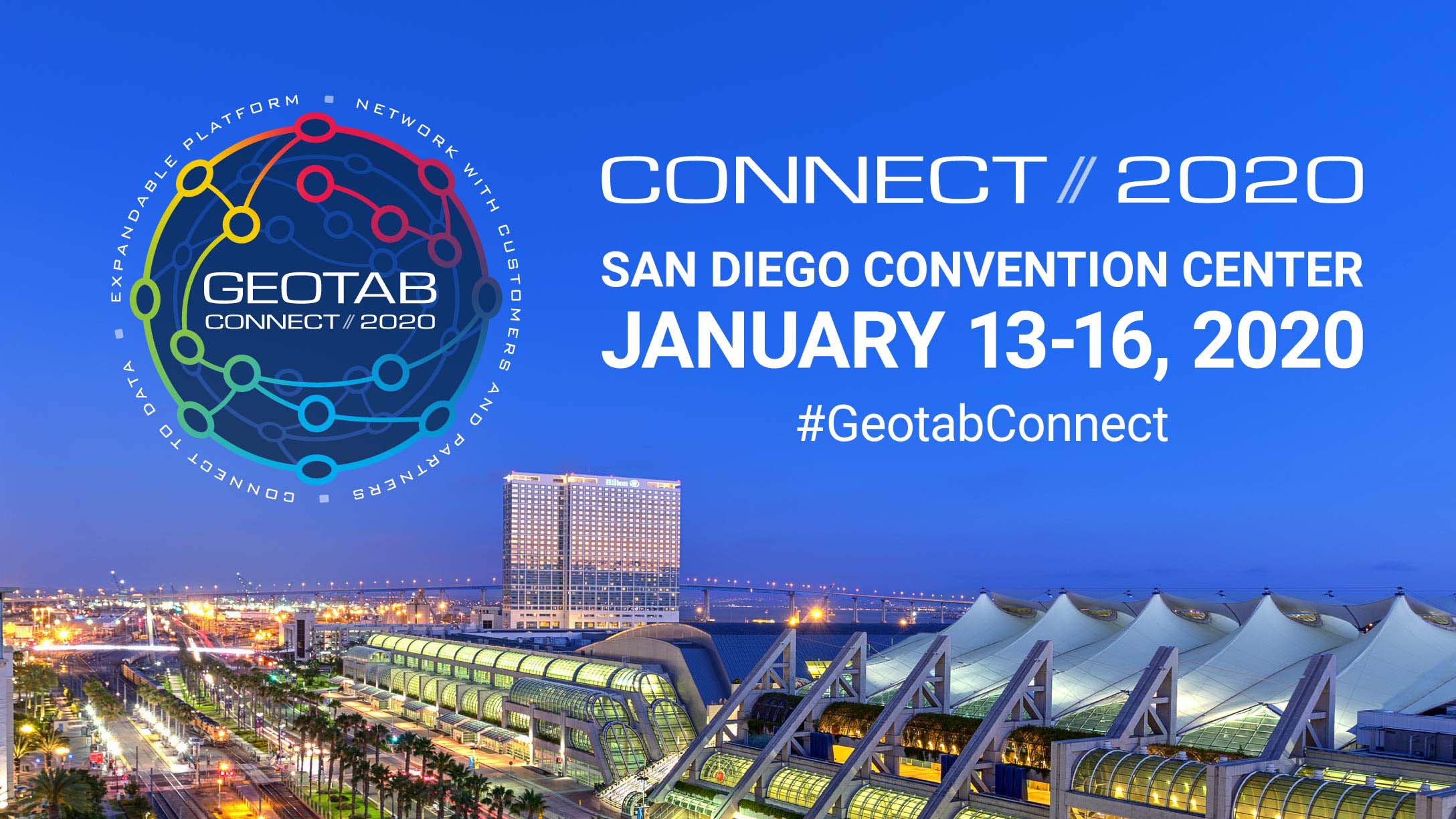 Get excited for Geotab Connect 2020!
---
Geotab Connect 2020 has been announced!
We are thrilled to announce that preparations have begun for Geotab Connect 2020. This conference is going to be our biggest yet and will be held from January 13-16, 2020 at the San Diego Convention Center. Mark your calendars now so you don't miss out on this opportunity to learn from fleet industry and telematics leaders about the latest trends and developments.
What to expect at Connect 2020
The conference will focus on the different ways technology is reshaping the information and fleet landscape. Look forward to discussions about government fleet operations and smart cities, artificial intelligence, machine learning models, and the technology and telematics mega-trends most relevant to the fleets of tomorrow. Energy trends will also be featured, and the impact of climate change from the perspective of the transportation industry.
Registration is still open. To learn more and save your spot, check out our event page.
Why should you attend?
Connect 2020 is a concentrated dose of the best Geotab has to offer. Participants will get to explore our latest product features and telematics improvements, enjoy live training opportunities from in-house experts, and network with Geotab Resellers and Marketplace Partners alike.
Our cybersecurity team will be present to share their best practices and developments in data protection. We will also be sharing case studies showing the different ways the Geotab platform has shaped businesses. There is no better way to stay up-to-date on the latest in fleet telematics.
Marketplace Exhibitors
Find the answers to fleet challenges with our Marketplace show floor exhibits. With over 50 exhibitors and solutions for cameras, asset tracking, fleet management, and much more, leave with strong opportunities for business growth.
Featured speakers at Geotab Connect 2020
Geotab Connect 2020 attendees will get the chance to hear from thought leaders working in federal, state and local governments, as well as experts in telematics technology. These game changers are developing strategies to leverage telematics on a wide scale, improving the efficiency and safety of public sector fleets. Check out a few names from our all-star lineup:
Evan Speer
As Chief, Office of Fleet and Asset Management (OFAM) at the State of California, Department of General Services, Evan Speer works extensively on outreach, technology and education to improve the efficiency and sustainability of all 50,000 vehicles used by the State of California.
Gordon Lancaster
Gordon Lancaster is Director of the General Services Administration's (GSA) Fleet Services and Solutions Division. He leads two Account Advisory Teams nationally: the US Department of Agriculture (USDA) and the US Department of the Interior (DOI.) He is responsible for fostering a collaborative, integrated approach to customer service across both agencies.
Mike Branch
Mike Branch is VP, Data & Analytics at Geotab. He leads the charge for new insights from the global network of connected vehicles and 30 billion telematics records processed by Geotab daily. Before joining Geotab in 2016, he was CEO of Inovex Inc., whose platform for geo-spatial data visualization has now been integrated with Geotab's telematics.
Read Mike Branch's recap of his talk from Google Cloud Next '19.
Neil Cawse
Geotab's CEO Neil Cawse founded the company in 2000 and it has since grown to become the #1 Telematics provider worldwide. He believes Geotab's success stems from its integrity, its forward-thinking ideals and its commitment to delivering the right solution for each customer. Neil Cawse was recently profiled in CEO Magazine.
Colin Sutherland
Colin is Geotab's Executive VP, Sales and Marketing, and a company leader since Geotab's inception. He directs Geotab's global sales growth while guiding customers and partners on the use of telematics. Colin is an experienced public speaker and enjoys sharing best practices for developing telematics strategies.
Highlights from Geotab Connect 2018
Here are some figures from the last Geotab Connect event:
5 featured speakers, including Tony Seba, Lukas Neckermann and Geoffrey Hinton
35 learning sessions
55+ Geotab Marketplace Partners exhibiting
800+ attendees
Review the major announcements and keynotes in the Geotab Connect 2018 recap.
Stay tuned for Geotab Connect 2020 updates
We are already hard at work getting ready for Geotab Connect 2020. The game code for our mobile app is: 3500. Stay tuned for more details. Watch video highlights from the last event and sign up email newsletter updates at Geotab.com/connect.
---
If you liked this post, let us know!
---
Disclaimer
Geotab's blog posts are intended to provide information and encourage discussion on topics of interest to the telematics community at large. Geotab is not providing technical, professional or legal advice through these blog posts. While every effort has been made to ensure the information in this blog post is timely and accurate, errors and omissions may occur, and the information presented here may become out-of-date with the passage of time.
Get industry tips and insights
Sign up for monthly news and tips from our award-winning fleet management blog. You can unsubscribe at any time.
Republish this article for free
Other posts you might like