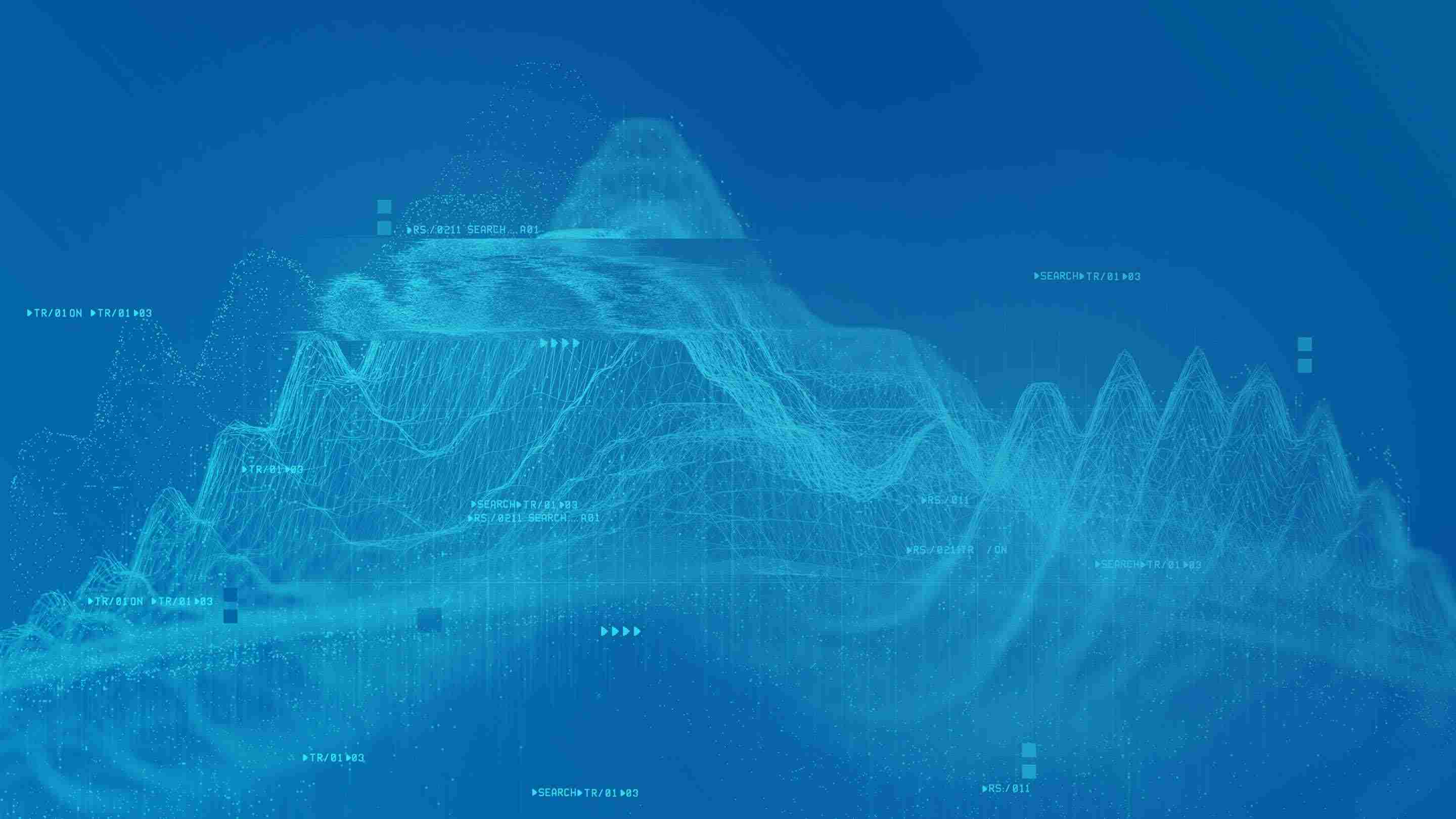 GEOTAB CONNECT 2018 recap
Published on June 15, 2018 in Marketplace by Ella Socol |  6 minute read
---
Get the recap of GEOTAB CONNECT 2018, including major announcements, key themes, and event photos
The fleet world gathered June 11-13 in sunny Toronto, Ontario for GEOTAB CONNECT 2018. Here is a recap of the keynote presentations and sessions on Day 1 and 2. This blog post was put together with the help of Melanie Serr, Maria Sotra, Pilar Cervigon, and Lauren Jinkerson.
Day 1 Recap
After an exciting kick off with two receptions hosted at different venues, GEOTAB CONNECT 2018 got underway. CEO Neil Cawse provided an overview of the Geotab ecosystem and took a look forward to how it is evolving. Cawse said planning is key for businesses right now. Companies must ask themselves: "Where are we going and what is our business going to look like in 20 years?" IoT data such as connected vehicle data from Geotab — the biggest and richest vehicle data set in the world — helps support business planning and decision-making. Day 1 of GEOTAB CONNECT ended with a beautiful sunset cruise on the Toronto harbor.
Keynote presenters on Day 1 included:
Neil Cawse, Geotab — The Connected Ecosystem 2020
Tony Seba — Strategy in the Age of Disruption: Technology Megatrends and Keys to Anticipating and Leading Market Disruptions
Matt Stevens, FleetCarma — EV and the Future of Telematics
Colin Sutherland, Geotab — Welcome and Conference Overview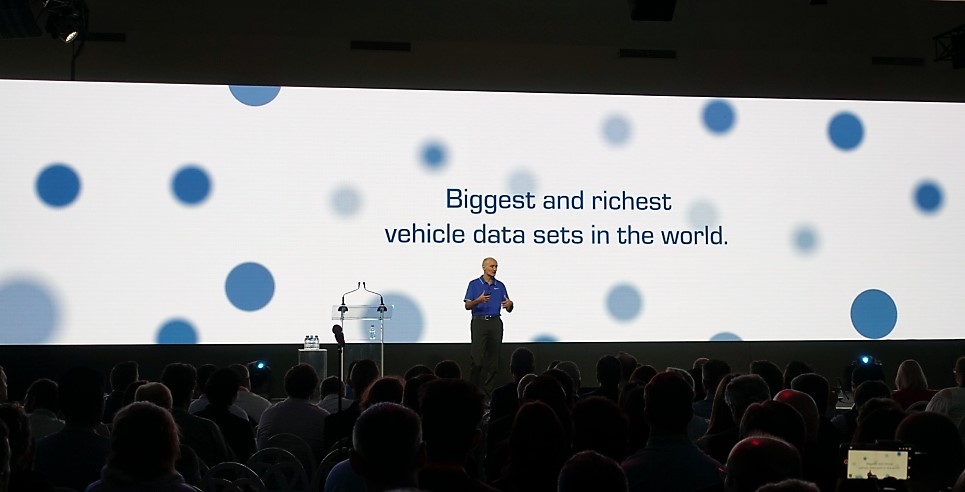 Major Announcements on Day 1
Geotab announced the acquisition of clean-tech solution provider FleetCarma, a 40 person team in Waterloo, Ontario, which is part of the region called the Silicon Valley of the North. FleetCarma's team has specialized knowledge in providing telematics for hybrid and electric vehicles. Combining these unique EV telematics capabilities with Geotab's open platform approach offers customers a complete telematics solution for electric vehicle fleet management.
FleetCarma CEO Matt Stevens also spoke to conference attendees about the close link between adoption of electric vehicles (EVs) and telematics. Go to the Geotab Press Room to read this announcement and more.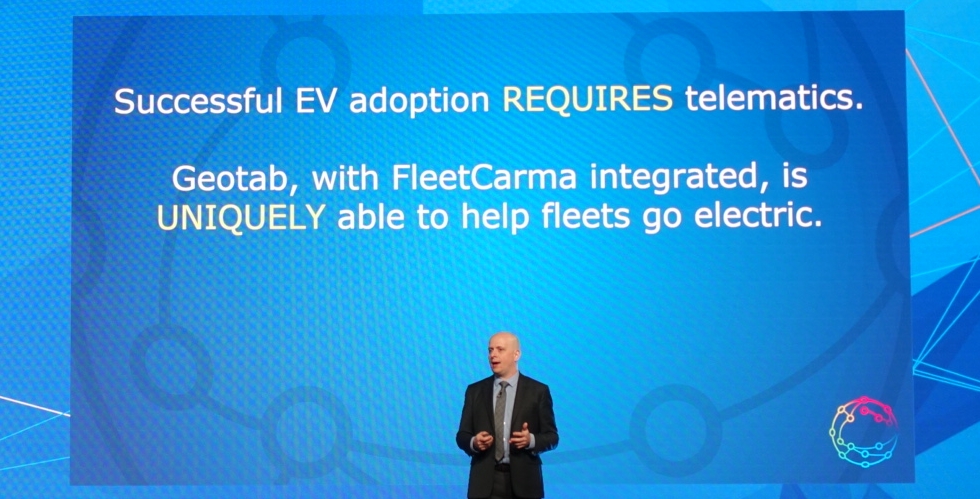 Day 2 Recap
There was a great energy for the second day of GEOTAB CONNECT. The program started with a deep dive on artificial intelligence (AI) and machine learning. Neil Cawse and Mike Branch discussed the promise and potential of big data from connected devices. After that, attendees had the opportunity to hear a talk from Geoffrey Hinton, world-renowned expert on machine learning algorithms, University of Toronto emeritus distinguished professor and Google Engineering Fellow.
Keynote presenters on Day 2 included:
Neil Cawse & Mike Branch, Geotab — AI: Hype or Reality?
Geoffrey Hinton, Google Inc., University of Toronto — Deep Learning: Past, Present & Future
Colin Sutherland, Geotab — Conference Updates and Wireless Carrier Fireside Chat
Major Announcements on Day 2
On June 13, Geotab officially launched data.geotab.com, a new tool to help enable smart cities and also provide insights for business productivity and safety. The site offers access to multiple near real-time and historical datasets, including weather, urban infrastructure and location analytics, derived from billions of data points collected daily from over one million connected commercial vehicles worldwide. Datasets are aggregated to preserve privacy. Mike Branch, Vice President Data & Analytics, encouraged attendees to explore the intelligent data on the site and discover the possibilities and use cases. Read more in the press release.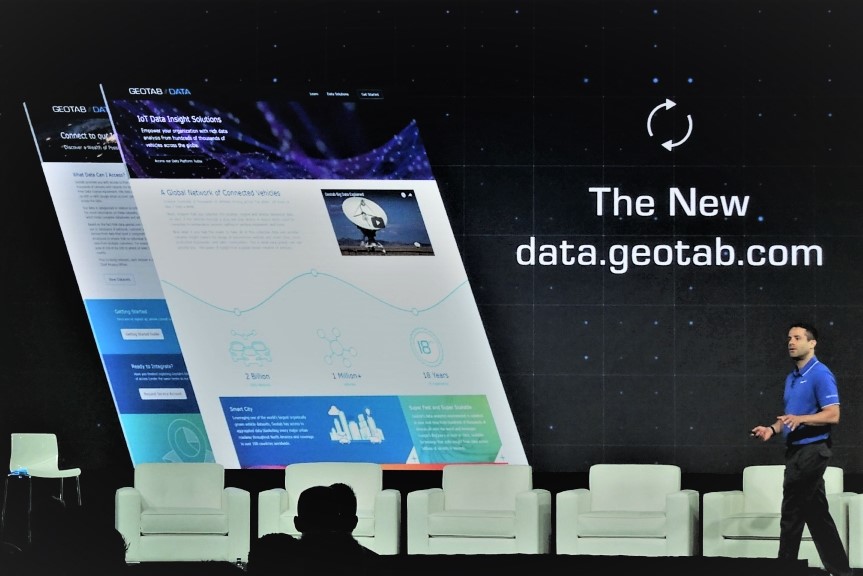 Key Themes from GEOTAB CONNECT 2018
With 20 breakout sessions streamed into three tracks (government, technical and business), there were a lot of new ideas and fleet solutions to discover. Here are some of the common themes that emerged from GEOTAB CONNECT.
Embracing Disruption
In his welcome address, Colin Sutherland, Geotab's Executive Vice President Sales and Marketing, described how the world is rapidly changing. These days, online retailers offer the ultimate in flexibility with delivery right to your door next day or even same day. Sutherland encouraged attendees to embrace change instead of fighting it.
The theme continued with Tony Seba's talk: Strategy in the Age of Disruption. His message was to not dismiss new technology as it could eventually become the mainstream. As an example, Seba referenced the cell phone. Industry experts initially downplayed the market potential of the cell phone but it ended up taking over and revolutionizing life as we know it.
Seba said disruption can happen quickly and the number of areas being disrupted is increasing. Uber, Lyft, DiDi Chuxing and Ola are transforming the concept of transportation. Seba highlighted that in New York, ride-hailing apps are becoming more popular than yellow cabs, and in San Francisco, 20% of vehicle miles traveled (VMT) are from Uber and Lyft vehicles.
The AI Revolution Has Only Just Begun
During the AI: Hype or Reality keynote, Mike Branch explained how machines are collecting data faster than ever. Currently, there are 23 billion connected devices in the world (3 for every human), but by 2025, that number will be 75 billion (over 9 for every one human). Machine to machine (M2M) communications are also set to double in the next three years — meaning that over 3 billion machines will be talking to each other. AI and machine learning will play an important role in making sense of this data and putting it to use.
For smart cities in particular, data from connected vehicles can help in a number of areas, such as identify areas where traffic calming is required, detect potholes, or predict potential battery failure in municipal fleet vehicles. Branch said "AI is fueled by data" and Geotab is a leading supplier of vehicle data. Since AI continues to expand its impact on industry and society, it is critical for everyone, especially businesses to learn about this tool and how it can be leveraged.
Godfather of deep learning Geoffrey Hinton gave attendees a crash course on AI, explaining "what is an artificial neuron?" and "what is an artificial neural network?" Hinton also demonstrated the difference between inefficient and efficient ways to teach computers. One of the messages from his talk was that while artificial neural networks can do amazing things at this point, ultimately their ability to understand the world and multi-task is still relatively small compared to humans, and there is much more development to come. During the Q&A period, he shared further insights. Overheard in the crowd: "Mind-blowing."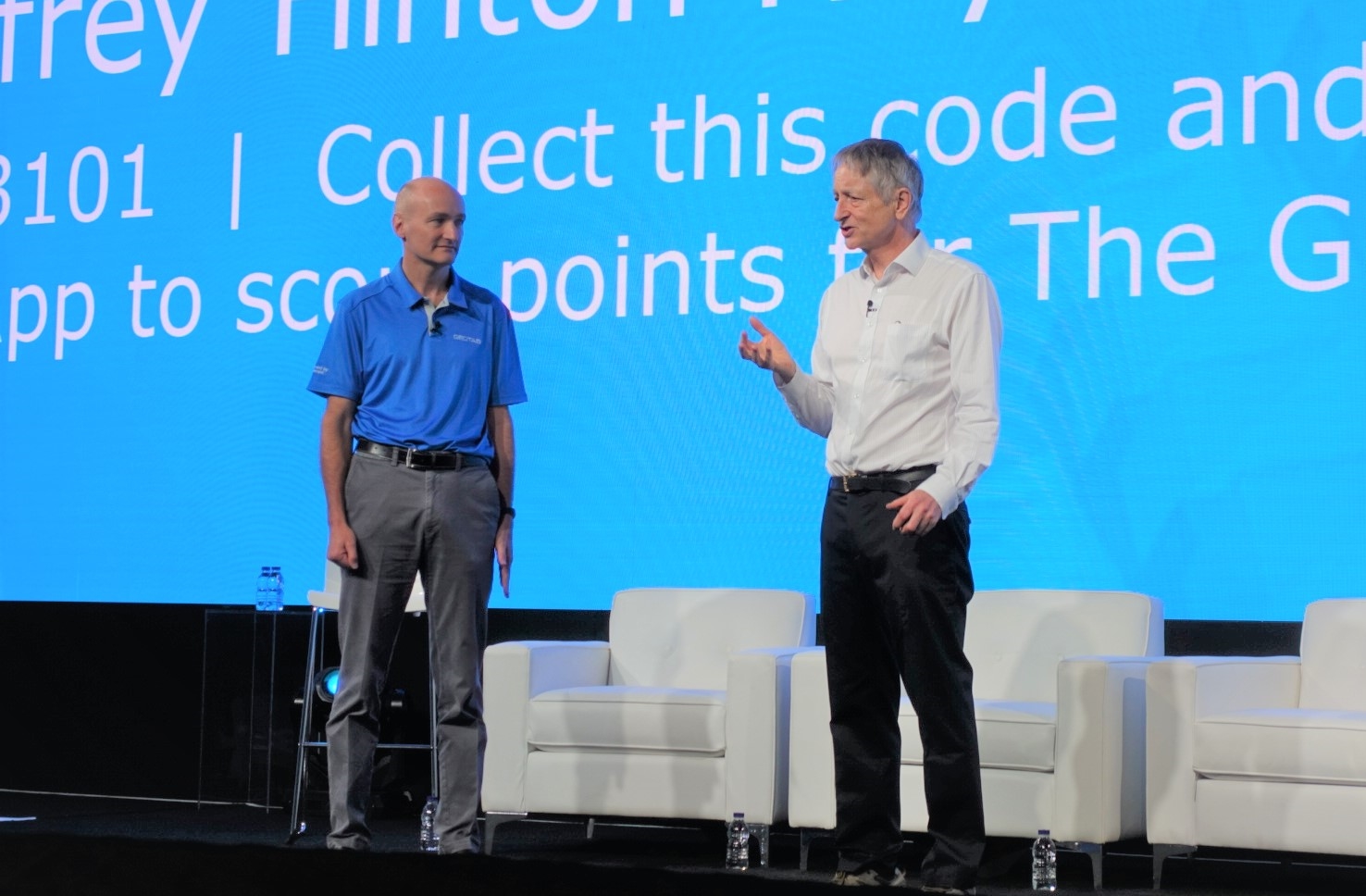 Going Beyond the Norm
In the Beyond Dashboards breakout session, Geotab Partner Account Manager Laurie Sehl spoke about the importance of digging into the telematics data that Geotab offers. Vehicle sensor data is one area in particular that is incredibly valuable to fleets but underutilized. Ignition, engine speed, road speed, odometer fuel, seat belt, and engine light are all types of data that can be used for a number of purposes such as predicting component failure, avoiding major repairs, reducing fleet costs and informing buying or selling decisions. Read more about engine diagnostics versus GPS only in this blog post by Jordan Guter.
In Dashboarding with Big Data, Bernard Cheng and Gordana Jekic showed new possibilities for working with data in MyGeotab and encouraged fleets to "Go deep into your data."
Gordana introduced two unique features that they are working on for MyGeotab: Snapshot and Drill Through. Snapshot is a handy tool that allows you to take a picture of your dashboard to make note of something interesting, but then go back to what you were doing without interrupting your workflow.
Drill Through allows MyGeotab users to navigate to another dashboard or a URL. In essence, you are following the thread to find out what story the data is telling. For example, you could start at the dashboard for Top Performing Drivers, then focus in on one particular vehicle, clicking through for more stats, such as the vehicle's average safety score, erratic driving incidents, or safety exceptions breakdown. These data visualization tools will be released in beta soon. Check out Bernard's blog post on infographics here.
The New Global Mobility Revolution
Lukas Neckermann delivered a powerful talk about the transition from cars to mobility and how it impacts the landscape. He spoke about how people are rejecting car ownership and driving, and embracing the alternatives. "The most powerful tool for mobility is your smart phone," said Neckermann. People can have full control of all types of mobility from their smartphone, whether it is their car infotainment system, accessing public transportation, ordering a delivery online or hailing a ride from an app.
GEOTAB CONNECT 2018 attendees all received a special edition of Neckermann's book, Smart Cities, Smart Mobility, which shows how the mobility revolution is set to change the economy, society, and the urban environment, and what challenges it might bring to industry and cities.
Stefano Peduzzi, European Engineering Director presented Securing the Future of Connected Vehicles: The Neutral Vehicle Platform which outlined the new global mobility environment. Peduzzi described the current mobility trends: autonomous, sustainable, connected and shared. He also highlighted some new market disruptors, such as the DiDi Chuxing and noted that 6 of the top 10 EV OEMs come from China. Europcar, a traditional rent-a-car company has changed his name to Europcar Mobility Group.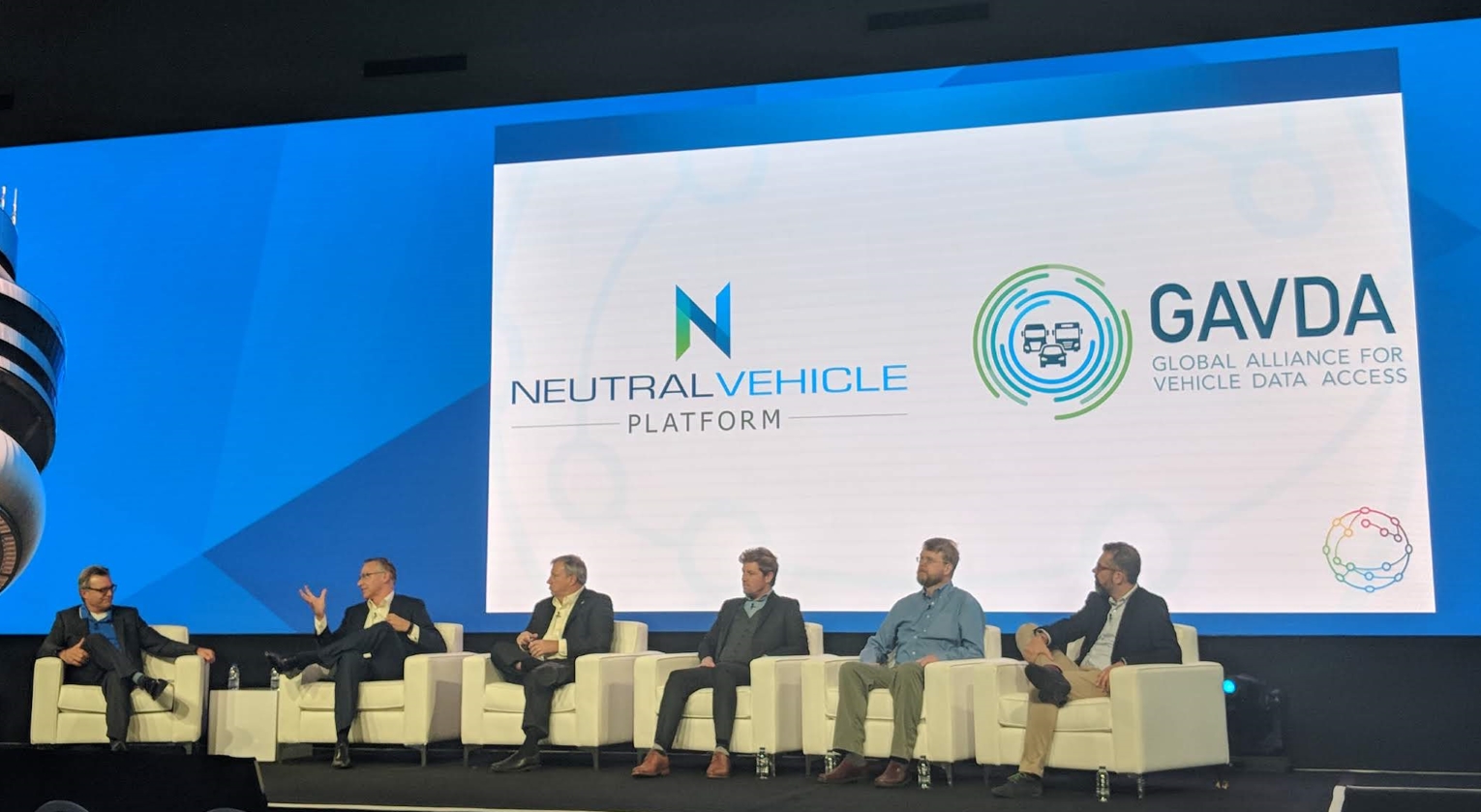 What is the common thread of all these stories? The thread is that people now expect global mobility services. However, closed systems threaten innovation and consumer choice. Only open, reliable and safe systems can make it possible. That's why Geotab, together with some industry experts proposed the Neutral Vehicle Platform to make it happen.
Moove Connected Mobility from the Netherlands presented their Connected Maintenance Program. Henk Kooijman introduced Moove Shring, an innovative car sharing system based on the Witte Box, from Witte Digital. Witte Box, soon to be a Geotab Marketplace Partner, makes it possible to lock/unlock a car via a smartphone easily. The car key is hidden in the box that is placed in the car and only the user needs to press a button to open the car and get the key.
Thank you everyone for attending and check back on the Geotab Blog for updates on GEOTAB CONNECT 2018.
Stay up-to-date on what's happening in fleet! Subscribe to the Geotab Blog to get our monthly newsletter and special announcements.
---
If you liked this post, let us know!
Post Tags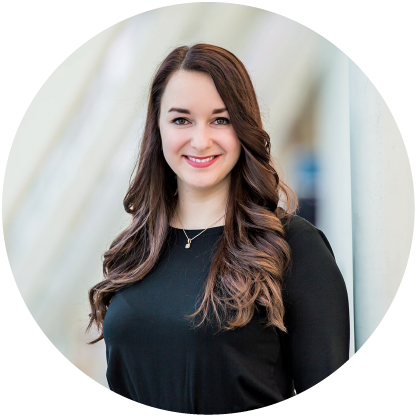 Ella Socol
As an Event Manager at Geotab, Ella leads the development and strategy of the Global Events team.
---
Disclaimer
Geotab's blog posts are intended to provide information and encourage discussion on topics of interest to the telematics community at large. Geotab is not providing technical, professional or legal advice through these blog posts. While every effort has been made to ensure the information in this blog post is timely and accurate, errors and omissions may occur, and the information presented here may become out-of-date with the passage of time.
Get industry tips and insights
Sign up for monthly news and tips from our award-winning fleet management blog. You can unsubscribe at any time.
Republish this article for free
Other posts you might like