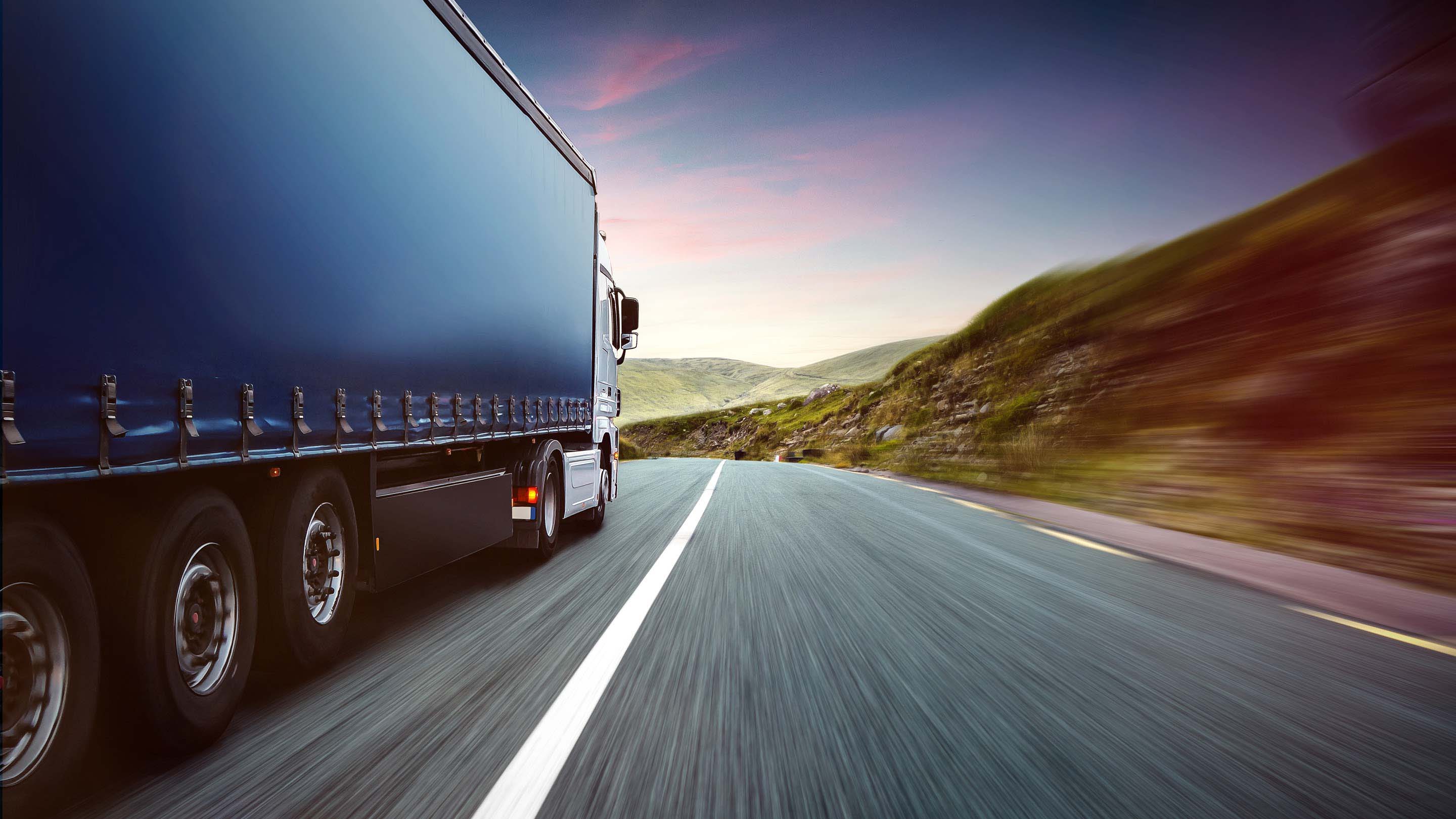 Rolling out large fleets with Geotab GO devices
---
Have you considered all the factors for your large fleet roll out with Geotab GO devices? Learn how to plan, manage and monitor your project the right way.
Have you considered all the factors when rolling out a large fleet with Geotab GO devices? The right mix of planning, monitoring, and resources can make a difference in completing a rollout on time and achieving quality results. These best practice guidelines will help you better manage your project and provide a general overview of items that should be considered.
See also: Deploying telematics in large fleets using project management
Guidelines for rolling out large fleets
Setting project objectives
It is important for the project objectives to be communicated effectively and understood by all involved to ensure the rollout is on track from the get go! These include:
Outlining the reasons for the implementation – what needs to change?
Determining short term and long term goals
Understanding the expected ROI results to be achieved
Considering the main focus as relating to the 5 Pillars:

Productivity, Fleet Optimization, Safety, Compliance, Expandability

Creating measurable objectives
Key factors in planning rollouts of Geotab GO devices
Certain key factors are often overlooked which can snowball a project before it even begins. There are many items to consider when planning a large fleet deployment of Geotab GO devices:
Recognize the scale of the project by verifying if it is a local or national rollout, single or multiple locations, as well as the number of vehicles involved.
Determine the people involved in the project. This includes project managers, installers, admin staff, etc. Ensure each individual understands their responsibilities as well as have the necessary skills to be successful.
Communication and sharing of documentation within the project team is key.
Ensure your budget covers the costs involved in the implementation. These include costs such as resources, travel etc.
Setting up the client using the large fleet project sheet found in the resellers MyAdmin account allows one to keep track and organize all client information in one document, such as vehicles, zones, users, and contacts. This makes setting up your MyGeotab database easy and ensures you have all the necessary information required.
When ordering equipment, ensure realistic shipment and delivery timelines are taken into consideration when determining installation dates.
The creation of an installation schedule is another key aspect when planning a large rollout. Items to consider are number of installers/teams, locations, variation in the vehicle install, time per install, travel time between install sites, as well as vehicle availability.
Installation schedule example:



Lastly, a training schedule should be created to ensure appropriate staff members are well informed and are provided with the knowledge to be successful.
Training schedule example: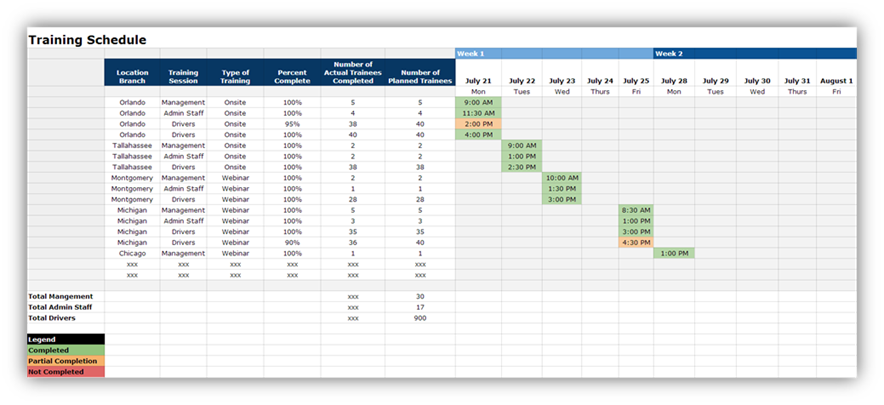 Kick off meeting
Setup a meeting to review the implementation plan prior to starting the rollout. This will help ensure all parties are working towards the same goals and expectations. It is also important to establish how changes throughout the project will be handled and communicated between all parties. In addition, this meeting will provide the client with a chance to address any concerns as well as discuss additional items that have not yet been considered.
Track project progress
When rolling out a large fleet with GO devices it is important to stay on top of the tasks at hand and ensure the project remains on track. Changes often occur throughout deployments and it is important to manage these changes to ensure they do not create major delays or change the scope of the project. Weekly project status meetings during the rollout should be held to ensure key items and changes are being communicated with all project team members. Authorized Geotab installers should make use of the Geotab installation verification tool (install.geotab.com) which enables all installers to verify the installations before leaving the site.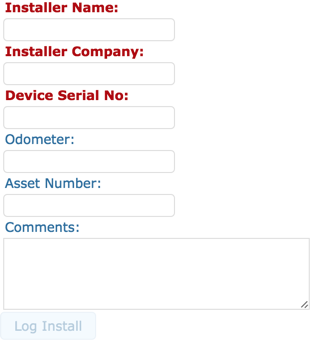 This tool will also create an install log which is of great value as it assists in tracking the completion of installations. In addition, maintaining a completion tracker is an easy and simple way to demonstrate the actual versus planned progress of the rollout in terms of vehicle installs as well as training of staff.
Example of completion tracker: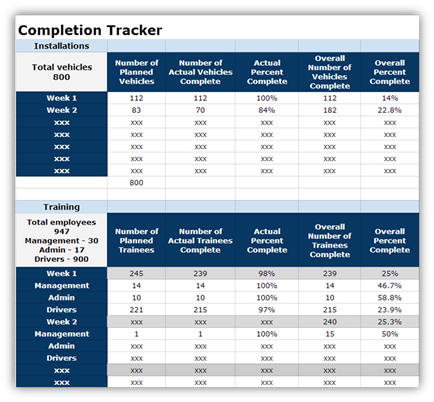 Risk management
It is important to identify potential issues that may come about unexpectedly. Unexpected delays to look out for could include vehicles not available at site as planned as well as adverse weather in certain areas.
Look at your past challenges and determine where improvements can be made.
Be ready to address changes throughout the implementation – changes should be controlled and within the project scope
Communication is key when delays are realized – inform the client as soon as possible.
Follow-up
Approximately one week after the implementation, especially for large and enterprise sized fleets, the Geotab reseller and end user should set aside some time to evaluate performance. This follow-up discussion will help ensure all parties have everything they need to move forward and support the project going forward. This may include monthly reviews to look at ROI results and to set new goals.
In summary, the key items to remember are keeping the project simple, setting realistic milestone dates and expectations, delivering on time, as well as keeping all parties informed throughout the project through continuous communication. We at Geotab, along with the reseller, work together with the end user to achieve results and show ongoing improvement. While this article looked specifically at large fleet deployment, similar rules apply to small and medium sized fleets, as continuous communication and goal setting is key to getting the most out of your telematics solution.
Contact Geotab to learn more or schedule an online demo to see the solution work in action.
Related:
How professional services can help companies improve on fleet management
---
If you liked this post, let us know!
---
Disclaimer
Geotab's blog posts are intended to provide information and encourage discussion on topics of interest to the telematics community at large. Geotab is not providing technical, professional or legal advice through these blog posts. While every effort has been made to ensure the information in this blog post is timely and accurate, errors and omissions may occur, and the information presented here may become out-of-date with the passage of time.
Get industry tips and insights
Sign up for monthly news and tips from our award-winning fleet management blog. You can unsubscribe at any time.
Republish this article for free
Other posts you might like