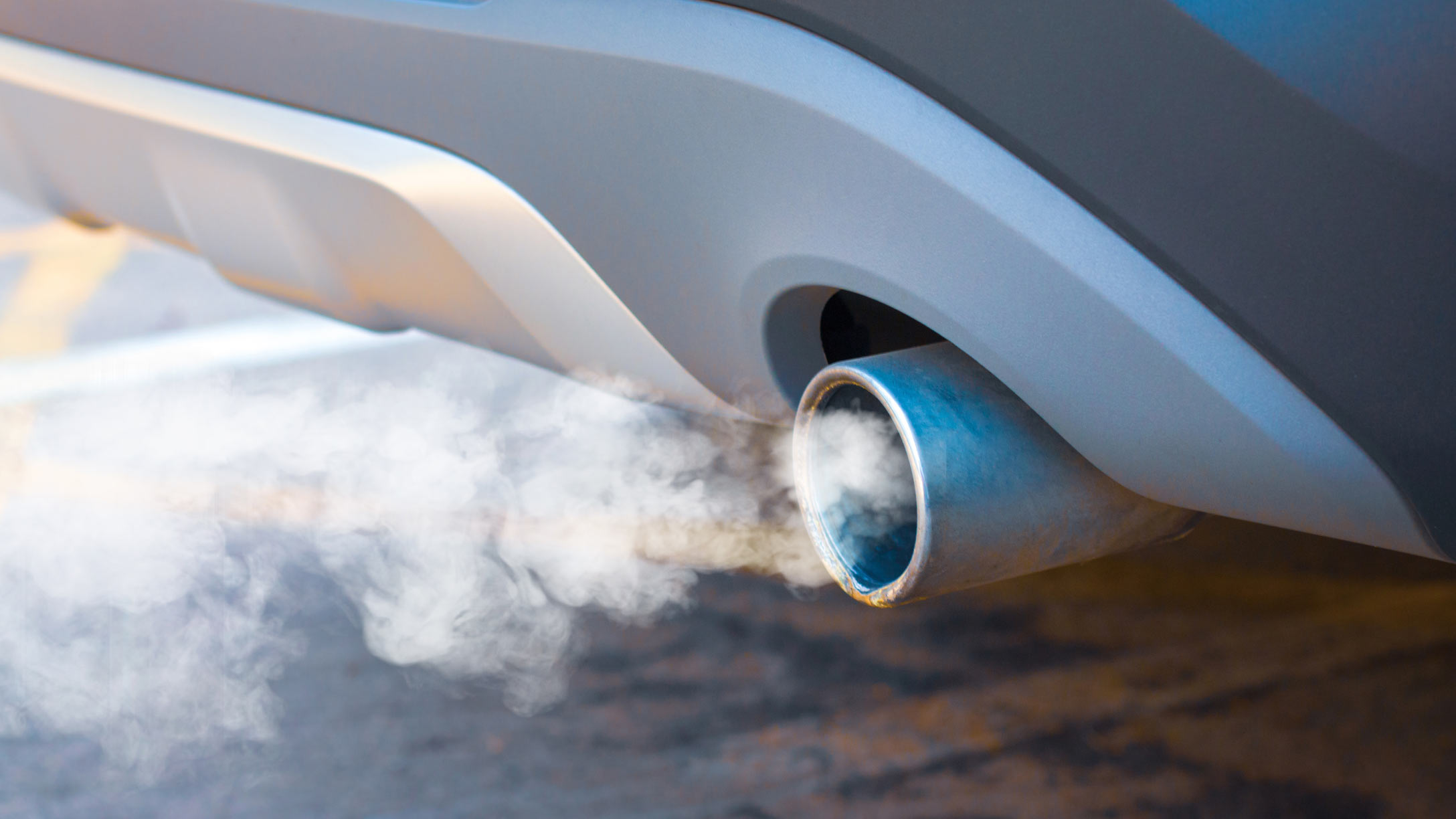 Clearing the air: A guide to smog checks for fleet managers
---
Uncover the importance of smog checks while learning to navigate emissions tests for peak fleet performance and regulatory compliance.
Maintaining safety and compliance in your fleet is like steering through a roadmap filled with evolving safety practices and state regulations. One major milestone on this journey is the smog inspection. While not universally required for every vehicle, these checks are pivotal in bolstering your fleet's overall operational efficiency.
Smog checks do more than just tick the box for environmental responsibility. They are there to enhance your fleet's performance and keep your vehicles road-ready. In this blog, we take a comprehensive look at the ins and outs of smog checks, delve into their significance, explore what happens during the emissions check and share strategies on how to prepare your fleet for smog inspections.
What is a smog inspection?
A smog inspection, or smog check, is your fleet's environmental report card. It's a test performed on a vehicle's engine to determine the volume and type of pollutants it's emitting. The process involves measuring the amount of pollutants released from the exhaust pipe when the vehicle is in operation. Regular smog checks offer a window into your fleet's vehicle engine performance, alerting you to inefficiencies or wear and tear before they escalate into costly repairs.
While the specific vehicles requiring smog checks can vary by region, generally, gasoline and diesel-powered vehicles—cars, trucks, vans, and buses—are included.
The importance of smog checks
Smog checks are not just about dodging legal penalties. For fleet operators, they play a crucial role in optimizing fleet operations:
Improved fuel efficiency: Smog checks help to ensure your engines are running clean and lean, leading to better fuel savings. Plus, these checks often catch maintenance issues early on, saving you from pricey repairs down the road.
Compliance and brand reputation: Keeping up with smog checks demonstrates your commitment to environmental responsibility and regulatory fleet compliance. It safeguards your brand reputation, showing customers, employees, and the public that your business operates responsibly and cares for the environment.
Cost management and maintenance: Smog checks serve as proactive maintenance, alerting you to potential issues before they escalate. Regular smog checks or inspections enable you to address any issues quickly to help reduce major breakdowns and expensive repairs.
Regulatory compliance: Rules around smog checks and emissions can change at any time. Staying informed lets you tweak your fleet operations as needed, keeping penalties at bay.
Overall, understanding the value of smog checks will empower you to optimize your fleet's performance while meeting environmental standards.
What is a smog certificate?
A smog certificate is more than a bureaucratic formality— it's your fleet's environmental stamp of approval. When you are granted a smog certificate, you've verified that your fleet vehicle has passed a smog inspection and is in compliance with environmental regulations set by your local government. After a successful smog check, the issuing smog inspection station typically provides the smog certificate, which can often be submitted directly to the Department of Motor Vehicles (DMV).
To obtain a smog certificate for your fleet in the United States, you can start by visiting the official website of the Environmental Protection Agency (EPA). Check your state's DMV website for specific requirements and contact local emissions testing centers for information on testing locations and procedures. Compliance with regulations is crucial to avoid penalties, so be sure to follow the guidelines provided by authoritative sources.
How often do you need a smog check?
Fleet vehicle requirements for smog checks can vary depending on the jurisdiction you're operating in and the specific regulations in place. To determine the requirements for smog certification in your region, consult with your applicable government agencies. These authorities have the most accurate and up-to-date information regarding smog check regulations and compliance for fleet vehicles in your area. They can provide guidance on factors such as the frequency of smog checks based on the age, type and operating region of your fleet vehicles.
Preparing your fleet vehicle for a smog inspection
To increase your chances of passing a smog inspection, make sure your fleet vehicles are properly maintained. Consistent vehicle maintenance, such as regular oil changes, keeping the air filter clean and keeping your tires properly inflated, can all contribute to a successful smog check.
Before the smog test, have your vehicles inspected at a licensed facility to confirm all parts are working properly. Using a reliable fleet telematics solution like MyGeotab can also make this process more efficient as it helps keep track of maintenance schedules and repairs, contributing to the overall health of your vehicles.
What to expect during a smog check test
During a smog test, a certified technician will inspect each vehicle in your fleet to determine if they meet the required emission standards.
Three part smog inspection process
The smog inspection is typically a three-part process that includes the following:
Visual Inspection: A certified technician will start with a visual smog inspection of the emission control components and systems. The technician will check the catalytic converter, fuel cap and exhaust gas recirculation valve (EGR). They'll also be on the lookout for any visible smoke emitted from the exhaust pipe.
Functional Inspection: The smog inspection then moves onto the vehicle's onboard diagnostic (OBD) system. This system tracks the performance of emission-related components and can provide valuable data about the vehicle's health. To access the data, the technician will connect an OBD scanner to the vehicle's system.
Emission measurement: The final step involves measuring the vehicle's actual emissions. For gasoline-powered vehicles, the technician will use a dynamometer (a sort of treadmill for cars) along with an exhaust gas analyzer. Diesel vehicles, on the other hand, are usually subjected to a smoke opacity test to assess their particulate matter emissions.
How long do smog checks take to complete?
Smog checks typically take anywhere from 20-30 minutes per vehicle, though this can vary depending on the vehicle type and condition. As a fleet manager, understanding this process can help you better prepare your fleet for smog checks, creating a smoother, more efficient smog inspection experience.
How long is a smog check good for?
The length of time a smog check is valid varies by location and the regulations in place. In some places like California, a smog certification is valid for 90 days when you're selling a vehicle. For vehicles that aren't changing ownership, the smog check is generally required every two years.
As a fleet manager, it is important to be up-to-date with your local smog check regulations, which can be found by contacting your local DMV. If the smog check expires, you'll need to have another one done, especially if you're renewing your vehicle's registration or planning to sell it.
Remember, once a smog check certificate expires, the vehicle will need to be re-tested. If it doesn't pass, repairs will be necessary to meet emission standards. Being proactive about these smog checks can help you avoid operational delays and maintain the overall health of your fleet. Moreover, being proactive with the health of your fleet leads to enhanced fleet productivity.
What if your fleet vehicle fails the smog check?
It's an unfortunate reality that not every vehicle will pass the smog check on its initial attempt. The most common reason for smog check failure is excessive tailpipe emissions, but there can also be less obvious issues at play, like a malfunctioning oxygen sensor, leaks in the exhaust system, or a faulty catalytic converter. These potential issues highlight why regular fleet maintenance is so crucial.
If a vehicle in your fleet doesn't clear the smog check, you'll need to bring it to a certified repair shop to get the issue diagnosed and have the necessary repairs made. Once the issue has been addressed, you can have the vehicle retested.
Prioritizing smog checks for efficient fleet management
As a fleet manager, you're not just overseeing vehicles– you're managing a significant portion of your organization's resources. Smog checks might seem like an environmental duty at first, but they are intricately linked with the operational efficiency and financial health of your fleet. Understanding the smog inspection process, its frequency, and what to do when a vehicle fails a smog check, can help minimize downtime and avoid unnecessary expenses.
Regular smog checks also ensure that your fleet is performing at its peak, which can save you from pricey repairs and boost the lifespan of your vehicles. And remember, you don't have to navigate this alone.

Discover how Geotab's advanced fleet management system can streamline your maintenance schedules, ensure regulatory compliance and enhance the overall health of your vehicles.

Book a demo
---
If you liked this post, let us know!
---
Disclaimer
Geotab's blog posts are intended to provide information and encourage discussion on topics of interest to the telematics community at large. Geotab is not providing technical, professional or legal advice through these blog posts. While every effort has been made to ensure the information in this blog post is timely and accurate, errors and omissions may occur, and the information presented here may become out-of-date with the passage of time.
Get industry tips and insights
Sign up for monthly news and tips from our award-winning fleet management blog. You can unsubscribe at any time.
Republish this article for free
Other posts you might like