Easily track your vehicles and cut costs
Use real-time data to measure fleet performance.
Join over 2.5 million subscribers who are using the
Geotab platform to optimize their fleets.
A flexible fleet management tool
Manage your entire fleet from one platform.
Track your trucks, cars, electric vehicles, and even off road equipment. Add on dash cams, ELDs, fuel reports or other solutions from the Geotab Marketplace to get even more value.

Benefits of the Geotab telematics platform:
Geotab offers unique features to help you get the most out of your telematics solutions, including:

• Global GPS monitoring
• Engine performance reports and maintenance alerts
• Collision detection solutions
• G-force sensors for vehicle performance
• IOX expansion capabilities


Optimize your fleet today
---
Take the guesswork out of fleet management
Geotab offers unique features to help you get a 360-degree view of your fleet:

• Locate vehicles in real-time
• Cut fuel costs
• Increase asset utilization
• Reduce unsafe driving
• Lower CO2 emissions
• Strengthen compliance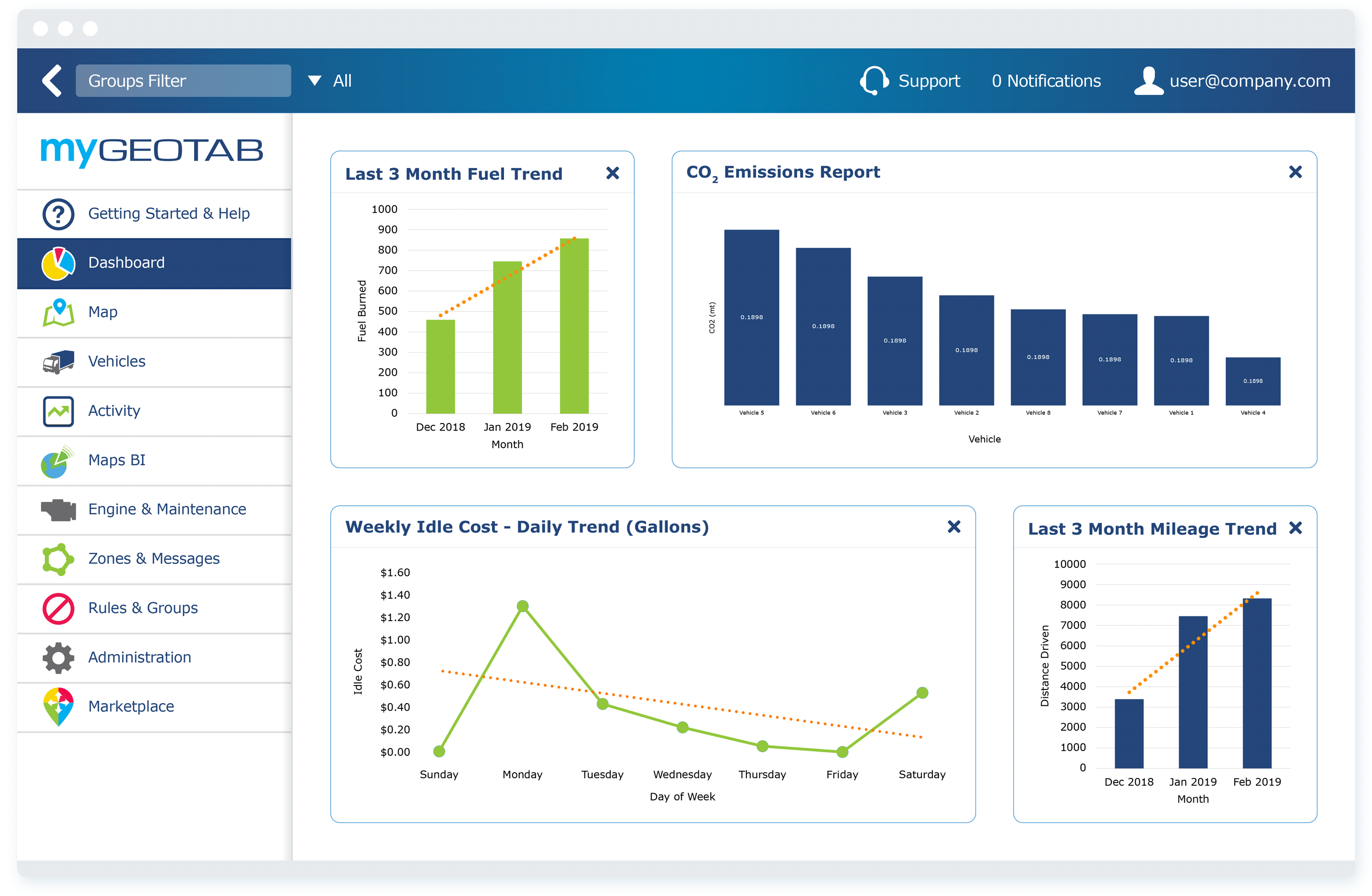 ---
The Geotab advantage
Premium tracking at affordable rates
Push your business forward with transformative telematic insights, all at a lower cost.
In-vehicle driver coaching
Increase overall fleet safety and reduce insurance costs with real-time feedback to drivers.
Predictive diagnostics
Maximize uptime by finding and fixing vehicle issues before they occur.
---
---
Transforming fleet management
The Geotab telematics platform displays data on fuel usage, engine diagnostics, driver behavior, and more to make optimizing your fleet easier than ever.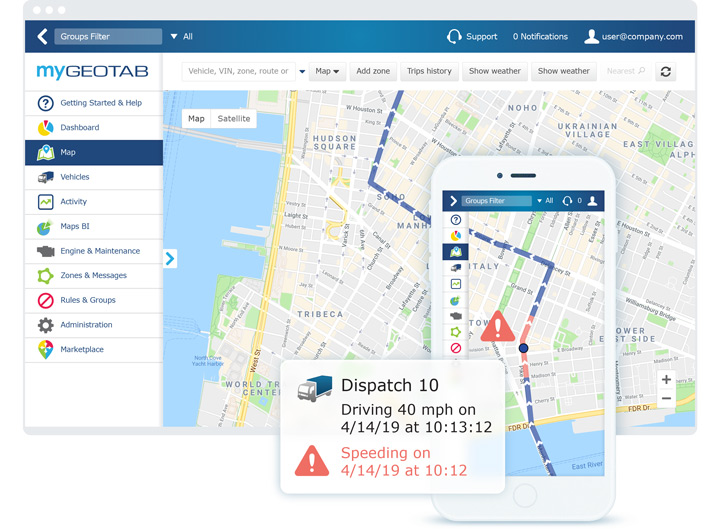 ---
Take your fleet to the next level
Use high-quality vehicle and driving data to take the guesswork out of managing your fleet.
Fast, accurate GPS acquisition
Simply plug the Geotab GO device into your vehicle's diagnostic port and it will begin tracking as soon as you begin driving.
On-the-go fleet management
Use the MyGeotab app to manage your fleets from your smartphone or tablet (available for Android or iOS).
Security first
Geotab takes a rigorous approach to data security.
---
Choose an industry leader
Geotab was ranked the #1 commercial telematics vendor worldwide by ABI Research and continues to be recognized for our innovative technology and solutions. Whether you have one vehicle or 1000, we have the solutions to suit your needs.