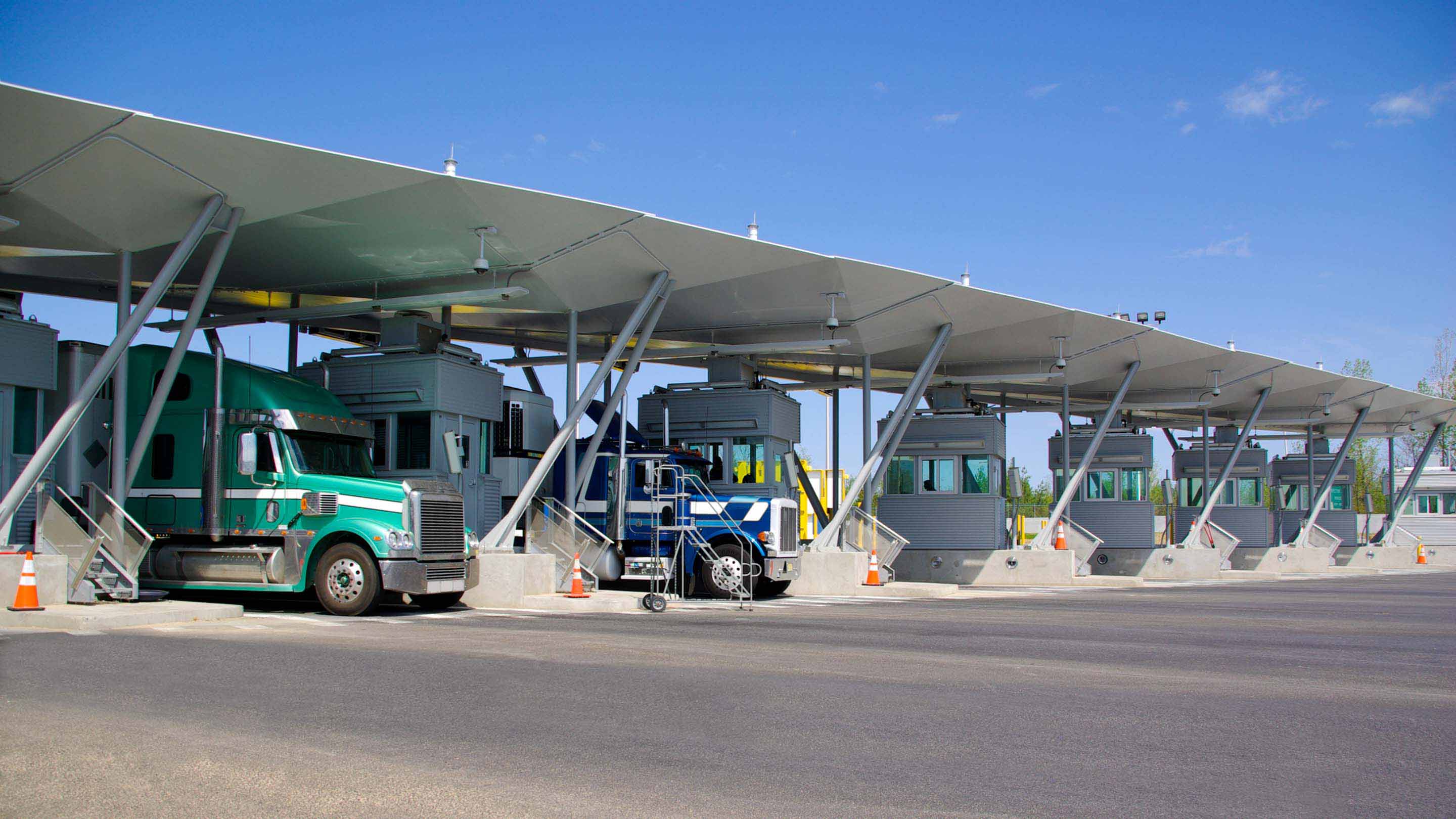 How COVID-19 is impacting U.S.-Canada border crossing times
---
Learn how COVID-19 is impacting the U.S. Canada border based on connected vehicle insights.
A Geotab analysis of traffic at all Canada-U.S. border crossings reveals that there has already been an impact on trips and wait times due to COVID-19. However, the impact is less than expected, meaning the goods needed for business and essential supplies continue to flow between the two countries. The Geotab Data & Analytics team looked at anonymized data from connected commercial vehicles crossing the border over the past several weeks.
The World Health Organization has officially declared COVID-19 a pandemic after confirming the virus is in at least 190 countries and territories. As the situation continues to evolve day-by-day, government officials across the globe have started to take drastic measures to slow down the spread of this infectious virus.
With mutual consent, Canadian Prime Minister, Justin Trudeau and U.S. President Donald Trump made the decision to temporarily close the border between the two countries for all non-essential travel as of March 20, 2020 for all. Trucking services related to trade and supply as well as crossings of emergency and essential workers are allowed to continue.
See also:
Data analysis of border traffic shows impact on trips and wait times
Fleet managers and drivers are still working to complete jobs even while cities across North America are declaring states of emergency. Below are graphics that illustrate the overall impact COVID-19 is having on truck activity at the border.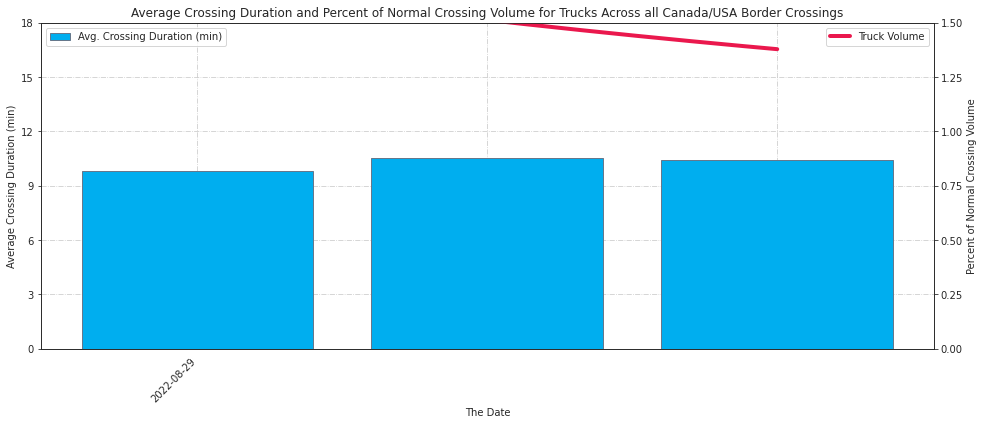 Figure 1. Average crossing duration and percent of normal crossing volume of trucks across Canadian and U.S. border.
Although many fleets are still working to deliver essential goods and keep segments of the economy running, overall truck volume at the border has started to decrease since late March, with the lowest volume on April 10 before picking back up since then. While there were increased wait times overall through the week of March 15, wait times have been decreasing and stabilizing since then.
Daily trip volume decreases at popular borders
At the Detroit-Ambassador Bridge, Port Huron, Lewiston and Buffalo border crossings, the general trend shows that the number of trips decrease starting mid-March and continue to decrease in the following weeks — around the same time as confirmed cases were increasing in the U.S. and Canada and both governments started to promote social distancing and implement other health-related measures. The most pronounced decrease in volume has been through the Detroit-Ambassador Bridge crossing.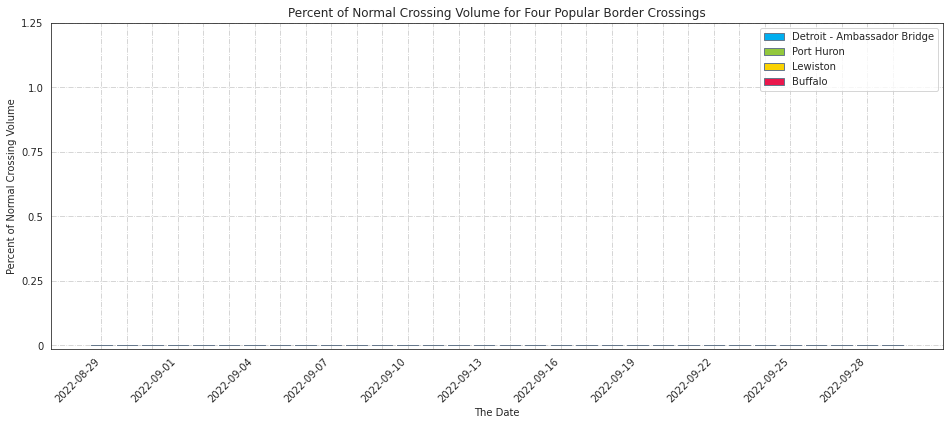 Figure 2. Percent of normal crossing volume for four popular border crossings.
Vehicle volume and border wait time both decreasing
A closer look at the Detroit-Ambassador bridge shows a significant decline in crossing volume since the middle of March. Currently the volume is about 37% of normal in trip direction from US to Canada and 55% of normal in trip direction from Canada to U.S. The wait time at the border did not see much of an increase, despite the extra screening and precautions being taken to slow the spread of COVID-19. While there has been a primarily demand-side reduction to trade, the essential goods needed are continuing to flow without any major disruptions or backlogs at the border.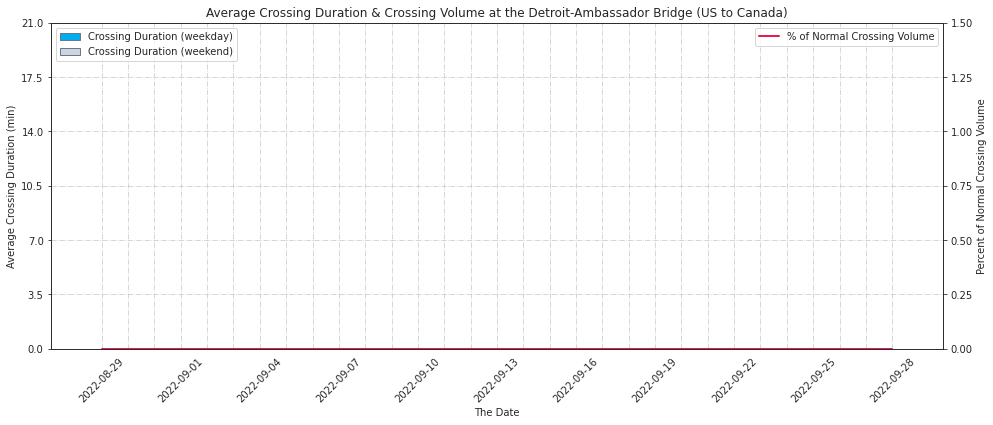 Figure 3. Average crossing duration and volume at the Detroit-Ambassador Bridge (U.S. to Canada)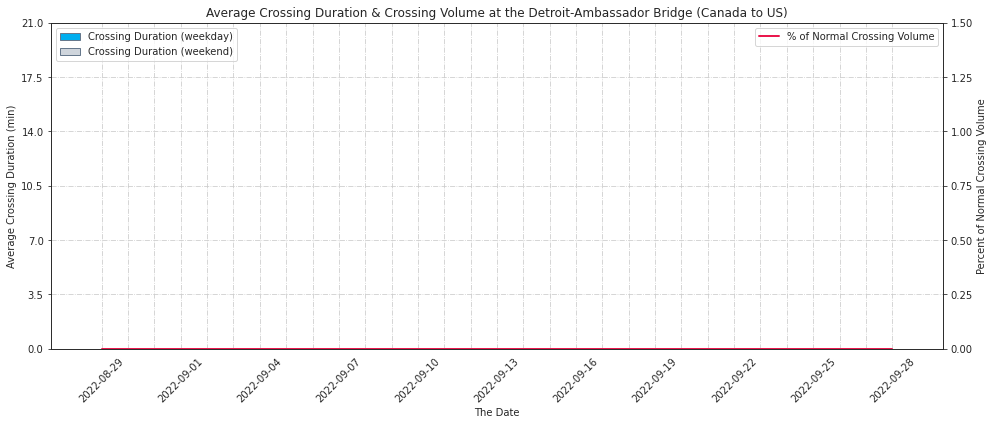 Figure 4. Average crossing duration and volume at the Detroit-Ambassador Bridge (Canada to U.S.).
Conclusion
With the U.S. and Canadian government committing to keeping the border open for trade, there appears to be a clear indication of demand-side reduction in cross-border transit. However, for the demand that there is, trade continues to occur, as we still have 75 percent of normal truck traffic across all border crossings.
Stay safe
Please check back for new updates to these graphs. If you have any questions or concerns, please contact your Geotab Account Manager, Business Partner or Authorized Geotab Reseller. For media inquiries, contact pr@geotab.com. You can also follow us on Facebook and Twitter (@GEOTAB) for on-going updates
---
If you liked this post, let us know!
---
Disclaimer
Geotab's blog posts are intended to provide information and encourage discussion on topics of interest to the telematics community at large. Geotab is not providing technical, professional or legal advice through these blog posts. While every effort has been made to ensure the information in this blog post is timely and accurate, errors and omissions may occur, and the information presented here may become out-of-date with the passage of time.
Get industry tips and insights
Sign up for monthly news and tips from our award-winning fleet management blog. You can unsubscribe at any time.
Republish this article for free
Other posts you might like