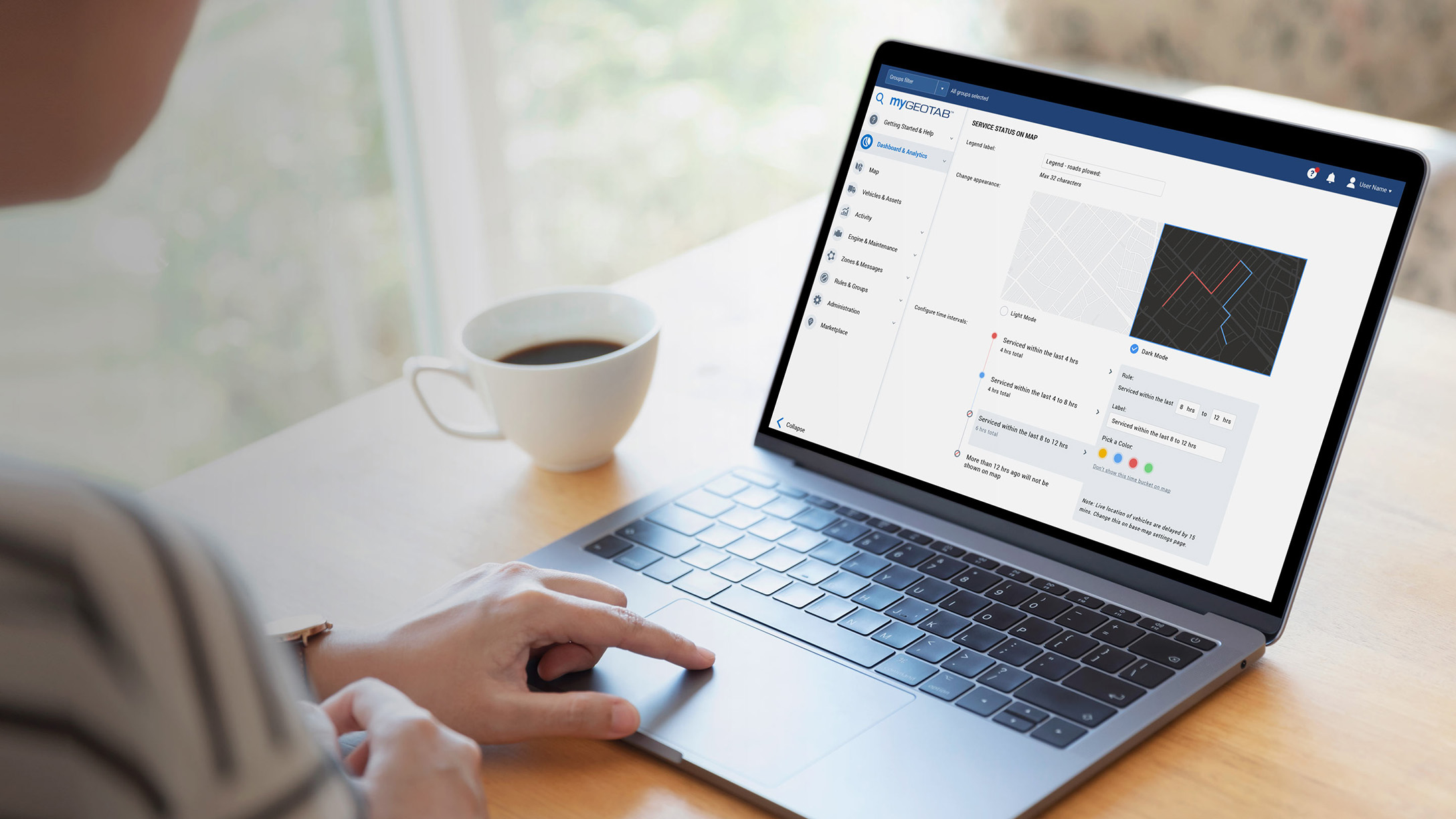 How government agencies can use telematics to increase transparency and accountability
---
With Geotab's newly released Citizen Insights, government agencies can add a public face to increase communication and engagement with their constituents.
Perhaps one of the most difficult tasks government agencies face is building public trust. It's not enough to provide services when citizens need them. They want to know when and where services are being performed – particularly if these activities impact them and their safety directly. Adding transparency and accountability to operations is a powerful way to build trust.
With Geotab's newly released Citizen Insights Add-In, government agencies can tap into near real-time data available through their telematics solution and create a public-facing website that can provide citizens with the knowledge they need and want about government services.
This data will give citizens insight into the agency activities that impact them most: When a service has been or is set to be performed for their street or area, including garbage pickup, snow clearing, salt spreading or other routine or emergency route-based services. The intuitive, public-facing website provides the same information that agency fleet managers and stakeholders rely on to provide services.
Configurable public facing website
Citizen Insights provides the public access to an intuitive, easy-to-use public facing website that provides relevant, up-to-date information that matters most to them. Similar to checking a weather app or site, Citizen Insights can become part of a commuter's daily routine to make sure they are traveling clear, serviced roads whenever they are moving through their city.
Citizen Insights allows you to choose the information that you want to push out to your constituents, keeping it relevant, simple, actionable and convenient. All the necessary, public-facing information is available on a single, easy-to-use platform.
While Citizen Insights is an off-the-shelf product, it is completely configurable. As with the Geotab solution, you will be able to deliver the information that is most useful to push out. We don't dictate what we think your citizens want to know. We want you to make that decision.
See also: How to choose a telematics solution for public works
Charlottesville, Virginia: Getting ready for launch
Charlottesville, Va., is one of the first government agencies that is set to launch Citizen Insights, and for Ron Cook, systems performance analyst for Charlottesville, Va., it's an answer to a long-hoped-for dream.
"I've envisioned Citizen Insights for 10 years – it just wasn't available," he explained.
He added that he's always wanted to be able to push out information to the public in real time, and now he can do it.
Cook is in the process of launching a pilot program with the City's leaf collection service to get used to the system and promote it to the public before putting it to the real test this winter.
During the pilot, citizens will be able to see up-to-date information on which streets are set for collection and which streets have already been collected. The goal of the pilot is to reduce callbacks, increase service with better routing – and perhaps, even finish the program early. Currently the leaf pickup program runs until February. But, with the anticipated efficiency of adding Citizen Insights, Cook is hoping to end it in January, a full month earlier.
For Cook the real test of Citizen Insights – and the primary reason he wanted to add it to the mix – is to give real-time status updates to the public about snow removal on their streets.
"That's where a lot of callbacks happen. We're under direct fire to get the job done during snow events, and we want to eliminate as much inefficiency as we can," he says.
During a typical snow event, Cook says that he and the team receive numerous calls, sometimes multiple ones from the same resident, wanting to know the status of when their street will be plowed and complaining if they had been "missed." With Citizen Insights, those calls should become a trickle, as residents are able to see in real time which streets have been plowed, and more importantly, when their street will be plowed, and it's safe to venture out in their vehicles.
Cook expects Citizen Insights to pay off in other ways as well, including improving routing of the snow removal and salt spreader trucks and to pinpoint inefficiencies and eliminate them.
Four reasons to add Citizen Insights
Charlottesville illustrates the four reasons why you should consider adding Citizen Insights to your agency's toolbox.
Increase trust: Build trust and improve transparency with a simple, powerful service that requires no extra effort from your team. You'll be able to provide the data to the public and stakeholders to prove you are meeting targets and delivering first-rate service to your community.
Maintain control: Empowering your citizens with data through a public portal helps keep them safer. At the same time, you have to also empower your operational teams to do their jobs. By controlling exactly what the public sees on the Citizen Insights map, you can give relevant information while keeping specifics of your operation for internal-use only.
Reduce inquiries: Free up your contact centers and cut costs related to inquiries. As Cook noted, inquiries affect the ability to get the job done. With Citizen Insights, the public now has all the information it needs to allow them to stay safe.
Deliver it your way: If you prefer to use Geotab's public facing website functionality, we will host the website on your behalf. You can also embed Geotab's Citizen Insights portal right into your agency website.
Having an informed, engaged community is one of the most effective ways to build the kind of trust successful agencies depend on. Citizen Insights is a tool that will allow you to do that.
If you're looking to add transparency and accountability to your agency's fleet operations to build public trust and improve efficiency, contact Geotab to learn more about Citizen Insights or to schedule a demo.
---
If you liked this post, let us know!
---
Disclaimer
Geotab's blog posts are intended to provide information and encourage discussion on topics of interest to the telematics community at large. Geotab is not providing technical, professional or legal advice through these blog posts. While every effort has been made to ensure the information in this blog post is timely and accurate, errors and omissions may occur, and the information presented here may become out-of-date with the passage of time.
Get industry tips and insights
Sign up for monthly news and tips from our award-winning fleet management blog. You can unsubscribe at any time.
Republish this article for free
Other posts you might like