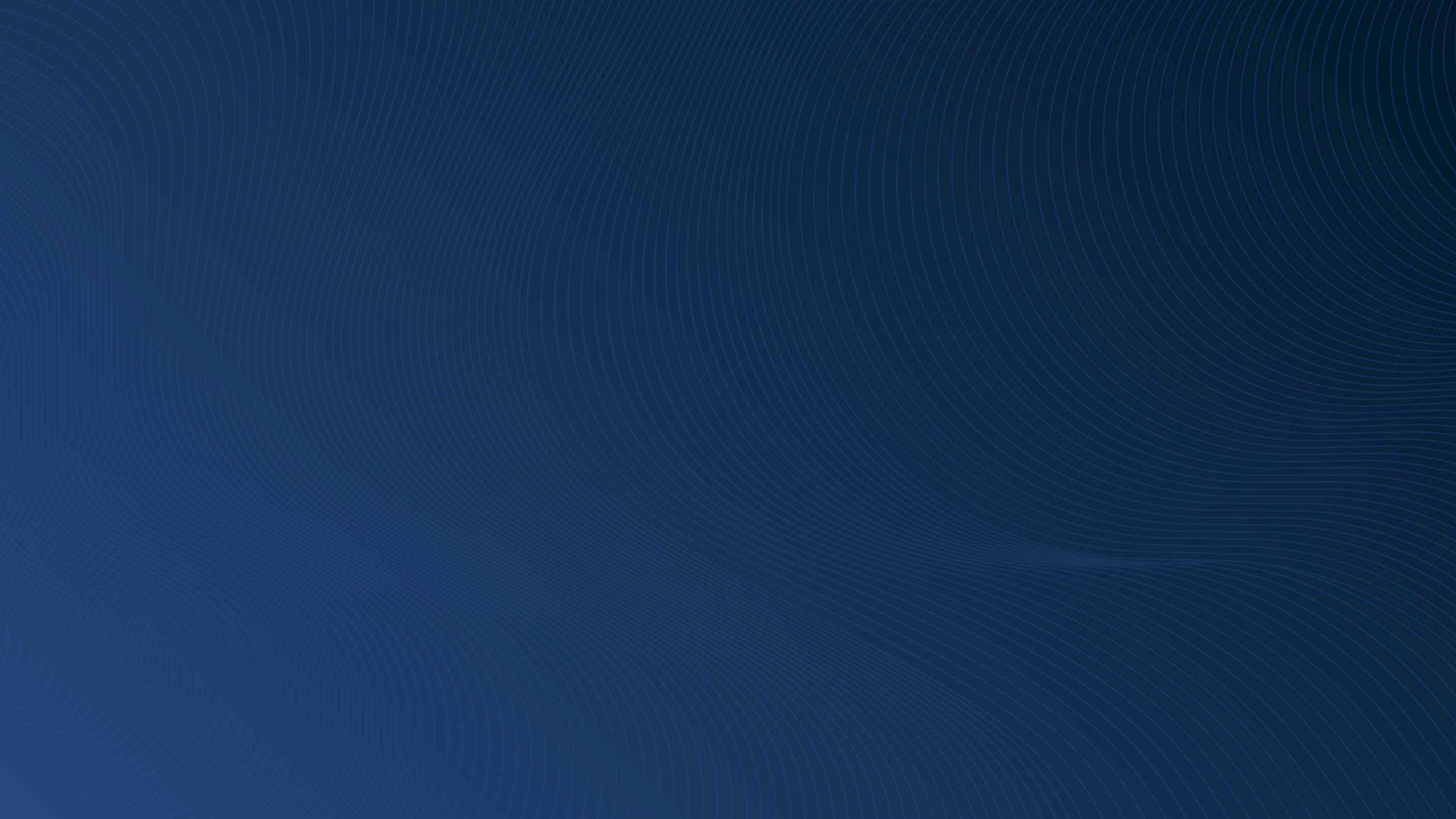 CVSA roadcheck 2018 targets HOS compliance
---
Get prepared for the CVSA Roadcheck with these tips and important Geotab Cloud ELD information and resources for commercial motor vehicle drivers and ELD administrators.
To help you prepare for the CVSA Roadcheck, we have compiled a list of important Geotab Cloud ELD information and resources.
When is the CVSA International Roadcheck?
This year, the annual International Roadcheck by the Commercial Vehicle Safety Alliance (CVSA) takes place June 5-7, 2018. During these 72 hours, commercial motor vehicle inspectors will be checking large trucks and buses at sites across North America.
The International Roadcheck is a joint effort between transportation associations in the U.S., Canada and Mexico, including the Federal Motor Carrier Safety Administration (FMCSA), Canadian Council of Motor Transport Administrators, Transport Canada, and the Secretariat of Communications and Transportation (Mexico).
With the ELD Mandate now in effect, the special focus for this year's roadcheck will be on Hours of Service (HOS). According to the CVSA, during last year's roadcheck event, the top reason for placing commercial motor vehicle drivers out of service was having an HOS violation, showing that more work and focus is needed in this area.
See Also: 10 Smart ELD Reports to Help Avoid Hours of Service Violations
What happens at the CVSA Roadcheck?
During the roadcheck, inspectors will conduct a Level I North American Standard Inspection of the commercial motor vehicle (CMV), which includes 37 steps, from checking a driver's license and Hours of Service, all the way to fuel system, lights, tires and wipers.
How do I prepare drivers for the CVSA Roadcheck?
Fleets can get their drivers ready for the CVSA Roadcheck, by ensuring they follow HOS best practices, which include:
Drivers should also have their required ELD documentation ready in case they are requested.
What ELD info does the driver need to have on-hand?
It is essential that drivers always carry their ELD information packet and be ready to make it available.
In addition to having at least 8 days worth of blank paper logs available in the CMV, drivers are also required to keep the following documentation in the cab at all times:
Administrators should also enable the ELD Information Add-in for use.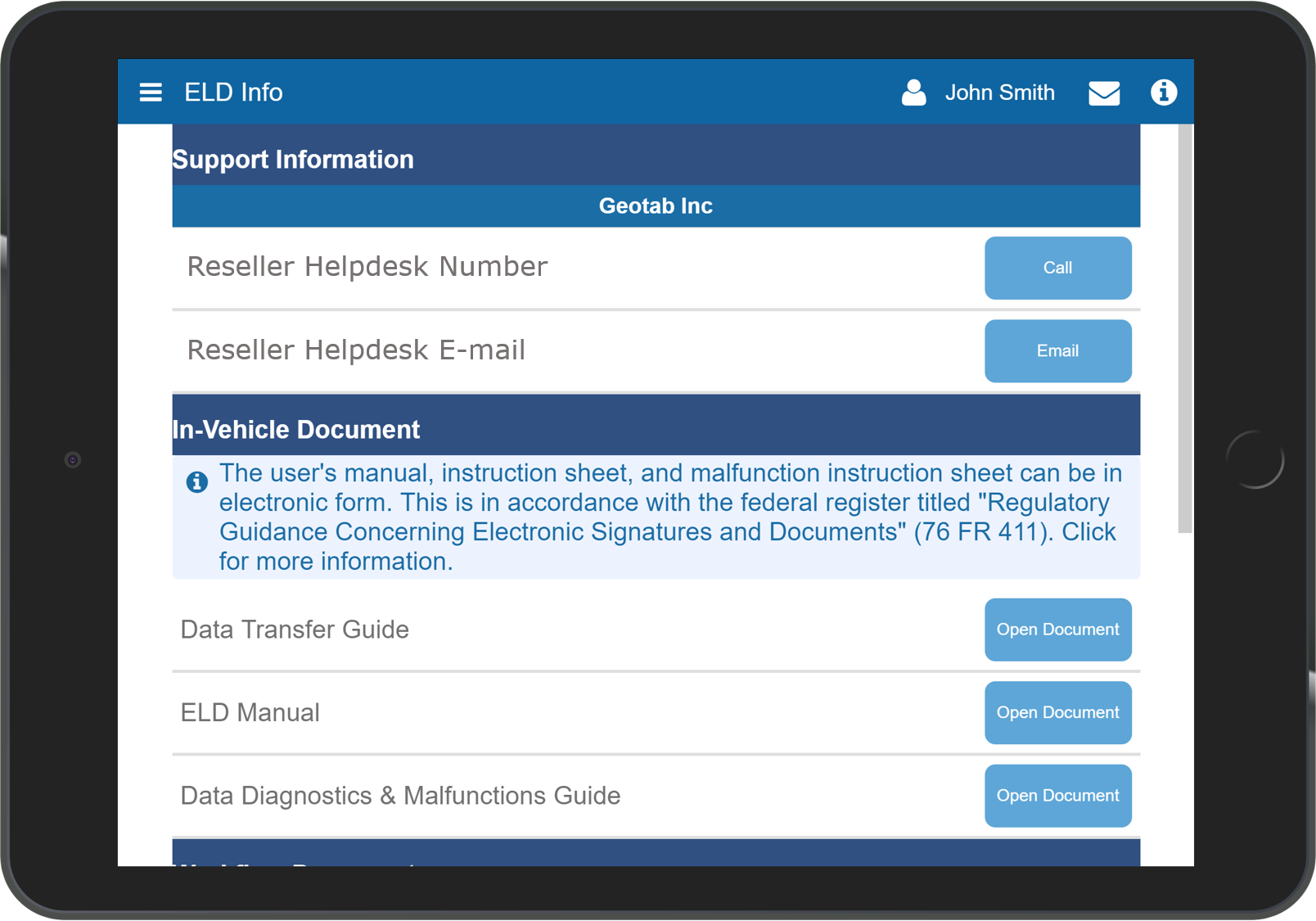 How ELD admins can help — validating settings in MyGeotab
To avoid possible violations, ensure that the MyGeotab portal contains all the vital information for compliance in order. In order to validate that you are correctly set up for the ability to transfer HOS logs to the inspector via MyGeotab or the Drive App ensure the following settings are set up correctly through the ELD Settings Validator Add-In.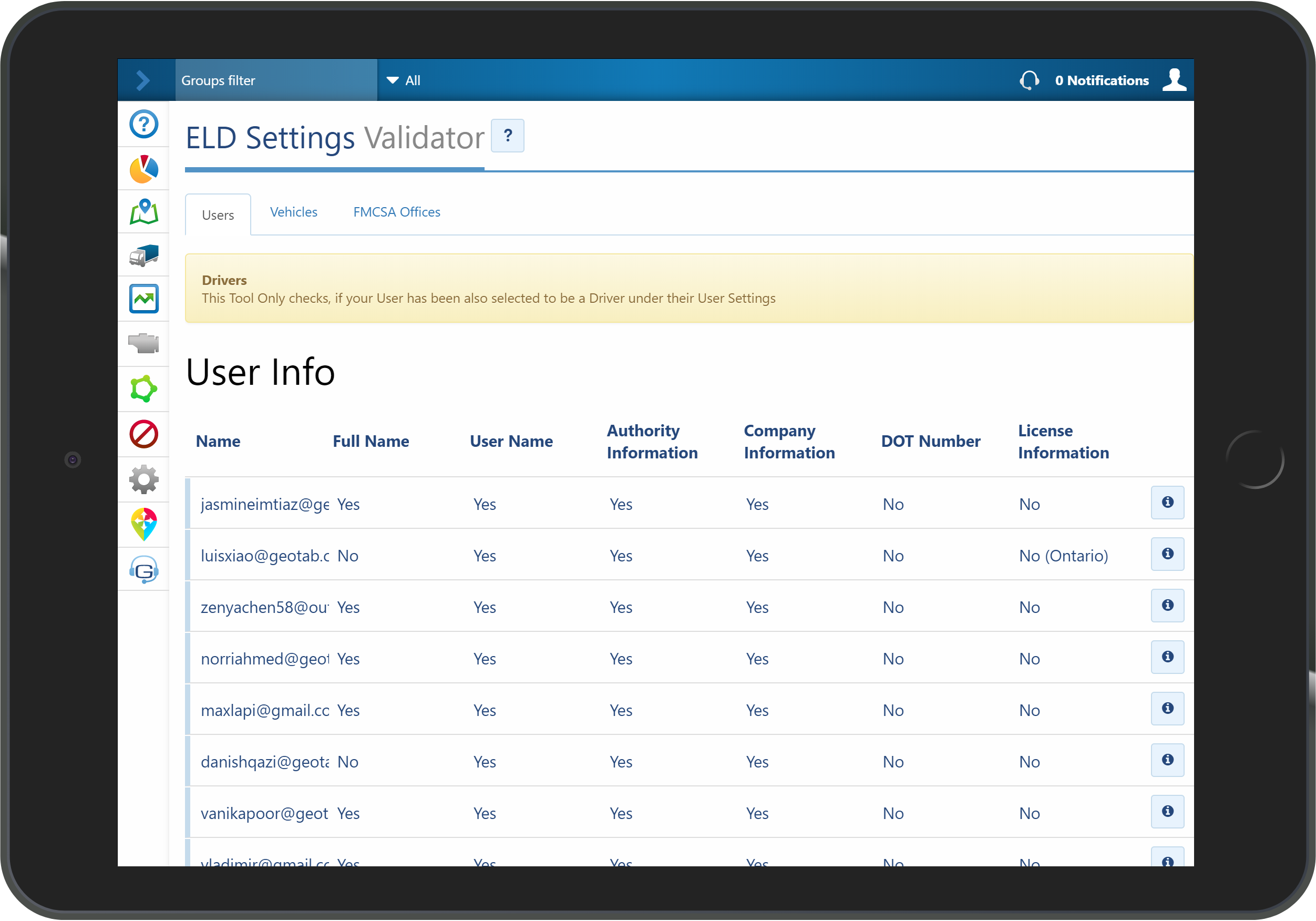 Verify driver settings:
Ensure each of these items are complete and correct:
Driver's name, username, license number and state are filled correctly (Enter these details on the driver's user profile on the User & Driver tab)
Driver has the correct ruleset, exemptions & DOT/Carrier number (Enter these details on the driver's user profile on the HOS Settings tab)
Driver's home terminal name and address or authority name and address are filled correctly (enter on the driver's user profile on the HOS Settings tab)
Verify vehicle settings:
Ensure each of these items are complete and correct:
Vehicle VIN (Enter on the Vehicle page — this should be captured automatically by the Geotab GO device)
Optional for U.S.: Vehicle license place information (Mandatory for CMVs that operate in Canada)
Recap: 2017 CVSA International Roadcheck
During the 2017 CVSA International Roadcheck, over 62,000 driver and vehicle inspections were conducted (7,713 inspections in Canada and 54,300 U.S. inspections).

Based on 2017 International Roadcheck results reported by the CVSA, here are the top violations for vehicles and drivers.
Top 3 out-of-service (OOS) vehicle violations:
Brake systems
Cargo securement
Tires/wheels
Cargo securement violations most commonly found included not or improperly securing load; failure to secure vehicle equipment; leaking, spilling, blowing, and falling cargo; insufficient tie downs; and failure to secure load.
Top 3 hazmat violations:
Loading and securement
Shipping papers
Placarding
Top 3 driver-related violations:
Hours of Service
Wrong class license
Falsification of records (False log book)
Other OOS violations related to drivers included having a suspended license, drugs/alcohol and driver's age.
Learn more about Geotab Drive at: www.geotab.com/eld/
More ELD news:
What to Do During an ELD Roadside Inspection
---
If you liked this post, let us know!
---
Disclaimer
Geotab's blog posts are intended to provide information and encourage discussion on topics of interest to the telematics community at large. Geotab is not providing technical, professional or legal advice through these blog posts. While every effort has been made to ensure the information in this blog post is timely and accurate, errors and omissions may occur, and the information presented here may become out-of-date with the passage of time.
Get industry tips and insights
Sign up for monthly news and tips from our award-winning fleet management blog. You can unsubscribe at any time.
Republish this article for free
Other posts you might like