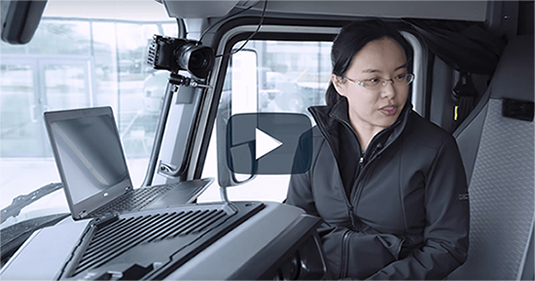 Empowering business with data intelligence: Fiona Zhao interview
---
See how Geotab uses data intelligence to process telematics information.
How can fleets better understand their operations through telematics insights and data? This was a key topic discussed when Felipe Hoffa, a Google Cloud Platform developer advocate, sat down with Fiona Zhao, Senior Software Developer Team Lead, Data Engineering (formerly Senior Data Scientist as referenced in the interview) at Geotab, to chat about the company.
In the interview, Zhao breaks down how Geotab processes data, how to install a Geotab GO device, how to run queries using Google's BigQuery, and the value of data intelligence.
Here are highlights from the interview.
Geotab processes billions of data points every day
In Zhao's own words, Geotab is a telematics company that provides "open platform fleet management solutions to businesses of all kinds and all sizes." Customers are able to connect their vehicles using Geotab devices and monitor productivity, efficiency, safety and compliance for both drivers and vehicles.
At the time of the interview, Zhao noted that Geotab collects data from over 1 million devices across more than 20,000 customers, resulting in 2.1 billion data points per day. Today, however, Geotab processes much more than that. With over 2 million devices in operation, the figure is 40 billion data points per day from over 40,000 global customers.
Device installation takes only a few seconds
Zhao showed just how easy it is to install a Geotab device. The telematics device can be plugged in and set up in minutes.
"The only thing you need to do is just plug the device in," Zhao says. "After a few seconds, you will hear a beep. And then it starts to work."
For more information on device installation, read our post here: How to install a Geotab GO vehicle tracking device.
Zhao explains that Geotab continuously runs queries in the background using BigQuery and other tools to push data from the devices to MyGeotab for real-time reporting. This allows for constant monitoring and evaluation.
"Once the device filters and calibrates all the data, the device itself will ensure we are sending the most information with the least network cost," Zhao says. Within several seconds, the device data will go into databases, as well as the big data environment for analysis.
Telematics is more than GPS
Geotab provides an open platform database so that businesses can integrate Geotab's solutions with other data sources to get the most out of their data.
"Geotab sees the value in big data," Zhao says. "And we want to show that the value of big data can definitely empower businesses. We are not just about telematics. And telematics is not just about GPS and the position."
Zhao goes on to share an example of how Geotab uses software to take billions of data points – equal to more than a petabyte of data – and narrow it down for a report on common hazard areas in California. For more on this, you can take a tour of the intelligence datasets, including the Hazardous Driving Areas report, by visiting data.geotab.com.
Data intelligence is the future
When asked what's next for Geotab, Zhao said that data intelligence is key. She herself is focused on building big data platforms for Geotab that manage and orchestrate data ingestion pipelines and data consumption APIs.
The Geotab Ignition platform has over 12 datasets for research into smart cities, autonomous vehicles, and intelligent transportation by providing seamless exploration of anonymous aggregate data.
"Geotab believes in management by measurement and we want to help other businesses to do the same thing," says Zhao. "We make decisions driven by data, and we're going to help people do it, too."
To watch the full interview, check out the video below:
---
If you liked this post, let us know!
---
Disclaimer
Geotab's blog posts are intended to provide information and encourage discussion on topics of interest to the telematics community at large. Geotab is not providing technical, professional or legal advice through these blog posts. While every effort has been made to ensure the information in this blog post is timely and accurate, errors and omissions may occur, and the information presented here may become out-of-date with the passage of time.
Get industry tips and insights
Sign up for monthly news and tips from our award-winning fleet management blog. You can unsubscribe at any time.
Republish this article for free
Other posts you might like