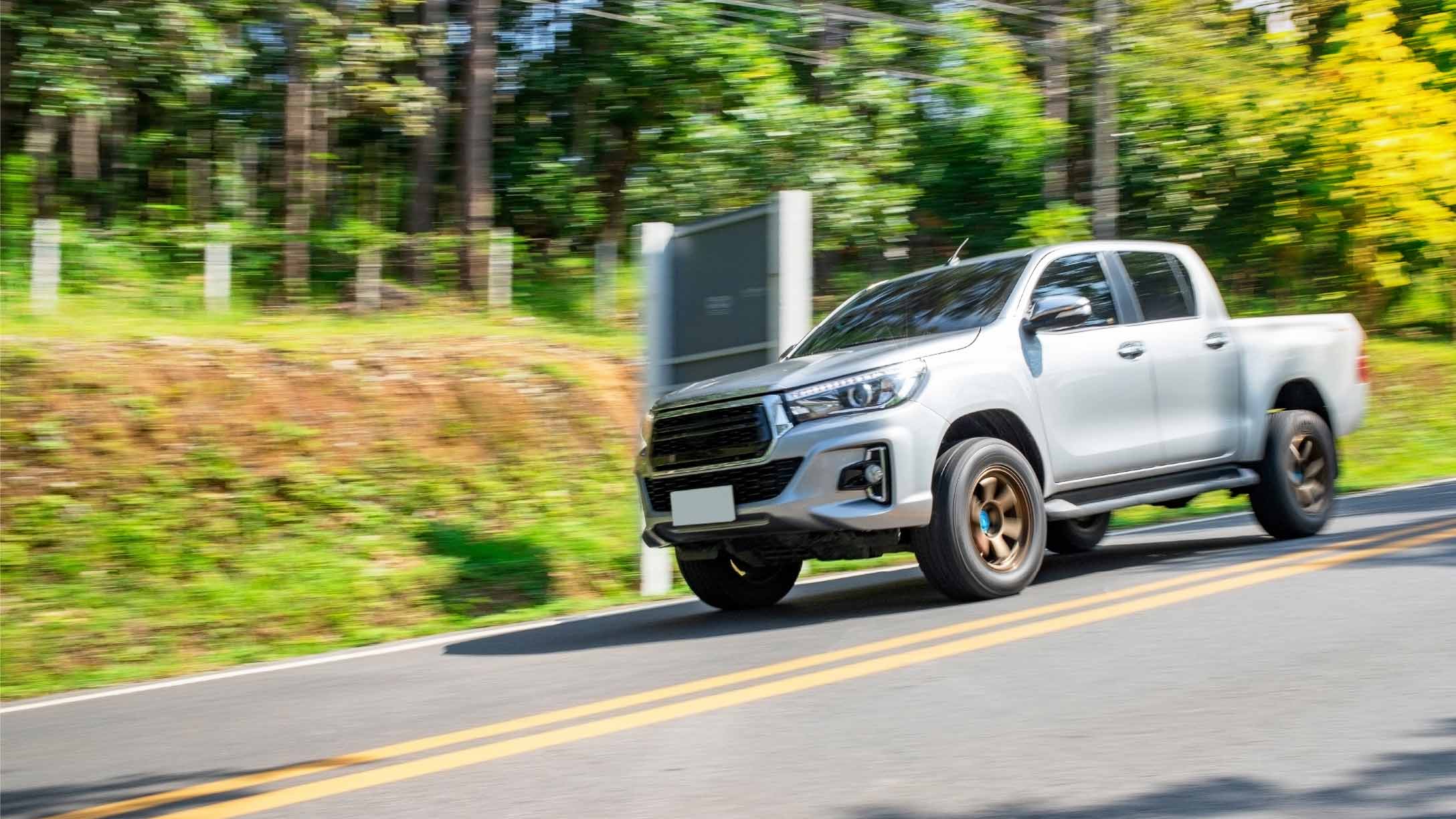 Trucks will be a real pick-me-up for fleet electrification
---
Electric pickup trucks are going to revolutionize EV adoption and change the game for fleet electrification.
Electric vehicles have made waves in the transportation industry over the last few years. With the arrival of electric pickup trucks we are about to witness another significant crest.
Pickup trucks are immensely popular in North America. In 2021, the Ford F-Series, Ram Pickup and Chevrolet Silverado took the top three spots of all vehicles sold in the U.S. With multiple electric pickups arriving on the scene, truck lovers will get to join in on the EV excitement. But are electric pickup trucks a viable solution for fleets?
Using real-world data to evaluate the potential of electric pickups
In October 2021, Geotab conducted a fleet electrification study with Enterprise Fleet Management that analyzed over 91,000 of their vehicles. Using Geotab's EV Suitability Assessment (EVSA), the study showed that they could replace up to 45% of the analyzed vehicles with EVs once electric pickup trucks entered the market, potentially saving them hundreds of millions of dollars.
In a new aggregated EVSA study, Geotab set out to evaluate whether the current electric pickup models on offer have the required range capabilities needed for real-world fleet applications and if they would be economically viable. By analyzing de-identified data from 404,652 light-duty trucks (LTD-class 2, 2a, 2b) across the U.S. and Canada, this large-scale EV Suitability Assessment showed promising potential for fleets.
Do electric pickups have enough range for fleet needs?
Fleet vehicles are often thought of as being pushed to the limits, for both utilization and workload. However, when examining actual vehicle usage solely based on daily range requirements, 76% of the trucks could be replaced with an EV and not run out of charge during the day. In fact, half of the light-duty trucks analyzed didn't exceed 188 miles in a single day over the entire year and tended to stay well within the range capabilities of most electric pickup models entering the market.
Are electric pickup trucks economically viable?
With fleet electrification it's not just about the range, the economics must make sense. For now, the electric pickups coming to market have a higher price tag compared to their gas equivalents. Fortunately for a fleet operator, it's the total cost of ownership (TCO) that counts.
Pickup trucks are known for their high fuel consumption and subsequent fuel costs. Electricity is not only cheaper than fossil fuel alternatives, its price is more stable and predictable. This fact, along with the overall reduced maintenance costs resulting from fewer moving parts, means that EVs have a lower operating cost.
The question is – do the savings on fuel and maintenance offset the premium cost of the vehicle?
The answer depends on how the vehicle is used. It's much harder to get a return on investment for EVs that have low usage, since cost savings increase the more the vehicle is driven. However, there's a "sweet-spot" for vehicles that both drive short enough distances to be range-capable and high enough annual mileage to provide a lower TCO compared to a gas-powered pickup.
Geotab found that 45% of light-duty trucks used by fleets hit this ideal scenario over a seven-year service life. In fact, the study found that by electrifying those trucks deemed economically viable fleets could save an average lifetime savings of $4,000 per vehicle.
The total cost of ownership becomes more favorable where government incentives or rebates exist, to help offset the higher upfront cost. If fleets could access a $4,000 purchase incentive, 56% of trucks could go electric and save money over seven years. A rebate of $6,500 bumps this up to 62%.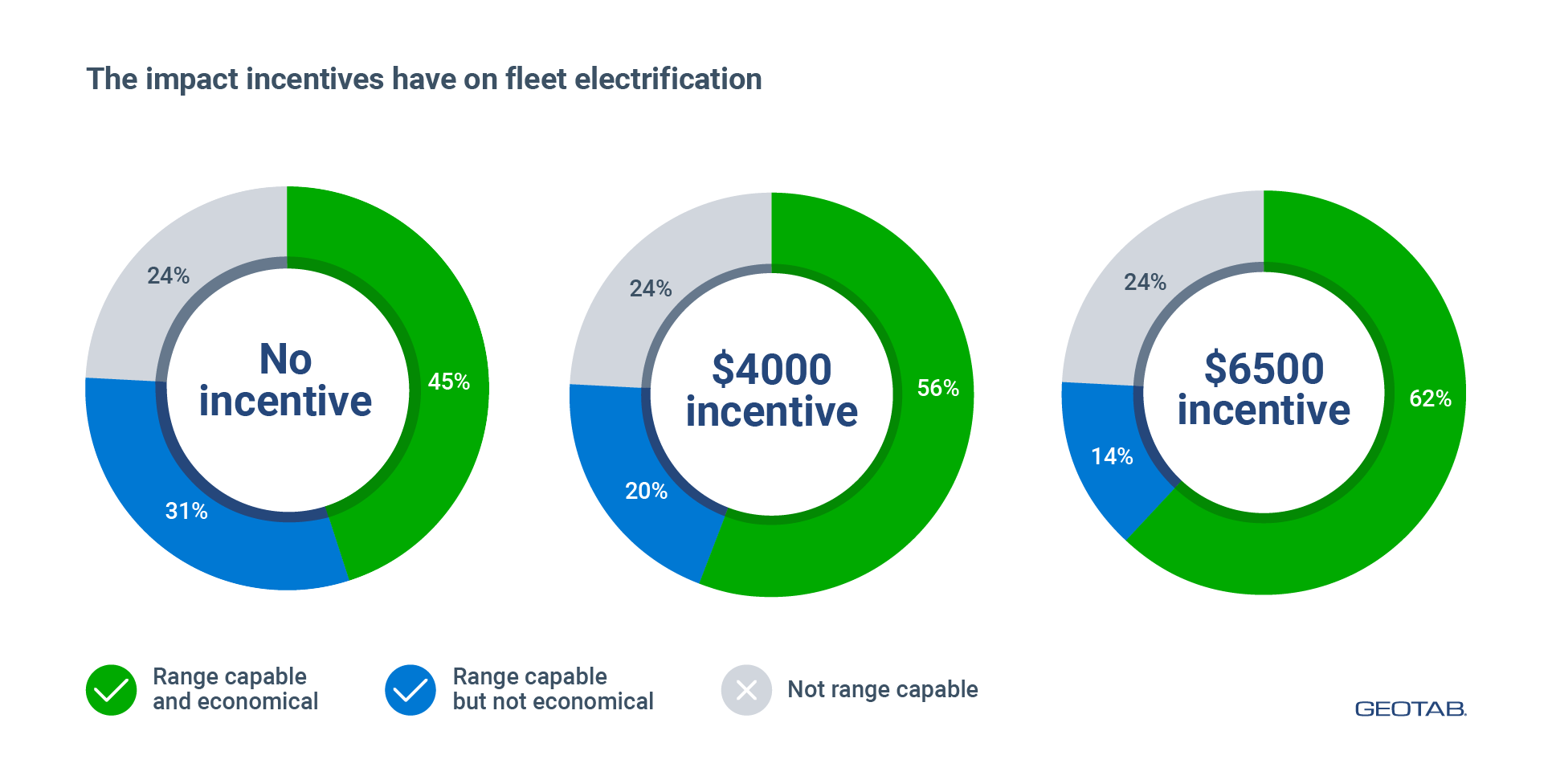 Are pickup trucks especially well suited for going electric?
EVs are generally more powerful than their internal combustion engine (ICE) equivalents. Ford announced that their electric F-150 Lightning delivers 563 horsepower and 775 lb.-ft. of torque, making it the most powerful F-150 they have ever released. Rivian and GM have made similar statements, for their R1T and Hummer respectively, showcasing that electric pickups will have the power for more demanding use cases.
There are also a few unique perks of an electric pickup truck that aren't as obvious. For example, electric motors and their battery packs take less space than a traditional engine. This means these EVs have more storage with a trunk at the front – sometimes referred to as a frunk.
Another benefit that sometimes gets overlooked is that EVs are significantly quieter than ICE vehicles. Studies have found that noise from vehicle traffic has various health implications, including stress and hearing loss. Truck drivers who have switched to electric have reported a better and safer work environment from reduced vibrations and noise.
Next, the weight distribution of the battery along the bottom of the vehicle, gives the truck a lower center of gravity. This provides EVs with better handling and more stability, even when the bed is empty.
Finally, most models have auxiliary power connections so you can charge power tools or equipment – without idling. Some models are equipped with up to 11 outlets, which combined can provide up to 9.6 kW worth of power. This allows the truck to become a mobile worksite and would be especially useful for construction or field service fleets.
Electric pickup trucks are going to be a game changer
Electric pickup trucks represent a huge opportunity for fleets. The models entering the market already meet over three-quarters of the nearly half a million analyzed vehicles' daily driving requirements – even on their worst days – and represent significant cost saving opportunities. As their purchase price comes down, whether through a rebate or as a result of the falling cost of battery technology, they will become even more economically desirable.
And of course, these trucks are fully electric, meaning they all produce zero tailpipe-emissions. Since ICE trucks have a larger environmental impact than passenger vehicles, transitioning to an EV is a great step towards creating a more sustainable fleet and meeting carbon reduction goals.
Are you investigating whether EVs are right for your fleet? Visit our Fleet Electrification Knowledge Center that combines resources, tools and fleet success stories to help guide you on your journey.
---
If you liked this post, let us know!
---
Disclaimer
Geotab's blog posts are intended to provide information and encourage discussion on topics of interest to the telematics community at large. Geotab is not providing technical, professional or legal advice through these blog posts. While every effort has been made to ensure the information in this blog post is timely and accurate, errors and omissions may occur, and the information presented here may become out-of-date with the passage of time.
Get industry tips and insights
Sign up for monthly news and tips from our award-winning fleet management blog. You can unsubscribe at any time.
Republish this article for free
Other posts you might like