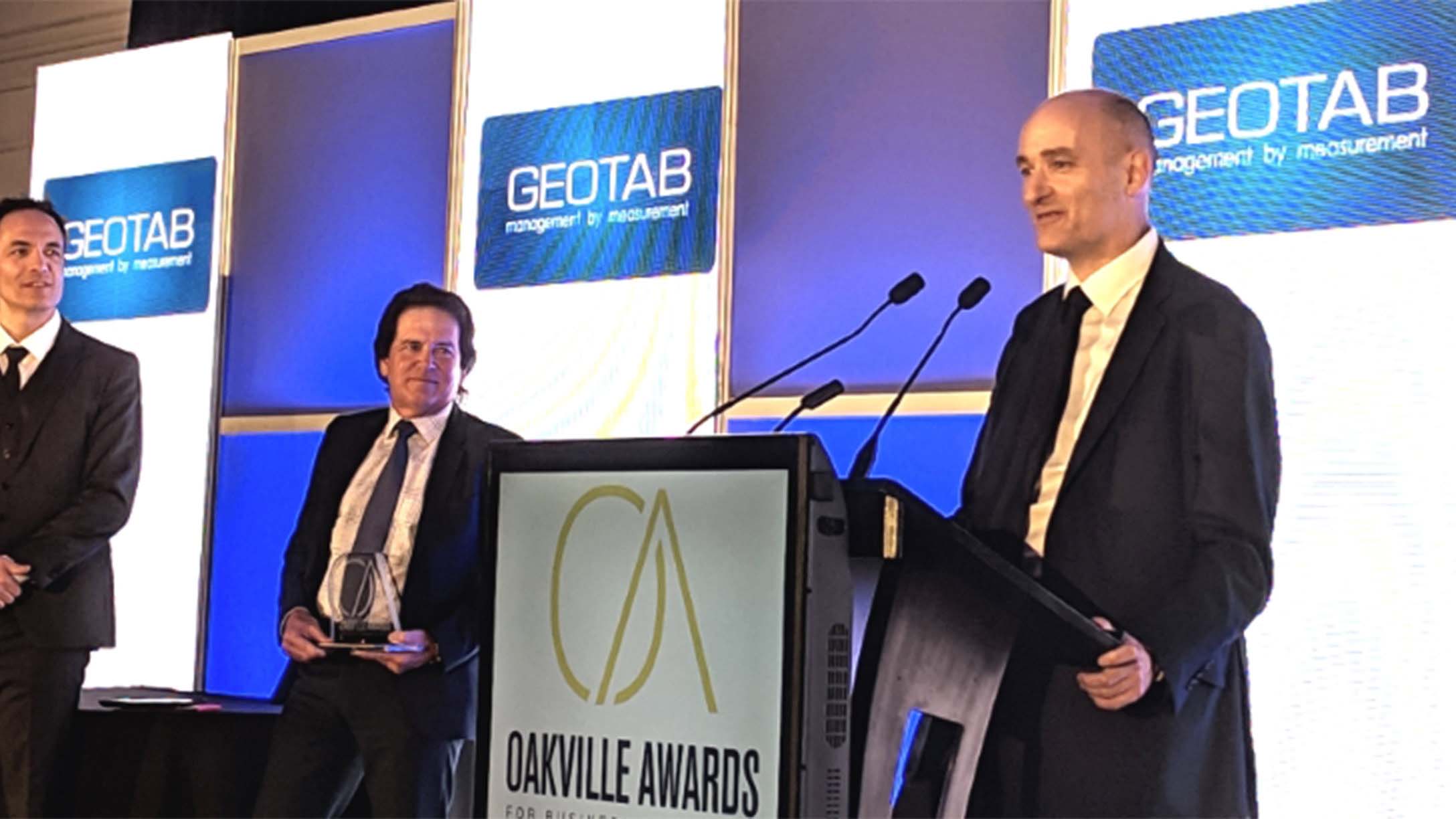 Geotab recognized with Oakville's Business Icon award
---
Celebrating entrepreneurs making a bold impact and a positive influence on the community
Geotab is proud to announce that it was presented with Oakville's Business Icon award at the 24th Annual Oakville Awards for Business Excellence (OABE) Gala. The OABEs, presented by the Oakville Chamber of Commerce and Rotary Club of Oakville West, celebrate and recognize local Oakville businesses who are making a difference in their community and are contributing to the town's economic development.
See also: ABI Research releases its latest commercial telematics vendor ranking: Geotab lands top spot
Geotab: Oakville's Business Icon 2018
Geotab was honored to receive Oakville's Business Icon award, which recognizes Oakville businesses demonstrating excellence and community service. The award is issued at the discretion of the OABE committee to an Oakville-headquartered business that is measured against several criteria including global presence, local employment opportunities and socio-economic contributions.
In a press release issued by the Oakville Chamber of Commerce, the Chamber's Chair of the Board, Tim Caddigan stated: "Geotab is a highly respected organization that serves the Oakville community. Their commitment to innovation, giving back to the community, and building excellence is an example for us all. We are proud to honour Geotab this year with the Business Icon Award and we invite the Oakville community to join us in celebrating the innovative businesses that call Oakville home."
Geotab's CEO, Neil Cawse, accepted Oakville's Business Icon award, expressing that the achievement is a reflection of every person working at Geotab. Cawse also explained why Geotab was founded in Oakville over 18 years ago:
"When we had decided to leave South Africa, we sat down as a family, looked at a map and made our top choices. First, we all picked Canada; and then, we all picked Oakville. This really is a fantastic place to be and we knew that Oakville would be the best new home for not only our family, but for our business and future."
Today, Oakville has proven to be the optimal location for Geotab's head office and growing team of Canadian employees. Situated close to some of the best engineering universities in Canada, Oakville attracts top talent and provides employees and their families an excellent quality of life.
A celebration of the entrepreneurial community
The OABE gala also recognized the entrepreneurial community in Oakville that is making an impact both locally and globally. With 10 award categories and 44 finalists, the OABEs honored individuals and business owners with awards in the categories of Large Business of the Year, Professional Services Provider of the Year, Community Builder and more.
"Historically, recognition and praise has often been given to rockstars and actors. People don't appreciate that entrepreneurs put their lives on the line and take risks to make their dreams and visions come true," added Cawse as he addressed the OABE gala attendees. "Only the boldest go out there and take a big chance. Entrepreneurs are creating the economy of the future, creating employment opportunities, keeping families fed and ultimately making the biggest difference in their communities. That is what really matters in this world."
Follow @GEOTAB on Twitter, LinkedIn and Facebook for more news and updates.
Related:
Geotab wins Oakville Innovation Award
---
If you liked this post, let us know!
---
Disclaimer
Geotab's blog posts are intended to provide information and encourage discussion on topics of interest to the telematics community at large. Geotab is not providing technical, professional or legal advice through these blog posts. While every effort has been made to ensure the information in this blog post is timely and accurate, errors and omissions may occur, and the information presented here may become out-of-date with the passage of time.
Subscribe to the Geotab Blog
Sign up for monthly news and tips from our award-winning fleet management blog. You can unsubscribe at any time.
Republish this article for free
Other posts you might like