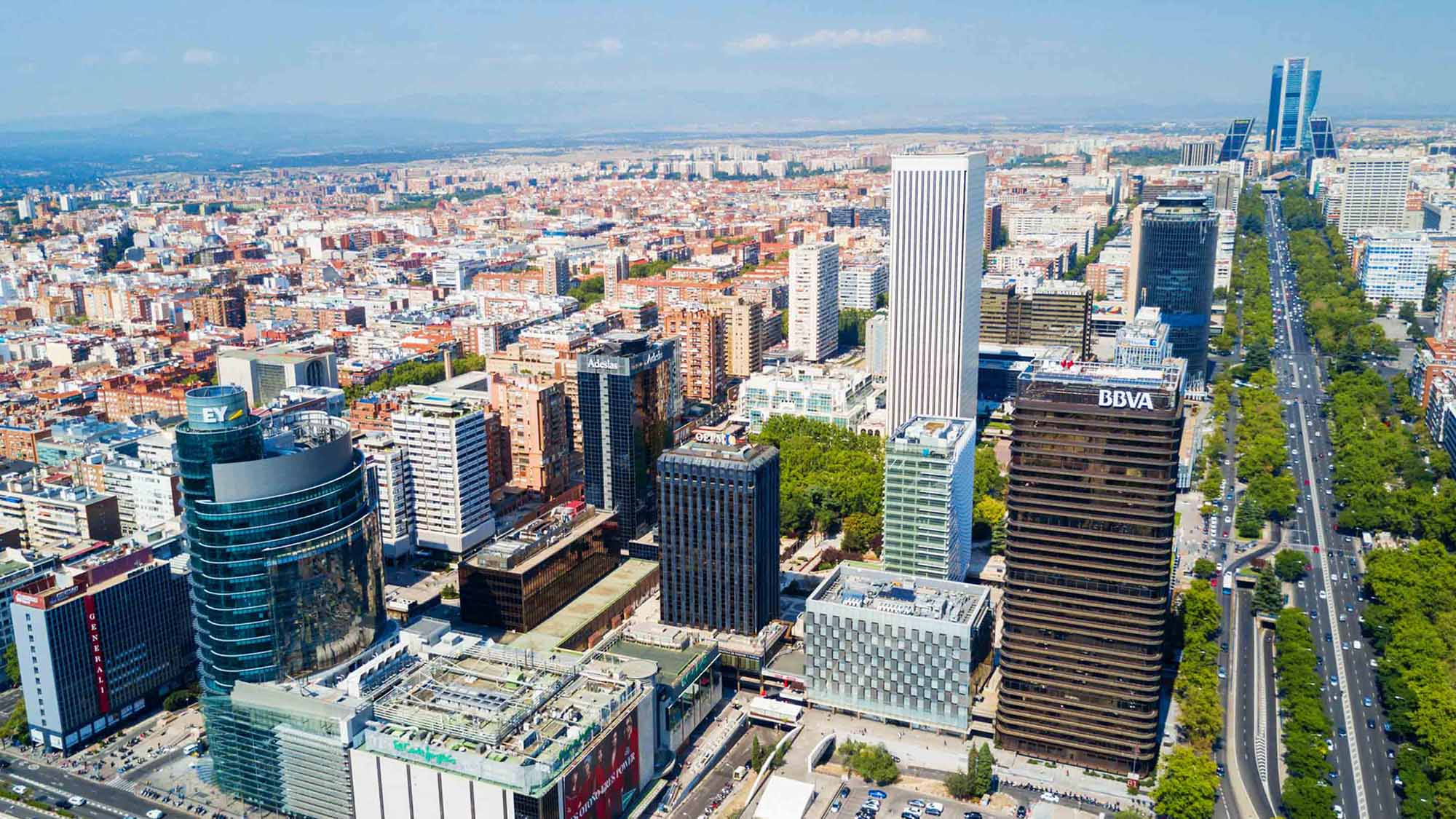 Urban mobility study finds Spanish fleets believe EVs are the future
---
Fleet managers were polled on their perception of electric vehicles in the urban mobility study conducted by the Mobility Research Center of PONS Seguridad Vial and LUIKE.
A unique urban mobility study, titled "Españoles ante la nueva movilidad," on perceptions in Spain reveals that the fleet electrification trend is growing.
About the study
This was the 8th edition of the periodic study, which started in 2016 and is tracking changes in public opinion over time. More broadly, the study is focused on gathering insights related to these topics:
Car buying factors
How environmental awareness affects vehicle purchasing decisions
Public opinion on anti-pollution measures and how they impact decision-making
Opinion on road safety measures
For the fleet management part of the study, researchers surveyed 246 Spanish fleet managers via an online opinion poll. The majority of the participants surveyed had small fleets (under 50 vehicles), while the others had medium and large fleets (more than 500 vehicles).
The results of the urban mobility study were presented on November 14, 2019 in Madrid. Antonio Venutelli from Geotab, Borja Carabante from the City of Madrid Authorities and representatives from the carsharing company WiBLE and UNO Logística (Association of logistics and transport operators) participated in a panel discussion at Fundación PONS.
See also: A visual guide to public EV charging stations – Spain
Majority of fleet managers believe EVs will play dominant role
Results of the study show that electric vehicles are becoming more popular among fleets. Here are the numbers:
2 out of 3 (67%) of fleet managers polled believe that electric vehicles will have an important role in their fleets between one and 10 years.
35% of fleet managers perceive electrification as the most important trend within their sector, followed by connected fleets (24%), shared fleets (20%) and others (20%).
Other key findings of the urban mobility fleet study
The adoption of electric vehicles is perceived as the most important trend (35%), followed by the connected fleet (24%) and the shared fleet (20%).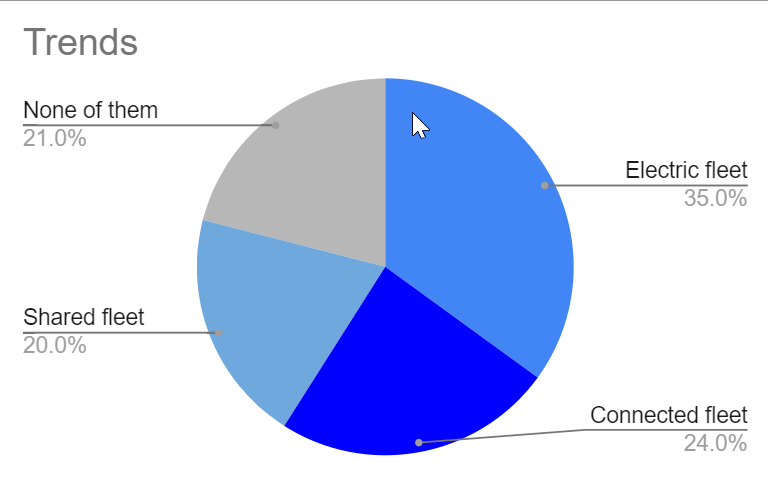 As for electric vehicles, 67% of fleet managers consider that they will have a dominant role in their fleet within 1 to 10 years, while 25% expect it to be in more than 10 years.
As fleets transition to electric vehicles, they can face several challenges such as battery range, price and charging infrastructure. Note that only 2% of these fleets are actually hybrids, 2% are plug-in hybrids and 2% are electric vehicles.
"Although there still exists uncertainty and some barriers, it is pretty clear that electric vehicle adoption is the main trend," remarks Antonio Venutelli, Director, Mediterranean at Geotab. "During the first steps of the electrification process, managers should analyze their fleet, determine which vehicles are eligible to be replaced and identify which models suit their needs better. Telematics is a key tool, as it allows them to obtain accurate information on current vehicle behavior in order to make data-based decisions."
Geotab's ebook "The Ultimate Guide to Fleet Electrification" provides detailed information for fleet managers on EV adoption and electric vehicle fleet management. Download the full ebook here.
Other fleet concerns: safety, productivity and efficiency
While electrification is considered the most significant trend, the most important concerns to fleet managers are still the traditional ones: driver safety, which is relevant to more than half of them (51%), followed by productivity and efficiency (43% each). The type of energy (fuel or EV) is the fourth biggest factor.
The opportunity for telematic management
More than half, 63% of the respondents still do not use telematics to manage their fleet. One fifth do use telematics and 17% of these professionals are interested in incorporating it to their business.
Fleet size usually determines the degree of digitization which provides them with capabilities to optimize their vehicle usage and profitability. Companies with smaller fleets do not usually resort of this kind of systems, only 12% of small fleets (less than 50 vehicles) do. On the other hand, this tool is widely spread among fleets consisting of more than 500 vehicles (72%).
This information shows the still existing margin between the implementation of this specialized technology in the fleet management sector. "It is wrong to think that telematics is only valid for companies which own a large amount of vehicles. Moreover, this technology is explicitly the answer to offering more safety, productivity, efficiency and support in electric vehicle adoption, which are the main concerns to respondents."
---
If you liked this post, let us know!
---
Disclaimer
Geotab's blog posts are intended to provide information and encourage discussion on topics of interest to the telematics community at large. Geotab is not providing technical, professional or legal advice through these blog posts. While every effort has been made to ensure the information in this blog post is timely and accurate, errors and omissions may occur, and the information presented here may become out-of-date with the passage of time.
Get industry tips and insights
Sign up for monthly news and tips from our award-winning fleet management blog. You can unsubscribe at any time.
Republish this article for free
Other posts you might like