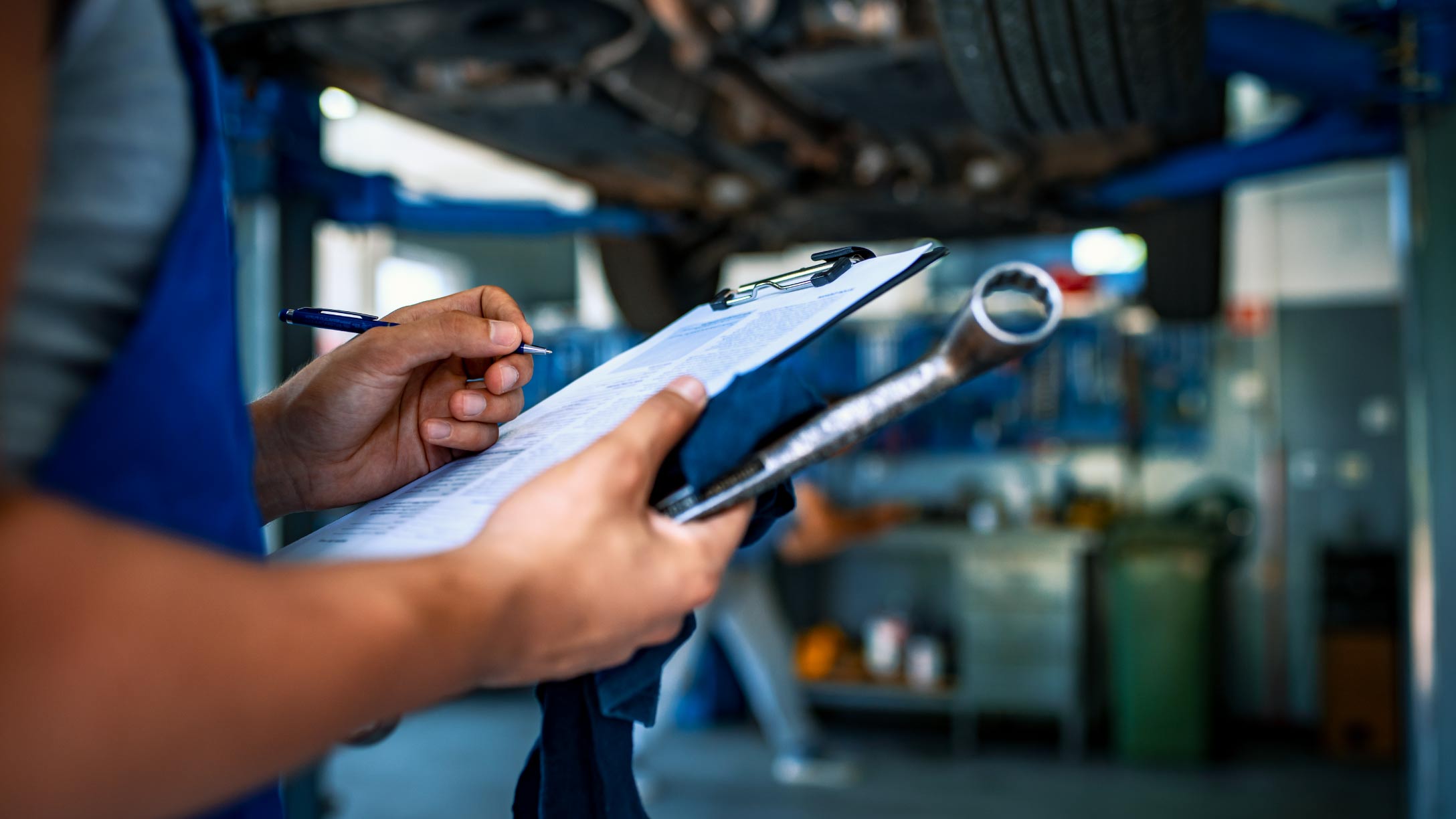 Why create a vehicle maintenance policy and what to include
---
A vehicle maintenance policy helps companies reduce long-term costs, extends vehicle lifespan and reduces liability.
An effective fleet maintenance policy can help you increase the lifespan of the fleet, maximize profits, improve driver safety, avoid sudden breakdowns and improve efficiency overall, while being cost-effective. No matter your fleet size, the need to keep vehicles in good working order is a top priority.
In this blog post, learn why a vehicle maintenance policy is important, what to include in the policy, the benefits of an effective policy and how a telematics solution can solve a lot of your maintenance woes.
What is a vehicle maintenance policy?
A vehicle maintenance policy is a robust written document that lists out rules, regulations, procedures and provides information about the following:
Important vehicle service dates including the last time the vehicle was serviced
Maintenance history
What needs to be covered as part of the maintenance checkup
Who is responsible for vehicle maintenance
Additional information in case of an unfortunate collision or engine failure
A list of processes and procedures helps you be proactive and manage vehicle issues even before they occur. This guide can help support uptime, improve fleet productivity and manage vehicle wear.
Why should you create a vehicle maintenance policy?
Having a powerful set of policies is a best practice for fleet management. A vehicle maintenance policy has many benefits like supporting uptime, improving fleet productivity, improved vehicle health, reduced repairs and optimizing resale value. A vehicle's long health has financial benefits to a company. A well-maintained vehicle needs lesser repairs which saves the company money. With a fleet that is well-maintained you don't need to buy new vehicles which again is a means to save the company expenditure. A vehicle maintenance policy also helps catch issues early on which can save you a lot of stress, protect drivers and money.
Here are a few core reasons for setting up a fleet maintenance policy: Duty of Care, driver safety, fewer repairs, enhanced fleet productivity and risk mitigation.
Duty of Care
Duty of Care is the legal obligation of an organization or a person to avoid acts or omissions that are likely to cause harm to others. How does this apply to fleet-based organizations?
According to the FMCSA, organizations with fleets have to provide suitable, well-functioning vehicles and must systematically maintain and repair them. In this way, having a well-communicated maintenance policy and program is part of Duty of Care. Fleet managers should be able to show a consistent history of compliance and enforcement.
The main purpose of creating a formal, written policy in terms of Duty of Care is to:
Provide clear instructions to all employees
Make sure all policies and procedures are consistent
Offer written documentation in the event of a mechanical failure or collision
Driver safety
Creating a written vehicle maintenance policy helps to promote a culture of safety for your drivers. Keeping your fleet in good working order helps mitigate driver risk, so that employees are not stranded with a broken down vehicle. Being consistent and specific is key.
Risk mitigation
In too many fleets, maintenance is left up to the drivers, and there is little formal documentation on proper fleet maintenance procedures. A written policy that details all proactive efforts towards maintenance scheduling, record keeping and driver training can help. The results are decreased risk by keeping vehicles in good working order and increased driver confidence in their vehicles.
By training drivers on consistent policies, processes and procedures, you can ease their burden and help keep them as safe as possible. If your company is larger, HR, Health & Safety managers and executive leadership should also be part of the policy creation process and can assist with promotion and compliance.
Fewer repairs
By regularly getting your vehicles maintained and serviced, you as well as the drivers can identify issues well in advance which will cost much less. This can help save huge expenditures and larger-scale repairs, which directly impact a business's bottom line.
Enhanced fleet productivity
How can regular fleet maintenance improve its productivity? Regularly maintained vehicles result in fewer errors and breakdowns, the vehicles perform better and the overall efficiency of the fleet increases.
What to include in your company vehicle maintenance policy template?
When developing your commercial vehicle maintenance policy, think about including:
Methods of tracking regular inspection, maintenance and repair per vehicle
Methods of recording employee compliance with the maintenance schedule
A defined communication system that keeps drivers trained and up-to-date on the latest maintenance procedures.
Typical sections in vehicle maintenance policy template include:
Manufacturer-provided service schedules as a minimum frequency, adjusting for special use cases and upfitted equipment
Approved vendors and parts
Pre-authorized spend limits and payment methods
Whether maintenance will be managed by time, mileage, hours, or a combination
Specific maintenance policies and procedures by location or vehicle type
What to do in the event of an emergency
Vehicle maintenance policy checklist
Use this checklist to verify if you have completed all the fundamental activities and procedures as part of the regular preventive maintenance service. This checklist can vary according to your fleet and make of the vehicles.
Efficient vehicle maintenance is a crucial step when it comes to vehicle life, fleet safety and when you want to avoid costly repairs and unexpected breakdowns.
Consider inspecting the following routinely:
Engine oil
Brakes
Transmission fluid
Tire rotation
Tune-up
Braking system
Belts
Hoses
Transmission service
Cooling system service
Air conditioner (AC) service
Steering and suspension system
Filters
Exhaust system
Electrical systems
Fuel systems
Engine and transmission mounts
Front tires:

Check tires for cuts, nails, and any unusual objects
Air pressure for tires
Check if there are cracks on the rims
Check if the valve has cuts
Check if all the belts are accurate and in place
Check air tanks

Lights
Windshield, windows, and mirrors
Seat belts are intact
How can fleet technology help?
With Geotab, managing fleet maintenance and diagnostics becomes easy. Geotab's telematics solutions can help reduce vehicle downtime, cut administrative costs and catch engine issues early using MyGeotab and Partner integrations. Telematics is an easy way to organize preventive maintenance. Combining maintenance management plans with engine data can trigger notifications to schedule vehicles for preventive maintenance.
In the MyGeotab database, you can set up a maintenance rule based on time, engine hours, and/or mileage. Whichever flags first will trigger a notification which will help you schedule a PM (preventive maintenance). After a new maintenance record, all three parameters reset.
Additionally, you can also add the Dynamic Vehicle Maintenance Reminder Report which helps you stay on top of vehicle maintenance. Available on the Geotab Marketplace, this report will help you stay informed of upcoming service needs through email reminders based on set rules for due date, due distance and due engine hours.
The Geotab Marketplace has many tools to help you stay on track of maintenance scheduling to understand engine health, fuel levels, EV charging and much more. Here is a list of Marketplace solutions that help you maximize vehicle uptime:
Prioritize vehicle health, fleet productivity, driver safety and fleet uptime with Geotab's telematics solution for fleet maintenance.
Originally published on January 29, 2021.
---
If you liked this post, let us know!
---
Disclaimer
Geotab's blog posts are intended to provide information and encourage discussion on topics of interest to the telematics community at large. Geotab is not providing technical, professional or legal advice through these blog posts. While every effort has been made to ensure the information in this blog post is timely and accurate, errors and omissions may occur, and the information presented here may become out-of-date with the passage of time.
Get industry tips and insights
Sign up for monthly news and tips from our award-winning fleet management blog. You can unsubscribe at any time.
Republish this article for free
Other posts you might like