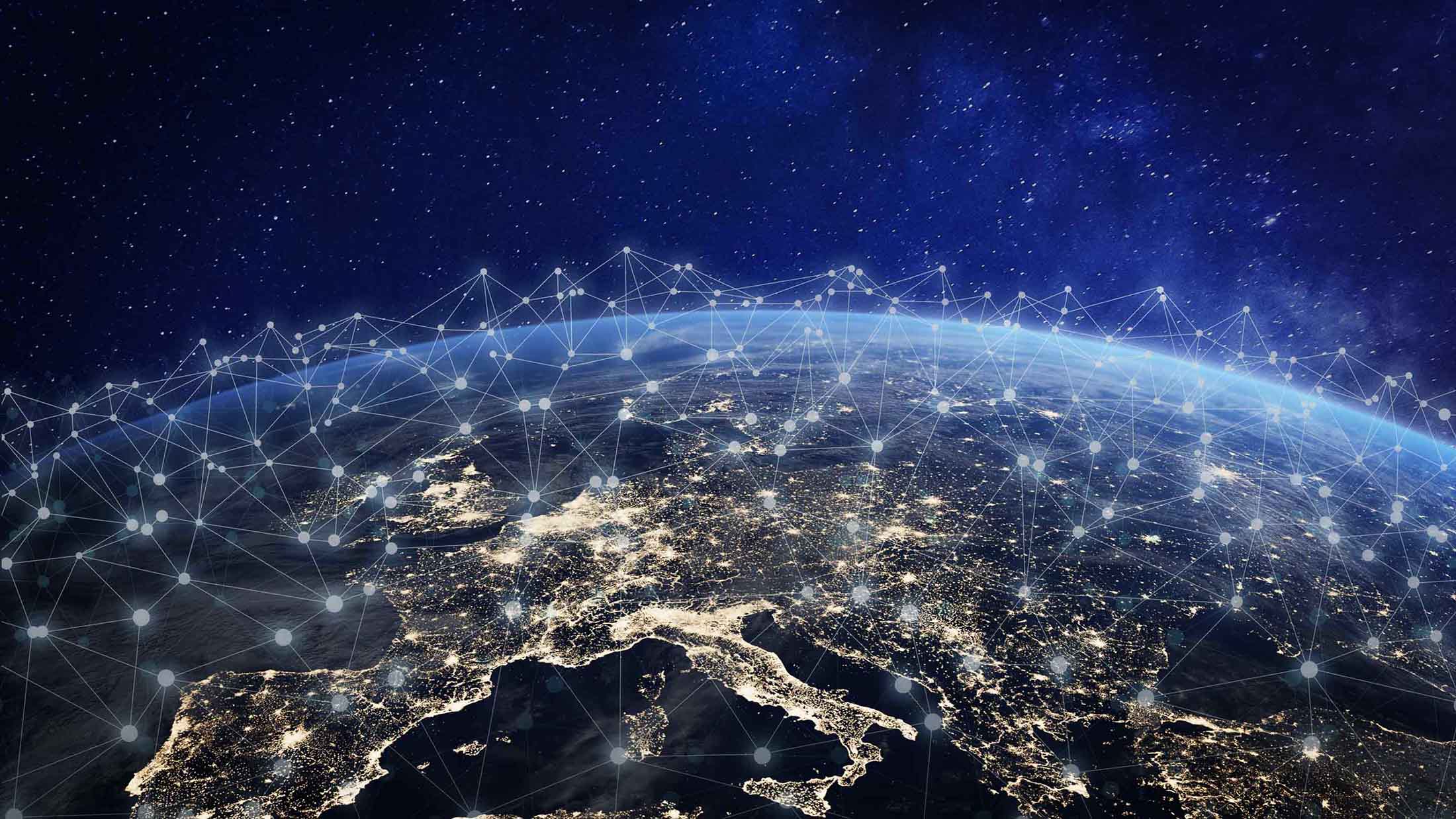 Geotab announces winners of Data Challenge
---
Learn more about the Geotab Data Challenge winners Morpace and d2go and their innovative fleet solutions.
Geotab called out to our Customers, Partners, and the general public, residing in the U.S. and Canada, to leverage the connected vehicle data on data.geotab.com in the first Geotab Data Challenge. This challenge invited participants to come up with the most creative and innovative ways to incorporate the datasets available on data.geotab.com in combination with either a) tertiary datasets, or b) the individual vehicle data collected from a Geotab GO device. The winners were announced at GEOTAB CONNECT 2018.
Data.geotab.com: IoT Data Insight Solutions
On data.geotab.com, Geotab provides free aggregated data through the Google BigQuery platform. Geotab GO devices collect billions data points from over 1 million Geotab connected vehicles every single day. These unique datasets, combined with the insight tools created by Geotab data scientists can provide valuable insight for use by smart cities and businesses, to optimize operations and improve safety and efficiency, plus discover new solutions for key infrastructure challenges such as traffic congestion or poor road conditions.
Types of Intelligence Data available includes:
Weather (Hyper-Local Barometric Pressure and Hyper-Local Temperature)
Urban Infrastructure (Areas of Idling, Hazardous Driving Areas, Road Impediments, Cell Coverage Dark Spots, and Searching for Parking)
Location Analytics (Fuel Station Metrics, Service Center Metrics, Truck Parking Locations)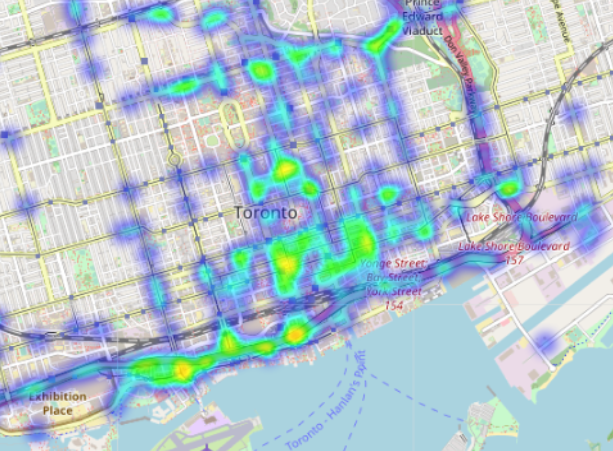 Heat map of hazardous driving areas from data.geotab.com
The Geotab Data Challenge
The task for participants in the Geotab Data Challenge was to leverage the Intelligence Data from data.geotab.com in interesting and innovative ways. Entries were judged on creativity, feasibility and impact.
Winners were announced in two categories:
Smart Community Prize — Create a solution for the community that contributes to a better way of life for its citizens and visitors, using one or more datasets from Geotab's Intelligence Data.
Smart Fleet Prize — Create a solution that contributes to commercial fleet safety and productivity, using one or more datasets from Geotab's Intelligence Data.
Participants were encouraged to combine the Intelligence Data with tertiary datasets to create integrated solutions.
Congratulations to the Geotab Data Challenge winners!
Smart Community Category Winner: Morpace Inc.
Morpace Inc. is is a top 50 global research and consulting firm that humanizes data to connect clients with their customers.
Morpace created DataDialogue™|Park, a concept for an application designed to help find and recommend convenient, safe parking for long-haul truck drivers before their Hours of Service (HOS) expires.
The app uses a proprietary Parking Favorability Score for each parking area, based on five components from Geotab's Intelligence Data:
Parking areas GPS locations
Cell coverage dark spots
Hazardous driving areas
Road impediments
Searching for parking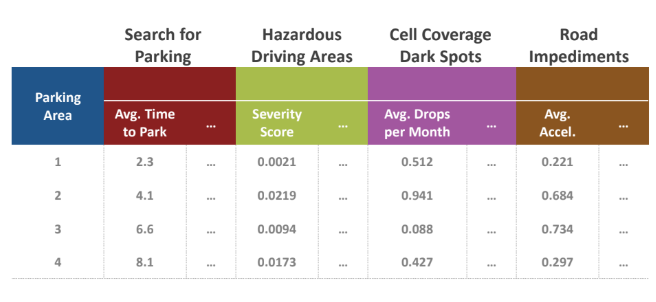 Morpace Parking Favorability Score
The app concept provides the driver with the Parking Favorability Score and other key information:
Parking areas based on current or projected location
A ranked order of the recommended parking locations
Detailed pop-up including ranking, rating, and distance

Recommended parking spots from Morpace DataDialogue™ Park App
There are three levels of integration that constitute the DataDialogue™|Park app:
GPS Integration — Based upon driver's current GPS coordinates, the locate function assumes driver is actively seeking rest and will recommend parking facilities within a 10-mile radius for the driver to consider.
HOS Integration — Using HOS time remaining, and with GPS breadcrumbs to project the driver's path, the solution scores and recommends parking 60 minutes prior to expiration.
Dispatch Integration — Using the driver's final destination and HOS status to project where the driver will need to stop for rest, the solution scores and recommends parking based on the appropriate location.
With DataDialogue™|Park Morpace hopes to maximize lucrative driving time, increase driver retention, save fuel costs, improve driver safety, mitigate HOS and unauthorized parking violations, and minimize driving in bad areas.
Smart Fleet Category Winner d2Go
d2go is a Geotab Partner and software innovator that has been driving telematics for over 10 years with various integrations and custom software projects. See the d2go Driver Challenge gamification solution on the Geotab Marketplace.
For the Geotab Data Challenge, d2go created an Add-In for the Geotab Drive app. Using the current location of the vehicle, this Add-In displays a detailed list of nearby fuel stations.
The d2Go Add-In fetches insightful information using the different APIs to include:
Fuel Station Address
Fuel Station Name
Fuel Type Available
Hours of Operation
Fuel Station Phone number
Fuel Price
Fuel Station Rating
To verify the Fuel Type and Hours of Operation, d2Go uses Geotab's Fuel Station Metrics.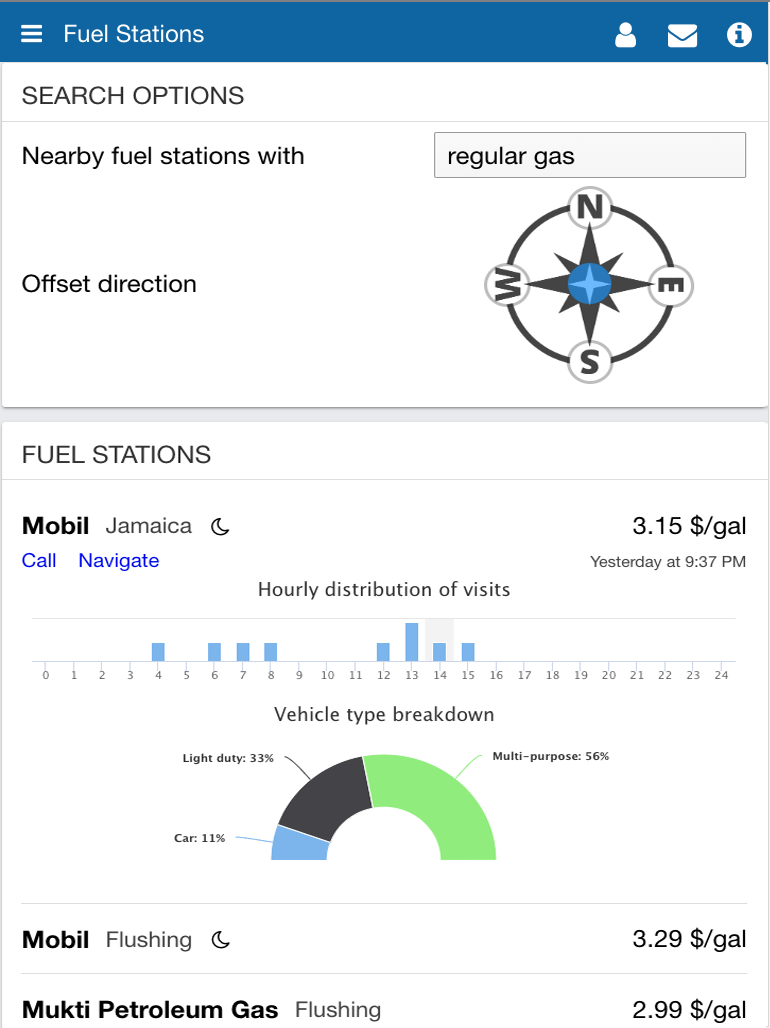 d2go Fuel Stations Add-In for Geotab Drive
To provide more intelligent suggestions to drivers on where they should fill-up, the Add-In will sort and score results from the following Geotab Intelligence Data:
Popularity and Hourly Distribution Metrics — To confirm the operating hours of the Fuel Station and to identify busiest times of the day. At night, a driver would be reassured to confirm popularity of a particular fuel station nearby, confirming nightly operation.
Vehicle Type Metrics — This confirms to drivers that a nearby fuel station is popular among their vehicle class, and might be adapted to heavy duty vehicles for instance.
Log Records — Looking at the last 15 minutes of Log Records identifies if the vehicle was moving, and will assess what general direction the driver is going in order to favor upcoming and not "just passed" fuel stations.
With this Geotab Drive Add-In, d2go hopes to provide drivers with just-in-time access to fuel station information to make informed decisions when selecting where to fill-up.
Conclusion
The Geotab Data Challenge shows how IoT data, such as from connected vehicles, can positively impact businesses and communities. Learn all about Geotab's Intelligence Data and Smart City urban analytics at data.geotab.com.
Read more:
Geotab Partners with City of Columbus for Smart Columbus Operating System Insights
---
If you liked this post, let us know!
---
Disclaimer
Geotab's blog posts are intended to provide information and encourage discussion on topics of interest to the telematics community at large. Geotab is not providing technical, professional or legal advice through these blog posts. While every effort has been made to ensure the information in this blog post is timely and accurate, errors and omissions may occur, and the information presented here may become out-of-date with the passage of time.
Get industry tips and insights
Sign up for monthly news and tips from our award-winning fleet management blog. You can unsubscribe at any time.
Republish this article for free
Other posts you might like