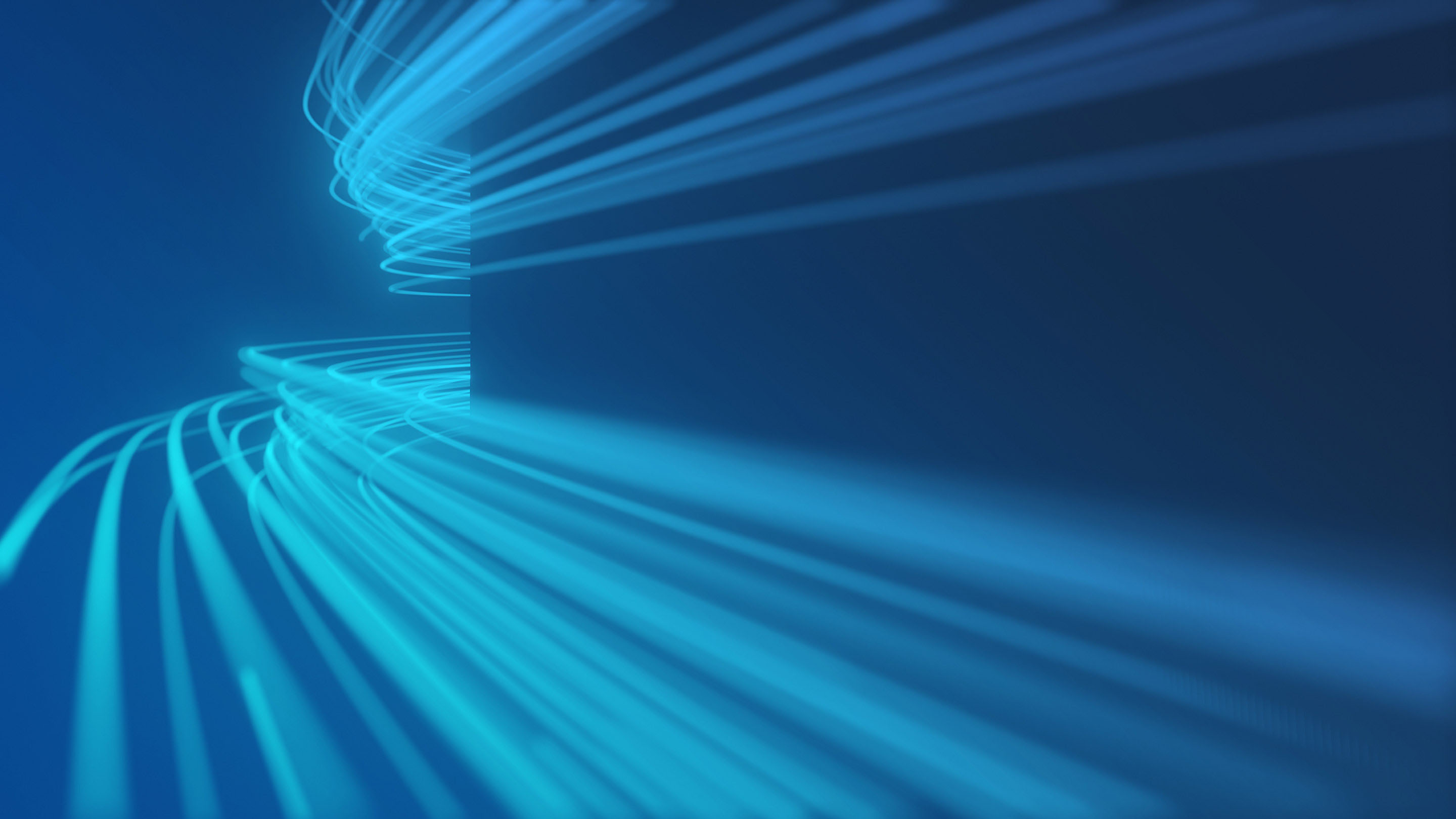 Taking a look at Geotab Drive
Learn all about Geotab's driver app for Hours of Service, electronic logging (ELD) and vehicle inspection.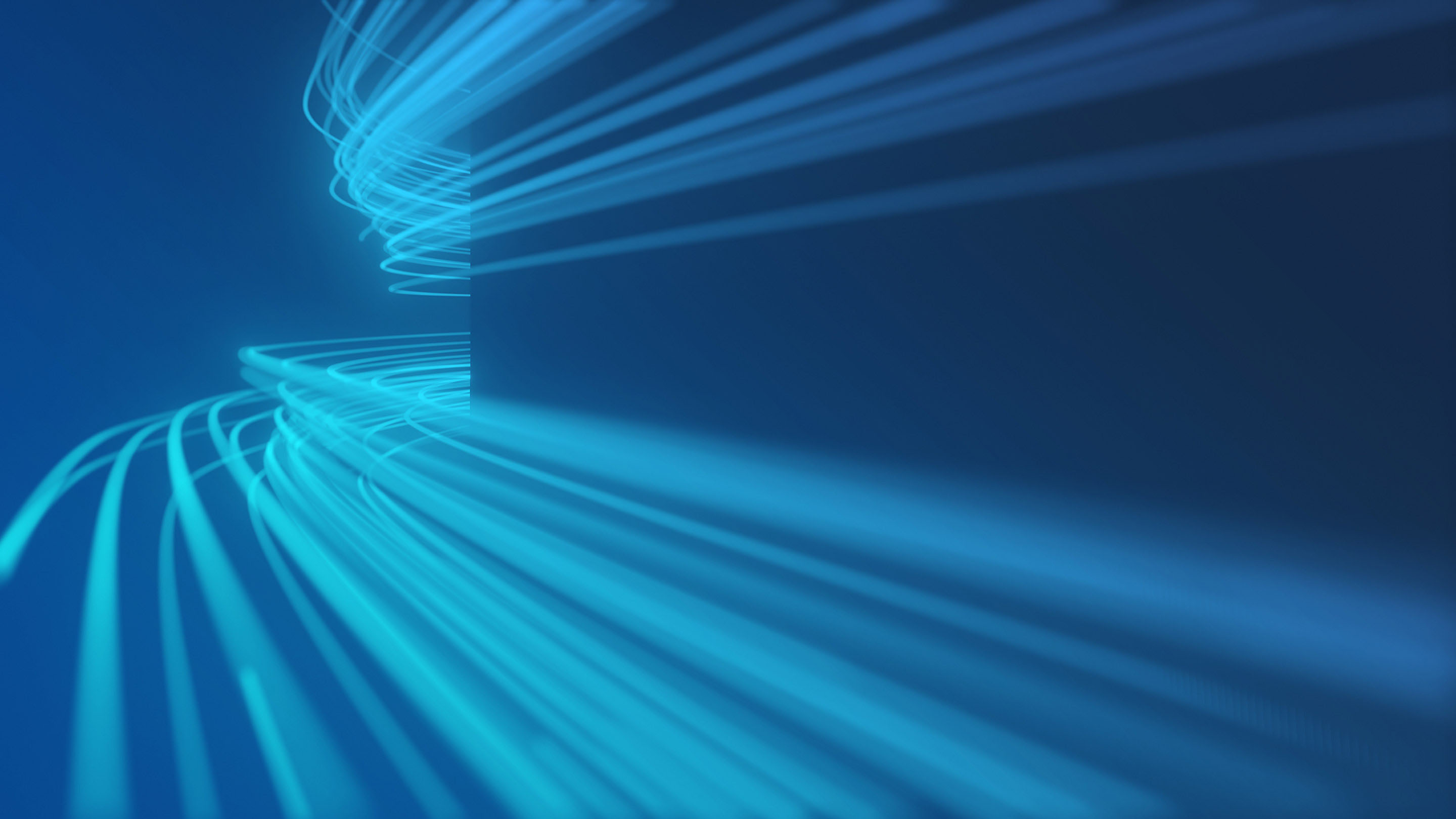 Next time you see a truck driving on the highway, you may be catching Geotab Drive in action. Geotab Drive is a mobile app for Hours of Service (HOS), vehicle inspection reporting, driver identification, and driver messaging. Combined with the Geotab GO telematics device, Geotab Drive is part of the Geotab Cloud ELD platform, an FMCSA-compliant solution for electronic HOS logging.

The Federal Motor Carrier Safety Administration (FMCSA) is the governing body that regulates commercial driving. As of December 2017, electronic logging devices (ELDs) became mandatory for many commercial fleets. The ELD mandate regulates the data that must be presented by drivers and carriers, how often, and the format they must provide the information, as well as the devices that are considered compliant under the rule.

While this regulation has been argued and debated for the last several years, it is now in effect for any fleets that were using paper logs prior to December 2017. For fleets that were already using an Automatic On-Board Recording Device (AOBRD) prior to December 2017, they are grandfathered in for two years, and must be using a registered ELD solution by December 2019. It's important to note that an AOBRD is not the same as an ELD (read more here).

See Also: Quick Guide to the ELD Mandate

The Many Uses for Geotab Drive
The Geotab Drive app has become an integral part of the Geotab telematics solution, supporting fleet compliance and productivity, along with driver safety and vehicle uptime.
Here is an overview of some of the key Geotab Drive features:

Hours of Service (HOS)
With the transition from paper to electronic logging for HOS, affected trucking companies must integrate an ELD solution into their fleet.

That's where the Geotab Drive app comes in. The system is easy to use and offers drivers more time to complete daily tasks by simplifying the burden of documenting time.

Driver status: The app connects to the Geotab GO device to provide an automated process for creating accurate records of how much time a commercial driver spends in each duty status: On Duty, Not Driving, Driving, Sleeper Berth, and Off Duty.

By connecting to the GO device, the app is able to automate switching between Drive and ON duty statuses by detecting the motion of the vehicle via the mobile device that is used in conjunction with the GO device. There is also an in-vehicle display which shows a driver's current status and the remaining hours for the different duty times (Driving, Rest, Duty, and Cycle).



Setting exemptions: The app also supports many different rule sets such as national and intrastate, and can add an exemption such as a yard move and personal conveyance. Drivers can also apply exemptions such as adverse driving conditions, yard move, personal use, etc. Simply select HOS from the Main Menu. Then select the Options tab and apply the required exemption. On the same Options page, scroll down to the bottom to generate the compliance report required for roadside inspections. For more details see the Product Guide.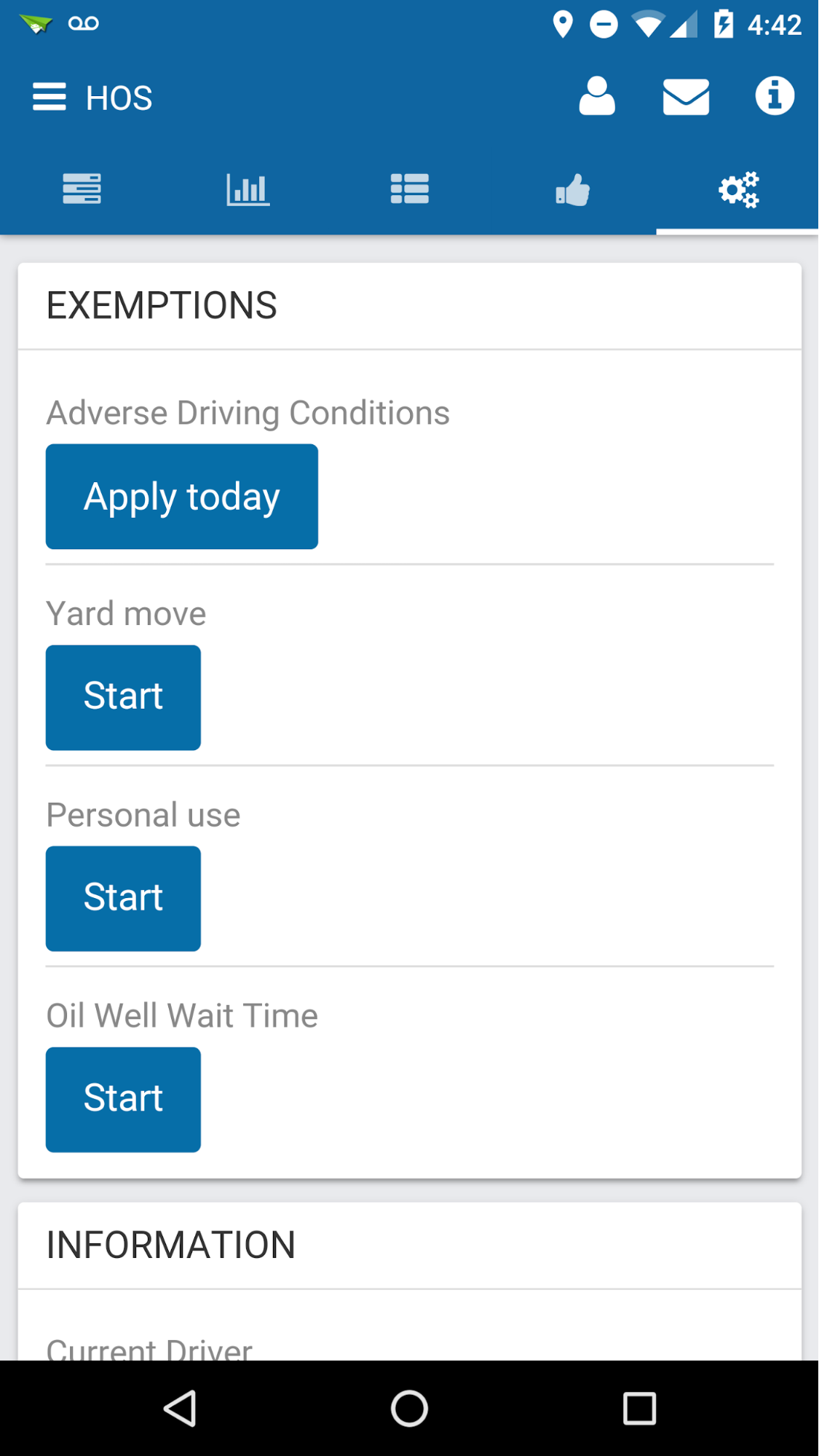 Driver Vehicle Inspection Reports (DVIR)
Driver Vehicle Inspection Reports (DVIR) are mandatory for all commercial motor vehicles (CMVs). Geotab Drive helps drivers do a DVIR with ease. Everything from certifying a previous inspection, performing a new inspection, repairing a defect can be done through this user-friendly interface.

The DVIR solution is flexible with completely customizable lists of defects. This is where a company can define which areas of a vehicle are of interest when doing an inspection and which defects are considered critical.

Read more about DVIRs in this post.

Messaging (Beta)
The messaging feature (still in beta) is a great way to maintain two-way communication between the driver and the home terminal. The dispatcher is able to send messages to drivers with custom responses, which allow drivers to respond with no typing and a few clicks. Drivers can also compose messages after they have completed a task or when sending an update.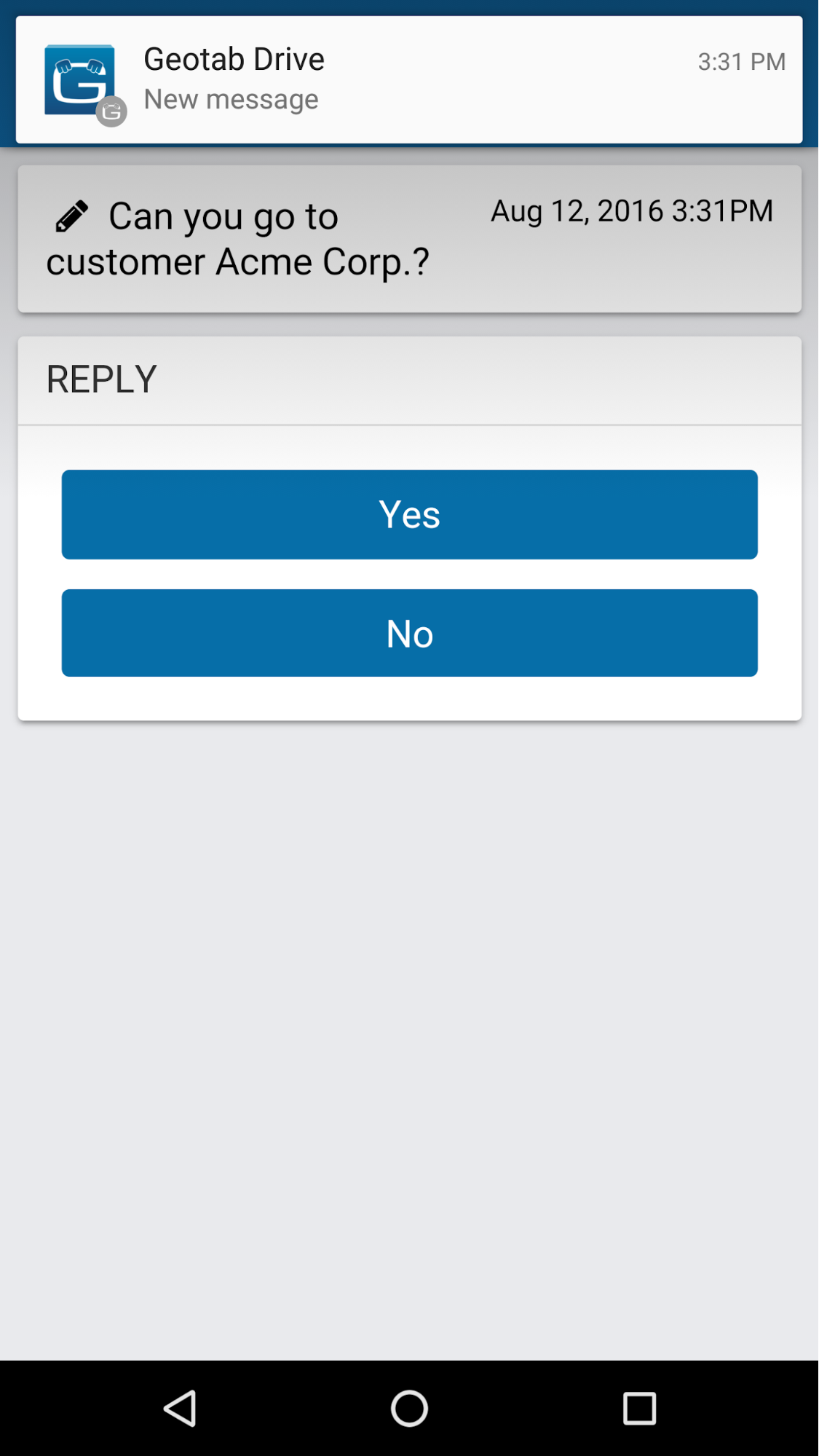 There are many uses for the messaging feature depending on how the customer operates. A few of the main uses include:

Dispatching
Routes
Status Check
Geotab Drive also uses messaging to prompt the driver when there's a critical defect associated to the vehicle and when the application requires an update.

To use messaging for Geotab Drive, ensure that the driver is set up with Feature Preview enabled since this feature is still in beta.

Driver Identification
The Geotab Drive application in its most basic form can be used exclusively for Driver Identification. This means the driver can sign into the application and select the vehicle they are going to operate. This allows drivers to be associated to specific trips until they sign out. Once a logout entry occurs, it will disassociate them from that vehicle.

This is a great feature to help companies identify where drivers are and if they are working. You can also run many different reports against specific drivers to monitor driver behavior, productivity, etc.

Where to Find Geotab Drive
You can find Geotab Drive on the Geotab Marketplace. Currently, it's available for download on the Apple App Store and Google Play Store for Android.

Available Add-Ins
You can also expand the usefulness of the app through a number of Add-Ins or custom solutions. Add-ins give the Geotab Drive app the power to integrate with any software and operation. The possibilities are endless.

With the power of the Software Development Kit (SDK), one can integrate any software solution a customer has with Geotab Drive as long as the flexibility is there for that third-party software. You can also use the SDK to bring additional functionality from the MyGeotab interface into Geotab Drive. Geotab integrates with a variety of different vendors.

To see what's available, visit the Geotab Marketplace.

Future Developments for Geotab Drive
At Geotab, we continue to improve our solutions to enhance the customer experience. New features that allow us to integrate with as many different clientele as possible is our goal.

As we move toward the future, more features will be added to increase our compatibility amongst our ever-growing customer base. Stay informed on monthly Geotab Drive and Geotab Cloud ELD updates by subscribing to the Geotab email newsletter.

Request a demo of Geotab Drive today by visiting our ELD page.

Explore more of what the Marketplace offers:
Fleet Roadside Assistance Comparison: Which Is Best?

Route Optimization: Plan Deliveries Better with Traffic Modeling

Motivate Drivers to the Next Level with Fleet Gamification

Originally published July 27, 2015. Updated February 21, 2018.

While Geotab recognizes our place as a self-registered ELD manufacturer and provider and we will answer questions regarding those Hours of Service (HOS) ruleset options we provide, neither Geotab nor any of its employees, officers or agents can offer legal advice to any resellers or customers concerning which HOS ruleset(s) or exemption(s) may apply to any particular situation. Please contact your local DOT department or refer to the FMCSA website at https://www.fmcsa.dot.gov/ for questions Geotab is unable to answer.

---
If you liked this post, let us know!
---
Disclaimer
Geotab's blog posts are intended to provide information and encourage discussion on topics of interest to the telematics community at large. Geotab is not providing technical, professional or legal advice through these blog posts. While every effort has been made to ensure the information in this blog post is timely and accurate, errors and omissions may occur, and the information presented here may become out-of-date with the passage of time.
Subscribe to Geotab Blog
Sign up for monthly news and tips from our award-winning fleet management blog. You can unsubscribe at any time.
Other posts you might like