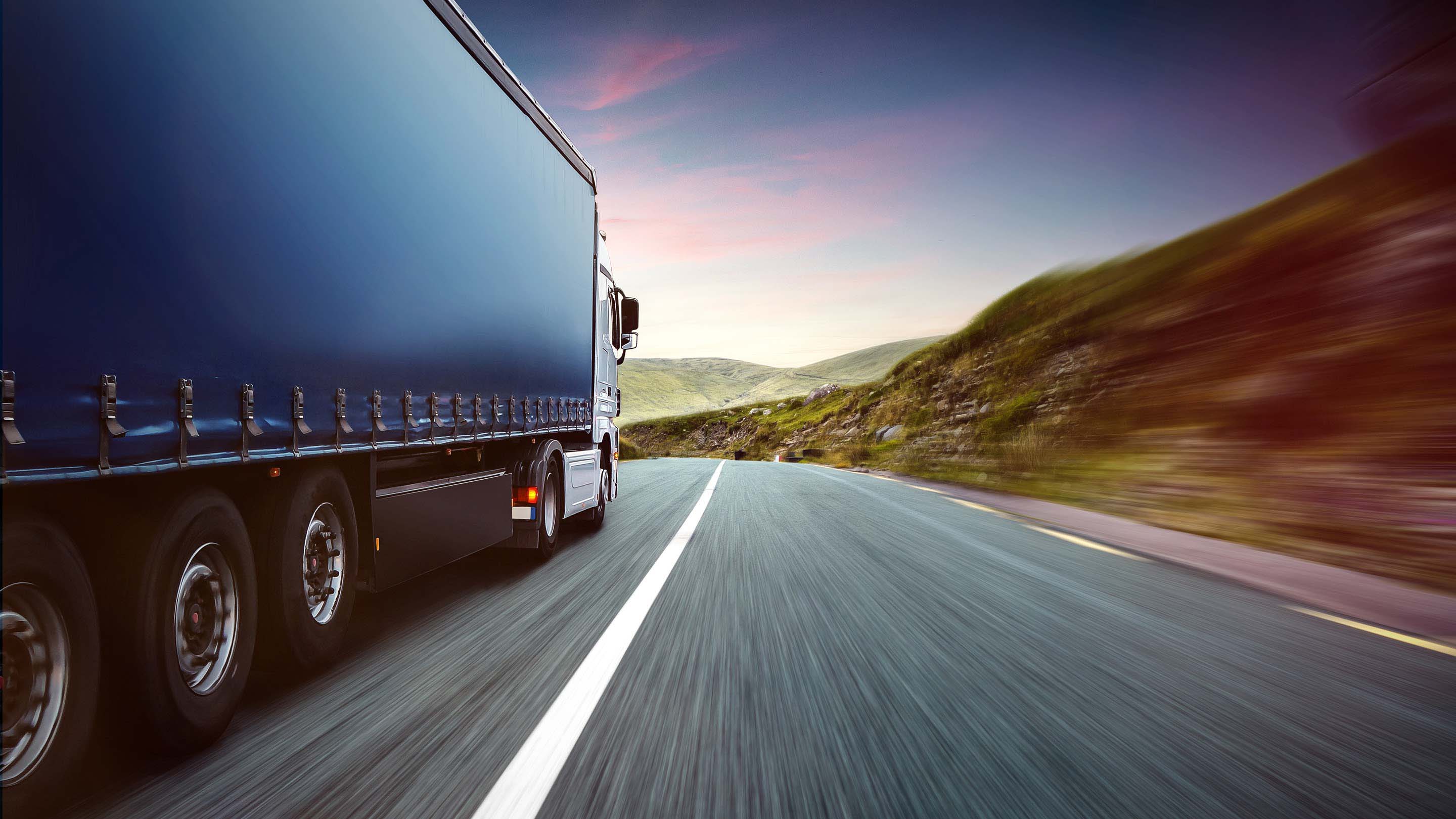 Telefonica launches new digital transformation bus
---
Digital transformation is changing our cities, and now it's changing businesses too. Embrace technology and digitalization for the competitive edge.
Telefonica's digital transformation bus toured Spain, demonstrating the latest innovations in sustainable technology for business.
Digital transformation is changing the way our cities look and function, and now it's changing businesses too. Companies that embrace digital technology and digitalization will gain a competitive advantage.
Digitalization and Big Data
Digitalization is the process of collecting and analyzing Big Data to find ways to streamline and optimize business operations. You can see digitalization in action in this video by Siemens. Keep in mind that the concept of digitalization is different from "digitization," which is the translation of documents, images, and other objects from analog into numerical format.
Suggested Reading: Big Data and the Smart Fleet Revolution
Innovation Is Essential to Staying Competitive in Business
Telefonica believes that businesses must get started on digitalization if they want to remain competitive. To promote innovation and show businesses how they can win with green practices, Telefonica launched a new initiative in Spain — the sustainable digital transformation bus. The Telefonica bus, fitted with a Geotab GO7 telematics device, is a mobile innovation center that showcases the latest innovations in sustainable technology.
Geotab's fleet management solutions, personal smart city apps, Wifi solutions, and digital signage, are just some of the innovations presented. Telefonica solutions such as these help businesses reduce their energy consumption by up to 30%, in addition to reducing CO2 emissions.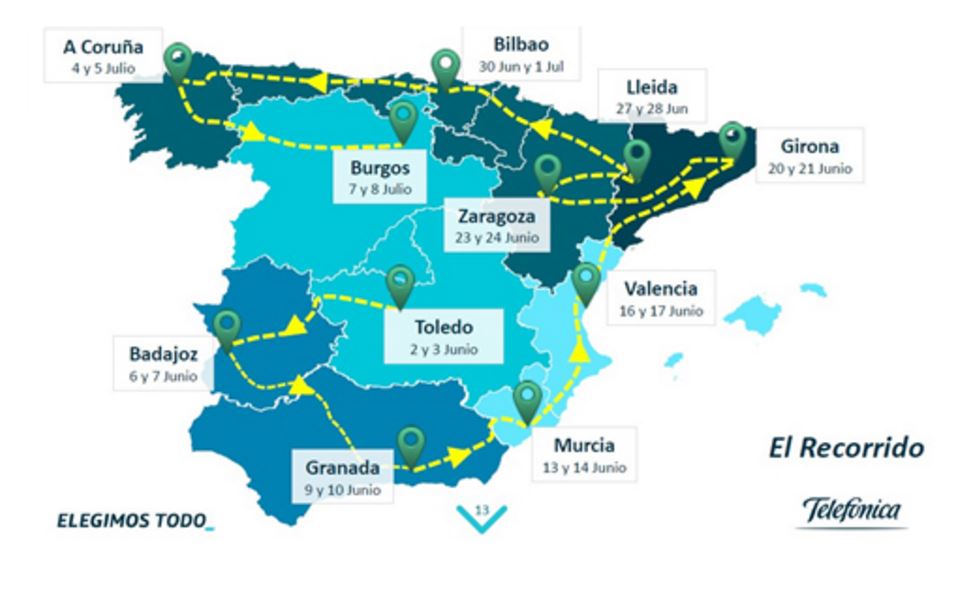 Digital Transformation Bus Traveled to 11 Cities
The bus departed from the Telefonica company headquarters in Madrid, Spain, and made stops in eleven cities across the country. The tour promoted sustainability best practices for entrepreneurs and local governments. Telefonica offset CO2 emissions of the bus by planting olive trees.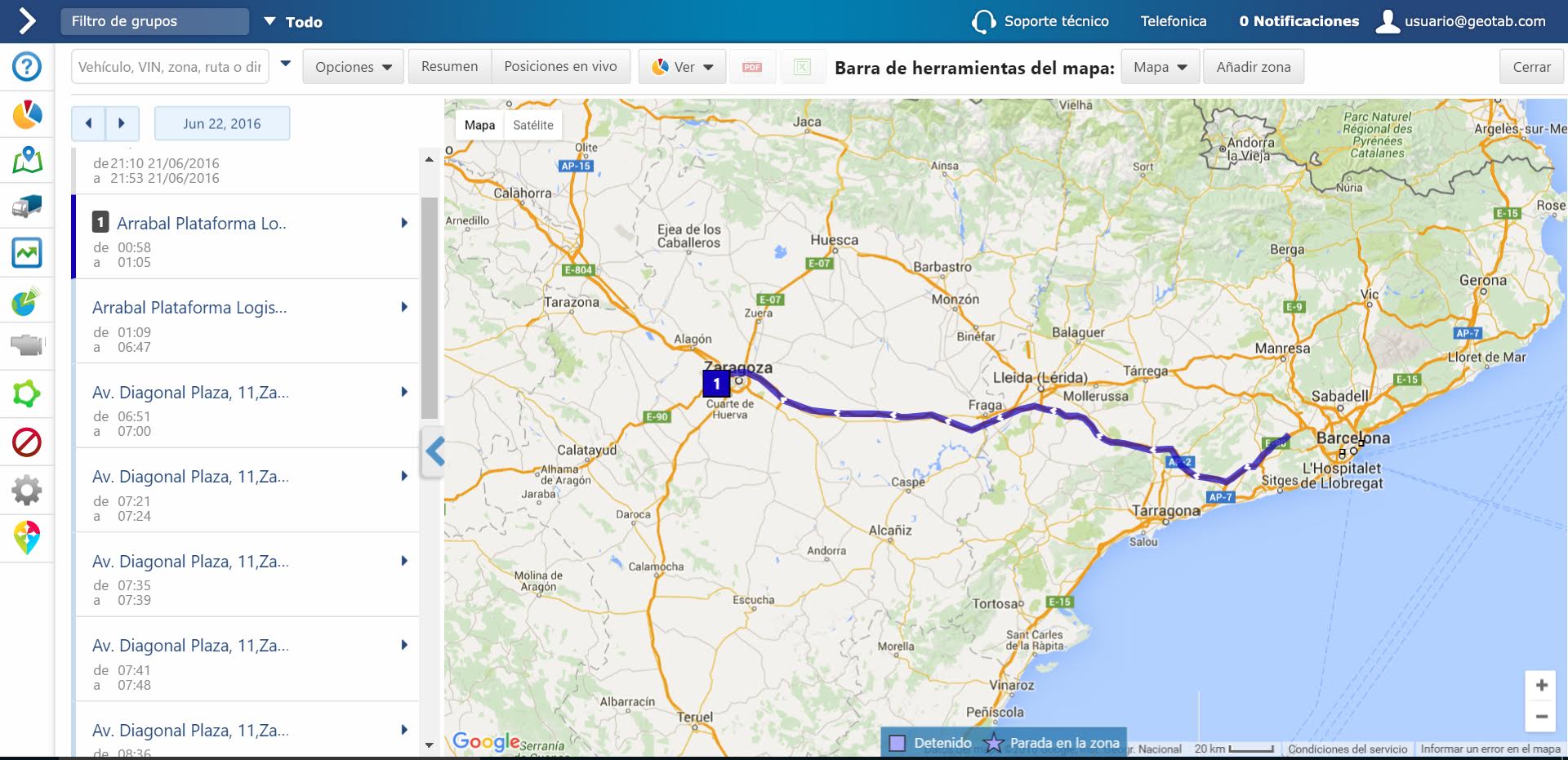 The route of the Telefonica digital transformation bus as seen in MyGeotab.
Sustainable solutions on the Telefonica bus:
Geotab Fleet Management Solutions
HYDRA Platform: Energy optimization solution
Smart City Apps
Smart Steps: Mobile solution that uses anonymous and aggregated data to estimate movement of groups of people.
M2M/IoT devices and smart device platform to help businesses optimize use of resources and energy.
SPOTMUSIC in-store music.
SPOTSIGN dynamic marketing solution
Digital signage and labels
Wifi connection
MOVISTAR+ tv
Green Solutions Can Reduce Millions of Tons of CO2 Per Year
The sustainable business model proposed by Telefonica is based on end-to-end solutions for remote and centralized management of offices, shops, or geographically-dispersed logistics centers. Energy reduction is integral to the business model. Designing and implementing advanced energy saving policies can lead to reduced energy consumption by machinery.
According to PwC, Telefonica's green products and services can prevent more than 80 million tons of CO2 by 2030, which represents the 25% of that generated by Spain in one year. Estimates also show that mobile communications can reduce more than 180 million tons of CO2 per year, an amount equivalent to the emissions of the Netherlands. Moreover, this figure can grow to 500 million tonnes of CO2 saved per year until 2020.
Sustainable innovation creates an economic value and has a positive impact on society, responding to climate change and other environmental challenges. Technologies such as cloud computing and M2M communications optimize the use of scarce resources including energy or water, manage environmental aspects such as waste, climate, and air quality, and reduce CO2 emissions.
Subscribe to our newsletter for more industry news and fleet tips.
Related Posts:
Customer Story: Taking a Safe Trip Across Africa with Geotab Technology
---
If you liked this post, let us know!
---
Disclaimer
Geotab's blog posts are intended to provide information and encourage discussion on topics of interest to the telematics community at large. Geotab is not providing technical, professional or legal advice through these blog posts. While every effort has been made to ensure the information in this blog post is timely and accurate, errors and omissions may occur, and the information presented here may become out-of-date with the passage of time.
Get industry tips and insights
Sign up for monthly news and tips from our award-winning fleet management blog. You can unsubscribe at any time.
Republish this article for free
Other posts you might like