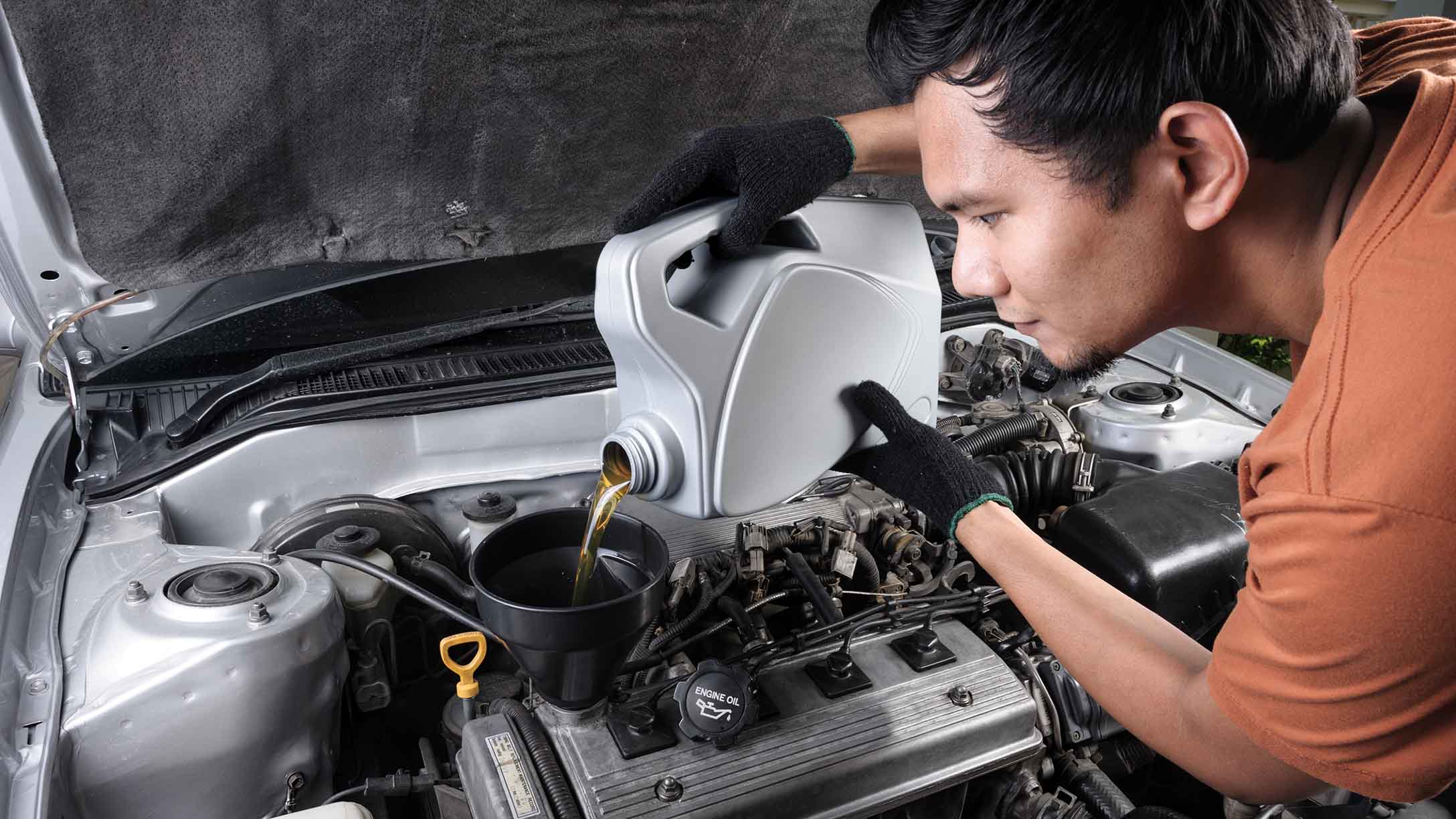 Prove how heavy-duty engine oil impacts fuel economy
---
Switching to a manufacturer-approved lower-viscosity heavy-duty engine oil can reduce fuel consumption by 0.9-2.2% per year. Geotab telematics solutions can prove it.
Any fleet manager knows – the key to continuous operational cost savings is by undertaking a series of minor, deliberate improvements to fleet efficiency. In particular, a small reduction in a vehicle's fuel economy consumption can significantly reduce overall fuel costs and associated emissions while improving the fleet manager's bottom line.
With fuel costs and global carbon emissions on the rise, it is more important than ever to adopt these fuel-saving strategies. One such mechanism that many fleet managers have found effective is switching to a high-quality, low-viscosity, heavy-duty engine oil (HDEO) that can help their vehicles' engines maintain optimal power and improve fuel economy, without compromising engine protection.
Be aware though, it's essential to contact your Original Equipment Manufacturer (OEM) prior to making any adjustments to your engine oil for warranty information and to confirm the compatibility of any new engine oil with your vehicles. It's important to balance your engine's durability and protection needs with fuel efficiency.
How do engine oils affect fuel economy?
Switching to low-viscosity engine oil can reduce engine friction, allowing the oil to flow more effectively through the engine. This enables the engine to work more efficiently and ultimately reduces fuel consumption while still protecting the engine.
Engines lose energy through friction loss in four main areas:
Piston and cylinder – The pistons and rings contribute to approximately half of total engine friction. Energy loss occurs at the piston liner interface during the combustion cycle.
Valvetrain – Valvetrain friction can contribute significantly to engine friction, particularly at low engine revolutions per minute (RPM) occurring in the camshaft bearings and between the valve and lifter.
Oil pump – Energy loss often occurs during engine warmup, due to the energy consumed by pumping high-viscosity oils around the engine.
Crankshaft – Friction here occurs in the main bearings and connecting rod bearings.
Lower viscosity oils improve fuel economy and as a result, reduce greenhouse gas emissions. However, higher viscosity oils generally offer better wear protection to the engine's moving parts. The challenge, therefore, is to find an engine oil that balances fuel economy and engine protection.
The oil must be viscous enough to maintain the separation of critical engine parts, but thin enough to allow for fuel-efficient powering of the engine. Reducing your fuel consumption at the expense of reducing engine protection is not a compromise worth making. That is why it is important to conduct engine health and oil filter monitoring during trials of new motor oil viscosity grades.
What kind of benefits can we expect to see?
By switching from 15W-40 to 5W/10W-30 engine oil, fuel costs for a Class 8 vehicle can be reduced by between 0.5% and 1.5%.
The newer American Petroleum Institute (API) CK-4 and FA-4 oils were designed for demanding conditions and have lower viscosity, fuel-efficient specifications. They are known as being high-temperature, high-shear (HTHS) oils, meaning they give less resistance to flow between engine parts moving at high speeds and in elevated operating temperatures.
These newer lubricants allow for further fuel economy gains. By upgrading to the more fuel-efficient FA-4 variant of the same grade, fleets could realize an additional 0.4% to 0.7% of fuel savings. A fleet that upgrades from 15W-40 to a 5W/10W-30 FA-4 engine oil could, therefore, realize fuel savings of between 0.9% and 2.2%.
However, while CK-4 oils are backwards-compatible with earlier models of trucks, FA-4 oils are not. FA-4 oils with lower viscosity HTHS are specifically designed for vehicles manufactured from 2017 onwards when OEMs approved their use.
What cost savings does a 2% improvement in fuel economy translate to?
As of March 2022, diesel fuel costs on average $5.131 per gallon in the United States. Most Class 8 trucks get just 7 miles to the gallon, and the U.S. Department of Energy calculates that they travel on average 62,751 miles per year.
Realizing a 2% fuel economy improvement fuel economy from engine oil adjustments, therefore, translates to cost savings of approximately $919 per year for an average Class 8 truck. When you multiply this figure across an entire fleet of vehicles, the savings will quickly add up — and can considerably improve your bottom line.
How telematics can help you track performance
The fleet managers who are best placed to optimize the fuel efficiency and health of their fleet are those who constantly have their finger on the pulse of their operations. Geotab telematics software provides these insights with intuitive reports and dashboards to identify fuel consumption trends and outliers. It also allows you to closely monitor the performance of any engine oil trials, so that you can see in real-time if the oil viscosity changes are having a positive (or negative) impact on your fuel economy.
This data allows you to quantify the financial and environmental savings that these engine oil changes are making to help build a strong business case for fleet-wide adoption.
To help fleet managers on their journey to more sustainable fleet management, Geotab's Green Fleet Dashboard is a simple tool to improve a fleet's fuel economy and reduce associated emissions. The dashboard provides metrics on fuel use, emissions, and driver behavior — providing insight into the fleet's operating cost and environmental performance over time and identifying opportunities for improvement.
Filter and fluid monitoring software integration
With Geotab's integrated Marketplace partner Donaldson Filter Minder Connect, you can monitor filter and engine oil conditions in real-time. This allows you to gain insights into current engine performance, identify improvement opportunities, and monitor engine health when alternative motor oils are trialed.
Watch this video for a complete overview of the Donaldson solution.
Through MyGeotab, you can view a consolidated dashboard that shows filtration and oil condition insights for your entire fleet of vehicles or equipment.
The software enables you to ensure your engine is working at peak efficiency by monitoring the condition of the lube oil, including key metrics such as:
How much oil life remains before an oil change service is required
If the oil is contaminated – by coolant, soot or fuel dilution
Whether the proper grade of lube oil is being used
While the Class 8 fuel economy gains from switching to low viscosity engine oils are relatively modest, it is a change that can be implemented very quickly across the entire fleet, requires no upfront investment, and no changes in operational or maintenance practices.
However, fleets need to balance fuel efficiency with engine durability, since by decreasing your oil viscosity you may risk decreasing engine protection and increasing wear. That's why it's important to engage your OEM in any engine oil change that you wish to make and to conduct trials over prolonged time periods to track the resulting fuel economy improvements and engine conditions with your telematics-based fuel management systems.
Read our "Practical guide to creating a green fleet policy for Class 8 fleets" to learn about further optimizations you can make to improve your fleet's fuel economy and the savings that can result from them.
---
If you liked this post, let us know!
---
Disclaimer
Geotab's blog posts are intended to provide information and encourage discussion on topics of interest to the telematics community at large. Geotab is not providing technical, professional or legal advice through these blog posts. While every effort has been made to ensure the information in this blog post is timely and accurate, errors and omissions may occur, and the information presented here may become out-of-date with the passage of time.
Get industry tips and insights
Sign up for monthly news and tips from our award-winning fleet management blog. You can unsubscribe at any time.
Republish this article for free
Other posts you might like