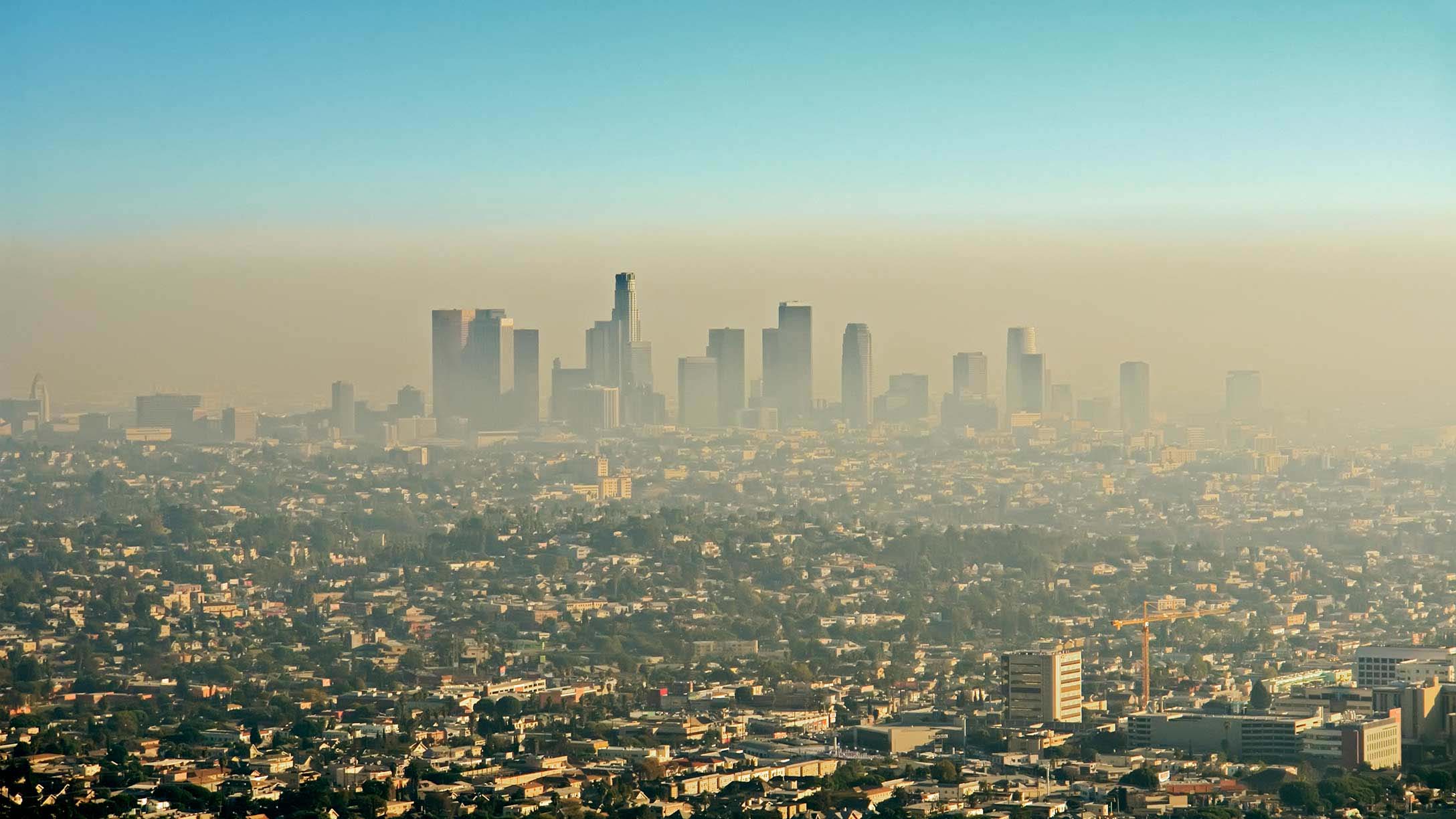 Are heavy-duty trucks the key to solving air pollution?
---
How are governments tackling air pollution and trucks?
For decades, the trucking industry has been working along with public and private partners to reduce emissions and increase fuel efficiency. In 2017, the Run on Less cross-country roadshow showed how fleets can save fuel and emissions by employing technology, plus driving and maintenance best practices. New research shows that heavy trucks may indeed be the key to tackling air pollution levels.
A study published this year in Environmental Science & Technology measured vehicle emissions near roads in Vancouver and Toronto and found that large trucks were the biggest source of black carbon (BC) emissions. The study was carried out by members of the University of Toronto Department of Chemical Engineering and Applied Chemistry, Environment and Climate Change Canada, the Ontario Ministry of the Environment, Conservation and Parks, and the Metro Vancouver Regional District.
See also: Cleaner Trucks Initiative seeks to reduce NOx emissions
Results from U of T near-road air pollution study
Conducted over two years, the study measured emissions from light-duty vehicles (including cars) and heavy-duty trucks near roads in Vancouver and Toronto, including Highway 401 — a major trucking route in southern Ontario that has been called North America's busiest highway
The results cast vehicle emissions in a new light:
Heavy traffic by itself did not automatically predict high levels of air pollution, but the density of transport trucks did.
A strong correlation existed between emissions of soot ("black carbon") from transport trucks and air quality, surpassing any correlations with emissions from cars and small trucks.
Major trucking routes within a city, which carried less than one-tenth of the traffic of Highway 401, had air pollution levels close to those found along the 401.
In addition, measured emissions along the 401 dropped over the weekend, when traffic was still heavy but significantly fewer transport trucks were on the road.
The study's researchers write, "If we were able to reduce emission of pollutants like black carbon, we would also see an immediate climate benefit."
See Also: Green Fleets Fight the War Against Air Pollution
Tracking heavy-duty truck emissions
In 2013, Class 8 heavy-duty trucks accounted for only 1 percent of on-road vehicles in the U.S., and only 5 percent of the national Vehicle Miles Traveled that year. However, they consumed almost 29 billion gallons of fuel, or 17 percent of total fuel consumed by highway vehicles. In addition, diesel has been the main source of fuel for decades, and over 92 percent of trucks were using fossil fuels at the time of research.
Jumping ahead three years, the Environmental Protection Agency (EPA) released statistics in 2016 showing that the transportation sector was responsible for 28 percent of greenhouse gas emissions. Of that 28 percent, 60 percent was caused by light-duty vehicles and 23 percent by medium- and heavy-duty trucks.
To put this into perspective, electricity production also emitted 28 percent of greenhouse gases. The next sector in line was industry, at 22 percent, and agriculture, commercial and residential made up the remaining 19 percent.
Along those lines, Reuters reports that in the EU, large trucks produce 25 percent of the total transport emissions on the road although they represent only 5 percent of vehicle traffic.
In Canada, freight (movement of goods by truck, plane, ship or rail) accounted for 10.5 percent of total emissions in the country, just above the electricity sector.
With all the health issues air pollution can cause, governments are trying to do something about it.
Governments take action on air pollution and trucks
Japan has the toughest restrictions on emissions in Asia and the world, and was also the first to enact fuel economy regulations for heavy-duty vehicles, according to the International Council on Clean Transportation (ICCT).
Truck and bus manufacturers in Japan are moving from diesel to hybrid and electric vehicle technology. Hino Motors Ltd has invested in artificial intelligence to increase fuel efficiency in its large diesel-electric hybrid truck coming out in 2019.
The EPA Clean Diesel Program provides grants and rebates to reduce emissions from diesel engines and improve air quality. An award of $2.3 million was given to Utah to upgrade short and long-haul diesel trucks with newer cleaner models. The EPA also awarded $320,000 to communities in California and Arizona. The Gila River Indian Community and Morongo Band of Mission Indians will use the funding to replace school buses and heavy-duty vehicles.
The California Air Resources Board announced it would spend over $200 million to "accelerate the adoption of clean freight technologies" and pollution, including diesel emissions.
Ontario Drive Clean canceled, focus on heavy-duty truck emissions
On September 28, 2018, the Government of Ontario announced it would redesign the Drive Clean program for light-duty vehicles to focus instead on heavy-duty vehicles. In an effort to combat climate change and target vehicle emissions, the Government of Ontario instituted required testing in 1999 to verify that a car's emissions controls operated properly. Any vehicle seven years old or older and built after 1987 had to be tested either when ownership changed or the vehicle's registration was renewed.
From the start of the program in 1999 up to 2017, emissions test failures by passenger cars dropped from 16 percent to 5 percent. "This trend is only expected to continue as newer vehicle models are introduced," a news release issued by the government says.
That has not been the case for trucks, though. Lack of progress in truck emissions is attributed to slow replacement of older models and weaker regulations on vehicle emissions.
Viable energy sources for zero-emissions trucks
A model study conducted by the Clean Energy Research Centre and the University of British Columbia investigated the impact of all-electric freight trucks (all classes, from light to heavy-duty) on greenhouse gas (GHG) emissions. To achieve a target of 64 percent reduction in GHG emissions in British Columbia by 2040, over 65 percent of freight trucks in B.C. would have to switch to all-electric powertrains, meaning all trucks being purchased from now on would need to be electric.
In addition, the study estimated that for every 1 percent reduction in greenhouse gas emissions, 1.5-3.8 percent additional hydroelectric generation would be needed by 2040. In other words, reducing GHG emissions via all-electric freight trucks would mean that B.C.'s electric grid would need to generate 12-33 TWh of electricity by 2040.
"That is 2.5-6.5 times the projected generation of B.C.'s largest hydroelectric project in decades," the study says.
Making positive change
The combination of climate policy and use of efficient technology holds. While it may take longer to see new regulations and vehicle innovations, fleets can make an impact now with telematics.
Related:
How autonomous trucks will change the trucking industry
---
If you liked this post, let us know!
---
Disclaimer
Geotab's blog posts are intended to provide information and encourage discussion on topics of interest to the telematics community at large. Geotab is not providing technical, professional or legal advice through these blog posts. While every effort has been made to ensure the information in this blog post is timely and accurate, errors and omissions may occur, and the information presented here may become out-of-date with the passage of time.
Get industry tips and insights
Sign up for monthly news and tips from our award-winning fleet management blog. You can unsubscribe at any time.
Republish this article for free
Other posts you might like