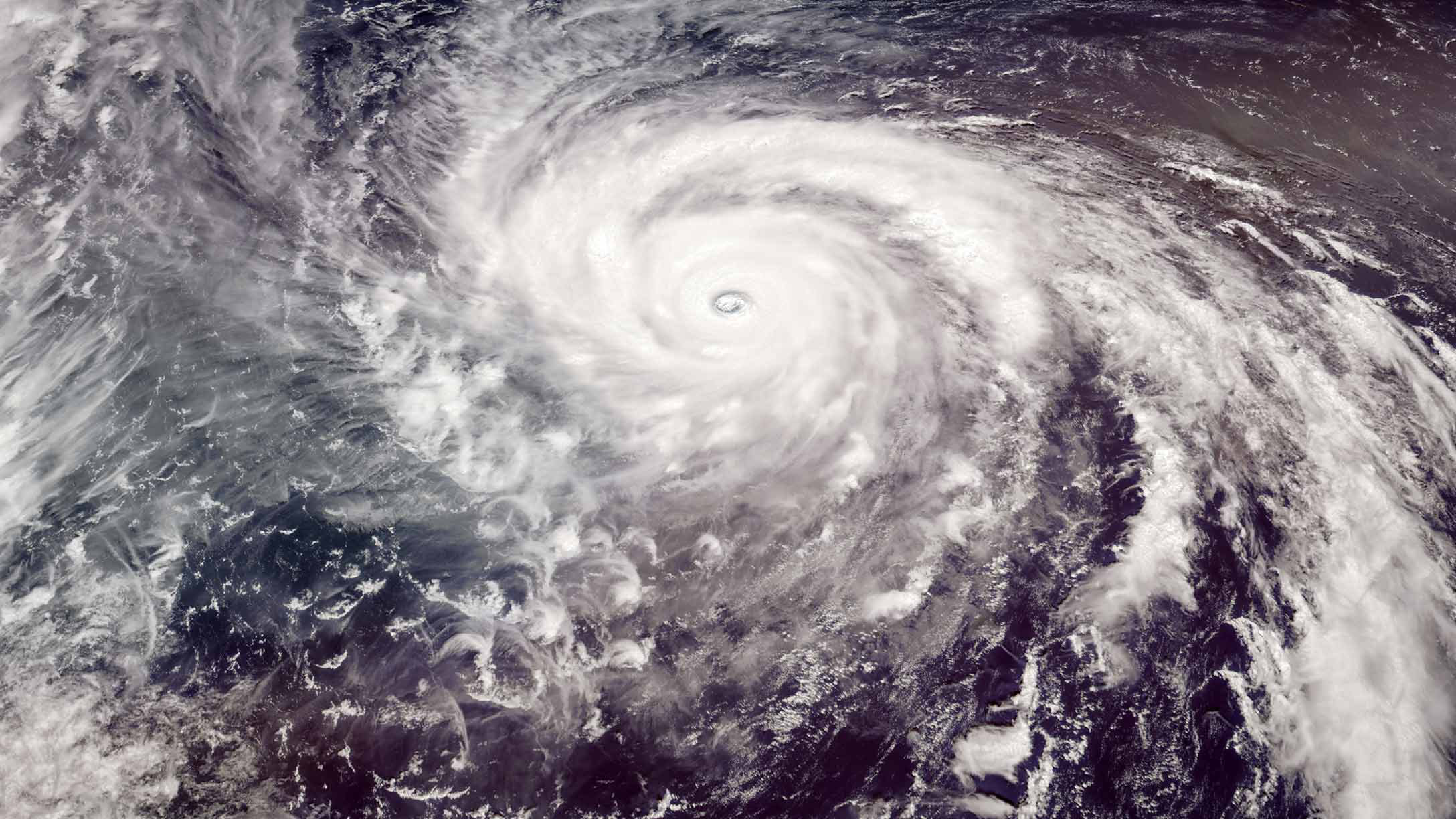 The impact of hurricanes on supply chain and transportation
---
Learn how to prepare your fleet for hurricanes.
The value of freight in the United States has boomed in recent decades. The Bureau of Transportation Statistics (BTS) reported that in 2015, the total value of U.S. shipments reached $19 trillion. Nearly half were transported more than 250 miles, and trucks were the overwhelmingly dominant medium of transportation. By 2045, BTS projects the value of freight shipments will nearly double to $37 trillion.
The FHWA attributes 23% of all roadway delays to inclement weather, which is expected to become more frequent due to climate change. It is more important than ever to minimize disruptions from significant weather systems like hurricanes, which can lead to extreme ripple effects throughout the entire supply chain. Below are some factors that are impacting the supply chain and transportation industry.
Delivery delays
Delivery delays are the most common supply chain disruption from weather. A 2012 study conducted by the U.S. Department of Transportation and Cambridge Systematics found that nearly five percent of total truck driving hours were affected by adverse weather conditions including rain, snow, ice, visibility and wind. This adds up to 32 billion lost vehicle hours annually, costing trucking companies anywhere from $2.2 to 3.5 billion. Each weather type affects average speed and road capacity differently, but the combination of high winds and flooding rainfall from hurricanes leads to broader and longer-lasting delays when compared to other weather events.
Tropical rainfall
Although rain on average poses less of a significant threat to traffic than snow, its impacts on speed and capacity can still be substantial. A study found statistically significant free-flow speed reductions in heavy rain in the range of 11-14% on highways in Minneapolis, Baltimore and Seattle. Other studies aggregated by the FHWA reported reductions up to 17%. These slowdowns are the result of heavy rain creating slick pavement, ponding or flooding of roadways and reduced driving visibility, especially at night.
These delays were observed only in falling rain – flooding was not a factor. Much greater delays can be expected on flooded roadways. Unsuspecting truck drivers can find themselves stranded in floodwaters, possibly resulting in the loss of cargo. In extreme situations, roadways may become completely blocked from total submersion.
Hurricane Harvey
Hurricane Harvey produced rainfall of 35-60" over the course of 5 days in August, 2017, setting a new record. The water had nowhere to drain due to impervious blacktops and buildings created over former marshland during rapid urban development (NPR).
In the results of an ISM survey collected after landfall, 67% of supply chain manager respondents felt that prices of raw materials would be "at least somewhat negatively" impacted over the next three months, and 56% of respondents felt that suppliers and deliveries would continue to be negatively impacted. The week-long closure of the Port of Houston, one of the busiest in the nation, led to extended delays of shipments of imports and exports.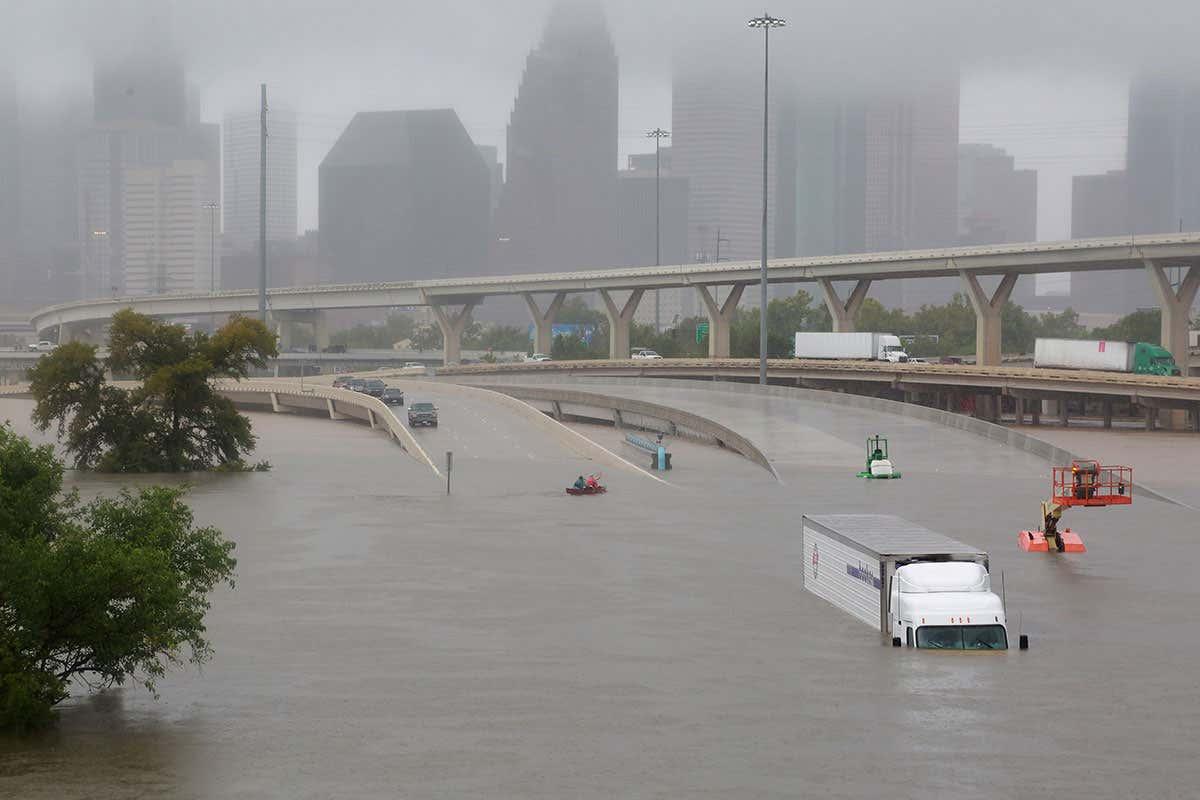 Hurricane Irene
It only took five to eight inches of rain from Tropical Storm Irene to produce catastrophic flooding across Vermont in August 2011 in what was the state's second greatest natural disaster in the last 120 years. A NOAA assessment found that the flooding resulted in over $733 million in damages, including the damage to or complete loss of over 2,400 roadways, 800 homes and businesses, 300 covered bridges and six railroad tracks.
Storm surge can drown coastal highways for days at a time, forcing logistics companies to find new and longer routes to their customers' destinations. River and marshland flooding onto nearby highways can produce similar long-lasting road closures.
Routing around hurricanes is an option, but even light rain can lead to delays. Considering the typically massive size of tropical systems, delays in shipping can be expected even when trucks are detoured hundreds of miles away from the extreme conditions.
Tropical winds
High winds from tropical cyclones can make driving difficult by blowing vehicles off course. Large trucks and other high-profile vehicles are at more risk to be tipped over, especially in winds of at least 60 mph.
Wind can also scatter large debris on roadways, blow debris airborne and reduce visibility. Some debris, like fallen trees or power lines, can make roads impassable, leading to significant delivery delays. Failing to take into account the outside environment, for example a heavily wooded area, drivers may find themselves taking complicated detours.
The operational value of delays
Hurricanes cause severe economic costs, especially for the logistics industry. Based on surveys of 24 logistics companies in Texas and Wisconsin, en route transportation delays are the most important component to shippers' bottom line. Delays cost shippers $56 per hour on average, plus $0.35 per percentage delay per hour. Hurricanes can delay freight for days, resulting in thousands of dollars lost per individual shipment, totaling hundreds of thousands across an entire fleet.
Supply and demand in hurricanes
Hurricanes increase demand for certain commodities like groceries and home repair, creating inventory challenges as suppliers rush to satisfy consumer demand. They can also alter long term economic landscapes by forcing the permanent relocation of thousands of consumers.
Preparing supply chains for the next hurricane
Always try to ensure your fleet is prepared for hurricanes in advance. Our team of meteorologists and engineers have worked closely with leading transportation companies to develop weather intelligent impact indices that allow supply chain managers to take action before and during high impact weather events such as hurricanes.
Our Road Conditions Index quantifies the level of road danger and closure likelihood, and our RightRoute API outputs weather-based ETA slowdowns along different route options. Our forecasts can be utilized in real-time or out to seven days in advance.
The latest forecast from the National Hurricane Center calls for a record breaking season with as many as 25 named storms and six major hurricanes by November, 2020.
About WeatherOptics
WeatherOptics is a weather intelligence platform focused specifically on supply chain, logistics and trucking. They work with shippers, carriers and 3PLs to increase visibility and enable proactive decision-making before disruptive weather events.
WeatherOptics combines advanced weather models with transportation data to generate ETA slowdown and road risk predictions that allow supply chain and logistics teams to take control of their operations. Email info@weatheroptics.co to learn more.
---
If you liked this post, let us know!
---
Disclaimer
Geotab's blog posts are intended to provide information and encourage discussion on topics of interest to the telematics community at large. Geotab is not providing technical, professional or legal advice through these blog posts. While every effort has been made to ensure the information in this blog post is timely and accurate, errors and omissions may occur, and the information presented here may become out-of-date with the passage of time.
Get industry tips and insights
Sign up for monthly news and tips from our award-winning fleet management blog. You can unsubscribe at any time.
Republish this article for free
Other posts you might like