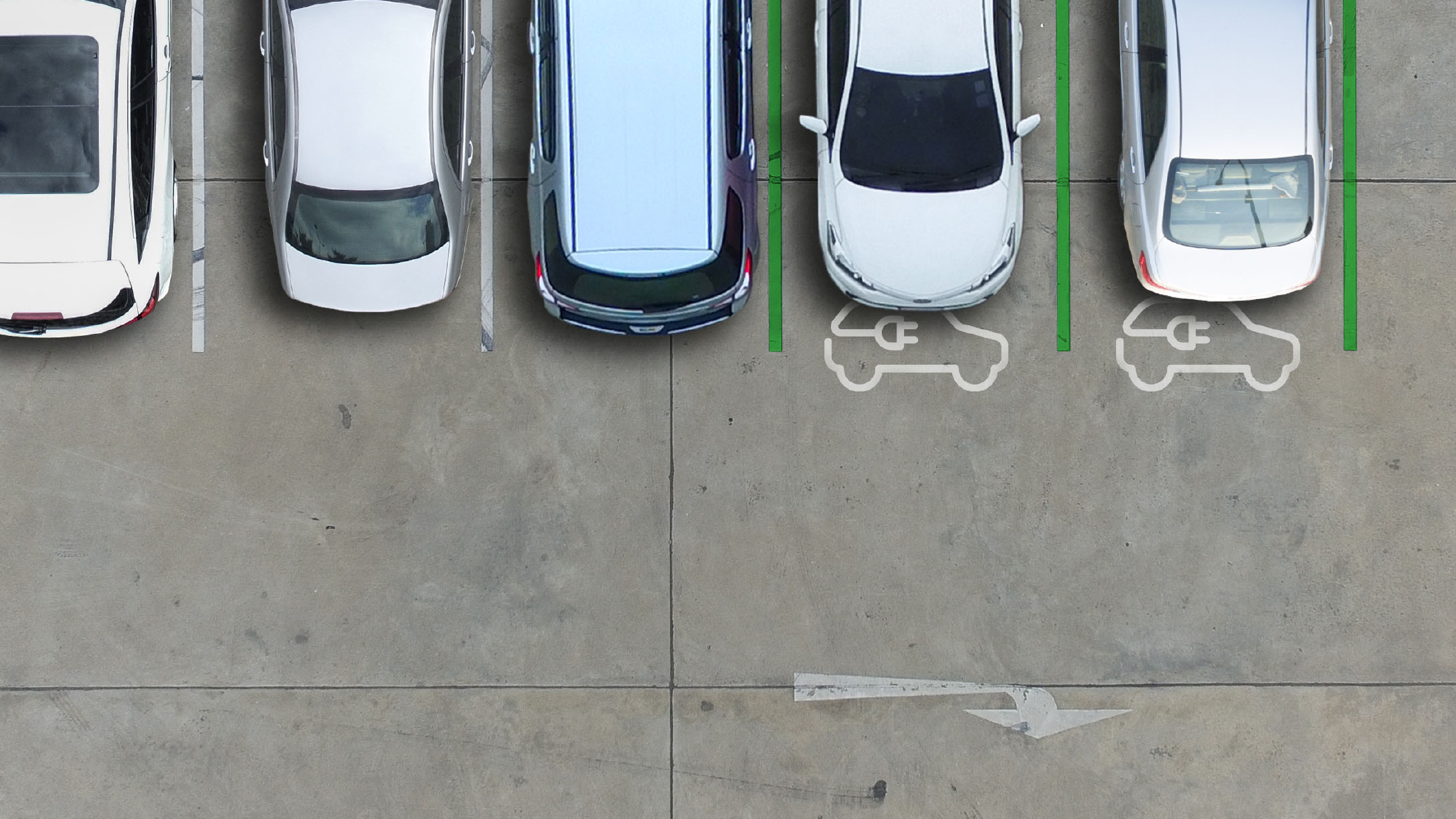 A successful electric fleet strategy starts with optimizing fleet operations
---
Start preparing for EVs and discover the key elements of a successful electric fleet strategy.
Setting and implementing an electric fleet strategy has become a top priority for many organizations. While in many cases the business case is here today to make the switch, a wide-scale transition will take time. While taking early steps to electrify, addressing inefficiencies in the fleet today can make that EV transition smoother and more successful in the long run.
An optimized fleet will have the greatest ROI when going electric
EVs are a big investment, so you should make sure you aren't replacing underutilized or unoptimized vehicles with EVs. Even though emissions might be addressed, this fleet will likely still be incurring unnecessary costs and waste. Bringing in best management practices to optimize the fleet can make sure they're getting the most out of their assets, which will ultimately improve the business case for EVs.
If you have an unoptimized fleet before you go electric, you might be creating new issues on top of the ones you are carrying over. But an optimized fleet can further enhance all the benefits provided by EVs and truly transform your operations, which is why it should be the first step of your electric fleet strategy.
Do you have the right number of vehicles in your fleet?
Rightsizing is an important task for any fleet manager and it will be an important component of your electric fleet strategy. Currently, EVs have a higher acquisition cost than a comparable internal combustion engine (ICE) vehicle. That being said, under the right applications they can have a significantly lower TCO. This is a result of fuel cost savings and reduced maintenance. The way to achieve these benefits is to maximize their utilization– the more they are used, the greater the cost savings.
You can use your telematics data to generate reports on asset utilization to help identify your most and least utilized vehicles. The vehicles that drive the most miles may present the most opportunity for cost savings, especially if their daily driving distances still fall within the range capabilities of the available EVs. Replacing a low-use vehicle with an EV means you're not getting full value out of that asset.
Alternatively, by reviewing the least utilized vehicles you might be able to eliminate assets from your fleet altogether. You might be able to combine tasks from multiple vehicles and essentially create a new high-utilization asset, which could be a prime candidate for electrification.
Another good practice is to check that you are assigning the most efficient vehicles to those higher utilization roles. For ICE vehicles this will result in reduced fuel consumption and CO2 emissions and for EVs it's about increasing the TCO savings.
The key takeaway is that EVs have the greatest value when they are used as much as practical.
The Asset Utilization report summarizes your most and least used vehicles to help you identify opportunities to rightsize your fleet.
Are you using the right type of vehicle?
Another component of rightsizing is making sure you have the right type of vehicle assigned to each specific task. Does this assignment really require a large truck or would a smaller vehicle suffice? Procuring a like-for-like vehicle type without assessing the purpose or utility needs increases the chance of unnecessary costs and reduced profitability.
This becomes even more of a concern with EVs as their ROI is already tied more directly to their upfront cost and if you are making a business case for adding EVs, it is important to have accurate projections.
By making sure you have the correct type of vehicles assigned to each task, you might find you have more potential opportunities for electrification that will meet your daily duty cycle needs while saving you money.
Improving the efficiency of your current fleet
Finding ways to increase fleet efficiency is an ongoing task, but there are a few strategies that are particularly helpful for preparing for EVs. These tactics will not only help you once you have adopted EVs, but they will also help you reduce fuel and CO2 emissions in the meantime.
One strategy is to encourage your drivers to adopt the most fuel-efficient and eco-friendly practices while operating their vehicles. Excessive speeding and harsh breaking both contribute to a lower fuel economy, as well as decrease your fleet's overall safety. You can avoid this by implementing driver scorecards or custom alerts. The improvements from these efforts will carry over once you have gone electric as speed plays an important role in getting the most range out of your EVs.
Optimize your routes
Another helpful strategy to explore is route optimization. By always making sure you are taking the most effective routes possible, you can maximize the utilization of your vehicles and get the most TCO savings out of your EVs.
This may also be an important factor when rightsizing or considering electrification potential in general. Are there unnecessary routes being driven today? Are there currently trips that two vehicles are taking that could be combined into one? If you can combine or redirect routes, there may be an opportunity to reduce the total number of assets in your fleet. But note that this may increase the total daily driving distances for each vehicle, which could result in daily distances becoming out of EV range. This information is important to review when determining which vehicles in your fleet can go electric.
Start assessing EV suitability
The best way to understand your fleet's electrification potential is to understand how your current vehicles are being used. This can be accurately reviewed from your telematics data via an EV Suitability Assessment (EVSA) to help identify which of your vehicles could be replaced with an EV alongside potential cost savings and avoided CO2 emissions.
Running an EVSA shouldn't be a one-time exercise. In fact, conducting one whenever you are approaching the end of a vehicle's lifespan or lease period will ensure you are not missing an opportunity to electrify. This also allows you to begin piloting EVs to learn more about the day-to-day nuances early on before transitioning a larger proportion of your fleet to EVs. Finally, since it uses real-world data, including regional model availability along with fuel and energy prices, you can be assured that the recommendations are always current.
Get started on your electric fleet strategy
Even if you aren't quite ready to go electric just yet there are many things you can do to prepare. By optimizing your operations, you can make sure that your fleet is in the best possible position to get the most out of your EVs when the time comes.
Looking for more information? Download our ebook: The complete fleet electrification roadmap which covers the full fleet electrification journey.
---
If you liked this post, let us know!
---
Disclaimer
Geotab's blog posts are intended to provide information and encourage discussion on topics of interest to the telematics community at large. Geotab is not providing technical, professional or legal advice through these blog posts. While every effort has been made to ensure the information in this blog post is timely and accurate, errors and omissions may occur, and the information presented here may become out-of-date with the passage of time.
Get industry tips and insights
Sign up for monthly news and tips from our award-winning fleet management blog. You can unsubscribe at any time.
Republish this article for free
Other posts you might like