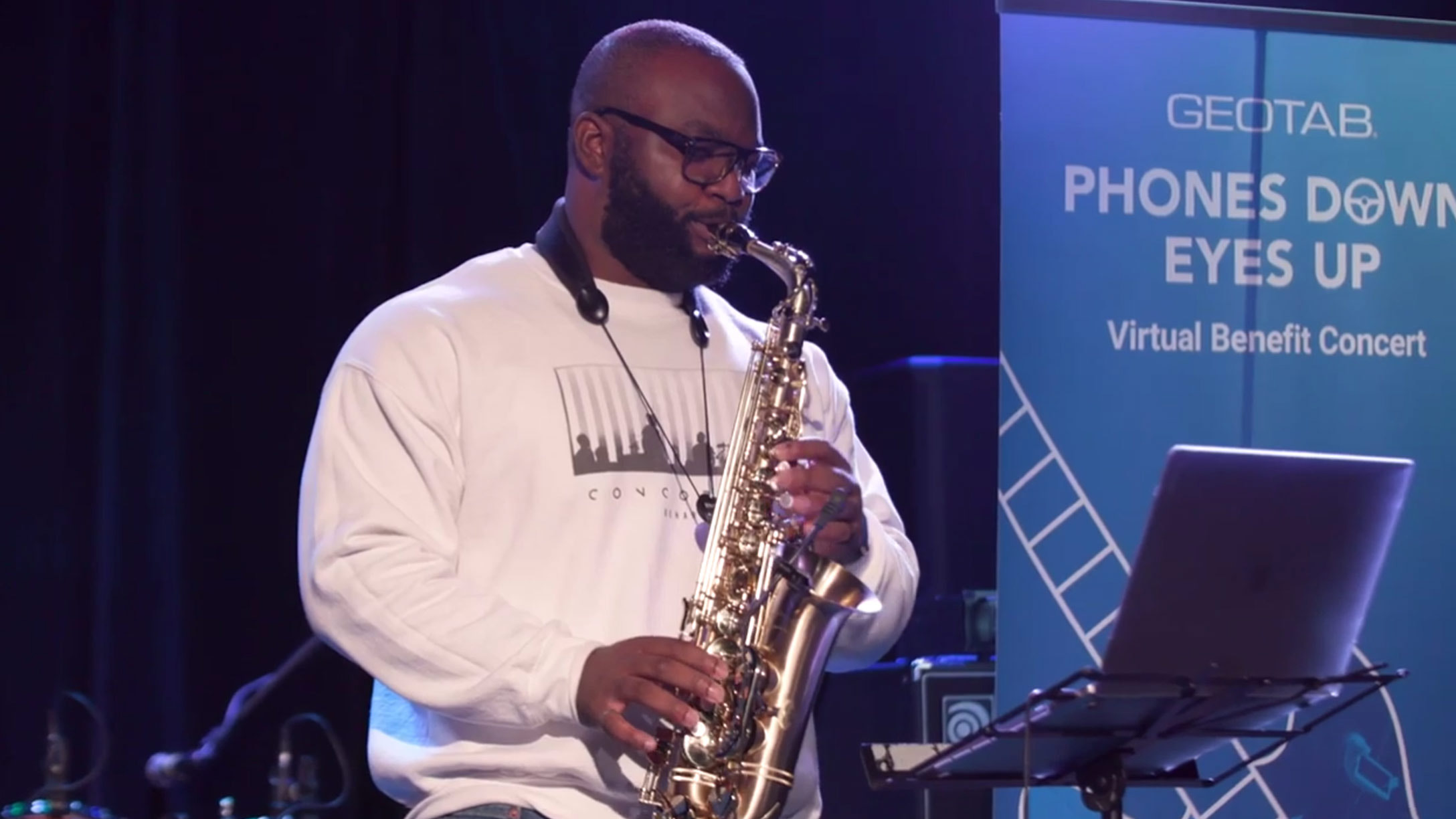 Phones Down, Eyes Up Memorial Scholarship is accepting applications
---
The Brandon Walli Memorial Scholarship supports the next generation of Arts and Music stars.
On December 10, Geotab hosted its third annual Phones Down, Eyes Up Benefit Concert to raise awareness about the dangers of distracted driving and walking. For every person that tuned in, Geotab donated $5 to Brake, a registered charity that promotes road safety and sustainable transport, and also supports road crash victims. Our most musical Geotabbers performed songs from a wide range of genres throughout the evening — rock, a capella, jazz — and showcased their secret (and not-so-secret) artistic talents. You can watch a recap of the event in this blog post.
We want to continue spreading festive cheer long after the holidays have ended, however. Applications and donations are now open for the 2021 Phones Down, Eyes Up Memorial Scholarship for artistic high school seniors in Canada.
The 2021 Phones Down, Eyes Up Benefit Concert
Brandon Walli Phones Down, Eyes Up Memorial Scholarship
The Phones Down, Eyes Up Memorial Scholarship was established in memory of Brandon Walli, who tragically lost his life age 23 while crossing the road in 2016. Brandon and his father, Tom Walli, both had a passion for music and this scholarship was established to spread joy to the lives of others through music and the arts.
This scholarship is for Canadian Grade 12 high school students who also share a love of music and the arts, and who wish to pursue a subject in those fields at post-secondary level.
Eligibility criteria:
Canadian high school students graduating in 2021 focusing on the Arts, Creative Arts or Music at post-secondary level.
We will take special notice of applicants with community and volunteer experience.
How to apply
To apply for the scholarship, and to learn more about the Phones Down, Eyes Up event please visit the scholarship application page and our event page.
How to donate
If you would like to donate to the scholarship fund, please visit our GoFundMe page.
Geotab's Tom Walli speaking at the 2020 Phones Down, Eyes Up Benefit Concert
Wishing you a safe 2021!
---
If you liked this post, let us know!
---
Disclaimer
Geotab's blog posts are intended to provide information and encourage discussion on topics of interest to the telematics community at large. Geotab is not providing technical, professional or legal advice through these blog posts. While every effort has been made to ensure the information in this blog post is timely and accurate, errors and omissions may occur, and the information presented here may become out-of-date with the passage of time.
Subscribe to the Geotab Blog
Sign up for monthly news and tips from our award-winning fleet management blog. You can unsubscribe at any time.
Republish this article for free
Other posts you might like