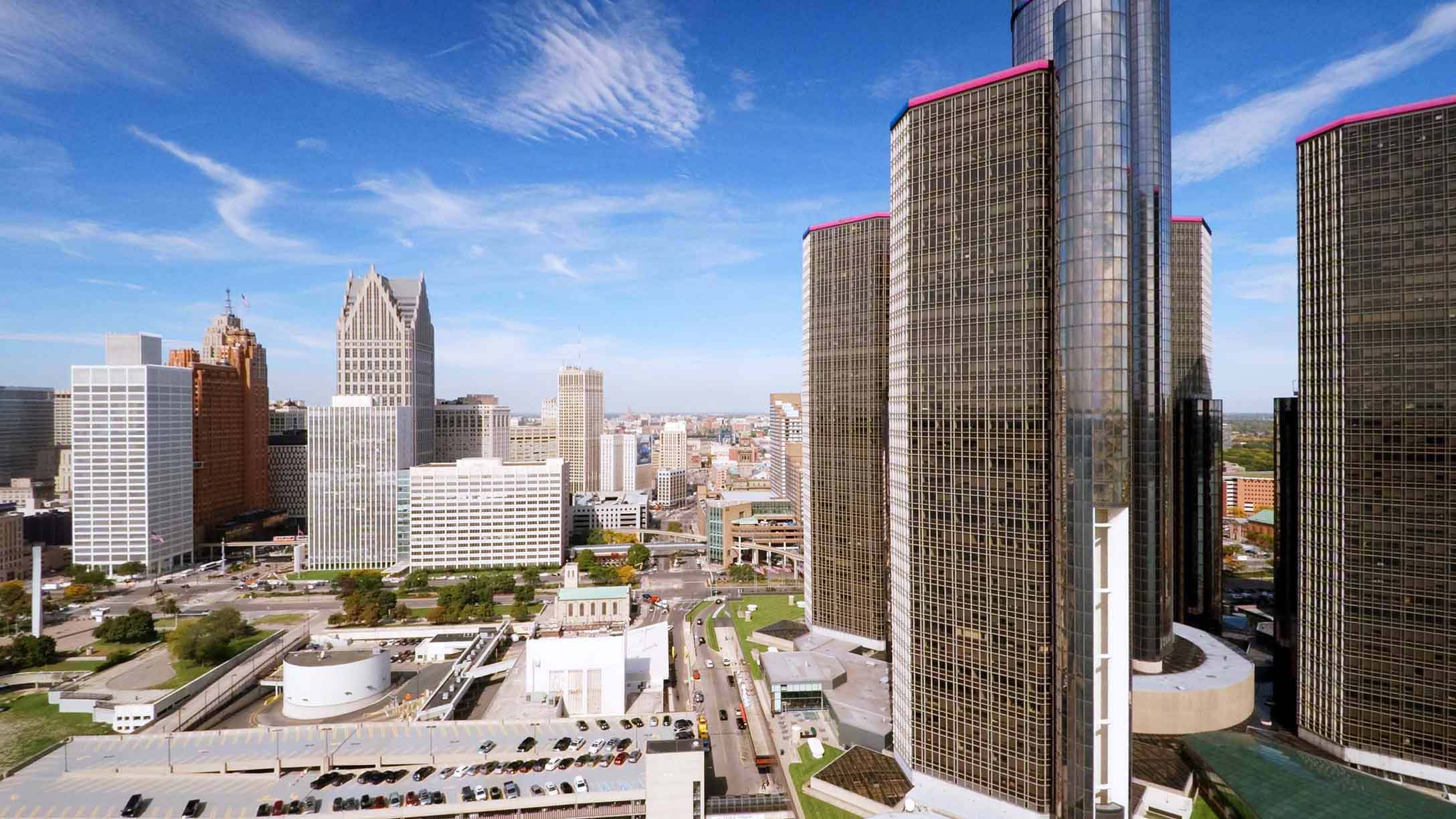 How Detroit built the world's smartest intersection
Published on November 26, 2018 in Public Sector by Jean Pilon-Bignell |  3 minute read
---
The World's Smartest intersection is located in downtown Detroit and is a system of sensors, video and connected traffic signals.
Detroit is embracing the smart city vision. The city has teamed up with Miovision to create one of the first V2I-based traffic management systems in the U.S., called the "World's Smartest Intersection." The hardware and software solution is based on open architecture and artificial intelligence (AI). The forward-thinking pilot project will boost efficiency and safety and sets an example for other cities to follow.
Detroit has looked to technology innovation to help solve a number of traffic challenges, including aging signal infrastructure. The World's Smartest Intersection pilot project is one of the initiatives that Detroit is carrying out to look for ways to improve traffic efficiency and safety in the city.
See also: How California revolutionized the procurement of telematics
What is the world's smartest intersection?
The World's Smartest Intersection is a system of sensors, video and connected traffic signals that monitor what's happening on the road in real-time and respond accordingly. The system spans a corridor of five intersections in downtown Detroit, on Larned Street from Griswold Street to McDougall Street.
Here are some groundbreaking features of the system:
Smart traffic light timing
Busy downtown streets can be dangerous for cyclists, but Detroit's connected intersections can detect cyclists and help make it safer for them to travel. If a cyclist is approaching a light about to change, the system can extend a green light temporarily to let them pass through.
Traffic lights will also give priority access to emergency vehicles to minimize unnecessary delay.
Jaywalking alerts for connected drivers
As more cities encourage new forms of mobility, increasing the safety of alternative modes such as walking becomes even more important. The World's Smartest Intersection will send alerts to connected cars or Waze users to warn them of jaywalkers ahead.
Learning and adapting
The city will collect and analyze data on near-miss incidents among vehicles, cyclists and pedestrians to better understand hazardous areas.
About Miovision
Detroit's connected intersections are driven by Miovision's smart technology. Miovision, a leader in advanced traffic AI, develops innovative solutions in traffic planning and operations to help cities improve the transportation experience for drivers, cyclists and pedestrians.
The Geotab connection
Geotab partnered with Miovision to bolster the World's Smartest Intersection. By combining cutting-edge connected-vehicle and infrastructure technologies, Geotab and Miovision were able to deploy the city's first cellular-based V2I traffic management solution.
V2I and Freight Signal Priority
Large freight vehicles often create many problems for traffic engineers, primarily in the form of increased congestion from slow stops and starts. As a result, Detroit was interested in investigating how they could mitigate these stoppage delays, and improve local traffic throughput.
By integrating data from Geotab-connected freight vehicles with the Miovision smart intersection infrastructure, the city enabled specific large freight vehicles to request a green light extension as they approached an intersection. If the Miovision system deemed it safe, the vehicle would be granted priority enabling a fully autonomous freight signal priority system. Based on parameters set by the city, green lights were extended by up to 10 seconds as freight vehicles approach intersections.
As described in this webinar with Dave Bullock, VP of Market Strategy at Miovision and Geotab, there were a number of significant benefits from the pilot.
Pilot success highlights
22% reduction in the likelihood of stopping
20% reduction in fuel consumption
10% reduction in corridor travel delays
22% reduction in greenhouse gas emissions
10% anticipated reduction in intersection accidents
No impact on cross-corridor traffic
As shown above, this pilot resulted in significant traffic, safety, and environmental improvements, all enabled using existing connected-vehicle and infrastructure technology; no additional hardware was required. This is one of the major benefits of cellular V2I.
Since its introduction in 1999, dedicated short range communications (DSRC) has been the US Department of Transportation's preferred standard for vehicle-to-vehicle (V2V) and vehicle-to-infrastructure (V2I) communication in the United States. DSRC has advantages in situations that demand ultra-low latency (<50ms), like collision detection and avoidance. However, as cellular networks continue to improve, and with the introduction of 5G, cellular technology is proving to be a worthy competitor. As shown in this pilot, even LTE can be used to solve existing smart mobility challenges.
What is the future of freight signal priority?
As a result of this pilot, new business models and revenue generation opportunities are surfacing. For example, through this pilot it has been demonstrated that a city could offer a signal priority service to commercial fleet vehicles, who would in turn be willing to pay for it out of the savings in fuel consumption, all while improving local traffic efficiency, safety, and environmental sustainability.
While the Detroit pilot has proven out a number of use cases for V2I — the implications of the technology reach much further than that. V2I technology is widely recognized as being central to making fully autonomous vehicles a reality. Furthermore, as costs become less prohibitive and adoption increases, V2I will likely be the technology that forms the backbone of a smart city.
Geotab is actively looking for other cities looking to engage in a V2I pilot similar to the Detroit one, please contact smartcity@geotab.com if you are interested.
More from this author:
Geotab partners with City of Columbus for Smart Columbus Operating System Insights
Canadian Smart Cities Challenge: Kickstarting innovation with IoT and urban analytics
---
If you liked this post, let us know!
Post Tags

Jean Pilon-Bignell
Jean Pilon-Bignell uses a unique combination of technical and business experience to commercialize innovative connected-vehicle, IoT, and intelligent transportation solutions that maximize operating efficiency, safety and sustainability.
---
Disclaimer
Geotab's blog posts are intended to provide information and encourage discussion on topics of interest to the telematics community at large. Geotab is not providing technical, professional or legal advice through these blog posts. While every effort has been made to ensure the information in this blog post is timely and accurate, errors and omissions may occur, and the information presented here may become out-of-date with the passage of time.
Get industry tips and insights
Sign up for monthly news and tips from our award-winning fleet management blog. You can unsubscribe at any time.
Republish this article for free
Other posts you might like