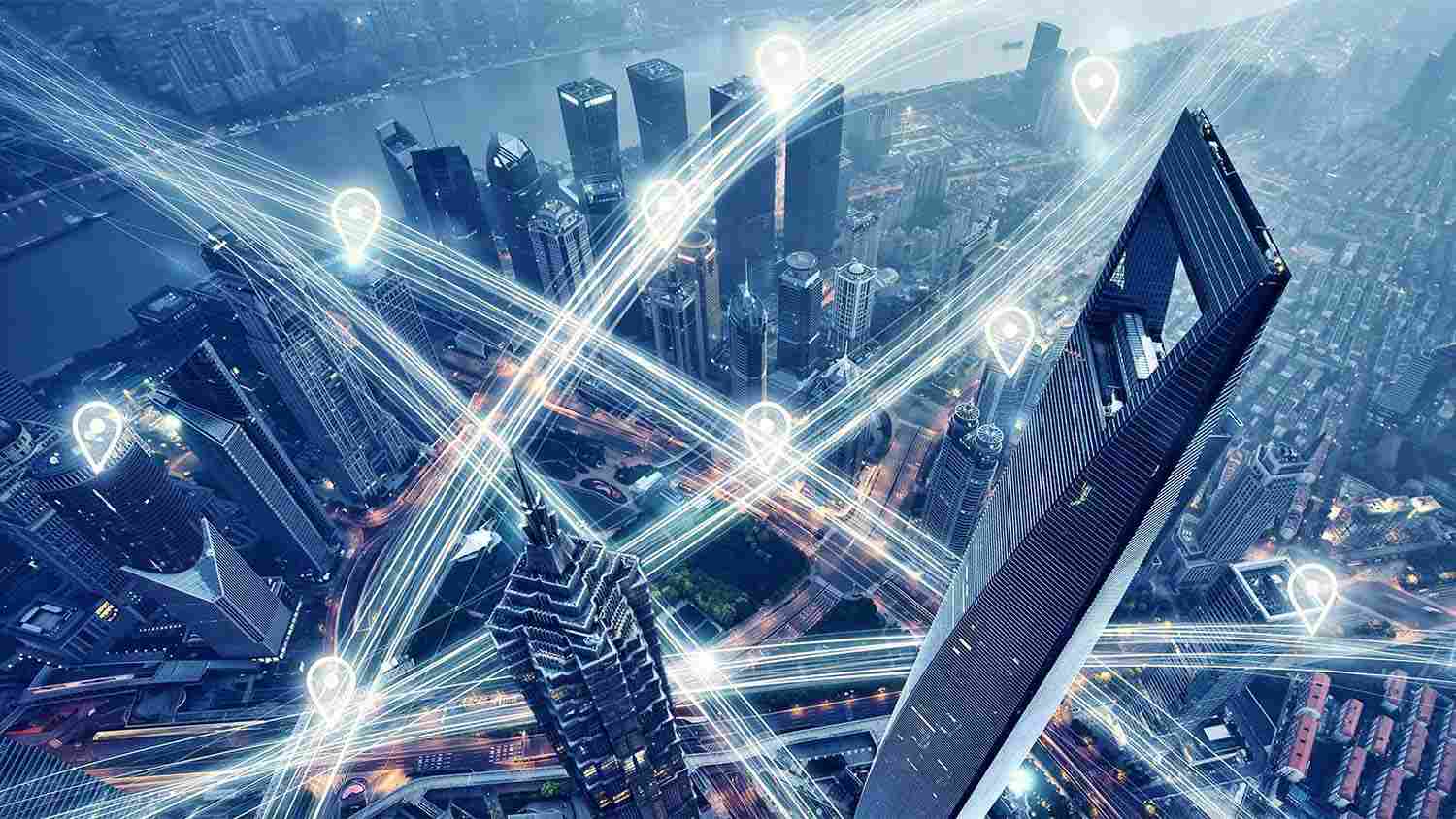 Get to know vehicle to infrastructure communication
---
Connected vehicles have the potential to dramatically improve driver safety. Read more
Each day brings exciting developments in the field of connected vehicle technology. Vehicle to infrastructure communication in particular has promising potential to help tackle major urban challenges such as traffic fatalities and traffic congestion.
This post will help you speak the language of connected vehicles. Here is an overview of some of the top technologies related to smart cars, autonomous driving and smart infrastructure that are leading the way to the future.
What is vehicle to infrastructure communication?
Vehicle-to-infrastructure communication (V2I) is the two-way exchange of information between cars, trucks and buses and traffic signals, lane markings and other smart road infrastructure via a wireless connection. The overall goals of vehicle to infrastructure technology are to improve road safety and reduce collisions and support work zone and traffic management.
Here are two significant vehicle-to-infrastructure technologies:
Smart traffic lights
Smart signals play a key role in smart infrastructure, adapting to road conditions and allowing for the most efficient throughput of traffic. Standard traffic signals will change lights at specific intervals. The time between signal changes is often adjusted based on preprogrammed times of day (usually rush hour) or when cars pass over sensors in the pavement.
Smart traffic lights interact with their environment. How do they work? Equipped with cameras and sensors, smart traffic lights can detect if a car is waiting and also how many cars are waiting in each lane. Using this information, they can calculate the amount of time it will take to clear up each side of the street. Smart signals can communicate with other nearby smart signals or connect to the grid as a network of signals, working in tandem to maximize traffic efficiency.
These signals can also respond intelligently to data received from connected vehicles and mobility apps. For example, smart signals could:
Warn drivers that they are about to drive through a red light
Sense when a pedestrian is arriving and activate the crosswalk
Provide way for approaching priority and emergency vehicles
Give cyclists a head start to other vehicles
Work with the vehicle to display a signal change countdown for their drivers
Smart parking
Smart parking is another example of a vehicle-to-infrastructure system. Connected parking spaces allow communication from the parking lot to your vehicle, letting the vehicle know which spaces are available and makes it easier for lot attendants to track occupancy.
Smart parking systems have already rolled out in the UK, New Zealand and Australia. Benefits include improving the parking experience for drivers, and streamlining payment and parking management. The top locations for smart parking include city street parking, railway stations and airports, shopping centers, universities and commercial parking lots.
Here are some smart parking features:
Share real-time information on available parking
Monitor air quality and control lighting
Automated vehicle identification and payment, which has been shown to reduce idling
Allow parking enforcers to have a global view of meter payments and use data to make policy decisions about fare rates and timing intervals
Help drivers find open spaces on public streets and reduce waste from vehicles circling or idling in search of a spot
The City of Stratford has a smart parking live map on their website for residents and visitors. The smart parking datasets are provided openly for developers to encourage app-building and innovation.
Smart parking systems go hand in hand with autonomous driving. The same information that smart lots use to identify their spaces can be harnessed by autonomous vehicles to park the car without human intervention.
Vehicle-to-vehicle (V2V)
Sensors carry out important functions in today's vehicles. Ultrasonic, radar and camera technologies allow vehicles to see and analyze their surroundings and make safe decisions while driving.
However, sensors have limited range and run into the same problems as humans do (although they react much quicker) when it comes to hidden objects, roads, and generally unexpected behavior from other vehicles. Vehicle-to-vehicle (V2V) communications systems aims to correct this weakness by letting cars speak with one another directly and share information about their position, speed, and status.
Left turn assist (LTA) and intersection movement assist (IMA) are two V2V technologies aimed at improving road safety. These technologies will warn the driver of a potential collision when making a left turn or entering an intersection.
See also: The next wave in driving safety: Crash avoidance technology
What is V2X communication?
V2X communication, or vehicle-to-everything, combines V2I and V2V and extends those benefits to others on the roadway. The idea behind this technology is that a vehicle with built-in electronics will be able to communicate in real-time with its surroundings including V2I and V2V, vehicle-to-pedestrian (V2P) and vehicle-to-network (V2N). Wi-Fi and 5G form the backbone of V2X.
V2X functions include:
Informing autonomous vehicles of out-of-sight vehicles
Warning distracted pedestrians of oncoming traffic
Delivering alerts for weather and road conditions to drivers
A joint project between the Georgia Department of Transportation (GDOT) and Panasonic will install V2X along 18 miles (29 km) of Interstate 85, which will be monitored and managed through a data management platform. Roadway operators will have access to real-time data to help them improve safety and maintenance operations and reduce traffic congestion. A section of I-85 will also be solar-paved, helping power the Georgia Visitor Information Center.
Ready for another acronym?
Vehicle-to-network (V2N)
Vehicle-to-network (V2N) systems connect vehicles to cellular infrastructure and the cloud so drivers can take advantage of in-vehicle services like traffic updates and media streaming. Some of the most common examples of this technology are vehicles with built-in traffic and navigation functions like Google Maps or Waze, or vehicles that can sync with a smartphone to play music.
HD mapping
Self-driving cars use sensors to make calculations in real-time. Imagine if your vehicle already knew the elevation of the road or the distance to the curb. High-definition (HD) mapping looks to do that and more.
3D spatial mapping data contains information about the curvature, elevation, and width of lane. The self-driving vehicle actively compares these maps to real world input to verify the data its own sensors are telling it. This adds an extra layer of reliability and confidence for passengers of autonomous vehicles.
Autonomous vehicles also use mapping data to make turns and calculate speed prior to elevation changes to maximize engine efficiency and minimize fuel consumption.
Connecting to safety, efficiency and sustainability
Connected vehicle technologies help support goals. Vehicle-to-infrastructure communication is laying the groundwork for a safer, efficient, sustainable, and autonomous future. Geotab connects more than a million vehicles around the world with the Geotab GO device and open platform for fleet management.
Next up: How Autonomous Driving Will Change Our Highways and Cities
Originally published February 9, 2018. Updated September 27, 2019.
---
If you liked this post, let us know!
---
Disclaimer
Geotab's blog posts are intended to provide information and encourage discussion on topics of interest to the telematics community at large. Geotab is not providing technical, professional or legal advice through these blog posts. While every effort has been made to ensure the information in this blog post is timely and accurate, errors and omissions may occur, and the information presented here may become out-of-date with the passage of time.
Get industry tips and insights
Sign up for monthly news and tips from our award-winning fleet management blog. You can unsubscribe at any time.
Republish this article for free
Other posts you might like