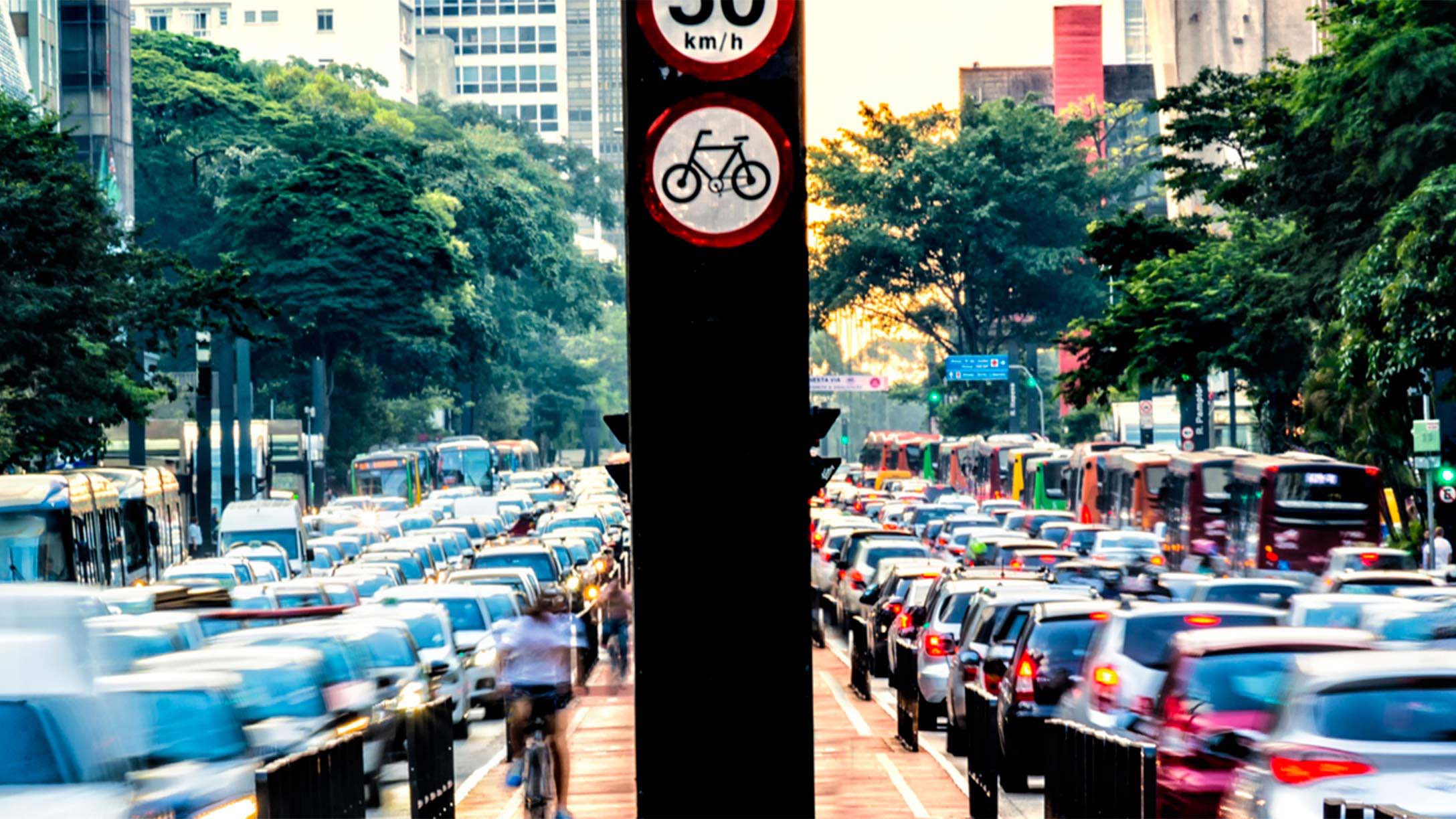 Urban traffic congestion: New laws and how to prepare
---
Congestion charging, low emission zones, toll roads, and more examples of urban traffic congestion mandates from around the world
Can you remember the last time you were stuck in traffic? It probably wasn't that long ago, was it? Rising traffic congestion has become a major challenge in urban areas. Countless hours spent sitting in a long line of vehicles while getting to work, to the mall, anywhere… Traffic also places a great burden on businesses. Responding to this challenge, municipal governments have started rolling out new regulations to relieve traffic and reduce emissions. Read on for a review of urban congestion mandates.
See also: Can you predict wait times at major city intersections?
The impact of urban traffic congestion
Being stuck in traffic for hours is not only frustrating for drivers, but has a negative impact on fleets, a direct effect on delays, speed, travel time, fuel consumption, travel costs, the quality of services and emission of pollutants.
Even while a vehicle is stationary in traffic, operating costs still continue to escalate. Annually, traffic costs the trucking industry over $63 billion in America alone, according to the 2017 "Cost of Congestion" report from the American Transportation Research Institute (ATRI). The cost per each truck driver is $63.70 per hour (counting wasted fuel, vehicle wear and tear, as well as labour).
To avoid the economic impacts of traffic congestion, cities around the world have undertaken a number of different actions, some of the most popular being:
Intelligent transportation systems (signals, alternative routes, etc)
Expanding bike facilities
Enhancing public transit (adding new routes and increasing service)
Smart parking
HOV/HOT lanes
Pricing discounts for electric vehicles
See Also: 7 Smart City Solutions to Reduce Traffic Congestion
The role of public policy
An analysis by RAND Research of traffic congestion in Los Angeles concluded that pricing policy was a better means for reducing traffic in the long term, over other strategies such as building more roads. Some of their key recommendations included high-occupancy toll (HOT) lanes, restricting curb parking on busy roads during peak hours, as well as setting curb parking rates in commercial centers and retail areas. The benefit of tolls is that the money raised can be fed back into public transportation programs.
As a part of the strategy to reduce traffic congestion, many cities have introduced cordon area congestion pricing — a fee or tax that is paid to enter restricted areas. The first implementation of this was the Singapore Area Licensing scheme in 1975. It charged drivers entering downtown Singapore and is considered to be one of the first successful road pricing mandates globally. Since then, many cities including London, Los Angeles, Paris and New York have followed in Singapore's footsteps.
Here are more examples of strategies to combat urban traffic congestion mandates from around the world:
Congestion charging
In London, UK, drivers entering the Congestion Charge Zone must pay an £11.50 daily congestion charge. It is applied from Monday to Friday between 7 a.m. to 6 p.m., excluding weekends and holidays. However, electric vehicles, some plugin hybrids and vehicles that meet the standards of acceptable limits of exhaust emissions can get a 100 percent discount on the charge.
Red c markings on London roads remind drivers they are in a congestion charging zone
In addition to the congestion charge, London has also introduced the ULEZ — the Utra Low Emission Zone — where drivers of older vehicles that do not meet the Europe emission standards will be charged £12.50 for entering (in addition to the congestion charge). The ULEZ covers the heart of the city, including the major tourist areas around Buckingham Palace, Big Ben, the London Eye and the British Museum.
The European regulations on emissions were first introduced in 1992, and include a range of emissions that set limits for air polluting nitrogen oxides and particulate matter. The new charge will affect more than 40,000 drivers and aims to reduce toxic emissions by 45% within the next two years. The goal of introducing additional charges also include raising investment for London's transport system, reducing pollution and managing high traffic flow. London is hoping to become a zero carbon city by 2050.
Toll roads
Los Angeles is considered to be one of the world's most gridlocked cities with drivers spending over 102 hours in congestion during peak hours. To alleviate the congestion, the Los Angeles metro has implemented toll lanes on popular routes, I-110 and I-10. Drivers now pay a fee per-mile that varies depending on the traffic congestion, with dynamic tolling on express lanes that increase when traffic is heavier. Currently, it costs a driver in Los Angeles over $2,800 in lost productivity and fuel wasted by sitting in traffic each year while it cost the city's economy over $19 billion in 2017.
Four cities in Los Angeles could begin charging tolls for drivers entering parts of their cities soon.
The Assembly Bill AB-3059 Go Zone demonstration programs, published in April 2018, is currently in committee in the California Legislature. It establishes a need to reduce vehicle congestion by targeting areas with alternative transportation choices and fees that encourage people to walk, bike, carpool, take the transit, or adjust trip times during rush hours.
Low emission zones
Urban Access Regulations (UVARs) are regulations and restrictions for vehicles entering cities to improve traffic congestion and air quality. Some examples of the regulations include but are not limited to: charging to access road space, physical traffic restrictions (road signs) and adding low-emission zones (LEZs) to certain parts of the city.
Due to the dangers of air pollution, the European Union (EU) has set air quality standards that vehicles need to meet to enter certain areas. Currently, France has two low emission zones (LEZs): Paris and Grenoble. The French government has committed to creating 14 LEZs by the year 2020, including major cities Marseille, Lyon, Toulouse, and Strasbourg, among others.
France introduced the Crit'Air air quality certificate to manage vehicle use in permanent and temporary emergency LEZs in Paris and Grenoble. There are six classifications for the different types of vehicles, including hydrogen and electric vehicles (indicated by a green sticker), Crit'Air 1 for gas and hybrid vehicles, up to Crit'Air 5 for diesel cars, trucks and buses from the EURO 2 and EURO 3 European standard. While every vehicle is required to have a sticker displayed on their windshield, depending on the colour, not every sticker is allowed in each area. On high pollution days, only the cleaner categories are permitted to drive in the low emission zones of Paris.
For example, those with a EURO 2 diesel car registered before January 1, 2001 are not allowed to drive in Paris between the hours of 8 a.m. to 8 p.m. on weekdays. By 2024, the country plans on banning all diesel cars.
The Grenoble low emission zone restricts certain vehicles in its historic district.
In other LEZs, there are higher entry fees for less environmentally-friendly vehicles. This measure has been taken to improve pollution and reduce nitrogen dioxide and emissions of fine particles. Not only are these restrictions being implemented in Europe, but also in other cities around the world.
Video cameras
To deter unauthorized stopping on roadways, the Hong Kong Police Force has installed video cameras to monitor congestion. Video recording devices are installed in different locations in the country at least once per week. They target six offences including loading/unloading of passengers in restricted areas, picking up or dropping off passengers in restricted zones, unauthorised stopping at taxi stands or bus stops, U-turns that cause obstructions, unlawful entry of yellow-box intersections, and bus drivers and taxis stopping for longer than necessary. The footage collected is used to issue fines and tickets either on the spot, or when the footage is reviewed later.
Ride-hailing
People have mixed feelings on ride-sharing in the state of New York. In New York City, the City Council is moving to limit ride-hailing to reduce congestion, while in the rest of the state, ride-hailing has been rubber stamped to provide more mobility options for residents. The New York Times reports the number of for-hire vehicles in the city has grown to 100,000 which is worsening traffic congestion, creating gridlock and becoming detrimental to the taxi industry.
The legislation to cap Uber and other ride-hailing services, which is currently being considered by the city council would make New York the first major city to limit ride-hailing vehicles. This is the second time the city has tried to cap certain vehicles, with an unsuccessful effort in 2015. Since the last attempt, the number of for-hire vehicles has surged by 37,000 in just a few years. The city council believes the popularity of Uber and other ride-hailing apps is the biggest factor in the continuing decline of bus and subway ridership.
Meanwhile, the New York Senate has passed a bill to allow ride-sharing in the upstate area. As of July 2018, Senate Bill S4159 approved ridesharing companies to operate in upstate cities. The bill, which only applies to New York State (not New York city), "establishes, regulates and provides proper insurance for transportation network companies and drivers". It also requires drivers to submit driving history background checks and a criminal record. The state believes this will boost upstate tourism, which is a key component of the regional economy.
With over 8.5 million motorized vehicles on the road and traffic jams that stretch out to over 295 km (183 miles) on bad days, Sao Paulo has one of the worst traffic congestions in the world. Sao Paulo is the most populated city in Brazil, even greater than Rio de Janeiro.
To manage ride-hailing services, the city wants to begin charging a mileage fee. The companies would bid at auction for credits that would allow them to drive a specific amount of miles over a period of two months, cars that exceed their limit will be forced to pay an extra charge.
Avenida 23 de Maio in Sao Paulo, Brazil
The system will also reward drivers who operate during off-peak hours, and offer discounts for cars that carry low-income travelers or disabled residents. Companies would also have to provide the city with real-time data on distances, route of travel, trip origin, destination, price of the trip, and service evaluation to allow transport officials to efficiently organize the road network.
In the past, the World Bank Group has launched a "Voluntary Corporate Mobility" pilot program designed to ease gridlock in the city. The company-led efforts include encouraging employees to commute during non-peak hours, work remotely from home, use mass transit, limit their use of single occupancy vehicles, and use non-motorized modes of transportation such as bicycles. The World Bank Group has also provided the city with over $1 billion in investment to support and build new metro lines to improve infrastructure and promote drivers to take the public transit.
Increased parking enforcement
The mayor of Toronto, John Tory, has also implemented a long-term plan to curb traffic congestion in the city. The new initiative includes sending out "rapid response teams" that are accountable for monitoring lanes in downtown to ensure they are not blocked. The members on the team will be watching cars that are blocking lanes and helping them so they don't cause congestion. An additional measure taken by the city includes having full-time wardens at major intersections to reduce gridlock.
In further efforts to improve traffic flow and parking regulation compliance, the city of Toronto has also taken the following initiatives:
Fining tickets for expired licence plate validation stickers
Increasing fines for standing, unlawful stopping, and parking on rush hour routes
Towing parking offenders when found to be parked illegally
Unfortunately, although there is no one major solution for solving traffic, cities around the world are determined to find ways to ease congestion long-term. Until then, try to take a deep breath next time you're in stuck in traffic and remember that one day (hopefully), traffic congestion will be an old memory from the past.
What fleets can do
Although it is beyond the control of fleet owners to fix traffic congestion, there are still things you can do to lessen the impact on your operation. Begin by ensuring your drivers are familiar with rules in different parts of the cities to avoid fines. Additionally, optimize your vehicle for fuel efficiency. A vehicle's tire selection, axle configuration, aerodynamic devices and transmission choices can directly impact how much fuel a truck consumes while idling in traffic.
As well, adapting to the changing urban landscape means that businesses will need to start embracing smart mobility. This means looking into options such as the adoption of electric vehicles and carsharing.
Many global fleets are already ahead of the curve and are providing last mile solutions in a sustainable manner. For example, DHL has created mobile city hubs by increasing the use of cargo bicycles for inner-city deliveries. In this green urban delivery process, a DHL van delivers a trailer into the city, which is then loaded onto a "cubicycle" for delivery. Currently, they have already replaced 60 percent of city vehicle routes in European countries with cargo bike — minimizing time spent on the road, and reducing emissions and mileage overall.
For more stories like this, subscribe to the Geotab blog.
Related:
What Causes Traffic Congestion?
Green Fleets Help Fight the War Against Air Pollution
Originally published September 7, 2018. Updated September 17, 2019.
---
If you liked this post, let us know!
---
Disclaimer
Geotab's blog posts are intended to provide information and encourage discussion on topics of interest to the telematics community at large. Geotab is not providing technical, professional or legal advice through these blog posts. While every effort has been made to ensure the information in this blog post is timely and accurate, errors and omissions may occur, and the information presented here may become out-of-date with the passage of time.
Get industry tips and insights
Sign up for monthly news and tips from our award-winning fleet management blog. You can unsubscribe at any time.
Republish this article for free
Other posts you might like