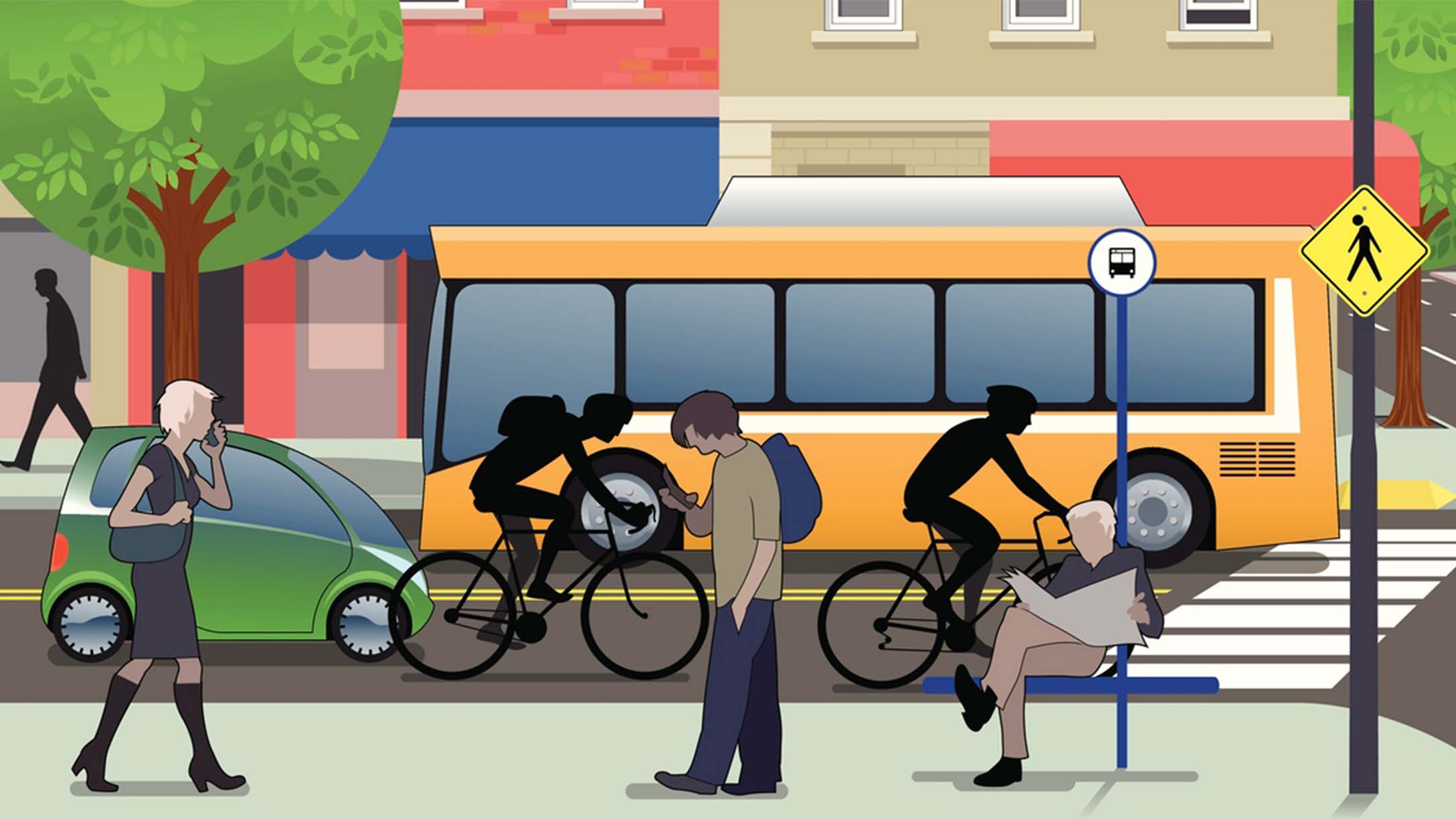 What is smart mobility?
---
Smart mobility is a new and revolutionary way of thinking about how we get around — one that is cleaner, safer, and more efficient
Smart mobility refers to using modes of transportation alongside or even instead of owning a gas-powered vehicle. This can take on many different forms, including ride-sharing, car-sharing, public transportation, walking, biking, and more. The need for Smart mobility arose out of increasing traffic congestion and its related side effects, including pollution, fatalities, and wasted time. In this blog post, we'll answer the question "What is smart mobility?" and explain how it connects to a smart city.
See also:
How California revolutionized the procurement of telematics
Key findings from the Industry Pulse Analysis on Fleet, Mobility and Transportation recovery
What is mobility as a service?
Transportation and the traffic problem
The concept of transportation can be boiled down to two parts: individually-owned cars and public transportation systems. The car has transformed cities and the way we live. As urbanization and populations have increased though, road traffic has become a huge problem in cities across the world.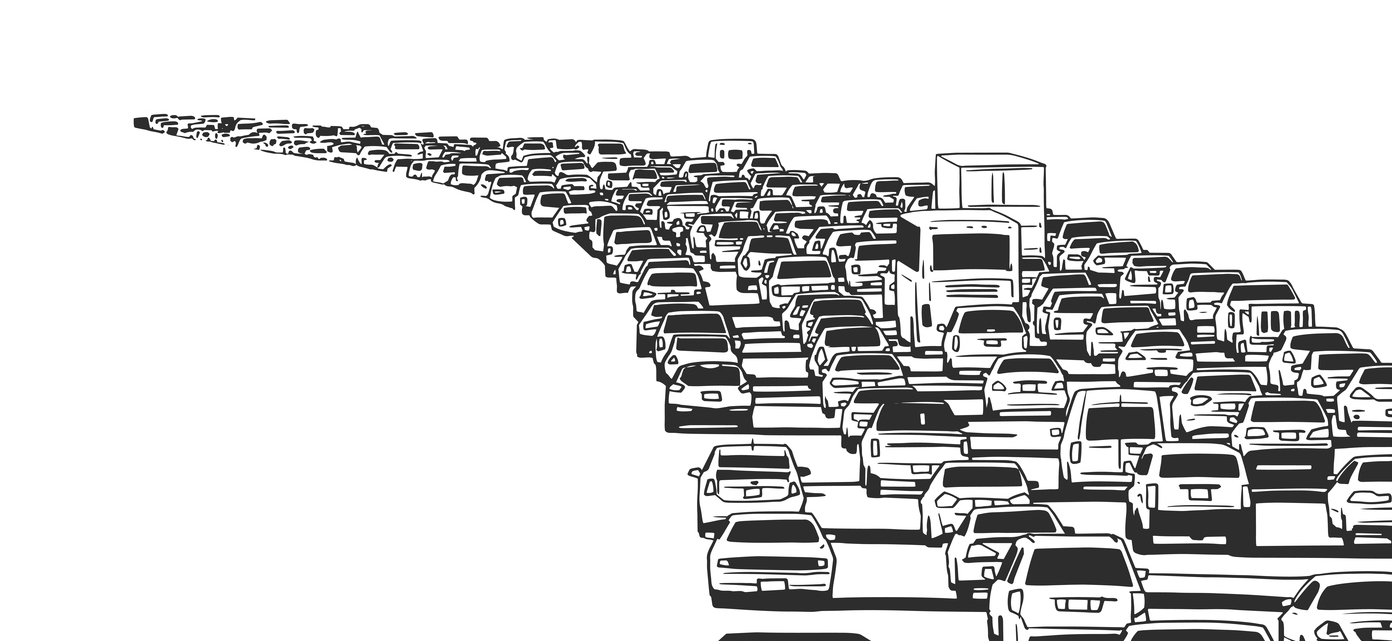 Planners have looked to different solutions to solve traffic congestion. Building more highways was one idea. But expanding capacity only leads to more traffic — a classic case of induced demand. Build roads and drivers will fill them. Mobile apps are another idea, designed to help people find alternate routes. However, researchers found that such apps were actually making traffic worse and increasing congestion on side streets.
See also: 7 Smart city solutions to reduce traffic congestion
The United States lost $305 billion economically in 2017 because of traffic congestion. It's also time wasted — 34 hours each year spent stuck in traffic for the average American. Lukas Neckermann, author of "Smart Cities, Smart Mobility," states that traffic has created the "economic impetus for a mobility revolution, a logistical impetus to create change in our cities, but we also have a public health crisis… a public health impetus for a mobility revolution." The issue of safety, along with shocking statistics on road crashes and the rise of distracted driving, have also prompted action. The solution to our traffic woes may be found in smart mobility.
Watch Neckermann's full talk here, recorded at GEOTAB CONNECT 2018 in Toronto.
What is smart mobility?
Smart mobility is a new and revolutionary way of thinking about how we get around — one that is cleaner, safer, and more efficient. Put another way, Neckermann calls this new vision: "Zero Emissions, Zero Accidents, Zero Ownership."
The concept of smart mobility includes a wide range of modes of transportation: kick scooters, bicycles (regular, electric, foldable), buses, light rail trains, subways, streetcars, taxis, autonomous vehicles, walking… the list is growing. Moreover, users have the option to own or share.
From 2012-2013 alone, the global car-sharing market grew by 50%, totalling 3.5 million members. By 2020, it's expected to reach 26 million. The leasing, car-sharing, and renting markets are converging and growing while car ownership declines.
See also: Micromobility and the changing transportation landscape
Key principles of smart mobility
The concept goes beyond just alternative forms of transportation. Smart mobility is built on the following principles:[1,2,3]
Flexibility: Multiple modes of transportation allow travellers to choose which ones work best for a given situation.
Efficiency: The trip gets the traveller to their destination with minimal disruption and in as little time as possible.
Integration: The full route is planned door-to-door, regardless of which modes of transportation are used.
Clean technology: Transportation moves away from pollution-causing vehicles to zero-emission ones.
Safety: Fatalities and injuries are drastically reduced.
Two more aspects of smart mobility are accessibility and social benefit, which means that it is should be affordable for everyone and help provide a better quality of life.[1]
Smart mobility by itself can already reap rewards. However, it can also be integrated into Smart Cities. We'll look at instances of both in the following section.
How does smart mobility connect to a smart city?
Cities can respond to and integrate these changes into their planning. Columbus, Ohio, for example, has begun to collect traffic data to identify and address safety issues before they become issues—e.g., identifying collision hotspots on the city's streets—and to detect potential signal issues. The city is on its way to becoming the first Smart City in the United States thanks to a grant from the U.S. Department of Transportation, and analyzing this data will become the city's backbone for all of its future Smart City projects.
To summarize, a Smart City does not respond to traffic issues by building more roads; it will instead seek other options. Popular choices include encouraging more walking, biking, and public transportation use. More novel options include sensor networks that help travellers see and avoid congested streets, and aggregate data that can provide cities with numerous insights.
What does smart mobility look like in the real world?
There is no one solution to a Smart City: real-world examples range from a district in South Korea that was built from the ground up to be a Smart City to old cities and towns in Europe that have no room to build and so implemented various solutions to reduce the number of cars on the road.
Biking in Barcelona
There were an estimated 500 bike-sharing services in the world in 2013, 20% of them located in Spain. The cities with the largest bike-sharing systems in the country were Barcelona, with 6,000 bikes, and Valencia and Seville, with 2,000 each. (Paris has the largest bike-sharing system in Europe, with 23,000 bicycles.)
Barcelona has about 1.6 million inhabitants. Its bike-sharing system, Viu Bicing, is estimated to save one death and 2.5 million euros every year. The system costs users only 47 euros a year, assuming no late fees are incurred. Users pass a plastic card with magnetic strip in front of a Viu Bicing reader at a bike rack to borrow a bike. If the bike is returned within 30 minutes to another rack, the user pays nothing more. The system works in partnership with the city, and bike racks are located all over, making it easy for users to reach one.
Singapore Driverless Mass Rapid Transit (MRT)
A growing number of residents (over 5.6 million people) and vehicle population (almost 1 million motor vehicles), have brought Singapore's Land Transportation Authority (LTA) and the Intelligent Transportation Society Singapore (ITSS) together to create an intelligent transport system to improve commuters' travel.
Singapore's Smart Mobility 2030 strategic plan is an example of a smart plan that focuses mainly on transportation. The project aims to be informative, interactive, assistive, and to use green mobility. The LTA and ITSS have outlined three key strategies to achieve their goals:
To implement innovative and sustainable smart mobility solutions.
To develop and adopt intelligent transport system standards.
To establish close partnerships and co-creation.
The Netherlands and big data
The Netherlands has always been on the forefront of being a bike-friendly country. Postcards of Amsterdam, for example, frequently show rows and piles of bikes as a testament to that. But the Netherlands does more than just make bike lanes.
Amsterdam has a population of about 800,000. Over 10 years, it embarked on a data-driven project to analyze the data it had collected on its residents. Project leaders analyzed and eventually integrated data from the city's 32 departments, which had among them 12,000 databases full of information.
What emerged was a list of 100 pilot projects. One of them, for example, explored moving from separate garbage trucks for picking up waste and recyclables to just one truck to collect both. This reduced the number of garbage trucks on the street, and, given Amsterdam's many narrow streets, was a welcome benefit.
However, Amsterdam wasn't the only city that undertook improvements to its transportation system. A small town with 22,000 inhabitants, Woensdrecht, updated its unlit 6-mile bike route to Bergen op Zoom, a neighboring town, with LED lights that automatically turned on only when a bike or car drove by. Although installing these lights requires a sizeable investment, they use less electricity than incandescent ones and last longer. Moreover, they can be outfitted with cameras and microphones, Wi-Fi mesh network receivers, future 5G transmission points, and air quality sensors.
Songdo Business District in Incheon, South Korea
South Korea is unique in that unlike many countries in the world, it has available land to build cities from scratch. Without the hindrance of old infrastructure and buildings, the country can create whatever its planning officials desire, which is the case with the Songdo Business District in Incheon, a city of about 3 million people that lies approximately an hour west of Seoul.
Songdo was built on 1,500 acres of land reclaimed from the Yellow Sea to house about 300,000 people and attract international businesses and schools. The city has ambitious goals: to be environmentally-friendly (over 100 building are LEED-certified), bike-friendly, and car-free.
The district is connected via its subway system to the transportation systems of Seoul and Incheon. Buses are also already in use, and the developers promise to have one stop within 12 minutes of every neighbourhood. In addition, an extensive biking network is being built and EV charging stations are already in use.
This smart city, though, is more than just smart mobility:
Pneumatic chutes collect and handle waste underground, eliminating garbage trucks on the roads.
Televisions in residences are being wired so residents can access municipal administration.
Lights and residence temperature can be controlled from either a central panel in the home or apartment or from a smartphone.
A single control centre in the district monitors 300 interactive security cameras that include emergency call systems.
Still in progress and perhaps ahead of its time, Songdo is hoping to set the standard and become a center for innovation and research. However, people have been slow to move in — the city population has not reached expected levels. This provides a warning to planners and developers, that although a city can be smart, it must also understand and meet the needs of residents.
Conclusion
Smart mobility promises true convenience: using whatever mode of transportation that best suits a traveler in better health, and saved money. The options for implementing smart mobility are as varied as ice cream flavors, leaving municipalities lots of room to find solutions tailored for their residents.
With the United Nations forecasting a world population of 8.5 billion by 2030, 9.7 billion by 2050, and 11.2 billion by 2100, the need to find a better solution for transportation becomes ever more pressing. This is where smart mobility comes into play.
Next article: The impact of artificial intelligence on the mobility industry
References:
Seimens AG. (2015). Smart Mobility - A tool to achieve sustainable cities. [Online] Available: http://www.vt.bgu.tum.de/fileadmin/w00bnf/www/VKA/2014_15/150212_Smart_Mobility_v5_TUM.pdf
Frost & Sullivan. (n.d.). Future of Mobility. [Online] Available: https://ww2.frost.com/research/visionary-innovation/future-mobility
Government of Singapore. (2014, Sep. 24). Smart Mobility 2030. [Online] Available: https://www.lta.gov.sg/content/ltaweb/en/roads-and-motoring/managing-traffic-and-congestion/intelligent-transport-systems/SmartMobility2030.html
Related:
Automotive IoT is disrupting the car rental industry
---
If you liked this post, let us know!
Post Tags

---
Disclaimer
Geotab's blog posts are intended to provide information and encourage discussion on topics of interest to the telematics community at large. Geotab is not providing technical, professional or legal advice through these blog posts. While every effort has been made to ensure the information in this blog post is timely and accurate, errors and omissions may occur, and the information presented here may become out-of-date with the passage of time.
Get industry tips and insights
Sign up for monthly news and tips from our award-winning fleet management blog. You can unsubscribe at any time.
Republish this article for free
Other posts you might like