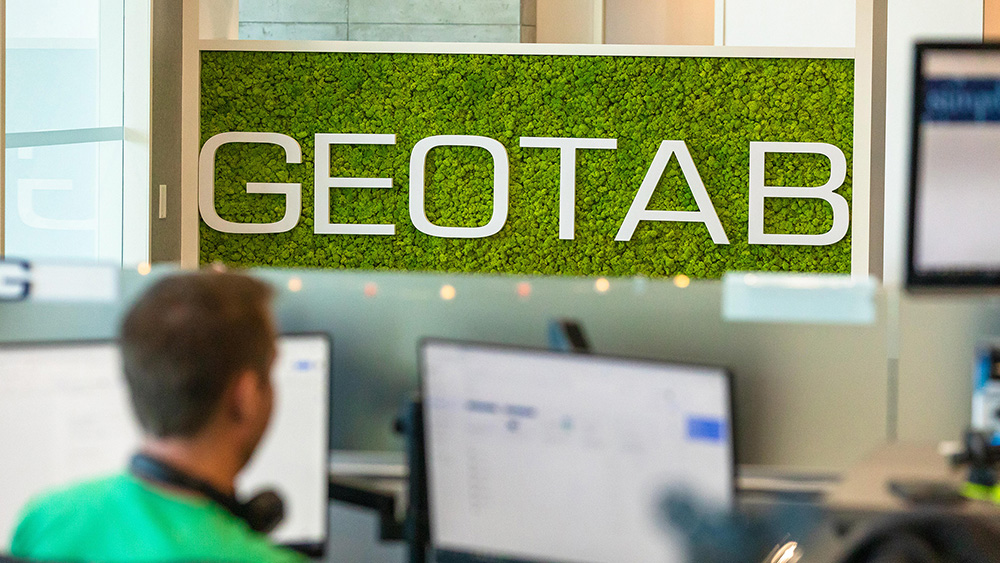 What does a software developer do at Geotab?
---
We recently caught up with Alice, a Geotabber who works on the Geotab Drive team as a Software Developer.
What does a Software Developer do at Geotab? Software Developers are among our most innovative employees and can be found working on products like MyGeotab, our fleet management software, the GO device, mobile apps, or on one of our many internal systems.
Each day, Geotab processes billions of data points from GO devices in over 2 million vehicles around the world. Our open platform makes sense of this data and produces actionable insights for our customers, from small courier businesses to large government fleets. New Software Developers will join close-knit teams helping us expand and improve these services. They will be mentored by senior Geotabbers and benefit from continuous learning opportunities like our popular Lunch & Learn sessions.
Interested? Learn more about the Software Development team in this video:
Meet Alice, Software Developer at Geotab
Alice is a Software Developer currently working on Geotab Drive, our mobile application for ELD compliance. After graduating from Queen's University with a bachelor's degree in Computer Science, Alice went to Sheridan College and completed an Interactive Media graduate certificate program, which focused on front-end coding and design. She joined Geotab right after completing that program.
We asked Alice some questions about her role and what it's like to be a Geotabber. Keep reading!
Why did you decide to join Geotab?
I heard about Geotab from a family friend who worked there. The job description was quite enticing: exposure to a lot of different programming languages and software, and being able to work on both front-end and back-end development.
The interview had two parts. The first was a written test (which is now completed online.) After that, I met with the department head, Pieter. We talked about my postgraduate project, and asked a couple of technical questions around javascript and object-oriented programming.
I remember there was a question about why I liked coding. At the time, I think I said it was like real-world magic — if the code is the incantation, the output is the magical spell. Now that I'm more experienced, I would say that opinion still stands.
The onboarding is pretty straightforward — you are provided with a guide and a set of videos to watch that introduces you to the product, as well as developer-run training sessions. I think it was a really great way to meet the rest of the team. Everyone was really welcoming, so it really doesn't take long before you start feeling like part of the team.
What does your team focus on, and how does it fit into the bigger picture at Geotab?
We work on Geotab Drive, which drivers use to manage their Hours of Service, perform vehicle inspections, and more! As there are many aspects of ELD that are also shared with the other product (MyGeotab), our team does a little bit of everything: UI/UX design, front-end development, back-end development, and some native development for Android/iOS.
Can you tell us about some exciting projects you're working on?
Currently we're working on features for Canadian ELD compliance, which has a lot of different rules and workflows compared to the U.S. ELD. As well, I've been working with our designers to refresh the appearance (styles, icons) and flow of the application (reduced required input, and new helpful features based on current application use) to be more intuitive and easier to use.
How have you improved your skills since joining Geotab?
I've learned a lot from other members of the team, through code revision, picking their brains and reading interesting articles team members share in the group chat. But even just working through the cases and taking on new projects means you will inevitably pick up new skills, since the environment is always changing.
I also attended a front-end development conference (courtesy of Geotab) that had lots of interesting talks about JavaScript libraries, UX, AI, CSS, and other insightful discussions from big players in the web design industry.
What is the best thing about the Development team's culture, and Geotab as a whole?
The best part of the team culture is probably the high team morale. If you need help, you know the team will be there to support you as needed. Our manager is accessible, the discussions are diplomatic and the work environment is really friendly, which keeps me motivated.
I also like the transparency — how the entire company is kept up-to-date each month on what each department is up to, and how the accomplishments are shared and celebrated as a whole. It really makes you feel like a part of the "Geotab family."
Do you have advice for someone considering applying to Geotab's Development team?
If you're applying for a role as a Software Developer, you should try to showcase your passion, knowledge, responsibility and creativity. Ideally, programming should be something you're intrinsically interested in — in other words, you're always striving to improve regardless of your day-to-day project requirements.
Technical skills are equally important. You should show that you understand that developing software has many aspects, such as performance, security and UX, and that you can master good code writing practices. At Geotab, you can often take charge of your own projects, so it's critical to be self-disciplined and a time management expert. Finally, try to show that you can think outside the box to find the best solutions to difficult problems.
Talking to others and having an open mind is important. As new problems and scenarios present themselves, it is important to consider all feedback to find the best solution. Chatting with other teammates always helps me to see the problem from a different angle. It's good to have experience, but not to be stubborn — at the end of the day, everybody wants to improve the product!
How have you adjusted to working from home?
We have an unused bedroom and I've converted it into a makeshift office. My setup is very similar to when I worked in the Oakville office and with the door shut, it's quite peaceful with no distractions. That said, I do miss the simplicity of talking to people face to face or dropping by someone's desk without the need for a Google Meet video meeting!
What are you looking forward to in the future at Geotab?
Geotab has already made leaps and bounds in the four years I've been here, and I'm excited to see it achieve more greatness. I'm also looking forward to the grand re-opening of the office…
Thanks, Alice!
Join Geotab today
We are always looking for enthusiastic Software Developers with a range of academic specialties and professional experiences. The Software Developer qualifications we typically look for include front-end, back-end, full stack, mobile or embedded development experience. Most importantly, though, we want applicants who are hungry to learn new skills and are excited about finding new ways to keep roads safe, fleets and cities sustainable, and businesses productive.
Did you know Geotab is hiring? Check out our open Software Developer jobs and more on our Careers site. For the latest Geotab news, photos and careers updates, follow @InsideGeotab on Twitter, Facebook and Instagram today!
---
If you liked this post, let us know!

Geotab Team
The Geotab Team write about company news.
---
Disclaimer
Geotab's blog posts are intended to provide information and encourage discussion on topics of interest to the telematics community at large. Geotab is not providing technical, professional or legal advice through these blog posts. While every effort has been made to ensure the information in this blog post is timely and accurate, errors and omissions may occur, and the information presented here may become out-of-date with the passage of time.
Get industry tips and insights
Sign up for monthly news and tips from our award-winning fleet management blog. You can unsubscribe at any time.
Republish this article for free
Other posts you might like