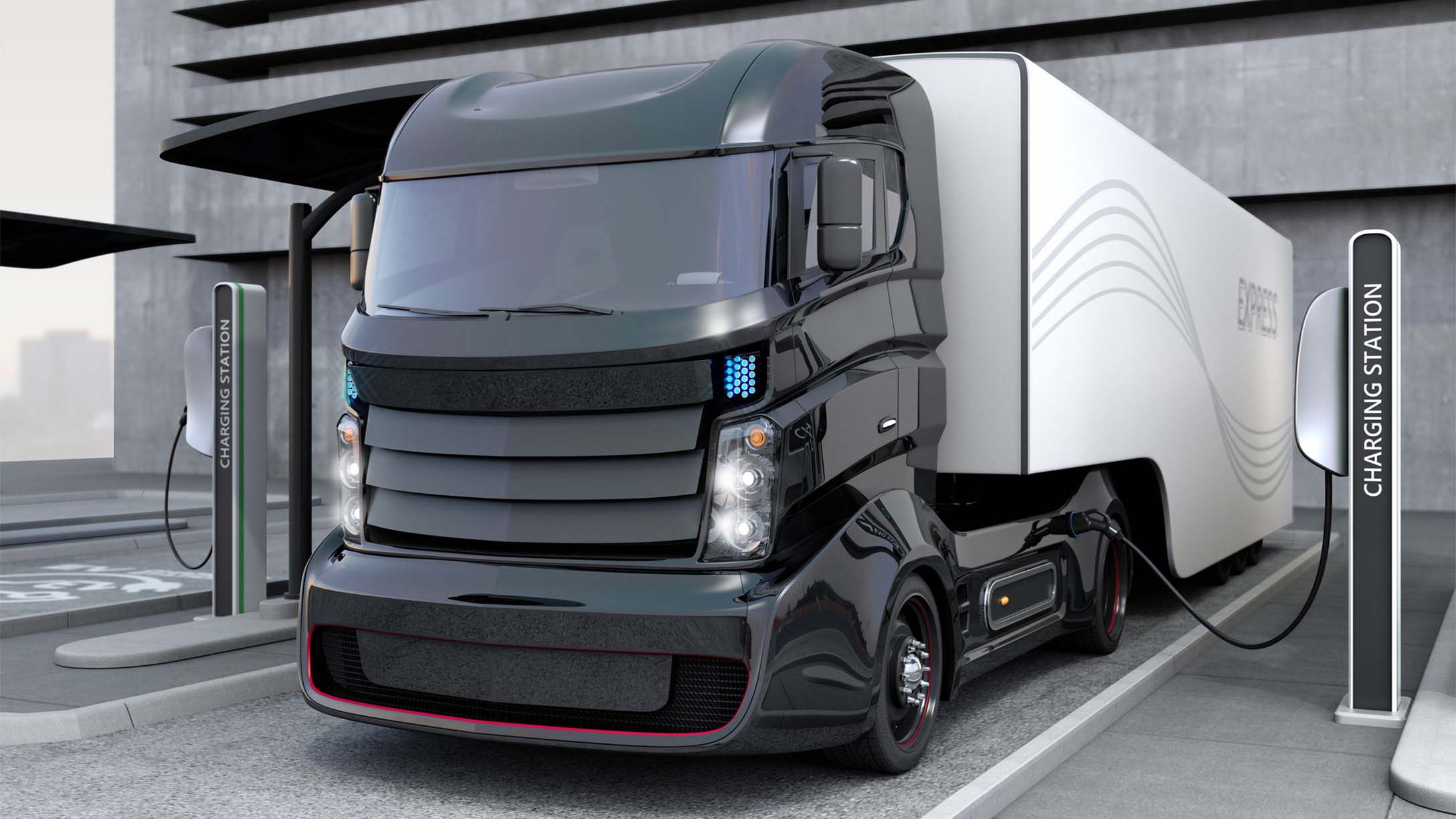 Electric trucks: The next generation of logistic solutions
---
Electric trucks are on the rise in Europe and are set to play a big part in helping EU nations reach sustainability targets.
It's still early days, but the signs are clear; Europe is going crazy for electric vehicles. Petrol and diesel continue to dominate, but with the decline of the latter in full swing, a reversal is on the way. What's most striking is just how quickly European drivers are taking to electric motors.
The Guardian reports that while electric vehicles still command a modest two percent share of the UK market, that's an increase from 0.5% just 12 months ago, with year-on-year sales up 11%, and 14,084 units sold in Q1 2018, the same period in which electric vehicle market share in Norway grew to a staggering 48%.
But what of the commercial vehicle market? Electric trucks and vans are sure to be an increasingly common sight on British and European roads in the near future, as business owners and fleet managers look to dramatically reduce their running costs, not to mention the environmental impact of their organisations. Learn more about Geotab and fleet sustainability here.
See also:
Cleaner Trucks Initiative seeks to reduce NOx emissions
The future of electric cars in Europe
Electric vehicle fleet solutions from Geotab
Could new electric trucks help to tackle climate change?
More electric trucks hitting the road will help Europe in its quest to tackle climate change, and to meet the '2020 package', a set of binding legislation that aims to ensure the EU meets its climate and energy targets by the year 2020. This includes a 20 percent cut in greenhouse gas emissions from 1990 levels, 20 percent of EU energy coming from renewable sources, and a 20 percent improvement in energy efficiency.
Globally, The UN predicts that the world's population will rise to nine billion by 2050, with approximately 70 percent of those people living in cities. With major European hubs including London, Paris, Madrid and Athens planning bans on diesel engines in the future, there is a clear need for electric trucks able to supply urban populations with food and other goods on a daily basis in the near future.
Tesla strikes forward with futuristic electric truck design
One electric truck manufacturer planning to solve this issue is Tesla, with their electric offering, the Tesla Semi. With a range of either 300 or 500 miles, the company claims that Semi's electric energy costs just are half that of diesel, and that this electric truck can provide fuel savings of over £150,000 (around $200,000 U.S.) in just two years, more than the initial price tag for the 500 mile range model.
Both inside and out, the Tesla Semi is as beautiful and futuristic as you might expect from the company trying to send humans to Mars. The cockpit in particular looks like something Luke Skywalker would fly into battle.
There's no room for passengers though in this sleek minimalist paradise, with a single centred driver position that offers maximum visibility and control. The Semi also features an integrated navigation system and electronic logging device, as well as blind spot sensors. Advanced autonomous vehicle control systems come standard on the vehicle, with ADAS features such as automatic lane keep, automatic emergency braking, forward collision warning, and lane departure warnings.
Meet the electric trucks of Europe
Other electric vehicles, including electric trucks and vans, are set to play a big part in helping EU nations to keep those 2020 targets. So here's a look at five additional electric trucks that could be joining the Tesla Semi on the roads around that time.
FUSO eCanter
This light-duty electric truck is designed for zero-emission, zero-noise inner-city distribution. Manufactured in Portugal, this environmentally-friendly vehicle has a range 100 km and a maximum load of two to three tons. In comparison with a conventional diesel truck, the manufacturer claims the eCanter can provide operational cost savings of up to €1,000 per 10,000 km.
Volvo Vera
Still in the development phase, the Volvo Vera is perhaps the most radical electric truck on our list. Why? Because it doesn't require a driver. The Volvo Vera relies entirely on a cloud-based navigation service that could completely revolutionise the logistics industry.
Being electric, the Vera will require little maintenance, and only need to stop for recharging. Because driverless electric trucks don't need to take breaks, the Vera will make enterprises that depend on trucking run much more efficiently. Round the clock operations could also mean faster delivery times for consumer products. Not to mention reduced noise, road congestion and exhaust emissions.
Hyundai Fuel Cell Electric Truck
Set to be released in 2019, Hyundai's first venture into electric commercial vehicles is a continuation of its successful hydrogen-based ix35 Fuel Cell and Nexo passenger cars. Further details of this electric truck are being held closely under wraps by Hyundai until the grand unveiling at the IAA Commercial Vehicles 2018 event in Germany. All we know for now is that it looks just as hot as the Tesla Semi, and should boast the performance to match.
Renault Master ZE
Keeping us grounded in the midst of all these futuristic concepts, is Renault. Its electric truck offering, the Master ZE, features the same classic 'white van' design as the diesel Master, and handily, is available to order now. It comes in six variants, including four panel vans and two platform cabs, and promises to meet the varied needs of logistic professionals working in urban environments.
The Renault Master ZE can carry loads of up to 1,128 kg, with a range of 120 km, and can reach full charge in just six hours. Its loading volume of up to 13m3 is the same as the diesel Renault Master, as the batteries are mounted under the floor, with no intrusion into the load space.
The Renault Master ZE also comes with familiar safety features, including a reversing camera, a reversing radar and a wide-view mirror as standard. And because it's so quiet, the Master ZE features a voice alert system to warn pedestrians that the vehicle is approaching when travelling at speeds of up to 19 mph.
Mercedes-Benz eActros
Currently being tested across Europe, the eActros is a good-looking, sturdy beast that represents a surprisingly quiet, emission-free haulage solution for logistic businesses operating in urban areas.
Promising performance on par with that of a diesel truck, the Mercedes-Benz eActros is available in 18 or 25-tonne variants, and has a range of 200 km. Technically, the Mercedes-Benz eActros is based on a traditional heavy-duty, three-axle short-radius Mercedes-Benz distribution truck. But developers have totally revised the drive concept, by replacing the entire conventional drivetrain with a new electrically-driven rear axle with electric motors directly adjacent to the wheel hubs.
Following successful testing, Mercedes plans to release the eActros across Europe by 2021. Subscribe to the Geotab Blog for more fleet news, tips and insights.
More EV stories:
Why China is leading the world in electric vehicle sales
Electrify your fleet: Q&A with the Expert
Electric vehicle sales in Canada skyrocket in second quarter of 2018
---
If you liked this post, let us know!
---
Disclaimer
Geotab's blog posts are intended to provide information and encourage discussion on topics of interest to the telematics community at large. Geotab is not providing technical, professional or legal advice through these blog posts. While every effort has been made to ensure the information in this blog post is timely and accurate, errors and omissions may occur, and the information presented here may become out-of-date with the passage of time.
Get industry tips and insights
Sign up for monthly news and tips from our award-winning fleet management blog. You can unsubscribe at any time.
Republish this article for free
Other posts you might like