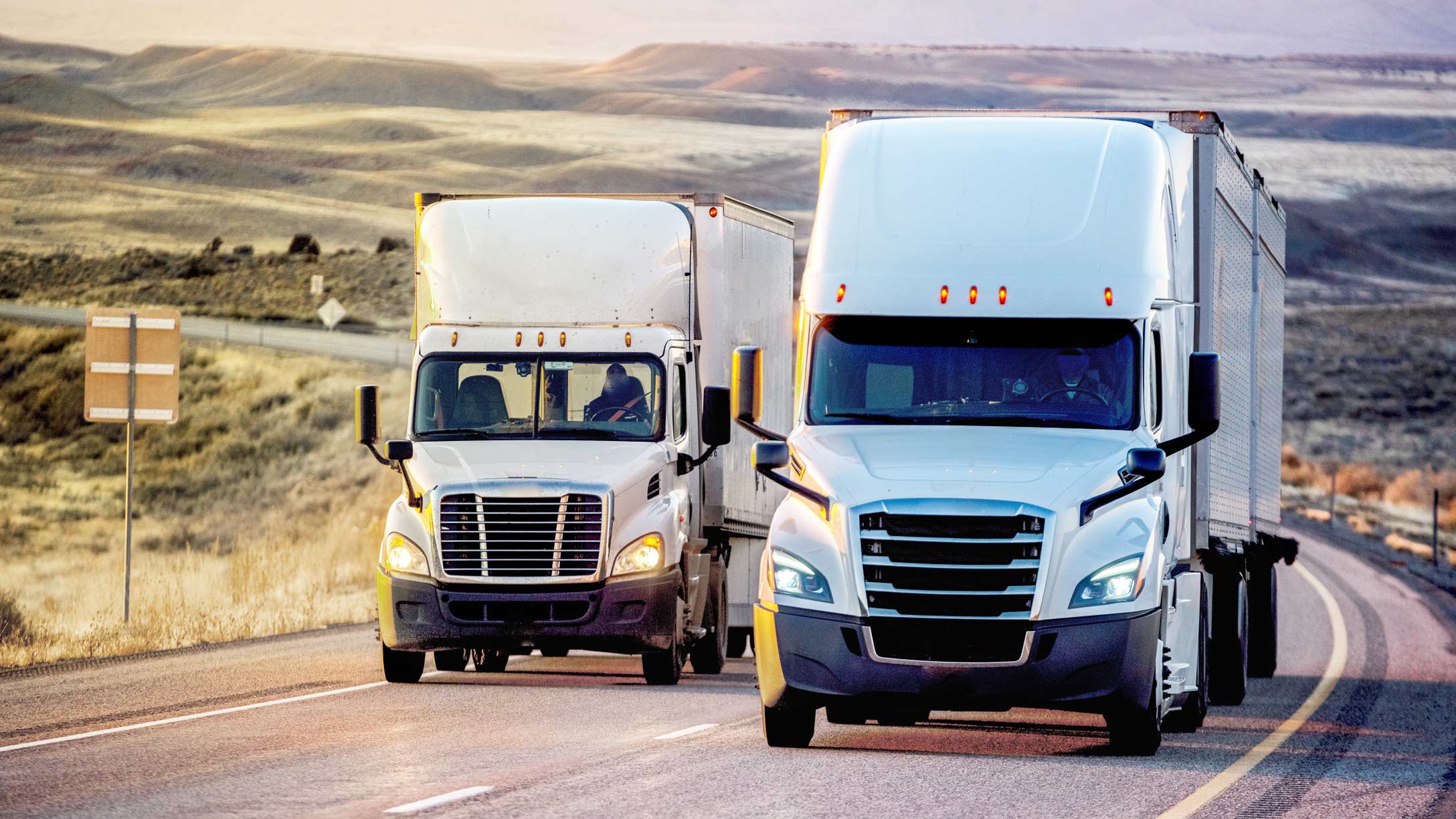 6 Fleet safety solutions from the Geotab Marketplace: Cameras, ADAS, Mobile phone safety
---
Promote road safety awareness among your drivers with these connected fleet solutions for safety.
Road safety affects all of us, whether we are behind the wheel, walking the sidewalks or sharing the road on a bike. As a company that operates in the transportation industry, we aim to offer our customers safety-oriented Partner solutions through the Geotab Marketplace so they can keep their fleets – and others on the road – safe and secured.
Drive safe: Save lives and reduce injuries
Road Safety Week 2022, led by the Canadian Association of Chiefs of Police (CACP), aims to remind drivers that the decisions they make on the road don't only affect them, but countless others including passengers, pedestrians, cyclists and fellow drivers. The road safety awareness campaign, running from May 17 to 23, is part of a broader strategy – Towards Zero - The safest roads in the world – that hopes to make Canada's roads the safest in the world by 2025. It focuses on multiple aspects of driver activity that contribute to collisions, including:
drug-impaired driving
alcohol-impaired driving
fatigue-impaired driving
distracted driving
aggressive driving
driving without a seat belt
Fleet safety solutions to increase road safety awareness
According to Canada's Road Safety Strategy, it's estimated that about 2,000 people are killed and 165,000 are injured yearly using Canada's road transportation system. The Geotab Marketplace has partnered with many robust solutions that can help contribute to decreasing incidences of on-road injuries, from driver scorecards to mobile device monitoring.
We're highlighting just some of the safety-focused solutions available. Here are some of our top picks to help you improve your fleet safety program standards and increase road safety performance.
Driver Scoring: SpeedGauge
The SpeedGauge Safety Center® is used to coach drivers, monitor speed and suggest performance improvement solutions. It works to reduce risk by empowering fleet managers to reward top performers and also identify those in need of more coaching. Additionally, it has a built-in scoring system that helps rank drivers on safety performance.
The SpeedGauge Safety Score allows a fleet to benchmark themselves against thousands of other SpeedGauge fleets to ensure that they are meeting industry standards when it comes to safety. Insurance carriers are also able to use SpeedGauge Safety Score when underwriting policies, potentially saving companies money on their insurance premiums.
Increase safety efforts with SpeedGauge driver scoring.
Driver Coaching: LinkeDrive
LinkeDrive collects personalized data from drivers so that fleet managers can offer more personalized and detailed performance enhancement plans. By focusing on driver's individual needs and creating driver-centric coaching opportunities, your fleet management team can improve driver retention, performance and – of course – safety.
Drivers will receive automatic alerts when they are driving harshly so they can instantly correct their behavior. LinkeDrive's software can also be used to create personalized performance incentive plans and bonus programs to help keep drivers on track towards safety goals.
Drive safety with LinkeDrive through driver-centric coaching.
Mobile phone safety: Motion Intelligence's MotionIQ Evvy Manager
Cell phone safety has become an increasingly important concern over the past couple of decades. The National Safety Council reported 1.6 million car crashes in 2019 where cell phone usage was involved, also noting that texting while driving is six times more likely to cause a collision than driving under the influence.
This is why it is extremely important to have a cell phone usage monitoring system in place.
Evvy by Motion Intelligence enforces a fleet's mobile device policy through the Evvy Signaling Device – a credit card-sized device that can be installed in a vehicle in under 30 seconds – to eliminate distracted driving from the moment the vehicle moves. The cloud-based MotionIQ Evvy Manager dashboard allows fleet managers to monitor Evvy users' device activity and receive real-time alerts in order to minimize risk as it happens and uphold the highest standards of safety.
Reduce distracted driving and keep eyes on the road with Motion Intelligence.
Advanced Driver Assistance Systems: Mobileye Advanced Collision Prevention
Mobileye's Advanced Collision Prevention system works by constantly monitoring the road ahead of a fleet vehicle to detect risks of forward collisions, unintended lane departures, tailgating and hazards involving pedestrians and cyclists. Additionally, it is able to signal intelligent high beam control and speed limit indications via road sign recognition. The system sends alerts to drivers within seconds, either audibly or visually, enabling them to make real-time adjustments to avoid potential collisions.
Mobileye's system consists of a windshield mounted vision sensor unit that includes a High Dynamic Range camera, image processing board and high-quality audio alert buzzer. It also includes a display called the EyeWatch® where drivers can easily receive visual directional warnings.
Learn more about reducing collisions and increasing safety with Mobileye.
Dash cams: SmartWitness GOCAM+
Having a dash cam installed in fleet vehicles can increase accountability, help with driver coaching, provide proof for insurance claims and, ultimately, ensure that drivers are being safe on the road. SmartWitness' GOCAM+ uses video telematics to detect instances of risky driving and immediately triggers video uploads. Additionally, they can live-stream active vehicles or easily access historical data that has been recorded from previous trips.
Their dash cams are integrated with MyGeotab, meaning fleet managers can program the triggers directly from their dashboard with no need for any extra software. Their dash cams can detect instances of swerving, tailgating and other harsh driving instances in order to improve safety and reduce on-road accidents.
Find out how SmartWitness can support your safety efforts.
Predictive maintenance: Uptake
Maintaining fleet vehicles isn't just for the health of the vehicle itself but also the safety of the drivers and others on the road as well. Understanding the state of fleet vehicles increases reliability and ensures that drivers don't have to deal with a malfunction mid-drive.
Uptake gathers predictive maintenance insights from existing Geotab devices, allowing fleet and shop managers to proactively schedule repairs. This improves operational excellence and also reduces risk, leading to efficiency gains and better vehicle performance. By accessing raw sensor data through Geotab telematics and applying artificial intelligence and machine learning models, Uptake allows fleet managers to detect failure alerts earlier, meaning their fleet vehicles – and drivers – are safer on the road.
Apply predictive maintenance to your fleet today using Uptake.
Boost your safety scores with integrated safe fleet solutions
Road safety awareness is important to both Geotab and our Marketplace Partners. We're proud to partner with third-party solutions that make a real impact when it comes to on-road safety, whether that is through predictive maintenance indicators or comprehensive, personalized driver coaching. We can all do our part to ensure that our roads are safe for drivers, pedestrians and cyclists alike.
Visit the Geotab Marketplace to learn more about our Partners and how they can help you extend the power of your initial Geotab offering.
---
If you liked this post, let us know!
---
Disclaimer
Geotab's blog posts are intended to provide information and encourage discussion on topics of interest to the telematics community at large. Geotab is not providing technical, professional or legal advice through these blog posts. While every effort has been made to ensure the information in this blog post is timely and accurate, errors and omissions may occur, and the information presented here may become out-of-date with the passage of time.
Get industry tips and insights
Sign up for monthly news and tips from our award-winning fleet management blog. You can unsubscribe at any time.
Republish this article for free
Other posts you might like