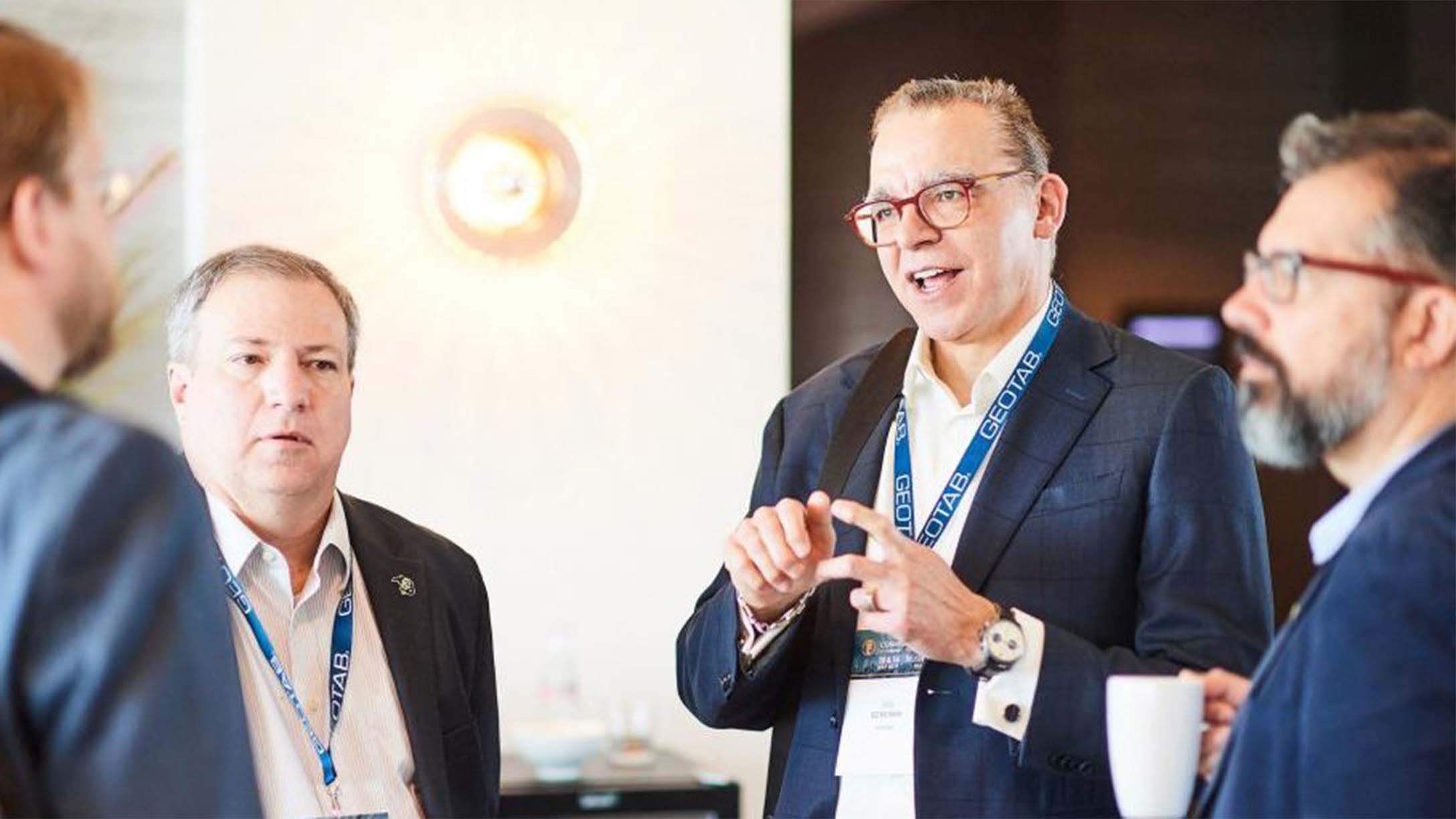 Connected Fleets Conference overview: Top industry trends
---
The top takeaways from Fleet Europe's Connected Vehicle Conference. Read to learn more.
There's no better place to connect with peers, discover innovation and get insight from subject matter experts than at industry events – and Fleet Europe's Connected Fleets Conference, which Geotab sponsored was no exception. Attendees discussed what's happening in the fleet industry today. Here is a recap of the biggest fleet trends.
Connectivity and data
While connectivity is being brought to vehicles in various ways, telematics is still one of the most popular. Telematics devices are expected to have a bigger impact in the fleet ecosystem and market than any other form of connected devices.
There are evidently many advantages to being connected and using telematics as a fleet management solution. Not only are fleets able to understand usage patterns, optimize routing and provide predictive maintenance to understand residual vehicle value, but telematics has also become a way to communicate with the world around us. One thing is certain – there is a transformation in the way we use data and perceive connected vehicles happening right before our eyes.
See also: Majority of U.K. fleets plan to go electric before 2030
Cybersecurity and privacy
While the future looks incredibly exciting for the telematics industry, fleets need to prepare themselves and their vehicles from cybersecurity threats. Most organizations believe cybersecurity is a C-suite and board level responsibility, but it is important to be mindful of regardless of your role in the company.
Here are six questions that fleet organizations need to think about when it comes to keeping their vehicles, drivers and other road users safe and business optimized:
Do we follow leading cybersecurity standards specific to our industry?
Do we use outside experts to test and challenge our security programme?
Do we disclose security vulnerabilities and do we have a reliable system for 'over the air' patching?
Do we have a strategy for data-driven innovation?
Do we have direct data access connections in our fleet vehicles that can interoperate with vehicle to everything (V2X) communications infrastructure and emerging smart cities platforms?
Are we an active participant in conceptualising and shaping the transportation ecosystem of the future?
If the answer to all of the above is "yes," then your fleet is looking in good shape for the future. If not, there is work to be done to ensure your business and vehicles are safe from potential threats.
Data and artificial intelligence
The main goal of artificial intelligence (AI) is to make predictions. Whether it's forecasting the value of stock for tomorrow, finding out whether an individual is more prone to certain diseases, or creating cars that automatically brake when a pedestrian walks in front of it. Al is starting to be used across many industries in different ways, especially for the benefit of society.
By taking the data that fleets do have in order to generate information they don't have, AI is set to change the fleet industry as well.
But when should fleet managers consider AI as a potential solution? Essentially, there is no point of looking towards AI unless your business has a lot of data. But if fleet managers do decide that AI is the right solution, it won't be long until it is helping them optimize to improve cost and lower emissions.
The future of fleet management
All three of these trends are part of a larger narrative in which big data is not just an additional element of fleet management, but a core part of how fleets operate. We're already looking forward to next year's conference to see how the industry is progressing. To get updates on future events and conferences, subscribe to the blog.
More from this author:
Silicon Valley North: Canada's New Global HQ for AI
See also: Connected car technology: How cars talk to each other
---
If you liked this post, let us know!
---
Disclaimer
Geotab's blog posts are intended to provide information and encourage discussion on topics of interest to the telematics community at large. Geotab is not providing technical, professional or legal advice through these blog posts. While every effort has been made to ensure the information in this blog post is timely and accurate, errors and omissions may occur, and the information presented here may become out-of-date with the passage of time.
Get industry tips and insights
Sign up for monthly news and tips from our award-winning fleet management blog. You can unsubscribe at any time.
Republish this article for free
Other posts you might like