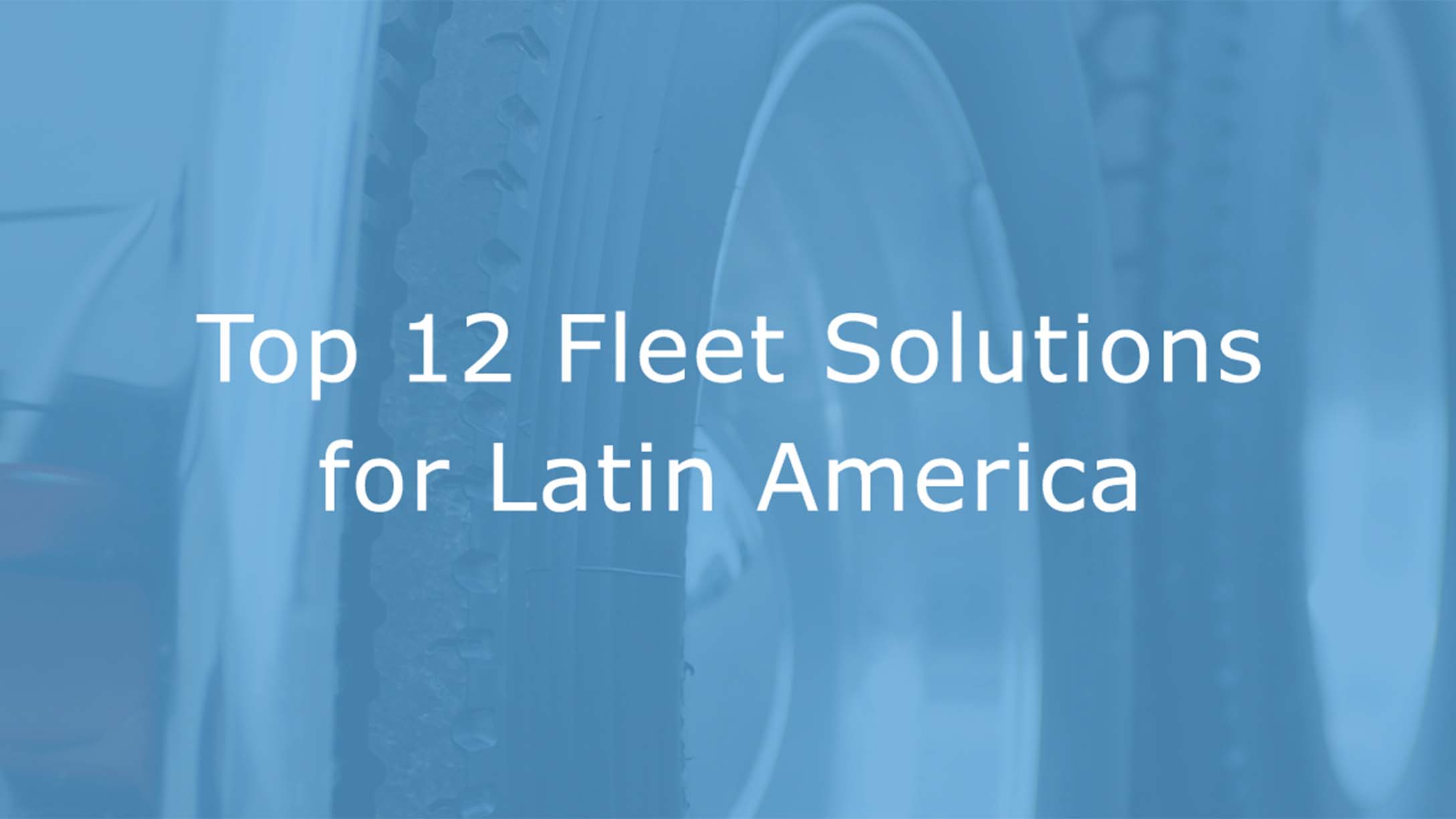 Top 10 most popular Geotab Marketplace solutions for LatAm
---
We highlight the most popular hardware and software solutions for fleets in Latin America, available on the Geotab Marketplace
Geotab is much more than GPS tracking. With the Geotab Marketplace of telematics Add-Ons, software Add-Ins, mobile apps and more, fleets can customize Geotab to their specific business needs. To highlight some of these great options, we compiled a list of the top 11 most popular solutions on the Geotab Marketplace available in Latin America (in alphabetical order).
1. AssetPack-3™ - AP3™
Designed for unpowered assets, AssetPack-3™ - AP3™ (AP3) hardware Add-On is a low profile, solar and battery-powered GPS asset tracker and sensor monitoring solution. It is fully-ruggedized device, meaning it is entirely enclosed, waterproof and dustproof to withstand harsh conditions. AP3 is ready-to-deploy with no wires or cables needed and can be installed in under 30 seconds.
2. ContiPressureCheck
ContiPressureCheck by Continental Tire is a real-time tire pressure and temperature monitoring system for commercial fleets. Sensors mounted inside the truck tires captures tire-related data. Thanks to integration with the MyGeotab fleet management software, users can monitor tire inflation pressure and temperature in real-time from their fleet dashboard.
3. Cummins Connected Diagnostics
Eliminate the guesswork with Cummins Connected Diagnostics integrated software solution. Receive immediate notifications of Cummins fault codes, severity, and recommendations for continued vehicle operation. Genuine Cummins Fault Notification Compatible with multiple vehicles types: bus, limo, sport utility vehicles (SUVs), vans, pickup trucks, passenger vehicles and Light, Medium or Heavy-Duty trucks. Read how remote diagnostics works in this blog post.
4. The Driver Challenge
Engage, motivate and coach your drivers with The Driver Challenge mobile app and MyGeotab software Add-In from d2go. This gamification solution scores drivers on pre-selected KPIs and provides weekly and quarterly trend analysis. The Driver Challenge is a fun and friendly way to provide driver feedback and improve driving behavior in the fleet.
See Also: Motivate Drivers to the Next Level with Fleet Gamification
5. Mobility Managed Services
E2CC Mobility Managed Services is a customized mobility solution provider. They can help you with tablet procurement, loading and kitting. E2CC equips tablets with mobile device management software, to lock down tablets for business use only and block unwanted activities such as web-browsing or using personal and social networking apps. Services include 24-hour support, 7 days a week by phone, email and chat.
6. Garmin GPS
Expand your fleet management solution with Garmin GPS. Garmin offers a range of capabilities from basic (messaging and job dispatch) up to advanced (sensor control and Hours of Service). Support fleet communication and efficiency with great features such as driver ID, estimated time of arrival (ETA), road segment avoidance, and path-specific routing.
7. Mobileye Advanced Collision Prevention
Warn drivers of the risk of a collision before it happens with Mobileye Advanced Collision Prevention. The hardware Add-On for Geotab telematics continuously monitors the road ahead and analyzes the risk of numerous hazards, including: forward collisions, lane departures, tailgating, speeding, and potential pedestrian and cyclist collisions. Suitable for a wide variety of vehicle, from trucks to school buses, and requires very little driver training. Also read more in the Mobileye Review blog post.
8. Pronto DVIR
Pronto DVIR by ProntoForms is a mobile solution for completing vehicle inspections from a smartphone or tablet. Enhance inspection reports by including photos, sketches, audio recordings, and date, time or GPS stamps. Inspect vehicles online or offline, when outside of cell service. Auto-populated and mandatory fields ensure the right information is captured.
9. ProntoForms Mobile Forms
ProntoForms Mobile Forms helps enhance your fleet operations with smart mobile forms by improving worker productivity and compliance. Easy to use, this MyGeotab Add-In has an app where workers can collect, access, and share company data with back-office systems, cloud services, and individuals.
10. RAM Mounting Solutions
Secure in-vehicle devices with RAM Mounts for Geotab — rugged and versatile mounting systems for your fleet cameras, tablets and other mobile devices. Made to work hard, RAM Mounts are powder-coated marine-grade aluminum with lightweight and high-strength composites, stainless steel hardware and rubber balls. Many options are available, including the RAM Tab-Lock™ cradle for heavy-duty use, X-grips, section cups and more.
Conclusion
Discover the possibilities! You can find solutions these solutions and much more at the Geotab Marketplace. Visit the marketplace.geotab.com to find the solution that's right for you and your fleet.
Related:
Featured Fleet Technology Trends 2018
---
If you liked this post, let us know!
---
Disclaimer
Geotab's blog posts are intended to provide information and encourage discussion on topics of interest to the telematics community at large. Geotab is not providing technical, professional or legal advice through these blog posts. While every effort has been made to ensure the information in this blog post is timely and accurate, errors and omissions may occur, and the information presented here may become out-of-date with the passage of time.
Get industry tips and insights
Sign up for monthly news and tips from our award-winning fleet management blog. You can unsubscribe at any time.
Republish this article for free
Other posts you might like