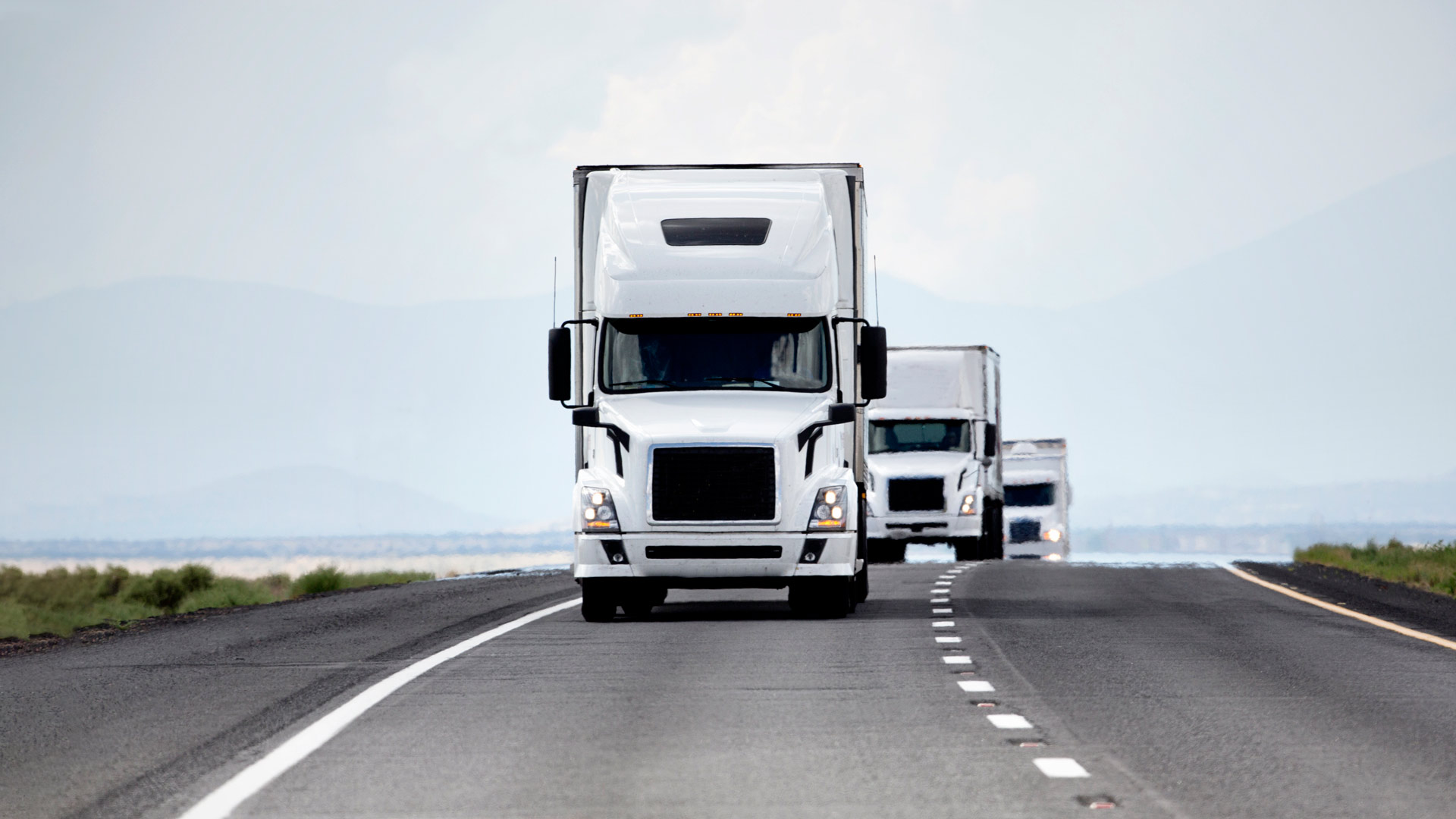 The complete guide to fleet vehicle insurance
---
Strengthen compliance, protect assets and cut costs by using safe driving telematics data. Learn how to develop a strategy to manage fleet insurance.
What is fleet insurance?
Fleet insurance is considered the best and most efficient option for insuring more than one vehicle under the same policy. With fleet insurance, businesses can insure numerous vehicles in a tailored and efficient way while eliminating the need for individual policies. This type of policy is especially convenient for businesses that operate a fleet because it:
Reduces the number of policies to keep track of, creating less hassle for administrative staff
Makes it easier to add or remove vehicles to the fleet insurance policy as the business scales
Is simple to add drivers to the insurance policy as they are onboarded
Allows businesses to insure all drivers on all vehicles or assign specific drivers to specific fleet vehicles
According to the National Institute for Occupational Health and Safety (NIOHS), work-related collisions cost employers $39 billion in the United States in 2019. This is why it is extremely important that every fleet has a comprehensive fleet insurance policy in place.
What does fleet insurance cover?
According to Global Fleet, approximately 8.1 million automobiles and trucks on the road in the United States are classified as fleet vehicles, with fleet being defined as more than five vehicles, making up approximately 3% of total vehicles owned in the country. With such a large number of fleet vehicles on the road, as well as other types, the risk of collisions increases. Every driver needs to be covered under a policy while they are behind the wheel.

There are two main components to commercial auto insurance coverage:

Automobile liability
Auto liability covers bodily injuries and property damage to any third party involved in a collision. This means that if one of your drivers is at fault in a collision, auto liability covers the full or partial cost of the other party's medical bills and property replacement/reconstruction.

Automobile physical damage
Auto physical damage refers to any damage done to your own vehicle after it is involved in a collision or any other kind of mishap. There is usually a choice between a basic collision package and something more comprehensive that would cover other types of damage.
How much does fleet insurance cost?
There is no flat rate for fleet insurance, which makes it hard to nail down an exact price, but there are some factors that can affect your fleet insurance cost:
Industry: Some industries are renowned for riskier driving. For example, industries that have strict time factors, such as; couriers, taxi services or personal drivers, are known to have higher insurance premiums. This is due to the fact that their performance is normally measured on their timeliness, which puts pressure on the driver to get to their destination quickly.
Type of vehicle: Just like regular vehicle insurance, the vehicle that you drive helps determine the price that you pay for your insurance policy. Some of the attributes of your vehicle that can affect your insurance costs are the annual mileage, the age of the vehicle and the location where it will be driven and parked when not being used.
Number of vehicles in your fleet: As a general rule, the more vehicles you have, the lower your insurance costs will be. This might make it harder for a smaller fleet to effectively lower the cost of their insurance premiums.
Prior collision or claim history: When you contact a new insurer, they will ask for your fleet insurance history, including any collisions that have occurred or claims that have been submitted. If the instances are significant, they could have an impact on the cost of your insurance.
Driver motor vehicle records: Many fleet companies need to ensure that their drivers have an updated motor vehicle record (MVR) every couple of years. An MVR record includes events such as collisions, suspensions, moving violations, criminal charges and more. Insurance premiums can go up if your drivers show a history of risky on-road behaviors.
Location: If you operate in an urban area with a lot of other drivers, chances are that your fleet insurance costs will be a little bit higher. Driving in rural areas poses less of a risk due to less drivers on the road.
Deductibles: Assuming a higher deductible will help keep the cost of insurance premiums lower.
What is usage-based insurance?
Usage-based insurance (UBI), also known as pay-as-you-drive or telematics insurance, is calculated based on the overall habits of your drivers. When using a plug-in device like an ELD, original equipment manufacturer (OEM) embedded data or a mobile app, data is collected to determine your fleet's driving tendencies. This includes information about harsh braking, rapid acceleration, speed, distracted driving and sharp turns. Insurers will access this telematics data and use it to price an insurance policy that takes into account how safe your fleet operates. The safer your drivers are while they are behind the wheel, the more savings you'll benefit from.
Cutting the cost of fleet insurance
Despite certain factors contributing to higher insurance rates, there are ways to keep those costs down and ensure that you aren't over-spending when it comes to insurance. Here are just some ways to help lower your fleet insurance:
Telematics
Using an electronic logging device (ELD) to gather information from your fleet vehicles can help you save money on your fleet insurance. Telematics software helps gather information about the safety of your drivers so you can supply your insurance provider with data indicating you operate a safe fleet and, ultimately, reduce costs. This method of calculating insurance costs is called usage-based insurance.
Identify areas for driver improvement
Identifying areas of improvement for your fleet drivers using driver scoring and coaching solutions helps pinpoint which drivers could benefit from advanced training. Having training courses on your drivers' records helps strengthen your commitment to safe, effective driving in the eyes of your insurer.
Invest in fleet dash cameras
Equipping your fleet with dash cams helps identify risky behavior as it happens, including tailgating, lane departures and drowsy or distracted driving. Fleet dash cams also provide unequivocal proof in the case that a collision occurs and can help lower the cost of any incurred insurance claims.
Leveraging your safe driver data to cut premium costs
Geotab makes it easy to implement a usage-based insurance program through the power of telematics. Here's how it works:
Connect a Geotab GO device to your fleet vehicles.
Collect data related to safe driving – such as sudden braking, rapid acceleration, sharp turns and distracted driving incidents – which you can view directly through the MyGeotab dashboard.
Choose whether or not you would like to use any Geotab Marketplace solutions to help calculate safety scores, create safety reports or implement driver coaching to incentivize safe driving.
Give consent to your insurer to access your safety data so they can determine whether your fleet is eligible for a usage-based insurance program.

Learn more about Geotab fleet insurance
Choosing the right insurer
Choosing an insurer can be a time-consuming process, but it is also a very personal and customizable experience that differs from each business to the next.

Here are some ways you can get the best fleet insurance plan for your business:
Get familiar with your data and how you compare to help you estimate. Benchmarking yourself against other fleets can help give you a good idea of where you stand when it comes to operating safely. This should give you a good idea of what kind of situations you need to be insured for. From there, you can create a checklist of things to look for and questions to ask when you research different fleet insurance options.
Consider insurers with add-ons that might be necessary for your fleet, such as:

Increased coverage for physical damage
Higher liability coverage
Product insurance for the assets being transported
Roadside assistance coverage
Uninsured motorist coverage

Find insurers that actively lower premiums on no claims or use usage-based insurance programs

If you've never made an insurance claim before, consider looking into insurers who offer discounts for clean driving records.
Additionally, ask insurers if they have usage-based insurance policies so you can let your safe driving data determine a lower insurance rate.
Managing a fleet insurance policy
Choosing a fleet insurance policy is only half the battle. Once you've decided on a policy, there are a couple of things that you should keep in mind during the duration of your policy.
Payments
Your insurance agent will be able to set up a fleet insurance payment plan that best suits your needs. Your payment plan will usually depend on how much flexibility you need and the type of insurance you decide on. It can also depend on the length of the policy, but the standard is a one-year contract. Payments are usually made via automatic bank withdrawal, cheque, money order or credit card. There are three different payment plans that are commonly seen in the insurance industry:
One payment up-front: This is usually the easiest choice when the insurance policy is clear-cut and won't need many changes throughout the term. Paying for the policy up front also ensures there will be no monthly service fees, saving you a bit of money every month.
Three equal payments: Making your payments three times a year offers a bit more flexibility. If you don't want to take on the stress or fees of a monthly payment but don't want to pay for a year up-front, this is a great option.
Monthly payments: When you opt to make your fleet insurance payments monthly, normally the insurer will charge you a service fee or interest on your payments. However, monthly payments are great for businesses that need a bit more flexibility or can't invest in a year-long policy at the start. If your policy needs to be canceled, you won't need to wait to be refunded the prorated amount for the rest of the contract, your insurer will simply cancel the rest of your monthly payments.
Renewals
When you go over your policy with your insurer, it will generally include the length of your contract and when you will need to renew. Most auto insurance policies renew annually, but you can also change this to semi-annually or even monthly if you need the added flexibility.
Additional coverage
As you operate throughout the year, you might find that you need additional coverage that you didn't originally add to your policy. Most insurers will allow you to change and modify your policy as you go along. There are multiple additions you can add to your policy, but here are some basics:
Collision or upset coverage: If a fleet vehicle is in a crash with another vehicle and your driver is at fault, collision coverage will either help pay for your vehicle's repairs or replace your vehicle. In most commercial auto policies, you are responsible to pay for damages to your vehicle if it is involved in a collision.
Comprehensive coverage: Comprehensive coverage protects your vehicle from any damage that results from a natural disaster like a tornado or earthquake, severe weather like hail or snow, vandalism and theft. This might be an addition to think about if you operate out of a geographic area with intense weather systems or a higher crime rate.
All perils coverage: All perils coverage, as the name suggests, covers all potential scenarios. It can be considered a combination of both collision coverage and comprehensive coverage.
Specified perils coverage: If there are very specific situations that you would need to be covered for – say, if you needed coverage added only for windshield damage due to hail – it would fall under specified perils coverage.
Learn more about your coverage
To learn more about how Geotab can help you leverage your telematics data, lower insurance costs and promote safe driving initiatives, explore Geotab Insurtech Solutions.
---
If you liked this post, let us know!
---
Disclaimer
Geotab's blog posts are intended to provide information and encourage discussion on topics of interest to the telematics community at large. Geotab is not providing technical, professional or legal advice through these blog posts. While every effort has been made to ensure the information in this blog post is timely and accurate, errors and omissions may occur, and the information presented here may become out-of-date with the passage of time.
Get industry tips and insights
Sign up for monthly news and tips from our award-winning fleet management blog. You can unsubscribe at any time.
Republish this article for free
Other posts you might like