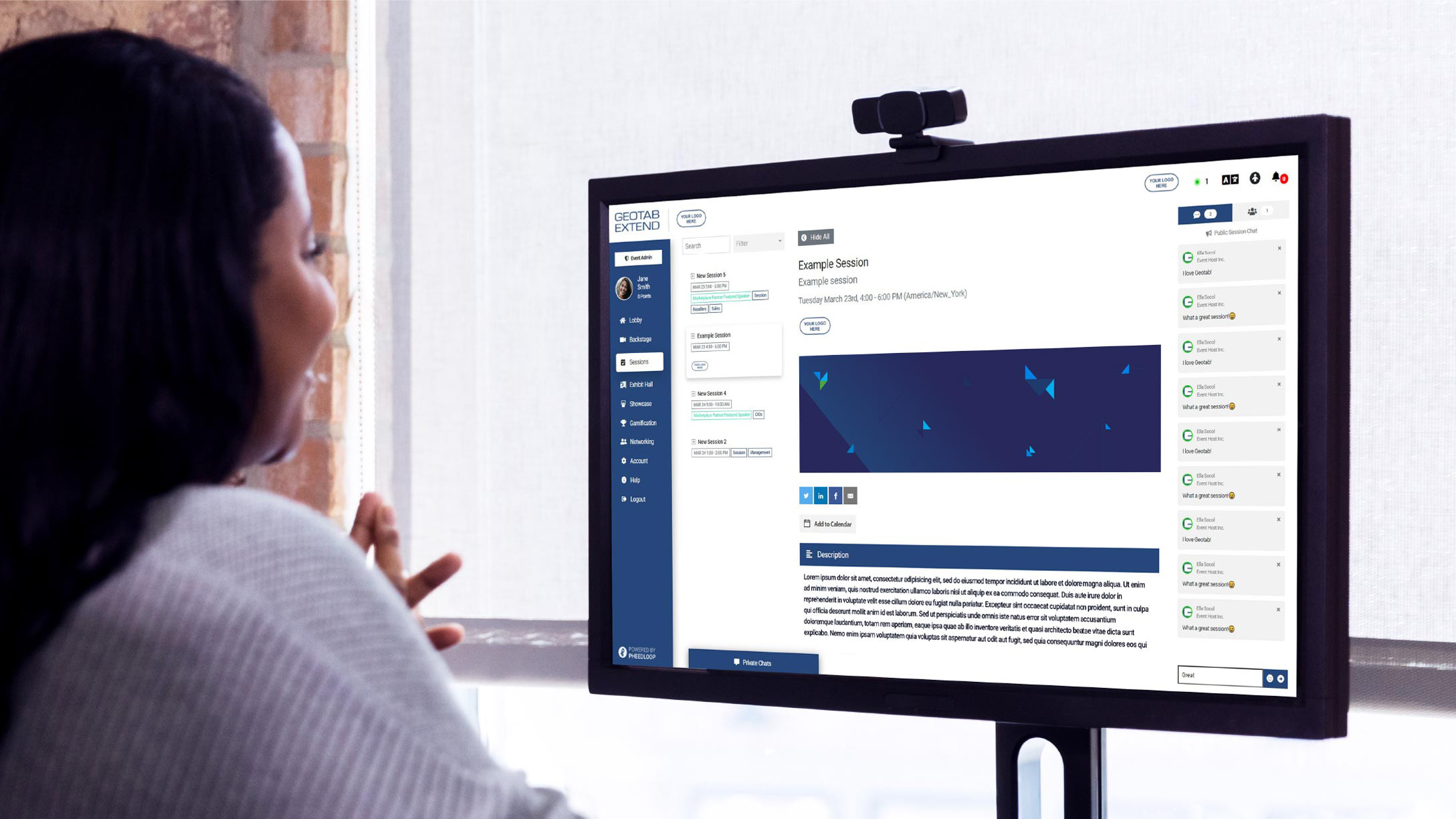 Geotab Extend 2021 recap
---
Read the highlights from Geotab's first-ever Marketplace virtual conference, held March 23-24, 2021.
Technology is the key to staying connected — now more than ever. This message was clear at Geotab Extend 2021. At the two-day virtual event, fleet professionals from around the world had the opportunity to connect with peers and experts from the fleet, IoT and mobility ecosystem. They also learned how integrating hardware and software with telematics can support their business goals.
World-class Digital Broadcast Experience
Attendees had the opportunity to:
Make new connections — Attendees had one-on-one opportunities to meet with top solution providers, to ask questions and get answers. They also joined in on fun and entertaining post-event networking events like trivia and a live piano bar.
Find out what's new in fleet technology — Geotab Extend provided an opportunity to learn about useful tools for routing and dispatching, maintenance and diagnostics, asset tracking, cameras and advanced driver-assistance systems (ADAS), fuel and fleet management and more.
Discover new strategies for business success — This interactive digital experience offered the chance to learn about mobility trends and best practices for fleet management.
Major announcements
Several exciting announcements were made at Geotab Extend:
Surfsight Video Telematics available on Order Now
Surfsight Video Telematics, a Lytx® solution, is available on the Geotab Marketplace through the Order Now Program. This new program allows Customers to easily order solutions from the Marketplace in MyGeotab and Resellers to seamlessly manage orders in MyAdmin.
The Surfsight video technology integrates with Geotab's award winning telematics platform to provide fleets access to a dashboard camera solution that helps coach drivers and provides insight into risky driver behavior with a combination of live video streaming and MV+AI sensors.
Learn more about the Order Now program and our partnership with Surfsight Video Telematics in our blog, How distracted driving cameras can help boost safety.
Introducing Geotab's Small Business Plan
Geotab's new Small Business Plan will offer small businesses access to the tools they need at a price they can afford. By recognizing the importance of small businesses in the economy, Geotab for Small Business is designed to provide small business owners with insights into vehicle total cost of ownership (TCO), return on investment (ROI) and employee safety. It will also enable more streamlined data sharing from vehicles to the office software for billing, customer support and more.
More information on this exciting opportunity will be available soon.
Highlighting the Analytics Lab Add-In
The Analytics Lab Add-In is an experimentation environment that gives users the opportunity to engage with and influence the direction of Geotab's data solutions. Resellers and Customers will be able to test and experiment products to help Geotab shape the direction of telematics.
Learn more about the benefits of the Analytics Lab Add-In for fleet managers in this blog post, Improve how your fleet runs with the Analytics Lab.
Announcing Geotab Extendable Services
Colin Sutherland, Geotab's EVP, Sales & Marketing, announced the upcoming availability of Geotab's Extendable Services, a reliable and secured subscription option for Geotab Customers. This new offering will allow Customers to share specific MyGeotab services with other companies in a controlled environment, allowing them to do more with their data.
EV data now available on the Pro rate plan
Geotab is now offering EV-specific data insights, reports and dashboards to customers on the Pro rate plan to help make converting to electric more cost-effective. Electric vehicle data was previously only available on the Pro Plus plan but has been expanded to better serve a wider range of customers.
Geotab helps fleets gain insight into the operations of electric vehicles through monitoring of EV and plug-in hybrid electric vehicle (PHEV) performance. Our electric vehicle insights help customers understand their charging needs.
Upcoming Geotab Marketplace opportunities
The goal of the Geotab Marketplace is to build a vibrant ecosystem of integrated telematics related products and services that enable Geotab users to extend their knowledge. To further this, at Geotab Extend we announced:
A redesigned logo to better align with the current direction of the Marketplace
An upcoming location-specific tool on the Marketplace website to help customers find the best solutions for their regions
A new Partner Portal to better support our Marketplace Partners
The launch of a new Marketplace category specifically for electric vehicles
Subscribe to the Geotab Blog to stay up-to-date with our new products and solutions.
Power of choice
Customers had the option to attend over 50 breakout sessions led by Marketplace Partners and Geotab Experts. Here are just a few of the featured sessions from Geotab Extend.
Flexibility is Everything: IT Mistakes That Could Cost You Business
Presenter: Neil Cawse, Geotab CEO
In this session, Cawse used his experience as a software engineer to provide insights into how CTOs can use software to change their business. He also delved into topics like:
The benefits of scalability
Embracing customer service
The importance of minimum viable products
Understanding the balance between software as a service and building your own systems
Expandability with Geotab Drive
Presenters: Brent McInnis, Product Manager, Geotab and Jobin Thayilchira, Product Manager, Geotab Drive
Thayilchira and McInnis tag-teamed in this exciting session about Geotab Drive and the ways fleets can use this technology to their advantage. They also provided a preview of the upcoming Mobile SDK, which is a library that interfaces with mobile apps to help customers create custom products or fill the gaps when connecting mobile apps to the operating system.
In this session, Thayilchira and McInnis also provided some insight into what's next for Geotab Drive, MyGeotab and the Mobile SDK. This includes:
Updated user interfaces for Geotab Drive and the MyGeotab mobile app built using the Mobile SDK
The potential for future bluetooth integration for offline device communication
Additional customization options for the Geotab Drive user interface
According to Thayilchira and McInnis, the Mobile SDK should be released in Summer 2021.
Fleet Sustainability with Telematics
Presenters: Edison Hao, Solutions Engineer, Geotab and Laura Schleicher, Sustainability & Public Affairs Specialist, Geotab
28% of U.S. emissions are related to the transportation industry. With that statistic in mind, Schleicher and Hao highlighted key sustainability tools offered through the Geotab Marketplace to help reduce the environmental impact, safety and optimization of fleet costs. These tools include:
Boldly Grow: South-East Asia Market Expansion Through Our Partners
Presenter: Deepak Kadambi, General Manager, SE Asia, Geotab
Live from Singapore, Kadambi led viewers through a series of statistics on the growing telematics market in South-East Asia and why Geotab believes it is a market worth investing in. These include:
APAC includes 4 out of 5 of the most populated countries in the world
11 out of 20 countries with the fastest growing economies are in Asia
7 of 11 of the most traffic congested cities in the world are in Asia
64% of global cargo moves through Asia
EV sales in the APAC region saw a 43% increase from 2019 to 2020
Kadambi also noted that APAC is one of the biggests and fastest growing markets for telematics, which is why Geotab has chosen to expand our operations there. Moving forward, Geotab will focus on last-mile delivery, ridesharing, public transportation, trucking, government, off-road and mining as a part of our APAC expansion strategy.
For more information on Geotab's expansion into the Asia-Pacific region, see our blog post: What's next for telematics in Asia-Pacific?
The Winding Road to OEM Telematics
Presenter: Neil Cawse, Geotab CEO
In this session, Cawse dove deep into telematics data and the growing opportunities of working with OEMs. Additional topics included:
The difference between OEM and Geotab data
Limitations of OEM telematics in connection to Geotab's curve logic algorithm
How Geotab is working with OEMs to build a more connected future
For more information on how Geotab is working with OEMs, see our OEM Partner page.
Working with Connected Cars and OEM Data
Presenters: Aaron Demers, Solutions Engineering, Team Lead, Geotab and Rob Minton, AVP, Connected Car, Geotab
In this session, Demers and Minton provided an inside look at how Geotab works with OEMs to bring customers the data they need to run their business. Key topics included:
Why OEMs are important
OEM market trends
How to bring OEM solutions to market
They also shared that Geotab currently has 3,500 active OEM connections, but are projecting to reach 50,000 by the end of 2021 due to the rapidly growing market. As more OEMs partner with Geotab and more connected car technology becomes available, we will see a huge uptick in OEM connected cars.
The Questions You Should Ask Before Choosing a Video Telematics Solution
Presenters: Andrew Rybak, Business Development Manager, Marketplace, Geotab and John Ballantyne, Vice President, Video Product, Geotab
In this session, attendees were given the opportunity to learn more about how video telematics can help enhance fleet safety, minimize risk, limit liability exposure and increase productivity. This session also addressed some of the most common questions when it comes to selecting and deploying a video telematics solution, including:
What problem are you trying to solve?
Who will use and manage the data and the workflow?
What operations or processes will it integrate with and augment?
How do you measure the success of a video solution investment?
For more information on video telematics, view our Dash camera solutions page or request a demo to see what products may benefit your fleet.
What's in a Rate Plan?
Presenter: Colin Sutherland EVP, Sales & Marketing, Geotab
In this session, Sutherland provided an overview of Geotab's rate plans and offered some key information many fleets may not be aware of. For example, did you know that you don't have to use the same rate plan for every vehicle in your fleet? With Geotab, rate plans are paid on a per vehicle basis, meaning that you can mix and match or customize your fleet to suit your needs.
For more information on Geotab's rate plans, view our Software packages page.
The Risks and Rewards of Entrepreneurship
Presenter: Neil Cawse, Geotab CEO
In the final session of Geotab Extend, Cawse discussed what it takes to be an entrepreneur and his journey to becoming one. He described the benefits of taking risks and accepting the challenges and failures that may come with them. With real-life examples and personal anecdotes, he highlighted the rewards of risk taking and how to take control of your entrepreneurial endeavors.
Marketplace Partner Featured Presenters
Geotab Extend would not have been as successful as it was without the support of our Marketplace Partners. We want to thank the following Partners for hosting key sessions at our first-ever Marketplace-focused virtual learning and networking event.
Air-Weigh
Barcoding
Fleetio
Descartes
Drivewyze
eDriving
HAAS Alert
LiveSaver
Lytx
Netradyne
Phillips Connect
Predictive Coach
Rosco
Surfsight
Trimble MAPS
Trimble Transportation
Uptake
Whip Around
Stay tuned for more Geotab event updates
Geotab Extend will be back! For more information on our upcoming events, keep an eye on geotab.com.
---
If you liked this post, let us know!
---
Disclaimer
Geotab's blog posts are intended to provide information and encourage discussion on topics of interest to the telematics community at large. Geotab is not providing technical, professional or legal advice through these blog posts. While every effort has been made to ensure the information in this blog post is timely and accurate, errors and omissions may occur, and the information presented here may become out-of-date with the passage of time.
Get industry tips and insights
Sign up for monthly news and tips from our award-winning fleet management blog. You can unsubscribe at any time.
Republish this article for free
Other posts you might like