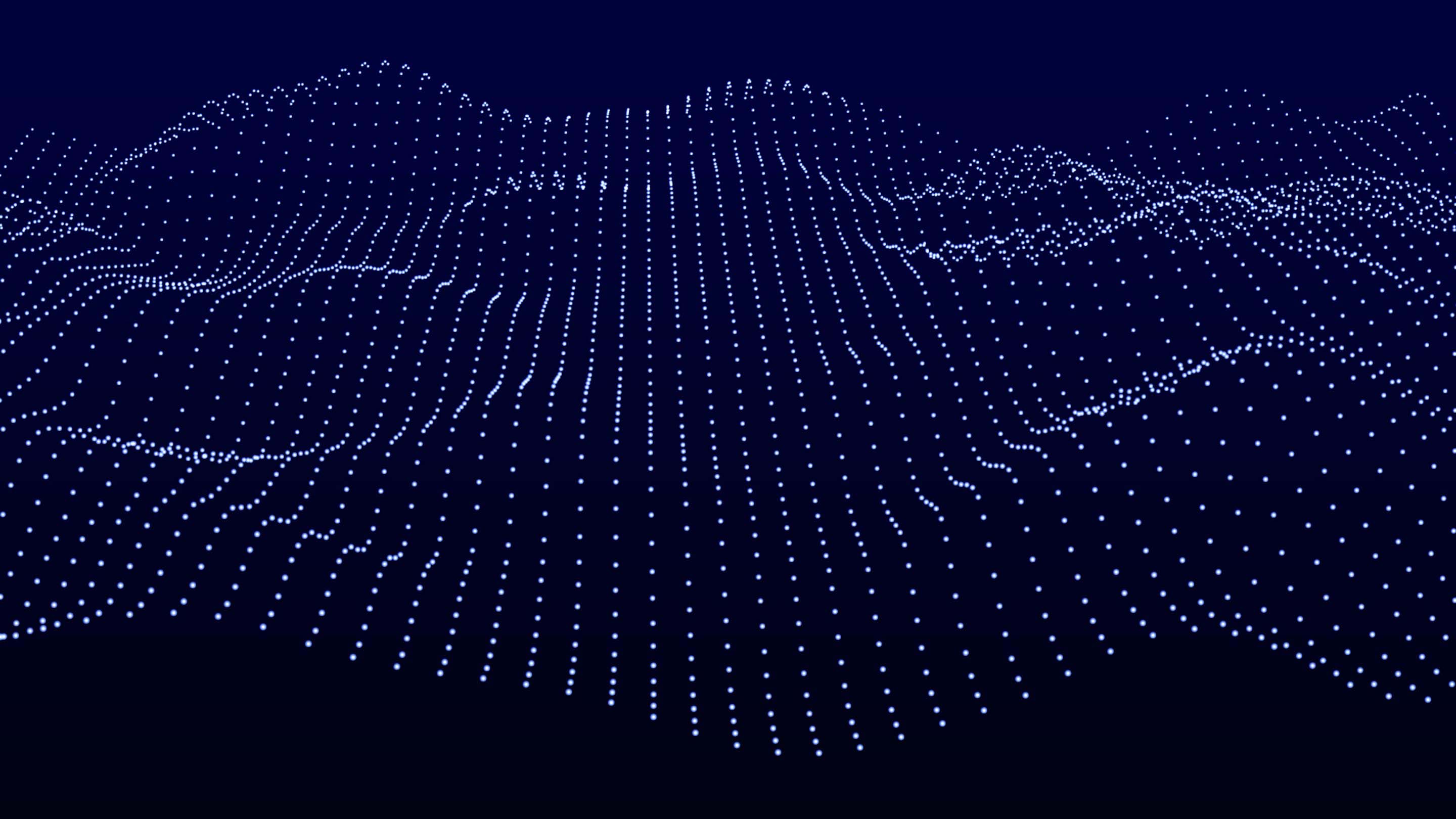 Tools & resources to help fleet management skills
This post will provide you with a one-stop-shop in where you can go to learn more about fleet management and Geotab's products.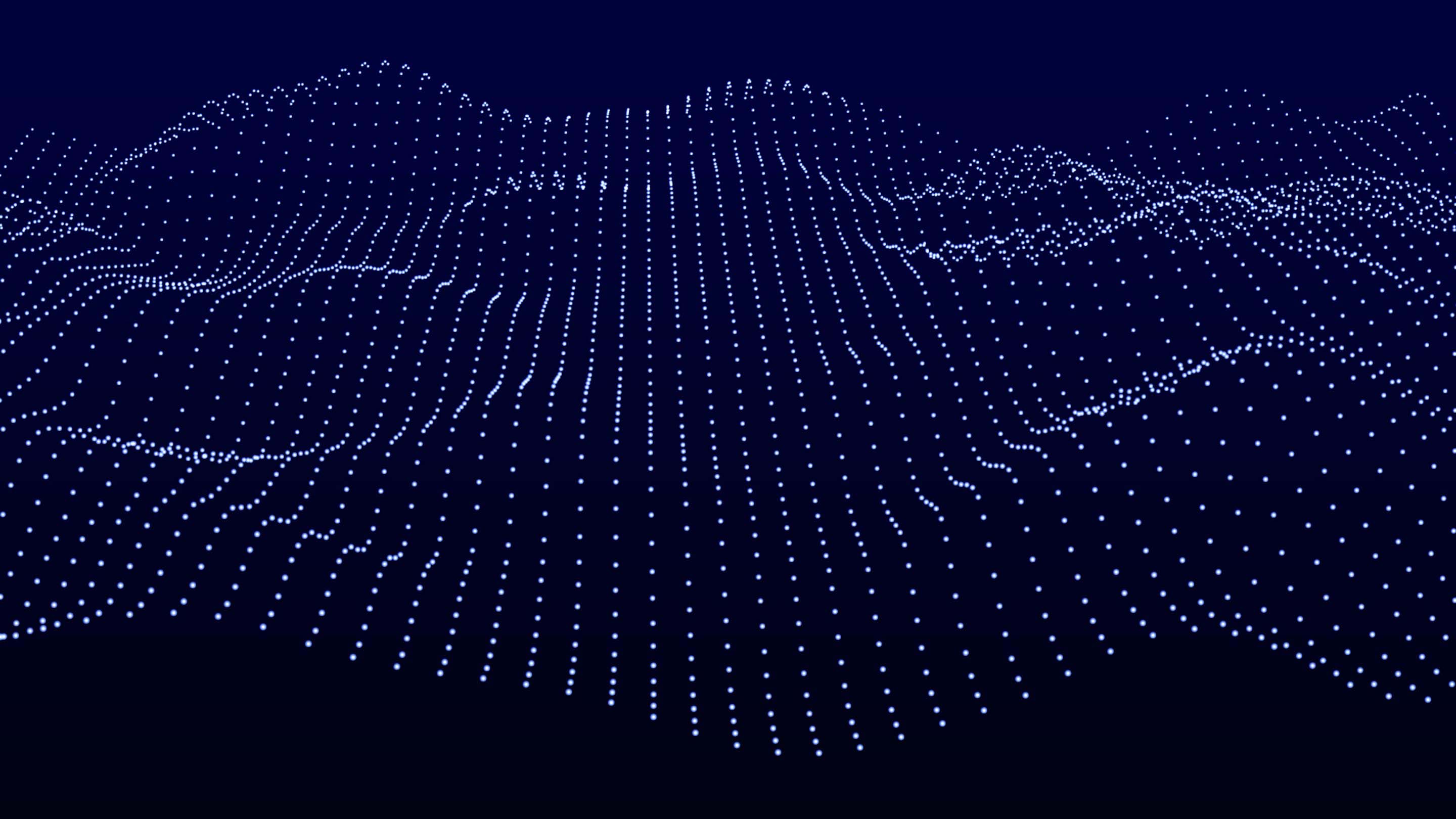 Being a fleet manager means more than tracking your vehicle locations. It also means staying on top of new industry trends and technologies and introducing innovative fleet management solutions to your organization. This post will provide you with a one-stop-shop in where you can go to learn more about fleet management and Geotab's products.

Blog
If you're reading this blog post, then you're already one step ahead. Our blog is updated weekly, and it provides readers like yourself with information about everything from understanding engine data to the advantages of detecting dangerous driving. Additionally, our blog is written by our Geotab staff members. We recognize that each employee has a unique perspective on a particular topic, whether it be compliance, safety, or general business growth tips.

Success Stories
Want to learn how real companies have used Geotab to improve their fleet? If so, then this is the section for you. We have written many case studies that cover different industries and fleet sizes. Want to know how small fleets can use Geotab to better communicate with their drivers? We've got you covered! Ever wonder how large fleets can manage the safety of all their drivers? We've got a case study for that as well! Read our success stories and remember to check back often as we're continuously adding new ones.

Whitepapers
We have several whitepapers available for download on our site. These are authoritative reports that will provide you all the necessary information on important fleet management topics. Our whitepapers are essential reading material for anyone who wants to understand how telematics is revolutionizing fleet safety, or how telematics can save small businesses thousands of dollars.

Press Room
Our press room is where you can go to find our up-to-date news and product announcements. Just this week we announced our acquisition of Strategic Telecom Solutions, and last month we wrote about our relationship with Verizon, our ranking on the PROFIT 500, the launch of Geotab GO TALK, and more!

Social Media
We are active on our social media feeds. We tweet and share valuable information concerning all of telematics and fleet management on our Twitter. You can easily stay up to date on all our new blog posts and news by following us on:

Training Material
All of our training materials can be found in the "Resources > Training" section of our website. As shown below, the training sections contain:

Webinars and Events: Webinars provide the latest information and training on specific fleet management topics. We list the schedule of upcoming webinars and events, and you can register right on our site. All webinars are recorded and posted online shortly after the launch. Although we make this option available, we highly recommend attending our live webinars so you can benefit from the entire experience and ask questions during the webinars.

Training Videos: All videos, promotional and training, are posted on our Youtube channel. We understand Youtube access is sometimes blocked, so we also offer the option of downloading any of our featured videos. These videos offer extensive training on using our MyGeotab fleet management software. We have a videos on diverse MyGeotab topics, from creating custom dashboards to understanding log data.

DEV Channel: Our newly launched Geotab DEV Channel assists business software application developers in their use of the Geotab Software Development Kit (SDK). The DEV Channel serves as a community for developers to learn and interact with one another by commenting under each video topic. Topics range from creating your own Geotab apps, add-ins, and add-ons. All the videos are created by our own in-house Geotab developers.

Authorized Geotab Resellers
Geotab has a partnership-based business model. Our Authorized Geotab Resellers are your first point of contact when looking for support, and are there to provide you with the consulting, development, and project management services you may need in order to get the full value of what telematics technology has to offer.

If you are logged in at my.geotab.com, you can find your reseller contact information under "Getting Started & Help". From there, click on the "Support" tab, as shown below.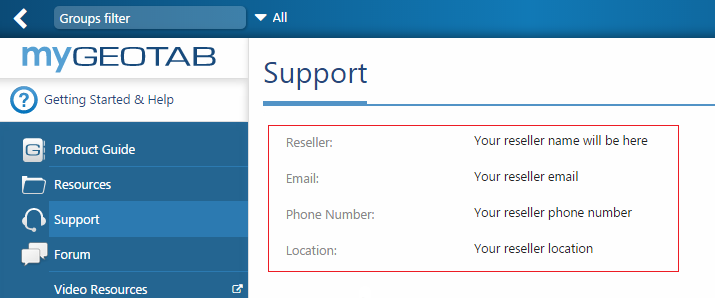 Product Support Tools
Geotab offers a wide variety of support resources, including documents, forums and training materials. All resources can be located on our website.

Under the "Support" menu, you have access to our product guide, installation documentation, FAQ, forums, support alerts and other support documentation.

Below is a brief description of each of these sections:

Product Guide: This is the complete guide for Geotab products. You can find everything you need to know from installations, hardware and software to information on Geotab's Software Development Kit and release update notes. This is truly an all-in-one guide.

Installation Documentation: Find everything you need to know about installing Geotab devices. This section includes our Install Guide, Harness Guide, installer locations and information on becoming a registered Geotab installer.

Getting Started (FAQ): This section contains the top frequently asked questions and training questions. Topics include software, hardware, installation, support, accessories, engine data, the Geotab Drive, and much more. We have answers to all of your questions, such as "Can I use the software on my mobile device?" and "How does the idle warning work?"

Forums: Our Geotab forums are constantly monitored by our support team. There are specific sections on software, hardware, HOS, custom reports, SDK and the Marketplace. Our forums leverage the ZenDesk platform, which allows our support team to monitor new posts as they come in. Many of your questions may have already been answered in our forums, and even if it hasn't been our support team works tirelessly to respond as quick as possible!

Support Alerts: Sticking with Geotab's commitment to openness we post all important alerts regarding any urgent issues with devices or vehicles. Major alerts will also be sent out using email, but you can always double check in the Alerts section.

Support Documentation: This page contains the latest version of hardware support, IOX and add-on documentation and firmware release notes. If you want to learn more about the technical specifications of any of our products, this is the section for you!

Marketplace
The Geotab Marketplace provides users with the ability to get more from their telematics solution. It's a place where end users can go to discover Geotab's extensive partner ecosystem that provides Add-Ins, Add-Ons, mobile applications, and general software integrations to add further value to the Geotab solution. It is also a place to locate custom reports developed by Geotab and other partners, as well as Geotab's wide range of Input Output Expanders (IOX). These IOX's plug directly into the GO device and are used to extend the GO device to peripherals in your vehicle. Leveraging the CAN networks that run on the GO device, IOX's can be daisy-chained together meaning multiple peripherals can be added to the GO device. This adds flexibility to your implementation, even after installation, and means the Geotab solution can grow as your fleet needs grow.

Stay Connected: Subscribe
You can subscribe to the latest Geotab news on educational tools and resources. The sign-up form is located at the footer of every web page. Simply enter your email and click "Subscribe". You can also unsubscribe at any time.

Let us know if you have any questions, comments, or suggestions in the comment box below - and remember to connect with us on social media!

---
If you liked this post, let us know!
---
Disclaimer
Geotab's blog posts are intended to provide information and encourage discussion on topics of interest to the telematics community at large. Geotab is not providing technical, professional or legal advice through these blog posts. While every effort has been made to ensure the information in this blog post is timely and accurate, errors and omissions may occur, and the information presented here may become out-of-date with the passage of time.
Subscribe to the Geotab Blog
Sign up for monthly news and tips from our award-winning fleet management blog. You can unsubscribe at any time.
Other posts you might like