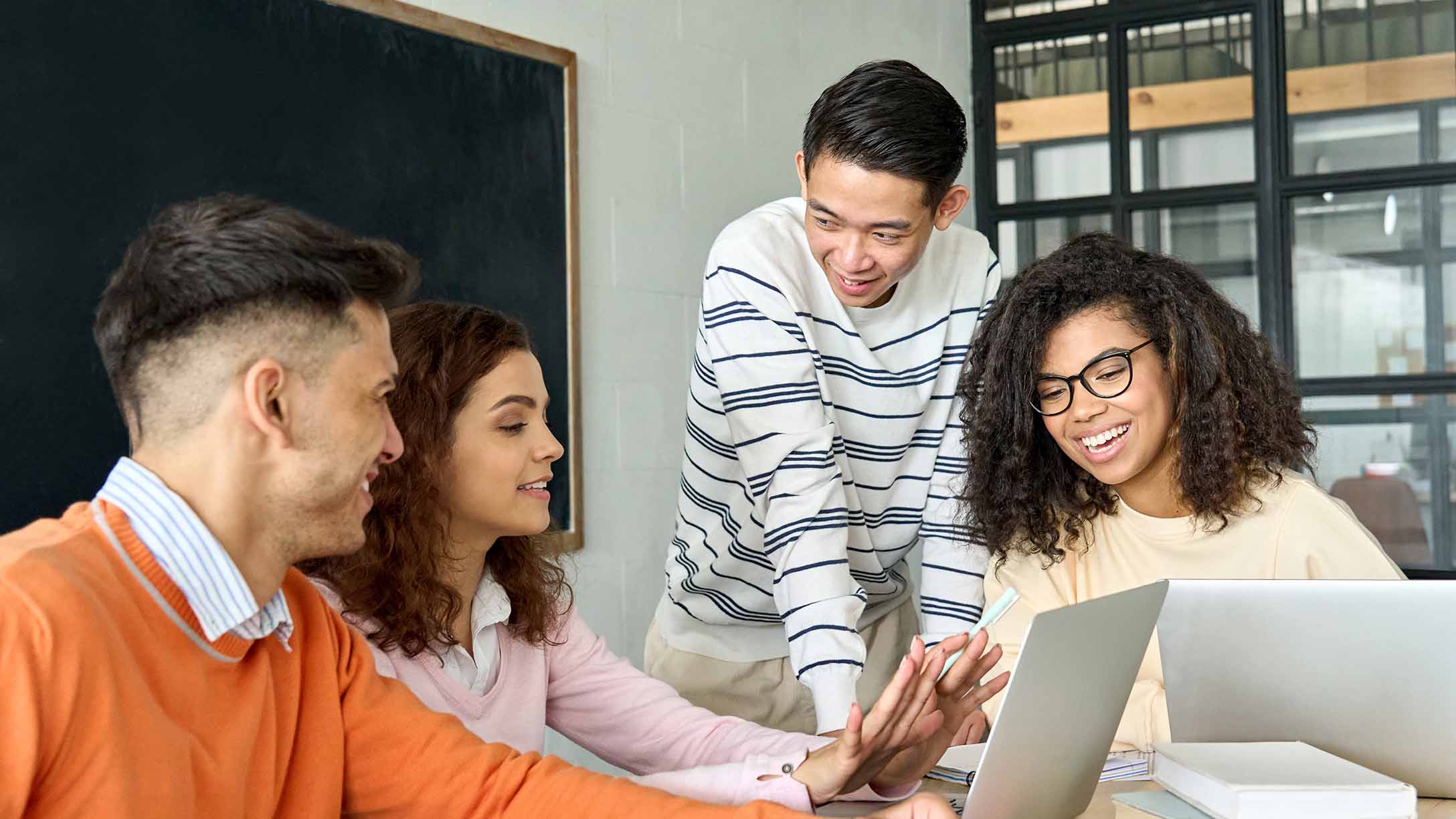 Geotab's Intern Innovation Challenge: Encouraging student ingenuity
---
Learn more about how Geotab engages students in innovating for the future.
As a part of our commitment to investing in the next generation of leaders, Geotab empowers students to design solutions for the telematics industry and beyond. This is done through our Campus program, which is available to university and college students seeking real-world experience to enhance their education and career.
Since the Campus program's founding in 2020, more than 350 students, representing more than 50 schools, have joined the Geotab community. Our interns' experiences culminate with the Intern Innovation Challenge: a one-week competition that tasks students with designing and presenting a solution that aligns with Geotab's six pillars of innovation:
Productivity
Safety
Fleet optimization
Compliance
Expandability
Sustainability
To learn more about the impact of the Intern Innovation Challenge, hear from some of our students below.
How does the Intern Innovation Challenge work?
To kick things off, students assemble in teams representing multiple Geotab departments. They then choose a challenge focus area and spend a week developing a solution. The goal is to use Geotab's data and research while drawing on the experience of company mentors. Proposals are then presented live to a panel of judges, composed of organizational leaders.
"Geotab's emphasis on its internship program is by far the biggest I've seen," said Rida Khan, intern, Geotab Talent Acquisition, who joined the company in May 2021 from McMaster University. "The impact you see interns make here is significant compared to what you might see at other companies. You can see the impact you're making. Students have the chance to implement concepts from start to finish and see them come to life. The chance to make an impact at Geotab is what sets it apart."
Student innovation sparks product advancement and sustainable change
Fresh perspectives brought forward through the Intern Innovation Challenge have contributed to advancements throughout the organization. From reimagining product packaging, to being more environmentally friendly, to enhancing collision report data, each session encourages students to embrace new ideas while laying the groundwork for a potential career as a Geotab employee.
"If you pick an opportunity at Geotab that's immediate, necessary and has value, it will get done," said Faizan Ahmed, Intern, Geotab Software Development.
Faizan, who joined the company in May 2021 from Ryerson University (now Toronto Metropolitan University), saw his team's concept incorporated into the business.
"I've had the ability to demonstrate projects to middle and upper management, which has been a very rewarding experience," Faizan adds. "My team's work informed a direct result. What more can you ask for?"

Members of the 2022 Intern Innovation Challenge and Campus Team celebrate during a virtual awards ceremony.
How the Intern Innovation Challenge started
Perhaps the best part of the Intern Innovation Challenge is that it was born directly from the student experience.
When Bharti Bhardwaj, Intern, Geotab Employer Branding, joined the company for her co-op in September 2020 from McMaster University, she saw an opportunity to bring elements from university engagement activities to Geotab and facilitate a community that unites interns. The Intern Innovation Challenge format gained instant traction and has since completed one round per semester.
"When I came to work, students were looking to make connections, and I wanted something that would bring people together in a more bonded way," Bharti said. "I was very involved in my school community, specifically in organizing case competitions. I wanted to bring a similar experience to Geotab and create a company-wide competition that was inclusive to all interns who could build relationships with interns in other departments."
Every Intern Innovation Challenge features elements for technical and non-technical students to participate. The team can take it in any direction they want to; it's at their discretion. The key is to make challenges inclusive and offer support through mentors. These mentors are fellow Geotabbers who have played a vital role in making this program successful.
"The one thing I really appreciate about Geotab is that I have a lot of autonomy in my role," Bharti adds. "Geotab trusted me to create and spearhead meaningful projects like this one. No matter what your title is, you're an equal contributor. That aspect of our culture is something I really appreciate."

During a virtual presentation, Geotab's winter 2022 Intern Innovation Challenge winning team explores audio analysis integration.
Building a global campus connection
Geotab's Campus program has evolved into a full suite of comprehensive learning opportunities and social activities. Flexible work arrangements accommodate students who wish to work from a Geotab campus location as well as those who work offsite, all while contributing to the organization's global infrastructure.
"I remember joining my team and wanting to know if what I bring to Geotab will be effective and used in real-life situations in real-time," said Jennie Chen, Intern, Geotab Software Development, who joined the company in January 2022 from the University of Waterloo. "My team member said, 'Yes, it will matter.' I feel what I do on a daily basis as work is really having an impact — no matter how small it is, it's affecting the framework."
The community impact component of the Campus program has proven it builds lasting student connections throughout Geotab's worldwide network. It has even encouraged some to pursue a career in a field they may have otherwise not considered.
"Seeing that some of the past Intern Innovation Challenges have been taken into account for bigger projects is pretty incredible," Jennie added. "Some companies struggle with giving interns that opportunity, and the fact that Geotab takes our ideas seriously is pretty amazing. I wasn't aware of what telematics were before. Now, through having worked with the GO device hardware and having access to all those data points, all the features Geotab offers has opened a new path for me."
Fueling the future
In addition to providing meaningful work experience that supports educational requirements, the Campus experience offers students the opportunity to see themselves as Geotabbers and build the foundation for a potential career with the company.
"When you come to Geotab, you see how passionate people are about interns," said Tharsiga Selvathilagan, Team Lead, Geotab Campus Talent. "We take recruitment just as seriously as full-time roles and are committed to looking for specific skill sets, experiences and demeanors with the goal of turning our interns into full-time employees. We are hiring for our future growth and future team, and we want to encourage students to come back to us as an employer of choice."
Ready to reach new heights with Geotab? The next Campus program, offered in four, eight, 12 and 16-month timeframes, begins this September.
Want to learn more about our internship program? Check out our open internship positions on your school's job board for more details. Not a student? No problem! Check out our full-time open positions on our Careers site. For the latest Geotab news, photos and career updates, follow @InsideGeotab on Twitter, Facebookand Instagram.
---
If you liked this post, let us know!
---
Disclaimer
Geotab's blog posts are intended to provide information and encourage discussion on topics of interest to the telematics community at large. Geotab is not providing technical, professional or legal advice through these blog posts. While every effort has been made to ensure the information in this blog post is timely and accurate, errors and omissions may occur, and the information presented here may become out-of-date with the passage of time.
Get industry tips and insights
Sign up for monthly news and tips from our award-winning fleet management blog. You can unsubscribe at any time.
Republish this article for free
Other posts you might like