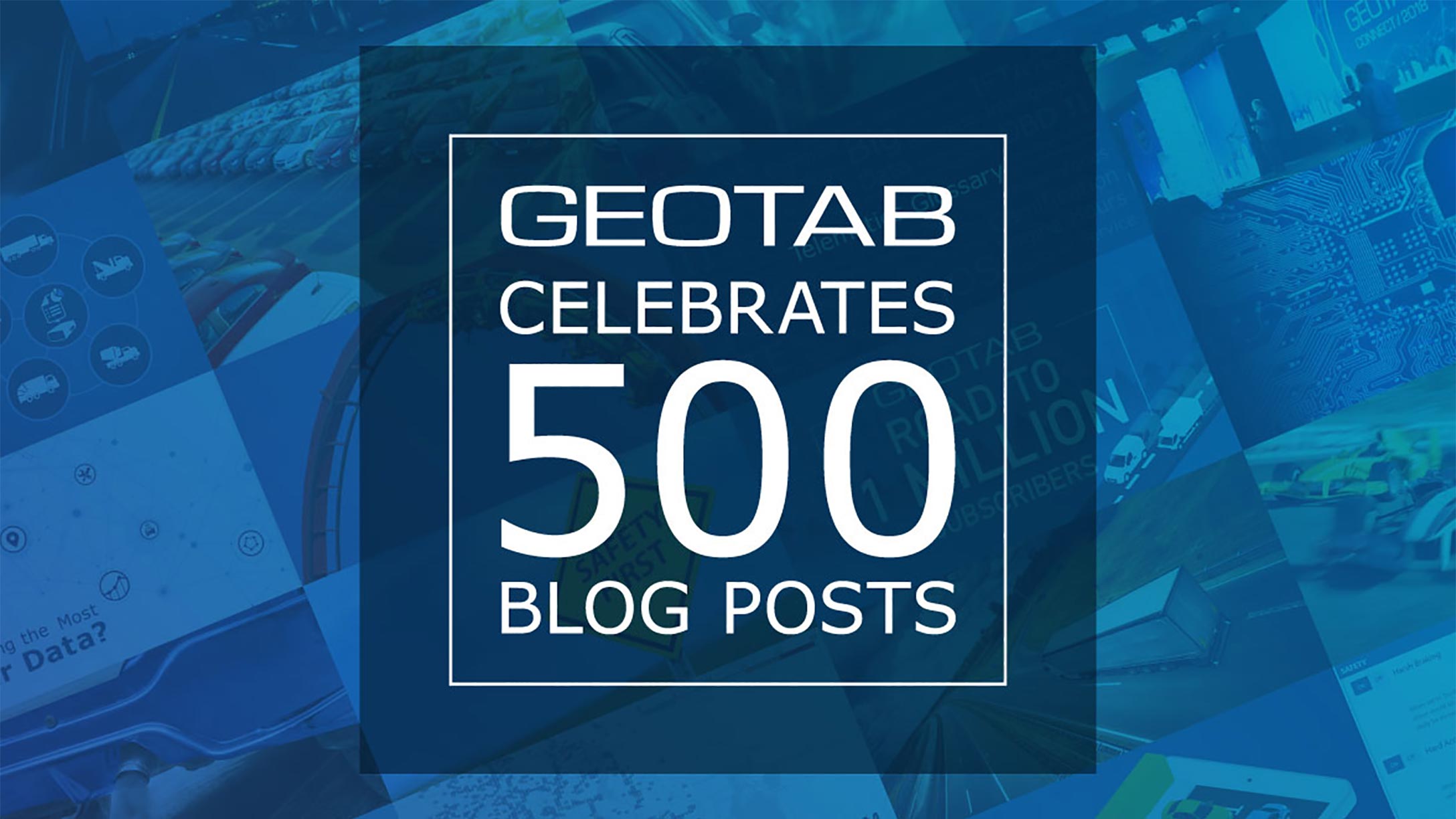 Geotab celebrates 500 blog posts
Published on October 30, 2018 in Fleet Management by Inshaal Badar
---
Find out which posts are most popular among readers.
Geotab is celebrating 500 blog posts. This article marks number 500 in a long line of posts on fleet safety, productivity, efficiency, compliance and much more. Our contributors are the Geotab employees themselves, sharing their expertise and knowledge.
In six years, the Geotab Blog has accumulated over 900,000 page views and more than 630,000 visitors. In honor of this milestone, we are sharing some of our most popular and favorite posts. Enjoy!
Our Blog Mission
The Geotab Blog is a source of news for what's happening in the world of connected vehicles. You can find best practices for fleet management, emerging trends and insights for business. Visit the Blog to discover the how and why behind smart city, smart mobility and artificial intelligence.
Your Favorite Posts
Six years and 500 articles later… here are some of your favorite blog posts:
ELD Exemptions: Frequently Asked Questions on the ELD Mandate — The electronic logging mandate in the U.S. has been a hot topic and we continue to receive questions. Browse this list of frequently asked questions on ELD exemptions. Don't see your answer there? Ask your question in the comments and we'll reply.
Why Reverse Parking is Safer — Did you know that reverse parking could potentially save lives? Find out why in one of our most popular articles of all time.
7 Smart City Solutions to Reduce Traffic Congestion — Government managers have began turning to the Internet of Things (IoT) to help solve challenges in cities. This article helps break down exactly what a smart city is and explains solutions to reduce a problem that affects us all — traffic congestion.
Big Data Glossary: 50+ Terms Defined — Big data, but simplified. Find 50+ big data definitions all in one place.
Editor's Picks
Here are some must-reads that we didn't want to leave out of a best-of list:
Cool Stuff:
How the Curve Algorithm for GPS Logging Works — Watch a whiteboard video explaining how the curve algorithm for GPS logging works.
Geotab Data Shows Impact of Hurricane Harvey on Driving and Commercial Fleet Activity — See a timelapse of fleet vehicle activity created by the Data and Analytics team, based on data from thousands of Geotab GO devices.
What Is G-Force? — This article is a part of our "What Is" series, covering top terms such as What Is GPS? and What Is Machine Learning?
Telematics Glossary: 60+ Terms to Know — A great resource to bookmark for all your telematics definitions and explanations.
Fleet Management Best Practices:
6 Road Crash Statistics You Shouldn't Ignore — Innovation at Geotab is driven by five pillars, and one of them is safety. We understand how significant safety is for everyone on the road, which is exactly why we are consistently bringing you stories about best practices and new research.
15 Security Recommendations for Building a Telematics Platform Resilient to Cyber Threats — It can be difficult for fleet managers and vehicle owners to assess security policies, but we're here to help! This article provides best practices and lists 15 tips for a secure telematics platform.
Special News and Events:
GEOTAB CONNECT 2018 Recap — Didn't attend? Get an overview of everything that happened at Geotab's biggest conference of the year, GEOTAB CONNECT 2018.
Geotab Drive, ELD & MyGeotab Updates (1803) — Our hardware and software update summaries give you a play-by-play on all the Geotab for MyGeotab, Geotab Drive and ELD. Don't miss an update! Subscribe to the Geotab monthly newsletter to get it delivered right to your inbox.
Geotab Celebrates 1 Million Subscribers — In February 2018, we celebrated Geotab reaching one million subscribers worldwide with a blog post of our achievements. Get ready for the road to two million!
Fleet Industry News:
The Diesel Decline and What it Means for Fleet Managers — The Geotab blog has been spotlighting trends in fleet management from around the world. One example from Europe is the diesel decline and this article that explains how it has impacted fleets and fleet managers.
Driver and Truck Parking Shortage Continue: A Trucking News Update — New regulations and an overview of key challenges in the trucking industry including driver recruitment, parking, Hours of Service (HOS) regulations and electronic logging.
Urban Traffic Congestion: New Laws and How to Prepare — Take a look at how some major cities around the world are tackling traffic congestion.
From the Geotab Leadership Team:
Are You Getting the Most out of Your Telematics Data? — Neil Cawse, CEO of Geotab, explains how to use and get the most out of your telematics data.
A Fresh Take on Improving Fleet Efficiency — Is it possible to increase driver safety, productivity and fleet efficiency at the same time? Read an interview with Colin Sutherland, Executive Vice President of Sales and Marketing.
Everything You Need to Know About data.geotab.com — Billions of data points from over one million Geotab connected vehicles are collected every single day through the Geotab GO devices. In this article, explore different datasets and learn how to use the free aggregated data available at data.geotab.com.
Join the Geotab Community for More News and Insights
This year, we've been busy at work, bringing you the future of mobility — connected vehicles, electric vehicles, artificial intelligence, big data, top news in trucking and much more. Now, we want to hear from you! Let us know what you want to read about, reach out to us by commenting below.
Join the community of Geotab subscribers to receive a monthly curated collection of our most popular stories.
---
If you liked this post, let us know!
---
Disclaimer
Geotab's blog posts are intended to provide information and encourage discussion on topics of interest to the telematics community at large. Geotab is not providing technical, professional or legal advice through these blog posts. While every effort has been made to ensure the information in this blog post is timely and accurate, errors and omissions may occur, and the information presented here may become out-of-date with the passage of time.
Subscribe to the Geotab Blog
Sign up for monthly news and tips from our award-winning fleet management blog. You can unsubscribe at any time.
Other posts you might like